New HP Elite x3 firmware with Windows 10 Anniversary Update rolling out now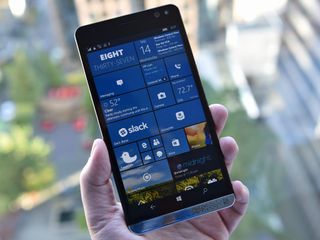 (Image credit: Windows Central)
A new firmware update is now available for owners of the HP Elite x3 smartphone with Windows 10 Mobile. It is available both over the air and via the Windows Device Recovery Tool and includes the Windows 10 Anniversary Update.
The firmware version number is 0002.0000.00067.0088. In addition to the AU update (which is rolling out as build 14393.189), the download also adds features and improvements such as Double Tap to Wake support and a charging LED indicator light. This firmware also fixes a number of pre-launch bugs, including camera crashes and slow performance.
Officially, the HP Elite x3 is now on sale in several markets, including the U.S, where the Microsoft Store is selling it for $799 with its Desk Dock accessory.
Thanks to RumoredNow and the Windows Central forums for the tip!
See at Microsoft Store (opens in new tab)
Windows Central Newsletter
Get the best of Windows Central in in your inbox, every day!
Now, this is right time for the rollout of hp elite x3.

Plus a review should be done by the team again !! To check the stability and performance of the device post the update compared to pre update

Love the 4 wide tiles next to each other on the larger handsets. Tempted to get a 950 XL and sell my 950 if I have some cash lying around near the end of the year and can find one with glass in good condition

You can do that on any screen size now. Just go into display settings, and turn the resolution all the way up, or down, however you see it. Anyways, turn text size to It's lowest, and make sure in personalization settings that "show more tiles" is selected. You should be able to display the same amount of content on a 5" screen, as a 6" screen.

Thanks for me mentioning this tip. I did already know about it and did it when I had a Lumia 930 but didn't like the overall look with the scaling right down. It does work but I think it looks a lot nicer on bigger phones like the 1520 and 950XL as everything else is nicely proportioned

Yep, I forgot to tell you to get a good pair of reading glasses,,, or an electron microscope.
Right.. I miss my 6" 1520. I'm in denial...

Wait, what phone do you have now? And thank you for the tip above.

It's still small on 950xl.
I use 3 columns on that phone.
6inch of the x3 an you in business.

Tried on 1020 with win 10 :D

You can get the the same time sizes on the Lumia 950 by going into Settings -> System -> Display -> and then moving the slider to the left for "Size of text, apps and items on this display". You may need to restart the device and then come back to Settings -> Personalization -> Start and then toggle Show more tiles to the On position. I hope this helps as that is how I was able to put 4 wide tiles on my 950, just like on my 950XL.

LOL! Exactly, bested by 1 minute! :)

here's a star for effort *

Should be getting a full review shortly?

Probably need to wait for the laptop dock still, right?

Oh yeah I forgot about the dock. Dang it. At the very least, Dan might mention something on Twitter and/or the Windows Central podcast.

He's done an overview of the phone, i think waiting until it's read is best review-wise. He's doing the right thing holding off until all the cards are on the table for a full review IMO

That was quick. I wish them well.

Perfect timing as I just got a chance to open my elite x3 and play around with it

Good for Elite users. :) What is the app for the clock in the upper left corner, tho?

I have no idea about the app, but it's saying the time in words. It matches the clock.

It's called "Analog Clock Tile", includes many styles.

Does it update in real time? If so curious about how the dev has managed this (Unless they are pushing the updates from a Notification server rather than a background task which only runs every 15 minutes or longer on mobile)

Nope, a tile can update per minute now and 15 minutes is a pretty old limitation. I use the app myself unfortunately every update the app gets broken (tile gets stuck in the loading state) along with simple calendar.

It's Perfect Clock from PerfectThumb (they even have a very good Flickr 3rd party app).

For some reason I really like the look of that layout on the X3... except for when I try to do something similar on my device and then it looks horrible. lol

I was going to get the x3 when it was announced over half a year ago, but now that 2017 is in sight a guess i let my 1520 wait it out to see if windows mobile will still be around in six months.

I'm waiting on the redstone 2 update to see what is what. MS said 2017 is the year they real focus on mobile and are going to be doing cool things with mobile so lets see what that means because if I don't like what I see, I see an iPhone in my future

They didn't specify a year for Windows Phone, Terry Manson just said 2016 isn't going to be for Windows Phone

They did, however, specify Redstone 2 is geared more towards mobile.

It will still be around in 6 years. Don't know if any hardware will be, but it will. Posted via the Windows Central App for Android

This is awesome! Time for the review soonish Dan!

I am amused by the negative downvotes. Anything to make this phone reach its full potential is awesome.

Have you used it? I'm genuinely curious about the sound quality of the external speaker and the general stability?

After update, phone works perfect, stable and fast, speakers quality are good.

How fast? Are the animations noticeably quicker? That is, do apps launch noticeably quicker than on a 950xl? Posted via the Windows Central App for Android

Looking forward to a new camera review :)

Great, I'm on insider preview 14926.1000, tried to opt out and download over the air, not getting the update. So I guess my only option is device recovery tool?

Yeah same, I'm WDRT'ing mine as I type now.

Too late. Sent it back already. I'll monitor the results, and if good reorder.

Ok, I will WDRT mine tomorrow

I really want the Elite x3, but I also want to wait until the Surface phone comes out because I get the feeling that it'll be much, much better. My impatience is gonna burn a hole in my pocket...

Buy a Samsung Note 7, it'll beat your impatience to it. *takes a bow*

Yes, it will blow your mind. Literally.

And literally burn a hole in your pocket

But then why get the Surface Phone...may as well wait for the Surface Phone 2? I'd say just get it now if you have the cash laying around - Worry about the Surface Phone later if it actually comes. It could be way into 2017 and you could enjoy this phone for over a year potentially before it's even announced.

Well worth buying the x3 now

Will you wait up next fall in 2017! For me, I can't wait up that mouth

Just out of interest, why do you want to wait for the Surface phone? This phone has very high specs, and I trust HP more for Hardware than I do Microsoft. There are rumors (and that's all they are) that the specs will be better and if they are all the reports show that it's only minor. I'm asking because I really want this phone, and i'm interested in the Surface Phone. But I don't want to wait 6 months plus on a rumor.

Because I KNOW the surface phone launches soon, likely in the next month, not year, because Microsoft Australia's twitter account accidentally leaked it with the title "coming soon". And I want to wait because the Surface line has a good record of being both innovative and super high quality and I want to know what it offers over the x3. So I do not want to buy an x3 if the Surface phone is going to live up to expectations.
Edit: Here's the leak http://gg.gg/surfacephonetwitterleak

I wish I didn't know that, now I have a dilemma Thanks for the heads-up though.

Never trust a rumour from seeing it in a single site
& snapdragon 830 is no were near ready

If Snapdragon 830 isn't ready I'm thinking there's a chance it'll ship with Kaby Lake since those are already out for mass production. I suspect a reveal next month and a launch just in time for Christmas. The only reason id trust a single source in this case is that its an OFFICIAL one

Side note: This new Windows Central app needs to mature real fast. One can't even navigate to a link. The developer of the WC app should check out the "Windows area.de" app.

Maybe its a security thing?
I made it a short url so you can just type it in easily

Get the elite x3
Surface phone will be a long wait
Its expected to come with Redstone 3 so it will definitely be late 2017 or even 2018 beginning

Installed and rebooted fine. The restore is running now. I will update later.

Good news here, may order one soon.

Downloading it right now... We'll see. :)

If you're running RS2, do you have to reset to get the firmware update?

I'll let you know in a couple of minutes... I'm running RS2. :-)

It's all good. Have to start from scratch, but it was expected; I mean, the firmware update reset the device, I didn't have to. ;) Now, I'm restoring the last backup... BTW, I like the green led now, while charging. :)

And now it doesn't recognize SD cards.

Finally it will get a fresh set of bugs. About time.

Seems like you can shake to sleep now.

Returned mine due to unsatisfactory performance. I thought it's better than my 950xl. But overall it's the OS that failed the hardware.

Thats what you get for buying "not ready" enterprise hardware. Look at everyone who got the firmware and AU, they are all so happy now.

No it was HP's firmware that wasn't ready! AU was already available since august. The last AU version (.186) they are rolling out to the x3 phones is the same as is already on my 950 for one or two weeks.

Woah.... seems a LOT more fluid now. Even while the phone is installing back my apps, I can navigate and I don't feel a lag. Of course the device is just rebooted, but I have a good feeling about it. :) There is a new app "HP 12C Financial Calculator for X3". It has the look of this ancient HP calculator..! ;-)

There is also "Winzip Universal (OEM)" app, a "remote desktop" app, and an "HP Display Tools" app :)

Yes and I will *really* like the "HP Display Tool", because I didn't like the fact that the screen is always on when I'm using Continuum. Did you notice also the pseudo-glance screen ? The clock is moving on and off with the battery level. Nice...!

Could you elaborate what the Pseudo Galnce Screen please. Would love a pic

It's just a 'screensaver' that the app 'HP Display Tool' is showing us when it is running. Because when you are using Continuum, the screen is always on; the phone is getting hot and I'm assuming it's not good for it too.

Oh. Nice. I thought it was something similar to the Lumia Glance Screen. :) Is there any such thing on the X3 yet? Its one of those things I can't live without. A camera button is also one thing but I might compromise on it :)

The HP 12c is legend. The financial world still runs on the 12c, so this is a GREAT add by HP. Posted via the Windows Central App for Android

And you should see this app with Continuum... *a w e s o m e*!! I have the full 12c in my screen. Wow...

First impressions...overall performance is significantly improved after the update, and although the camera doesnt crash , it still struggles in low light- there is a slow focus process in low changeable light such as a lounge with a bright tv flickering. I just turned the tv off, and it was constantly focusing before I took a shot. Improvements are needed. Edit: that shot I took with tv off turned out great even though the focus time and time between focus and taking the shot is big

As a business device as long as it takes pics of reciepts thats fine :)

This is good news. Posted via the Windows Central App for Android

So annoying... I got mine yesterday and just installed RS2 on it and restored my backup... Oh well. Time to flash it and restore it again.

I never trust a device when they first come to the market place and like to wait 90 days for the major flaws to be found and repaired. take the Samsung "S7" do you folks like explodeing batteries. Folks When I read about the HP Elite X3 was coming to market without the Windows 10 mobile anniversary update. I knew it would get a stinky review. these new updates have Already improved this devices performance. more updates will make this device first Class. Folks who buy the HP Elite X3 a couple of months from now will be glad they waited for it to be refined to a good working Windows 10 mobile smart phone. It has been rumored that the "Surface" smartphone will use an ARMS CPU because Intel stopped making their Smart phone CPU's. if this is true then the Surface smart phones will seem like a HP Elite X3 clone and only run Win32 legacy Desktop PC programs through Special software. I wonder how many folks will buy the Surface" smart phones if they do not directly Run Desktop PC programs ?

The S7s did not explode, that was the Note 7. I think the Elite X3 is probably on a better footing over the 950s when they launched though.

thanks for the correction I wish there were a 8 inch Windows 10 mobile smart phone/Tablet for sale similar to the Note 7. even though you could not put it in your pocket. I would carry it around in a small shoulder bag or wear a blazer jacket and use a blue tooth headst to send an recieve phone calls on it via Cortana voice interface

I don't know anyone that wants to run desktop software on their phone. Horribly bad idea. Containerization is the only way to go for a phone. Posted via the Windows Central App for Android

My latest OTA update has been a disaster, never had issues previously but my 930 now freezes 2 or 3 times a day and needs rebooting every time.

Wow Led has finally been enabled. Can't wait to see that. Posted via the Windows Central App for Android

Does it flash with notifications?

which app it is : showing EIGHT THIRTY-SEVEN?

Earlier I read that phone finally launched but seems that waiting continues. Its only been on sale for weeks but that does not launch make :)

Tried the update 3 times keep getting an error 0x800705b7 message. REALLY!!!! I bought this cause I wanted to have smoother phone with no issues, guess that's not part of the deal with W10? I swear, they're just trying to piss everyone off to leave the OS and they can concentrate on something else.......:D

That's what happened when you buy phone directly without being patient. By the way, look what happened to Note 7! and many other devices.
Anyway, regarding your issue, you are on insider version , so anything could go wrong . If you are still facing the error, step down to the production release through WDRT then get the update and if you like to join the fast ring again, you could.

as usual, excuses over excuses...there are no excuses for this major FAIL! MS continues to deliver the same junk OS, it has nothing to to with the phone itself, HW wise, but with the mediocre software experience: the OS.

Yeah, you obviously have no clue. HP has to adapt their drivers which the OS relies on. That doesn't change no matter what OS you are running. Putting the blame on the OS makes you look quite new.

WhatsApp web still broken.

What does that relate to the topic?

In the way that QR code does not scan in WhatsApp on X3.

Running the RS2 14926 build and I tried to apply this firmware via OTA; it would restart to apply, only to fail mid-process and reboot back into the OS. Using the WDRT now to apply the firmware and hard reset the phone.

now performance is ok :) it;s really big diferent. I can use this phone for dalily work ;)

Errors when OTA, so WDRT...but now i have firmware 0002.0000.0007.0088 in phone and WDRT says firmware version: unknown and still want to install new one with version 0002.0000.00067.0088

This did not fix anything. still the same crap, still the same poor performance, mediocre camera, lags...junk OS.This device is getting a big REJECT in our office.Thanks HP but we won't invest 840EUR in a mediocre platform.

Now you are just lying. EVERYBODY on EVERY site is saying these drivers from HP has fixed the performance and lags and also improved the camera except you. I know you are sent here from one of the less fashionable ecosystems to troll Windows-users... But do you have to be so obvious about it?

Then stay with your Android devices and wait like.... forever on your first OS update. Bye!

Sounds like some serious user error. Tech is hard, bro. Posted via the Windows Central App for Android

In your office ? Ho yeah, your basement at home. You have no clue what you're talking about, because this update makes the phone fly and it's very stable. I'm currently typing with Edge on Continuum and it's freakin' fast...

We'll talk here in a few months after the sales of this device will continue to be unnoticeable, as expected. Business users are not fanboys to bite the lies from MS.I've had the same debate before RS1 when every fanboy was wow, RS1 will save the paltform...well it did not :)), and the same debate before the 950s were launched, whoaaa, these devices will save windows phone... :)) well did they? all they managed to do is to embarass even more with a mediocre OS full of bugs. When I do read comments like yours, I really hope for the day when MS will simply stop and kill WinMo all of a sudden leaving all you dreamy fans swimming in the dust.

No glance screen in the update???

I heard there is a "glance like" feature with this update which I would like to see as well. If a Glance like feature is available and the Camera is somewhat up to par I would gladly swap my 950XL for this phone.

No, there is no glance with this update. It's only a 'screen saver' like app, the 'HP Display Tool', that dime the screen while you are using Continuum, so the phone won't get hot. The phone cannot be locked with Continuum; it defeats the purpose, because your screen will also be locked. ;-)

Update has worked on Both Test Devices Fine and Perfomrance is much better, Camera is maybe better but far from Perfect... Sometimes Auto Focus takes Ages and also Taking the Picture takes longer then on a Lumia... Double Tab Setting is there (Activating Requires Reboot) and has Sensitity Settings but its working very Bad for me... I have to "Double Tab" 5-10 Times to Activate Phone. (Seems Double Tab can also turn the Screen of and that not only in the Windows Bar but the hole Screen)

So does mean we will be able to purchase and get one? As far as I know nobody is shipping them yet.

LOL. A 3 ft. 12c sounds pretty intimidating.

Lol... I have to tell you that Continuum is a pleasure to use with this firmware update. I'm running native Office (Word/Excel), Remote Desktop, Mail and Edge and I even send text while I'm working.... (My wife wants to know which kind of yougurt I want. ;)). Since I'm connected with the dock and the Ethernet port, the lan speed is also pretty fast. Everything is smooth and I'm very happy now. :-D

So I finally received my HP Elite X3 ( Dock & Headphones variant ) neatly sealed inside a factory sealed seran covered box and upon first start I'm like: "What the ****... What is this? Chinese? Why the hell is everything in Chinese? And where's the usual Language selector upon first boot?" Had to pull out my Lumia 1520 an place it next to it to navigate the menu in order to get to change the System language to one I could not only understand but actually read. After some fiddling I finally got it up and running when I noticed the Photos App Tile shuffling Pictures so I clicked on it to see some WEIRD ass camera taken photos and a small movie - Judging the photos of a person hidden behind flu mask and a paper cap it appears that my Phone was choosen as a testsample for a camera check while still in the factory without then doing a factory reset >_> Something else I just noticed... While my Lumia 1520 has the option to delay the lockscreen lock by up to 30min AND never - The X3 stops at 5min.
I guess they really meant for it to be a business phone xD
Windows Central Newsletter
Thank you for signing up to Windows Central. You will receive a verification email shortly.
There was a problem. Please refresh the page and try again.