HP Elite x3 Wallet Folio Leather Case review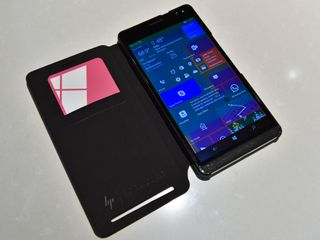 The HP Elite x3 is slowly starting to hit markets and with it comes a small cadre of accessories. For those looking to protect their investment and add a little style to the Elite x3, the Wallet Folio Leather Case is a reliable option.
Priced at around $22 USD (£16.80 (opens in new tab), the Wallet Folio is a surprisingly well-thought-out case. HP clearly thought about design and the smaller details when making this leather shell.
What it is
Wallet cases are quite common these days for smartphones. The cases offer some of the most robust protection with a flap door that protects the display when in a jacket, bag, or pocket. They should also leave an opening for ports, camera, speakers, and volume controls.
Swipe to scroll horizontally
| Category | Specs |
| --- | --- |
| Dimensions (W x H x D) | 3.39 x 6.34 x .53 in (86.21 x 163.55 x 13.57 mm) |
| Weight | 0.16 lbs (72 g) |
| Materials | PC, glass fiber, rubber feet, top grain leather, microfiber, glue, magnet |
The HP Wallet Folio has a polycarbonate back shell that clips onto the Elite x3. On both the back and front there is a high-quality Top grain leather wrap. On the inside sleeve, there is a spot for two credit cards or a business card and ID.
Image 1 of 8
Why it's so good
Folios are quite common making them not very unusual for phones. Luckily, HP got a lot of the small details that make using this with the Elite x3 a fantastic experience. I say that even though I traditionally avoid these types of cases. Here is why I like this wallet:
Smart Cover - Open the front cover and the Elite x3's turns on. Close it, the phone turns off. This helps preserve the battery life by avoiding the display turning on inadvertently. It also saves you from having to hit the power button each time.
Magnetic - The wallet has a small magnet that keeps the front cover closed. There is no flopping here!
Fingerprint reader - Besides leaving an opening for the camera, the fingerprint reader is fully exposed and still easy to use with the Wallet Folio.
Speaker grills - The front of the Wallet Folio leaves cutouts for the earpiece and front speaker/microphone combo. Using the Audio Routing feature, you can make a call with the cover open and have it default to speakerphone. When you close the cover on the phone, it automatically switches to non-speaker mode. You can then take the call with the cover closed instead of flipping the cover around to the back, which is always awkward for phone calls.
Fits Desk Dock - HP ships three shells for the Continuum Desk Dock. One of those is for the Wallet Folio. The shells are magnetic and just stick to the Desk Dock which enables easy, tool-free changing. While using the right shell you can keep your Elite x3 in the Wallet Folio and still use the Desk Dock. Brilliant.
Qi still here - You can still use Qi wireless charging with no issue while using the Wallet Folio case.
Prop it - Like other folio wallet cases you can horizontally prop up the Elite x3. Toss in a Bluetooth keyboard and you now have a mini-PC for typing in Word, PowerPoint or just watching a video.
Overall, the Wallet Folio is a fabulous little accessory. It adds some class, but more importantly protection, to the Elite x3 especially its massive 6-inch display. The cover also just works well. It stays closed due to the magnet, and you can use it with the lid closed on phone calls, making it a much more natural experience. It's delightful to turn the phone on and off just by opening the case, and all the marquee features of the Elite x3 – fingerprint, Qi wireless charging, Desk Dock – all still work.
HP ensured that when using the Wallet Folio, you are not compromising any of it the Elite x3's features, and I can vouch for that in my usage. Whether you like folio-type wallet covers is a personal decision, but if you do, HP nailed this one for the Elite x3 making it a wise investment.
Availability of the HP Elite x3 Wallet Folio Leather Case is limited to third-party resellers at this time. We'll update this article when HP and Microsoft start selling it directly.
Further Reading
Get the Windows Central Newsletter
All the latest news, reviews, and guides for Windows and Xbox diehards.
Daniel Rubino is the Editor-in-chief of Windows Central, head reviewer, podcast co-host, and analyst. He has been covering Microsoft since 2007 when this site was called WMExperts (and later Windows Phone Central). His interests include Windows, laptops, next-gen computing, and for some reason, watches. Before all this tech stuff, he worked on a Ph.D. in linguistics, watched people sleep (for medical purposes!), and ran the projectors at movie theaters because it was fun.
Grande Hp! Si sta impegnando molto per questo terminale!

You are really on a roll Daniel! That aside, this sounds like it is a case worth the expense, and wow, it also looks pretty sharp too. I'm guessing that it only comes in black?

Thanks, and yes, only in black.

Later on they should introduce a special edition Cyan and a Crimson case for a limited release.

I have the folio and totally agree with Daniel, it's great!

Good review and agree with all the positives. One disappointment I have is that I have found that if I use the credit card slots the case will not tightly close with the magnets. It stills covers the phone but the magnet will not engage. Overall I enjoy using the case.

Try MS Wallet if you bank supports it. Loving it so far.

Hp Elite X3 doesn't support that.

Waiting for a UK release of this. Hopefully they are still working on that in the background. It's the kind of thing we won't really heard about until it's ready to use though

Dan, did you try your 950 or 950XL on the HP dock?

I did a quick try while I was at the Microsoft Ignite Expo. HP has a model with doc of the Elite and I put in my 950XL on the doc. While it was powering on, continuum sadly for some reason was not working. But the Elite when docked in seamlessly connected with continuum to a connected monitor. Of course the fit on the dock is loose though.

The 950XL does work but the plastic dock shells for the HP Dock aren't made for the 950XL to sit in... You could theoretically 3D print your own for it, but HP do supply an attachment cable so ANY Continuum ready Type C phone will work with it.

Thanks for the insight. I may buy the HP dock when its out on market. 3D printing of the adaptor is a good idea! I wish MS dock was an upright craddle type similar to HP...

The advantage to a cable connection is that you can easily pick up and use the phone to access another app if you wish. I really like that HP have the option for both!

Dan, have you used the rugged back cover case at all? I have one and am using with a pouch. I'm wondering if I'd be better off with the folio case.

I'll have that here in a few a days.

Awesome, I ordered earlier myself too after my above msg. Mine should arrive Thursday if Parcelforce actually do a decent job for once and successfully deliver!

The only other accessory I wish hp would have developed is an oem custom car dock.

Yeah, that is really the only thing they didn't make, which is weird.

If only MS would have discovered magnets for the type cover...still my number one gripe with the first two models and why I ended up with a 2520. Maybe they've changed now...i can only hope.

Would like one for the 950XL. :D

hey daniel thanks for this review. i was listening to the most recent windows central podcast and you mentioned that you use this case, so its cool to have a more detailed description of it.

Well, if they ever have an offer to trade in the 950xl, I'll give this a go. But otherwise, I'm gearing up to switch platform for my daily driver early next year.

Where can I buy any case for my Elite x3? I have tried every site.

I found it from a third-party retailer on Amazon

I BOUGHT 3 DIFFERENT ONES FROM EBAY.

Thanks dan. This keeps windows phone on the mind. Too bad you can't just go buy one of these just yet.

how do you answer a call with this Wallet Folio on the phone?

Flip it open and answer...lol it would be cool if there was a window to see who is calling, and the option to auto-answer when flipped

Hi Dan, any update on the passive stylus for the HP Elite X3. Really want to see it in action before I am sold on the phone, cause I love pen input. Thnaks

Any cons? All i see is pros. Nice review btw

Same con as pretty much all cases for any phone ever made. It doesn't look as good as just having the phone on it's own, and it will always add at least a little more thickness and weight....Just have to decide what's more important I guess.

I bought this case in Germany, Amazon Marketplace, at a price of 28,-€.

No cash sleeve, no thanks.

I don't find it to be practical...having to wave my cash around every time I use my phone? Which is a lot...cash should stay hidden, also...cash? In this digital age, better to leave that in the bank, lest the poor be following my every step to ask for them duckets =s

Is $22 US a correct price? I am seeing it for > $90.

$22? More like $60 on Amazon. I'm still buying one, however, these look greaty X3 is arriving in 3 days. Super stoked! Thanks for the great reviews on this, guys! Much love for all you do for us W10M fans!

I meant to add.. the link to the $20 offer goes to HP UK, which does NOT ship internationally, however, they will take international credit cards. In the US, the price is jacked up to $60+ with supplies low, on both eBay and Amazon. Just FYI!

Update: I do see it on Sears.com from a marketplace seller in the US for $42 with free shipping, but it ships about 12 days later.

This case been my one and only case for the X3 and I am generally happy with it. Two months in and the glue holding the rubber pads on the left side of the plastic shell is oozing out from under the rubber. Now one of the rubber pads moves around and the glue has to be cleaned up from time to time. Still a good case but they may have to go to a different method to keep the rubber pads on.