Microsoft pushes new Camera UI, time lapse feature to Fast Ring Insiders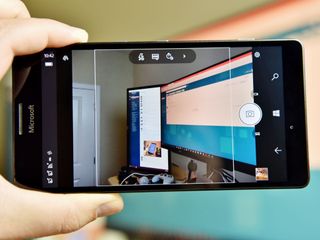 It looks like some aspects of Windows 10 Redstone 2 are starting to pick up. Tonight, Microsoft has pushed an update to the Camera app for Windows 10 Mobile to Fast Ring Insiders and with it arrives a new UI layout and even a time lapse feature.
Windows Camera build 1016.11 is now live in the Store, and there are some noteworthy changes to this version. Here is what we spotted so far:
Icons are more visible (solid white)
Timer button (2s, 5s, 10s, off) is now on the main camera UI (instead of a menu)
Camera toggle (front, rear) is pushed to the upper left
Ellipsis is replaced with a Settings toggle
Settings are now direct instead of being within a menu
Time Lapse – "When the time is on, keep taking photos until I press the camera button again."
Image review icon is moved from the upper left to lower right corner
Image review icon is now square instead of a circle
It's not clear if there are other under the hood improvements or changes to camera behavior. Image processing seems the same from our limited exposure to the new build.
Update: We can now say that this update also fixes the OS crash on the Elite x3 when using the camera from lock screen.
Assuming the build is not reliant on other changes in the OS we could see this Fast Ring app build pushed to Slow Ring and Release Preview in the new couple of weeks. For now, those on Production will have to sit tight.
Have you tried the new camera app? If so, let us know what you think and don't forget to use the Feedback Hub to tell Microsoft.
Download Windows Camera from the Windows Store
Daniel Rubino is the Executive Editor of Windows Central, head reviewer, podcast co-host, and analyst. He has been covering Microsoft here since 2007, back when this site was called WMExperts (and later Windows Phone Central). His interests include Windows, Microsoft Surface, laptops, next-gen computing, and arguing with people on the internet.
I'm glad to finally see some updates to the camera app. Really enjoy the new UI, much cleaner. Keep it up!

I wish we still had the swipe right to go the last taken foto thing.

yes you are right I really missed it

Really miss that feature, made experience that little bit more fluid and somehow seemed a more instinctive action than pushing another icon.

Forgot about that but it was a nice feature for sure

Seriously, it was so easier to just touch to focus and click. Now all my selfies are almost blurred because i have to make sure I click that damn camera button.

I always use manual focus personally.

That is really one of the most missed feature.

Yeah, it was a better that way than trying to tap and hit the small thumbnail that reaching it loosing my grip to the phone, risking droping it.
While at thaht, stop at implementing small UI controls especially for phone usability.
Oh yeah, also miss where you can zoom out the photo futher to have a filmstip view to easy browse through photos.
Why we kept loosing good UX and now is trying to slap things without a though, sometimes trying to copy other platforms but their bad stuff, not the good ones.

Was the feature where when you used the digital zoom to frame a picture, but it still took the "full" zoomed out picture unique to the 1020? or was it a feature of the Nokia camera app? In W10M if you zoom in when taking a photo, you can't unzoom that photo later, I think in 8.1 / on the 1020 it was the re-framing feature. Wasn't sure if that was only on the 1020 (Where it did make most sense) or if it was generally a feature in 8.1 that was removed

I honestly did forgot about those sorry, though I remember it on 1020, I guess it maybe available on Nokia Camera too, though only 1020 can really make use of that feature very well thanks to the super high-resolution it can take. On W10M which the present, zoom is indeed just a plain old dumb digital zoom, nothing worthwhile to even talk about. This would be lovely to come back on at least to PureView devices or any phones that have at least 12MP or 10MP resolution. This was underrated feature and it would be more relevant to comeback, especially for device that will utilize dual-camera which is a thing these days on mobile photography.

My 950xl does this right now in jpeg+dng mode

Yes, this was one of the best features on Windows Phones. It was nice because it saved the original, but you didn't have to see it in your gallery if you reframed the shot. The other feature I missed so much was the focus point also controlling the exposure. Is that also still missing?

On my 950xl...it is set to jpeg+dng and when I zoom the dng is full framed and not zoomed in.

If I understood him correctly, he means when you view one picture in photo app then zoom out, you get a film trip view of all the pictures. This feature was in WP7 and 8 IIRC

It is a 1020 geature. It is the :zoom reinvented: geature where you can enlarge the 5Mp photoup to 3x without loss. This feature uses the 38Mp file, which 1020 only shoots

We definitely need to feedback that! I hope they will listen and give us back that option.

Swiping will interfere with other gestures' command like bringing down notification menu.

No it won't. Notification menu command is Edge swipe.

If you're in the Insider Programme, be sure to add feedback to that effect. Things CAN change and the cadence of Microsoft's development cycle for 1st party apps like this one, they can change pretty quickly if there is enough feedback. I loved the swipe to the left for photo review, it was one of the standout features of WP before they removed it in 8.1 for some odd reason.

Also the ability to 'Zoom out' in the photos app when you open a photo and scroll across your shots like the old photo film days.
.
So basically, you can still see a slightly bigger photo and scroll across fast too. :)
.
Miss this from WP8.0 (removed in 8.1)

They've laid the ground work. Hoping to see more thought out and polished UI/UX across the board. It's been part-fascinating and part-painful to see things come together.

Yeah, like where is the great UX people at Microsoft? Many UI implementations on Windows 10 are just plain bad, especially on touch usability. Yeah, not everything on Windows 10 are bad but how come we lost the good UX and now performing bad practices left and right. It's rather shame that some of us Insiders has to point it for them (only if they actually do listen and implementing often to good critical feedbacks). Have they forgotten that one of the factors why Windows Phone even managed to sustain some market share is having a great UX that was actually praised at that time, they even won an award for it.

My take on this is: Instead of making everything perfect (like it 8.0/8.1) and waiting for 'x' years, they basically said we'll give you things functional but half baked (design-wise). It's like watching how salami is made, interesting but not a fun experience.

Time-lapse feature not new. It already there under photo timer settings by checkbox continue taking photos.

Does the new feature take them more frequently though? The old setting you're talking about takes a photo every 5 seconds

It used to take pictures at a 2 second interval as well

If only Hyperlapse is integrated.

Seriously! Hyperlapse, Photosynth, etc should have always been baked in to OS, now more easily updatable Photos app, instead of this separate nonsense. Add those to the long list of great products MS squandered. :(

Is there any app that can create VIDEOS out of the timelapse shots ? For example, photos taken via ProShot. I paid for the app thinking that it'll have the ability to stich the photos and make a video too just like Hyperlapse from MSFT does (but it can create a timelapse only from video files, not photos).
.
. Thanks !! And its great to see Microsoft updating their core apps real fast !! :D

All of these changes just make sense.

I believe these changes are part of the partnership with Microsoft, HP, Acer, and others making Windows 10 Mobile devices :)

It would be pretty cool if this update improved the experience on the Elite x3 and Jade Primo, it really needs it.

Are you updating your Elite x3?

I guess this is what they are aiming for.

I notice that now if you move up or down on the screen controls the Zoom-In and Out.

Ehhh that's not new it's been like that since windows phone 7

When you zoom, a slider bar appears on the bottom, that's new (not the zooming itself)

Interesting, that's a nice touch which is great. Now hopefully they will bring back the sliding gesture to view recent photos like it was on Windows Phone 8 and 7. The new ones that you have to tap the tiny thumbnail is really bit cumbersome at times to use. I'm looking forward also to have a level metering like on ProShot (if only we could change the default camera with 3rd-party ones).

It bugs me when I use my wife's iPhone to take a photo and I have to pinch to zoom, AFAIK there is no slide to zoom in the iOS app, it's something I really got used to in WP since WP7 - Adding a slider is a nice touch

Definitely, android is like that too. It's so annoying. With all of these improvements (and hopefully more big ones coming in Redstone 2) I can't wait to come back to windows phone. Posted via the Windows Central App for Android

This feature came with Nokia camera

Completelly of topic. . . Does anyone have a problem with UBER app on Lumia 950XL Insider Fast track? I'm unable to request an uber on mine because everytime i tap Request Uber - a black graphic shows up and nothing happens. Tried uninstalling and reinstalling and nada... :( Starbucks also no longer lets me reload. . . says error everytime. *sigh* Glad the camera app is getting some love though. :)

I've had issues with Uber on and off, not always when on the Fast Ring either. The app does have the odd bug creep in sometimes which can be annoying when you want to quickly grab a taxi

I got the update on my 950XL but there's nothing new except the UI improvements.

A soft reset didn't fix it. I guess it's a bug.

No. I didn't get it. I was saying gotcha to you lol

On my 950XL tge shutter button is filled, and the settings cog in the top right, but none of the other changes (timelapse, reposition of preview button etc), same version number.

Well they made some small changes but the app is still way behind some android camera apps when it comes to Manuel mode. 4 seconds max and only a few presents for white balance was good some years ago but today?

Well they made some small changes but the app is still way behind some android camera apps when it comes to Manuel mode. 4 seconds max and only a few presents for white balance was good some years ago but today?

Android and it's camera?
Well, it's about photo quality at the end of the day. No need to over complicating it.

Overcomplicating it? What is wrong with you guys here? Just take a look at the G4, G5, S6, S7, P9... The camera apps can do much more. But you can still shoot an easy photo. It's about options. Would my Lumia 950 be worse with more options?

Lumia 950 manual option is the best for serious photographers if you know what I meant. Forget those over saturated over complicated over processed android. In the photography world, that's that.

You can't even manual control the white balance. Only a few presets.
When you only shoot in RAW that's not a problem but most people prefer jpeg on a daily base. And the automatic white balance is mostly inaccurate (way to warm).
And can you remember the time when the Nokia 920 and 1020 were advertised with light painting? Why stop at 4 seconds? Does the option for 10,15 or 30 seconds harm you? No.
The UI of the camera is simple and good. The whole app is great. And it wouldn't change with a real white balance slider or the option for even longer exposure. It's still the same app with the same UI. Just a few more options.

I got your point. Some more specific options are good. Not too much. Anyway, just for information, historically, all lens have specific character that we have to know.

Is the time lapse just normal pictures that are in quick succession like burst mode used to do?

Nah, it's slower. Burst is still there under options for the camera button.

Does they fix the live images.. Its very irregular.. Out of 100 pics that i took camera captures only 1 or 2 live images.. On 1520..

Same here. Mine isn't as bad as yours. I'd say mine is closer to 1 in 10 will have the live image.

That's because now the app 'senses' if there is movement.
If no movement then Loving images is OFF. You can still turn it ON manually from the ellipsis menu '...' (three dots) in the photos app. Open a photo and see.

Did sound round audio for video back to Lumia 830?

The audio was fixed in build 10573. So it should have been available to all phones that got the Windows 10 Anniversary Update

I think he means "surround sound"

Things are coming together

I like all the changes except the front/back toggle to the upper left. Kind of seems like an afterthought up there...

Unfortunately, on my Lumia 950 the toggle is now so tiny that my big hands cannot click it. Microsoft should make the icon bigger in the next update

Yeah, I find it rather odd UI decision to have those icons rather too small that is hard to tap at all, making the camera app harder to use and risky for the phone (since you have to adjust the hands that likely loosing the grip of the phone).

Hopefully these are things that will be fixed before it hits production ring.

Hopefully, very hopeful. Microsoft these days seems not too keen on complete polish before launch. They seriously have to polish things and not just put and change stuff just for the sake of it. Polish may be not the most exciting thing especially for a geek, but it's highly appreciated and make things more mature and subconsciously helps to make things feels more solid and enjoyable. Small details do give great impact on larger picture.

Closer to the physical cameras on the phones?

Not all phones got all features. I'm on 1520 and I got the update. But the only feature that was added was the camera button is solid white now. Nothing else hmmm.???

I'm on the latest Insider Fast Ring Build. My Lumia 1520 got it all.

Wow. Mine definitely did not. Bummer weird too cause I've never had a problem with any updates before

It doesn't mean you have a problem. This might just be an A/B-test.

The last thing i want to do is a hard reset because it takes days for the messages to come back. It's ridiculous. any idea what I could try?

Maybe they're doing some A/B testing and not everyone gets the same thing? But that seems unlikely for a camera app update...

Did not get any update yet

I was just going to update the Camera app -> went into Store and clicked on "Check for updates". Apparently I have 65 apps to update; how strange?!?

Happened to me once, too. Though I "only" had 40+ updates

Did you change display scaling? Lol.

That happens if you CHANGE the display scaling. The percentage.

Windows central app frozen for a couple of seconds during startup until pictures are loaded on my 950XL, please fix it.

It's been happening for a while now.

Mine also does not run in the BG, closes as soon as I leave the app, hoping for a fix soon.

Very bad performance on 550 recently

During video recording you can zoom by swiping right or vice versa. Also a gesture of zoom appears at the bottom of the screen. Both for slow & normal rec. After stopping the recording a flashing sign appears for a few moments at bottom left of screen to indicate where the recording has taken place. Whether in storage or main memory

Some nice improvements to UI/UX. Great work Microsoft!

Has it improved the image quality.....because camera app is pathetic after windows 10 update.....

I miss the old living images feature. Now once in a blue moon on my back camera on my 640 XL non insider.

I'm not really sure why you got a few downvotes. I got a replacement Lumia Icon/929 because I thought there was something wrong with my camera. The video was extremely dark no matter what I did. I received the replacement with 8.1. I enjoyed the rich colors and thought, hey, I should compare the image quality on the video and pictures. Sure enough, my old phone with Win 10 was looking a bit dull and the quality on videos was dark. The new one with 8.1 had vivid colors and the video looked normal. After seeing this I thought, oh it was just that phone then. So I flashed the old Lumia back to 8.1 so Verizon wouldn't void my warranty for running unapproved software and lo and behold the old Lumia regained it's ability to take vivid video and pictures with the super high quality I purchased the phone for. Lastly, I upgraded my current device to Win 10 and sure enough it now takes pictures that come out WORSE than the same device did on 8.1. Plus the dark video is back also (low light).

Oh so you have also noticed the drop in quality? I am extremly angry about this one. I thought it was just me. I missed the old days when my 930 used to take awesome picture and people amazed at how beautiful the pictures were.

Looks like they removed the ability to disable shutter sound. May be I have missed it earlier, but noticed it now. The settings are removed from the Sounds setting as well. So no option to disable shutter sound.

Nha. It was always there the option to disable the ******* sound.

Need a video review on the Timelapse feature please :) That will be very helpful!

It's actually a re-branded continuous shot on the last version, I made a stop motion using this feature couple weeks ago
https://instagram.com/p/BKIzINlBh7j/

Anyone get these features on their 1520?

Forget the camera app it works fine , fix the photo app the zoom really sucks !

Yes, the photo app must be the priority. The pinch gesture is an embarrassment and panning across is a hit or miss crap. WTF why it hasn't been fixed til now.

Note that I tested the zoom working also sideways. First to report that. It really got the full update, timer, square right hand corner and - seems faster ;-)

Well One thing that is highly needed is better performance like the old Windows Phone8 app which was fast in clicking photos atleast and there was no post processing involved

One can only hope that MS came to their senses and will also do that for the people hub.

It makes sense the camera app picture icon is square now. Not all pictures are people pictures. Round icons = people.

I have actually grown very fond of the round pictures. I don't even remember how square pics were

So much, and still no option to "TAP TO CLICK" :\

And also an option to use the volume controls as shutter key... Finding it so difficult to click pics on my L640xl

Volume rocker buttons needs to be customizable so we can change it such as making it as a zoom buttons or shortcut to some camera functionalities.

Been saying this for a while now..

Sadly too few realize the potential of this. It's not really an average user feature but nice for semi-pro use of the camera (which is actually a trend to camera apps these days that on Android is becoming more common).

I'm just hoping the dedicated camera buttons stay in future handsets....But the volume rocker changing to a zoom control when the camera is open is a NICE idea for sure. Like on many compact cameras there is a physical button to do this (or it was at least common the last time I need to own a compact camera)

Yeah.. I actually meant making the buttons mapable in general

I saw this article, checked for updates on my L950XL with 14946.1000 installed. Camera was one of the updates. I see none of the improvements. I checked for updates again and another Camera update. this time I see all the new features that are stated. Bring ON the updates and the new features !!

Hey there. Wow this app takes pictures in rapid succession really fast now! I'm very satisfied with this update. (Lumia 950 XL).

Speaking of camera, does anyone know of an app that does what the Nokia Smart Camera app did on Windows Phone 8?

Do you mean the re-framing feature? Where you can zoom in to frame the picture but it actually takes a fullly "zoomed out" photo and captures everything around it? I did love that on my 1020, but then again the digital zoom on that thing was fantastic compared to any other camera phone I've owned

No. It had a few features such as when it would take a burst of shots, figure out what was background and what was motion, and place multiple versions of the motion object over the one background.

I miss the action shot feature!

I guess this is not for L540

Coz L540 haven't got panorama as well

The title should be SOME on fast ring lol

i hope they add an option to take selfies by volume up button.

Got it NL 1520 working nice

Am the only one having issues recording video on Lumia 830?

Video is cutting and frames are like dancing here and there?

That's right, but it looks better when playing back.

It'll be nice if there is a raw toggle option, so I don't need to go to the settings. As some situations I tend I want to have a raw file.

WHY IS THE F**** God, they do not facilitate Bluetooth based external triggers? I am talking about selfie-sticks, remote controls for taking the picture. Rest of the world has Bluetooth support for this, but No. NO MICROSOT. It works like this: User pairs the remote device that acts as a HandsFree device. Trigger button is "VOLUME+" key press. I have been asking for microsoft to add this OPTION TO USE for ages... no.. Bloody He***..

The external bt trigger for iOS/Android can be used with Windows 10 Phone. I ordered couple of these: http://www.ebay.de/itm/111787202349 By pushing the Android button the phone repeats the last operation you made. I.e. if you first take a photo, you can continue taking photos remotely. It also works with video but in a limited way: you can start video recording but for some reason stopping does not work. The second push affects volume control. Couples fine with my phone's (950XL) bluetooth.

Nice, thank you.. The point would still be that MS would start to LISTEN and obay the rules of the massmarket world IF they like people to buy/use their products in a heavily competed sector. With BT HF Vol+ action I can almost see the few lines of C# code on how this would be done.

There's an app on my band that does this, called band camera so the underlying code is in there somewhere

There are Windows 10 Bluetooth triggers that are programmable on Amazon. Cortana Bluetooth Button being one of them.

I just updated and still have old layout, only shutter button turned to white and gear replaced ellipsis...

Crashes when I try and access setting / photo burst option.

Camera toggle still remains where it is on my own Lumia 640XL. The photo reviewing icon is still round and still remains where it used to be on my own phone. The camera icon is whitish and the second counters are the new things I see on my phone.

Might be A/B testing, sending out two different variations to gauge feedback?

It's so cool to have time lapse option :D

It's so cool to have time lapse option :D

Just noticed that LENSES ARE BACK!!! Loving the UI updates.... It's a lot smother on my 640 XL. :-)

Yeah Lenses!!! Hopefully Microsoft start improving this feature and API. Also Microsoft seriously have to actually market that feature again to let the people know it exist and useful.

It's been there since... Last..

love the changes. And I hope they finally fix the "saving..." issue. Usually after taking 2-3 photos, it always shows "saving..." and I can't take more photos (or videos, panoramas) until I restart the phone. Changing the store location from SD card to internal storage didn't help either.

Yeah, that's been happening to me lately too.

Is my 950 XL the only one not recording the position where the picture is taken? I have reported this for months.

Do you mean geographic location?

have you checked in location settings that camera has permission to access location?

Go to your location settings. Make sure location is turned on and your ms camera has authorization to use your location

Why cant they add 240fps slow motion videos?

Hardware limitations on some devices

I would love to see a tilt and roll indicator.

Loving the semi transparent overlay used for the settings menu. Make who experience seem more polished.

Hasn't it always been a semi transparent overlay for the settings? Mine is semi transparent on Release Preview (i.e Don't have this update the article talks about)

Ah ok, I must I have missed it(don't tend to use the settings that often).

Hello. In this update, features like ISO, shutter speed, white balance, exposure, etc. are still there? Hoping they're not gone just as the FM native app because people were not using it. Scrolling through this WC app most of the time it's difficult. It suddenly stutters and leads me far up or down this screen. Lumia 640 not Insider

Everything is there for your manual settings. They just added a few things. Didn't take anything away. Its for Fast Ring insiders only for now though.

A wild square preview icon appears! Is this the sign that MS came to their senses and will drop the ugly round portraits for the people hub as well? One can only hope.

By their own recognition it should never have been a circle.....In the camera app that is! They use the rounded images for profile pictures of people, and square should be used elsewhere

Any word on whether they are actually going to fix the front camera issues?

Timelapse is not new, it's re-branded from continuous shot on timer shot (eh..)

I made a stop motion using this feature couple weeks ago
https://instagram.com/p/BKIzINlBh7j/
The camera will shot continuously every (...) seconds (depend on our timer setting)

Are you sure it's got the same 5 second delay between images? Wouldn't a timelapse normally take a lot more photos than that which you can then speed up as part of a video? I also assume the timelapse feature here creates a video rather than a collection of still images when it's done?

Yes, the option you can set is every 2, 5 or 10 secs
And yes It is collect the still photos
Photographer usualy take timelapse with still photos taken every seconds/minutes he sets
Not timelapse video
Taking still photos for timelapse can save your battery consumption than taking timelapse from video You can use timelapse video with another app called mobile timelapse from mifrosoft

I've just noticed that "lenses" is back... Is this new or how long has this been back for?

As long the fix the random crash on the app, happy days

Nice! Even 535 got everything this update gives.

Now I'm tempted to go fast again... :D But I'm too afraid :D

MS did you really listen to my idea? i can't believe that.

Then don't believe it...lol

Still not getting update on Lumia 640 LTE....:-( ???

Still not getting update on Lumia 640 LTE....:-( ??? why??

What would make a lot of sense is adding an aspect ratio toggle in with the other quick controls and manual controls so I don't have to dig into a menu for this simple seeing I change a lot when taking photos.

The time-lapse is still a series of pictures, it needs to be created separate in an album so that when one wants to fetch all the pictures to make a video, it becomes simpler. OH AND making a video directly would be better! We do have Hyperlapse but it needs so much storage to work, since it processes videos instead of a set of images.

So photo burst and time lapse is pretty much Blink? Or am I missing something? Love the new UI.

App crashing on start up unable to open since update

Crashes my 640 after five seconds, slowly reboots but the microSD is screwed and require OS to scan. Repeat. Same thing. Repeat, Same thing....insane.

The new ui is a lot nicer to look at.

Jesus ****** christ finally a timer button. Maybe in a few years we'll get crazy "futuristic" features like overlay effects (sepia black and white etc) or voice activated commands.

Timer function is not new, it's just been moved from a tucked away menu to a more priminent position in the main UI.

Oh so it's not hyperlapse anymore? Posted via the Windows Central App for Android

Hyperlapse is a separate app

Do people here use Digital Video Stabilization? I keep it turned off on my L950 because it makes the videos feel less natural and more jumpy. OIS works well for images though

You're right and the hardware stabilization is pretty good. No need for software

From what I can tell from the demo image the viewfinder has got smaller. There now seems black padding of 40 pixels to the sides. Before the camera and settings buttons were overlayed over the viewfinder, giving the effect of a transparent background. Questions: 1. Is there any news if the timer function will be time programmable? (such as start at 08:00 AM and stop at 10:00 AM)? 2. what happens to the screen when the timer starts? Does the screen stay on the whole time? Does it turn off after a while? Does the timer and picuture taking with timer continue under lockscreen and the screen off? 3. Is there a limit of picuters that can be taken with the timer function? On the lumia 1520 the was a limit of 250 images But for a good timelapse over many hours it is my experience you need at least 1000 images if you want to stitch them together for a nice 10-15 frame per second image movie. With the HTC x310 on windows phone 7 I could achieve this with the app timelapse pro, which I can reccommend. Unfortuantely due to unknown restictions I could now achieve this with my 1520 with windows phone 8.1.1. A pity and a step backwards. The nice thing is that the app will also take pictures with the screen off, saving batterylife. If you want to make a timelapse for a decent amount of time, batterylife is going to be an issue with an app functioning constantly in the background. With a run under lockscreen screen off it is going to be much harder to make a time lapse. For a decent limelapse video you need at least 15-30 minutes of photo taking with the 2-5 second options, even and hour for the 10 second one. With the screen off, it helps conserving battery. But only having a limit of 250 image cap with the timer will be a bummer and a step back compared to windwos phone 7!

Stop assuming stuff without using it. Its full screen here on my device. You can apply that filter to use for Instagram (square pictures)

I got the new UI but not the features like square button for photos app, timer button and the other changes. What can I do?

Hi..my app didn't updated??

The new camera app is ok but probably broke my photos app which now keeps showing the 3 photos for each HDR RAW capture, kind of annoying...

Very nice, but I didn't get all the features on my 640XL. :-/

Is 'Adding finishing touch..' and 'Saving....' gone or still there?

For rich capture? Or for regular shooting?

Hi..Win Camera still didn't updated in Fast Ring on latest 14946 build...?

I updated with my 1520. Only the camera button is different (solid white). There is no Timer button. Camera toggle and Image review is in their same old position. Settings is still within a menu. Image review icon is still a circle.

Nice does anyone know, the timelapse would be apply to take photos with long long exposure? and with the iso settings at high?, that would be cool, since the camera on the lumia 950 :)

Windows 10 mobile is too slow every menu comes out after ages, animation are so annoying you have to see black screen in between switching apps.First fix the speed in next update or its acting like a lazy mule who cant hold on burden.

This is great. All they need to do now is allow for real time image previews for ISO and shutter speed changes or have they already done that? Thinking about pushing Windows 10 Mobile to the vintage Lumia 1020. Posted via the Windows Central App for Android

Don't do it. You're losing the great camera and all the pixels.

is the timer and time lapse feature exclusive for some models or applicable for all??

I got it on my Alcatel OneTouch Fierce XL...which is considered a budget phone. You just need a device that can run the Fast Ring Preview builds.

At this point I rather they fix the annoying "adding finishing touch" than add any new features.

What is there to 'fix' on that? If you turn off Rich Capture, you won't see that. There is a time needed for processing of the Rich Capture image. It's not a bug.

Got the update. Only the settings icon and camera shutter icon had changed.

2017 is coming fast in less than 3 months and they are still fixing old features...what a joke!

That never was on lumia 540 so don't know

This camera update just killed the quality of pics and videos are appearing elongated

Sweet. I'm temped for an upgrade to redstone. How 950 is running for you guys?

I wish they will integrate the MS Hyperlapse to the app

I wish they integrate photosynth also

There's a UI bug in Camera app since Redstone 1 update. Lenses page in the app opens only in Landscape mode and a portion of Lenses icons on the page appears in Action Center opened while on that page. Also screenshots of these buggy UIs appear only in Landscape view in Photos app. After so many OS updates or app updates this bug hasn't been fixed. Hard reset doesn't fix it. So I wonder whether so many feedbacks in FB app have been ignored or it's just my phones that have this bug (which can't be true). Can anyone confirm this bug?

I do NOT like these changes. It is a stupid idea to get rid of the ellipsis, stupid idea to move the image review and the camera toggle. There is no sensible reason whatsoever to have done that.

I like the ellipsis too. Why waste time moving and changing controls. Fix and add features.

Yes, they did all four. I just think they should prioritize their efforts. It's not like they are ahead of schedule, or even caught up to where they once were.

What software do you use for editing the screenshot?

Still waiting for the Action Shot to come back

Oh and also Kelvin slider for white balance! I've been pestering them for far too long now...

So far so good, seems smoother and clearer. I too miss the swipe to gallery feature, hope it will be added.

What is capture living images?

MS is sleeping not focusing on People App

Anyone else suffering random crashes (640 lte)

I have a 640 XL and it's crashing too.

How about they fix switching from camera to photos resulting in a black screen..

Good, but I think the switcher between front and rear camera is in an odd position now. It was way more comfortable at the side.

woo love timelapse. Can't wait to try it out.

Glad to hear the news but the shutter speed bruh, more than 4sec

My 925 has 4sec...but my Alcatel OneTouch Fierce XL only has 0.5sec.

Just use hyperlapse app for time-lapse

I'm on the official w10 lumia 730 and got this camera update

Seriously I can't see the update

That's all nice, hopefully the camera app crashing the phone and forcing a reboot is fixed too, not to mention the missing videos (especially when shooting long videos, they sometimes get "lost") because as long as those critical issues are there it doesn't matter how good the UX is or how great the quality of pictures/videos is. You won't get a photo of that moment if instead of taking it you're waiting for the phone to restart...

I can't remember if this was there before but when I zoom there is now a slider to zoom in and out when taking pictures. Was this there before? Never noticed, but I am looking around more with this update.

Is a shame the camera of my Lumia 830 died after last OS update and the Lumia 640 also died like a brick from nowhere suddenly. Windows mobile is like the note 7. A time bomb.

I got the last update but i only see the change in the camera icon changed to white nothing changed with the ui in my lumia830,wierd thing & the build in the sitting is 1016.11

Same here . The only UI changed was camera button to white . The other still same . I am on lumia 830 .

Why don't i get windows 10 update for lumia 525

You did get. It was called Insider Preview, W10M TH2.

Im on fast ring but no time lapse in lumia 930

Hmm i'm on fast ring, I have camera version 2016.1016.11.0 but I see no time lapse on my Lumia 950XL. Also the last photo taken is still top left and circular. Seems not everyone is getting the same new UI even though it's the same version, very odd....
Windows Central Newsletter
Get the best of Windows Central in in your inbox, every day!
Thank you for signing up to Windows Central. You will receive a verification email shortly.
There was a problem. Please refresh the page and try again.