Do you have a preferred nickname for Microsoft's virtual assistant, Cortana?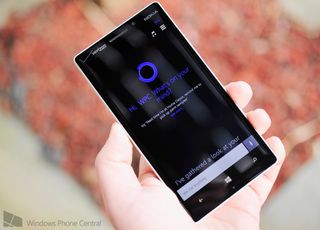 Microsoft is set to include a new virtual assistant in Windows Phone 8.1, named Cortana. The name itself comes from the popular video game series Halo, where Cortana is an artificial intelligence who accompanies the player throughout the story. While it's not yet known what the final name of the assistant will be, there have been new nicknames and suggestions published on our forums.
Each owner endeavors to make his (or her) Windows Phone their own, whether it be customizing every part of the operating system, or adding cases and covers to the hardware itself. So what about Cortana, or the virtual assistant which will be present in Windows Phone 8.1? Since consumers will be interacting using natural language, we're sure nicknames would come into play when referring to the mysterious, coded voice.
You may be a fan of Halo, but not everyone else is. There are many fantasies out there in the wild, not to mention folk who simply wish to add some humor to the overall experience. Then again, Cortana would integrated Halo further at Microsoft, bringing everything together across platforms and adding more meaning to the character. That said, there could be a setting to configure this.
So, what would you call Cortana, if not by her name? ​Head on over to our community forum and share your own nicknames for Cortana.
Windows Central Newsletter
Get the best of Windows Central in in your inbox, every day!
Rich Edmonds was formerly a Senior Editor of PC hardware at Windows Central, covering everything related to PC components and NAS. He's been involved in technology for more than a decade and knows a thing or two about the magic inside a PC chassis. You can follow him on Twitter at @RichEdmonds.
Siri. Oh man, Cortana is good enough

Do I look like I want to slap my phone? ;P

Cortana is a cheesy as name... I'd take anything but this... eg: WP assist, set up an alarm [your phone's name], whats the nearest chinese restaurant? Windows Phone or WP, call John Doe. Hello, alô, hola, Hi, anyon, ni hao what ever hello is in your language, Text Maria.. This is just me... but what ever floats your boat... the more customization the better :)

That would be a mouth full saying that every time

Sounds like you never watched Fresh Prince.

LOL. And it would work like this: Me: Hodor, what is the weather like today? Phone: "Hodor!" Me: Hodor, remind me of a meeting at 10 a.m. tomorrow. Phone: HO-DOR! Me: Arg!!!

LOOOL! I imagine it to be quite limited responding just " Hodor" to everything :P

That would be like calling it Groot... lol Personally I would like to call it Jarvis... since that is what I'm using now. I've a voice recognition program created by Michael Wilson and it works really well. Actually understands me better than most of the other apps on my tech. I want to know if I can change Cortana's voice to the default voice on my pc. I use the male UK voice and it works well with Jarvis. True Jarvis can only do what I program him to do, but that is a considerable amount. Though I hear that Cortana is going to be more "hands on" and intergrated into most everything. The only thing is, I want to customize it to be a voice I want to hear and a name I'm comfortable with already. If the new system will let me do that, then I'll be sold. Just as there are some that are not interested in Cortana, there are others not interested in a female assistant. It would be nice that they offer other AI personalities so that you can make a choice to personalize your experience. Choices are always a really good thing to offer customers. And gamers are some customers that like choices a lot.


I wonder if they programmed some funny response if you try to rename/nickname it to siri

Blue balls as it looks like a circle n comes in blue update

What would be epic, and scary as f*** is if there was a special setting so that when you change the name to HAL9000 the circle becomes red and glowy in the centre

Sheila is perfect if you're a Red Vs. Blue fan. If it has Cortana's voice from the Halo games, then Cortana it shall stay for me. :-)

F.I.L.S.S(Phyllis) is more fitting for an rvb fan

I will call her Jarvis :D

If we are able to rename it, I will do this as well. I think Cortana is great, but I would be so happy if this could happen: Me: Javis, you awake? Jarvis: For you, sir, always.

Wow, it kinda sounds good. I like it.

You want to name it after the Tank?

"computer... Red Alert!"
Computer from the enterprise's voice assistant.
I still prefer cortana.

I read the whole comment section.. No one came up with Eve (Eva as Wall E calls her)
and what about VIKI ?? Virtual interactive kinetic intelligence.. I like both and if i m allowed i ll try both for a month.

Eve (or Eva) would be a great name for the Virtual Assistant!! I still like Cortana, but I may try Eve/Eva out for a while if I can.

How 'bout they call her Venus? That sounds sexy, right?

Navi would work for me. "Hey, Listen!" Wonder if Nintendo would take issue with that.

She is set to notifications, hey, look! Texts. Hey, listen! Voicemail.

I got an idea, let's all reply to the first post to show how important our comments are and to prove our narcisism.

They should name it jigllypuff

FIRST! now I added a touch of childishness

I'll change voice to male(heard it'll be available,) name it Jesse and make it call me "Yo Bitch!" Posted via the WPC App for Android!

Name It Siri Buster Lolzz

Best comment ever, brilliant. As a nokia phone, its a lot like jesse, it takes a beating keeps on going. Can we call it Walt and have it cough everytime we talk to it?

Best comment ever! Jesse rocks!

Lol have it say yo after every sentence lol. Its 55 degrees yo!

If it turns out annoying then,Sheldon

+520 I'm laughing so hard..:D :D :D

Selma? I wonder is anyone remember this credit card sized personal assistant :3

Only if it could project a hologram. Then it would be Selma. ;)

Time trax, best idea ever!!!

Arnold would be fine :D Get to the Choppa!!! xD

The leaked demo looks like a halo... So call it Halo.

I wonder if it will blow up if I call it Google Now?

Actually, this article got me really thinking about the name. What I would choose is Bing. Already know its search+ and simple to say, less syllables. My humble choice.

Oooooor... Microsoft Bing Voice Assistant 2014 Windows Phone Edition

I was going to post something like this. Amazing. And it can call me "Sorry, your Office 365 subscription has expired".

Someone hire this man!!!!!!!!!!!!!!!!!!!!!!!!

That or Simone (from the movie starring Alfredo James Pacino).

Simone would be a cool name! I saw the movie!

I want to take my friends phone and make Cortana call him Gaylord...

Not a Halo player, but I think Cortana is great!

Please don't change it Microsoft

Imagine if they call it after one of the Xbox live members...

Yea me 2 hopefully they will keep it Cortana

Most likely Cortana, as I've told a bunch of iPhone toting Halo fans about it... but if not... maybe I'll name it Bing.

Same here. Cortana or Bing

"your very own personal slave"

Yvops (Ee-vops) abbreviation of "Your own personal slave". Lol

I'll pick her any day over cortana, but then there is weatly.. hmm

GladoS!!! Make it happen. I'll pick it over cortana anyday.

I was surprised no one said glados it seems so obvious.

Kiri....(Siri's evil sister) ;)

Or maybe... Scroogle Now! :P

hahahaa!! sounds good to me.!!

Scroogle Cow! sounds kinda japanese.

Cool...I'll sail that boat...haha, kiri...

Kiri means left in my language. So yeah, I think that's a bad choice.

Fine we'll name her "kanan"

Two bits: - There is a French cheese called Kiri. - In Persian, it means male genital or something..

But then I don't want her to decide what apps should stay or be sacrificed for the greater good of app-kind.

Correction...Kiri (evil Siri's good sister)

seems like no one got this.. as a fan of the movie (top three) I salute you!

I'd not thought of that. I hope they do a good job with whatever ME4 is going to be.....

I've been toying with the idea of either Vigil or Avina.

Why did I have to scroll all the way down here to find this obvious choice?

Clippy would be a good name

Clippy is an inspired choice. :-)

While you're at it, Microsoft BOB !

Yep! Was scrolling through to see if anyone else thought of it. "Clippy, find..." this will only work well if the performance is great.

That's the point. Siri isn't a common name and neither is Cortana.

Cortana is perfect, let's just hope they don't screw it up.

I have to admit, Cortana just fits. I have played Halo, but I'm not a diehard fan. But the basis of what Cortana is just makes a whole lot more sense, as it fits what AI should be: personable. ;)

I'll call bitch. Just kidding.
Cortana is best

I thought about that too. The benefit? If a girl buggers you just say "shut up bitch", If she looks at you, Just say "What? I was talking to my phone" :P :P

Yeah ,thats right maybe one day she'll have the same features as samantha does

Scarlets voice is a must. Btw, creepy ass movie, cool but still creepy.

I think cortana is just fine as it won't be confused with anything else.

If you can chose the gender and accent of the assistant, YES.

+925 I'm hoping there's an option to change the gender, as well.

And if you have an assistant, of course. :p we probably won't :(

Forget all of that name s#$t.....SHOW HER, y'all will get way alot sell trust me

"AMEE" (Autonomous Mapping Exploration and Evasion)

Xbox has taken voice commands since the launch of Kinect. You can't customize the name on Xbox, I don't see why you would be able to on WP 8.1.

True. I don't get the point of the article. Or may be they know something we don't???

You're kidding! How can there be a more knowledgeable bunch than THIS!?

Lol it's the WPCentral comment page man, you're bound to find the know-it-all sans knowledge, eventually.

Leaks have suggested that you can.

Voice commands aren't the same as a voice assistant

If you need to say the name to initiate the command, ie: Cortana, what is the weather forecast? Then I would prefer a shorter name. Although I am a Halo fan, it would be much more practical if this is the case

+920 though its hard for to me believe that each time you'll have to start it with the name..... Unless there is an always on(listening) function

So call it Halo. Looks like a halo symbol anyway.

Chloe from '24'. I'll be saying DAMMIT!! to my phone a lot.

If not cortana maybe Hal or Bing or even slave, mwehehe

I'm sorry, Dave. I'm afraid I can't do that.

I want downloadable voice... I want JARVIS voice from ironman..

YES! Having the JARVIS voice would be the best.

They aren't going to pay Paul Betany (spelling?) that much money.

Now Morgan Freeman-That would be something

I would use the name of my sweetie so she's always with me <3

Sweet because you're using her name. Creepy because it's her name but not her voice.....

that'd be nice if Microsoft can somehow make a custom voice that sounds similar to hers

Yea, I'm using your sweetie's name too.

haha, you don't know her name, do you?

I just leave it Cortana, or maybe Sienna :)

Beverly Dringus? From Dr. Steven Brule fame?

I like Gladys as well, haha or the name of my crush hihi

У меня с фантазией на этот счет плохо, предложите имя на нашем, но не из обычных, не тех которыми детей называют. Типа Кортаны, но на нашем. Серьезно.

For those disturbed by languages other than English here: I asked to suppose a name in my language same unusual as Cortana in English.

Everything Russian disturbs me, and I speak Russian. Err... I used to, not much of that made sense to me.

Я бы назвал ее "Вика", как в книжке "Лабиринт отражений" Сергея Лукьяненько. Кстати Он фактически предсказал будущее, ведь по книге "Вика" - это виртуальный помощник и именно от Microsoft :) Правда ОС у него называется Windows Home, а не Windows 8 :)

Напомнило на VIKI из я, робот :)

Ms. Lemon. Now lets see how many will get the reference...=P

Nobody got my reference >_>

I wonder is you call siri a lemon as well. Or just spreading your usual negative stuff on here?

I wonder if you've passed the lesson where they teach you how to read "b+a"...

You and your little grey cells

At least one. Well done sir. Here +1

Ah very good sir, you gonna rename Bing to the name of her boss too?

Maybe. Though I was thinking of making her call me by his name ;P

As in, Poirot? Classy, I like it. I'd do that, or Mrs. Hudson. Just so I could shout "MRS. HUDSON!!"

Mrs. Hudson as in Sherlock Holmes's Mrs. Hudson???

Cortana is perfect. Why change her name?

3 syllables is more than 2 oh other platforms

Do like the name Cortana, and the reference. But, agree with too many syllables. The leaked demo looks like a halo so I'm going with the name Halo.

Here's something revolutionary: let the user define the name and personality of the personal assistant

name: shodan
personality: sinister

Elvira, Goddess of the Night

Cortana is an awesome name. I doubt we'll be able to change the name but I believe within SDK leaks it showed it can add a nickname to the user. That being said, either Jarvis or Lumia would be cool names.

Jarbabes .. Jarvis(ironman) little sister.

Melinda Gates.....that's funny.

I could listen to TH all day.

As an atheist I'll call it GOD! (it'll be the closest thing to the fake one)

Wether or not you believe in him, its still a douche-bag move to take shots at peoples' beliefs.

So I can't call my godly phone god?

My phone is godly that's why I call it god.

Then you're not an athiest as you so self-proclaim

I think he means it's too gorgeous or too useful

As an atheist myself, you need help. There is no reason to attack other's beliefs, that's cheap and adds nothing to the conversation. Being an atheist isn't cool or different now, stop pretending it makes you better.

Hey man I don't tell you how to live your life.

what an announcement, you came out of the closet. go breezy girl!

Both of you stop your bickering! There's other forums for that sort of bollocks!

I laughed. keep taking shots. people are too sensitive. use your right to blaspheme or lose it.

Im fine with Cortana....actually, I prefer it.

Quorra, Olivia Wilde character in Tron Legacy

Calling her "sweetheart."

+512 Internet Points for you, sir.


Probably it'll be my ex GF name

Cortana!!! Leave it just like that Microsoft!

SIRI and then Apple will sue me.

Yeah, Apple is too siri-ous with some things...

"fiwu" - feature I won't use

The real question is, what shld cortana call u... OPTIMUS

+1520 this made my day like no other

I'll call her what I call my 1520 right now. Big Mama

Cortana is fine but I really want to rename XBox to something else. Hopefully the case when Cortana comes to XBox.

Cortina is good. Just don't call it "virtual assistant" by default name lol.

"Well she's a guy, so..."

Then she would have to wear khakis

I would call Jarvish. From Iron Man Movie, it's great personal voice assistant

You sir, have won the internet. For a day

Cortana is great! And LOTS of techi's know the name. Instant fans without lots of marketing.

Samantha! Cortana, GlaDos, and CeeCee (from New Girl, sooooo sexy;)

"Lumia"... "Lumia, what's the current weather?" sounds like talking to your Lumia.. ;-)

I like Cortana, but if I feel like changing it I'd probably go with either Jarvis or Teletraan 1.

Christie would be my choice

I wish MS would pony up the dollars and get all of these personas. Like TomTom had Homer Simpson and real actors for navigation voices. It would be something out the gate to differentiate the product. I wouldn't mind a MS Dewey persona. That was MS's first attempt at an interactive search persona.

I'm going to name mine Sidore in honour of this cool cat.
http://www.dailymail.co.uk/news/article-2439522/Davecat-40-shunned-organ...
Synthetic love (and digital assistants) are forever! :-p

As long as Cortana addresses me as Batman, I'll be fine!

Cortana is good enough.. No need to change any other name, now its already set in my mind

If it works well, Cortana. If it doesn't work well, Stupid Fucken Cunt.

eww.... you're charming... Did you set fires as a kid, or torture small animals??

No to both. I will go out on a limb and guess you're not a psychiatrist? Go away wimp.

laughable.... and being degrading to women makes you "strong"? you're an idiot

We are talking about a computerized virtual assistant here, champ, not women. Therefore, it is only degrading to overly sensitive women and wimpy men.

what stupid self rationalization you're still focusing on "wimpy" when you don't have the slightest idea who I am other than I think that you're fucked up for the way you'd talk to your phone and that you'd be willing to spew that crap on a forum. you think that your willingness to talk like that doesn't bleed into your behavior towards women, in the same way a sociopath starts out by torturing animals and works up to doing the same with people. loser, "champ"

What stupid self rationalization. You're still focusing on "sociopath" when you don't have the slightest idea who I am other than I think that you're fucked up for the way you can't take a joke and that you'd be willing to spew that crap on a forum. Politically correct overly sensitive dumbass wimp.

how lame, you have to mimic me. "Stupid Fucken Cunt" is not a joke it is just a crass statement my first reference to "torturing small animals" was just a way to insult you for being such a pig in public my second reference to sociopath was to show how people desensitize to behavior and normalize inappropriate behavior. responding to "Stupid Fucken Cunt" is not an example of being overly sensitive, it's a crass statement that was totally unneccesary. is there anything else you want to mimic, can't come up with your own original stuff idiot? I figure I have free rein to insult someone as crass as you.

I guess you didn't see what I did there so I will explain it. I threw your own BS right back at you (but corrected your lazy lack of capitalization). Yes, my statement was crass and yes it was a joke. I have no plans of naming Cortana Stupid Fucken Cunt. Lighten up. As for my comment being unnecessary, that can be said about all comments, this entire site, and Cortana itself. None of this is necessary. It is fun and I was also having fun. You just had to go PC on me and I hate that shit. So lick my balls you stupid fucken prick. Hahaha... (Again, I'm just joking and having fun. I dont know you and can't say for sure that you're a stupid fucken prick, but who cares?)

loser no, the site and all comments are not unnecessary, but yes it is informal enough to where I do not necessarily care about capitalization. a crass and ugly statement is not a joke and is just gratitutious. I also note your hypocracy in pointing out something as trivial as capitalization yet you complain about "PC" comments in defending your ugly statement. loser

Hahaha. Geezus Christ you are so wound up. Let me think of some more crass statements to make since it sounds like you hunger for more. OK, well I can't think of any now, but will try to oblige in a future article's comments. I need some motivation. Interesting that you don't take offense to Stupid Fucken Prick.

Because I am not so wound up as you think and don't care about insults to me. However I do care about degrading comments about women, even in the context of a "virtual assistant."

Cortana is perfect. I just hope it sounds like Cortana and isn't retarded in its scope and utility.

I really like Cortana .. keep it like this

I'm the furthest thing from a fan of Halo, but I do like the name Cortana. Its got a nice sound to it. However, I also use the guy voice so the name doesn't fit as well. So I'll go with Mr. Universe :)

Cortana is okay though at some point I may change her name for a change

This is what it will probably be.

This is what im hoping it won't be no offense it lacks any imagination kinda like google now our voice assistant should have an interesting and you can't get more interesting than Cortana

I can't believe this answer was so far down the list. It was the first thing I thought of.

I'm sorry bhinesley but I can't let you do that.

I know. I can't believe there's not more geeks on this forum. I want HAL's voice also. Microsoft really missed on this one. Imagine the publicity they would have gotten!

Wife. She already knows everything!

It has to be necesary a female? I might want to call "it" JARVIS

If there's a male voice, I may call it GERTY, after Kevin Spacey's AI voice in Moon. Either that or JARVIS (Iron Man) depending on who the voice sounds most like.

if they got Paul Bettany to do the voice that would be really cool! That'll never happen though

Cortana if the voice is the same as in halo, otherwise bing

I'd name her Cortanita..lol

don't you dare start thermonuclear war!

Cortana or dirty slut lol jk

Alma, from Ninja Gaiden. 'Cuz.

Cortana is very fitting for a Microsoft product. That needs to be what it is called officially.

Come on WPC, is that it? No one suggested EDI yet from the Mass Effect series? DISAPPOINTED!

I would rather have Cortana...or nothing at all.
This is one thing Microsoft got right for a change. Keeping the cortana name is simply a win for the platform. Not a die hard halo fan...but I do love the fact that Microsoft actually listened to their users on WP for a change.
I don't care what anyone says...and some people may disagree here, but come April 2nd, I think I will be smiling the entire day, just because of this reason alone.

I'm not a Halo player, but I like the name Cortana. Still, the Zelda fan in me is calling out to change the name to one of Link's sidekicks: Navi, Tatl, Midna, Fi... Too many to choose from!

Im in the same boat id prob go navi as my message tone would be the "hey listen !"

Cortana is Just a perfect name ,Microsoft shouldn't change it ...Its Damn awesome

Sarah Palin or Ann Coulter

When I first get her I'll keep it cortana but if I get board or eventually I know to many cortanas (crosses fingers) I like the suggestions of clippy and Melinda gates

nay , I am fine with Cortana , what's the issue with her name ?

Cora - so the name has only two syllables.

Maybe I will call it ! Windows !.
I would say windows call Frankie or windows open tumblr. LOL

Cortana sounds lovely.. MS should make this name as default.

I would keep it Cortana. It's a nice name.

Rosie (from the Jetson's)

I wud call her JOBS or STEVEY !!

Jarvis...no questions asked!!

Wilford Brimley. IF it had his voice.

All I know is Cortana is calling me El Conquistador.

That's funny, what does it mean though.

LOL At this topic. I'm not trying to "date" the dang thing, Its a thing after all. lol. I don't get this teenage level personification going on. I will change its name though. I think I'll call this thing "Lumia".

I was excited when I heard they were naming it Cortana. I would say my stance on Halo in general is a little lower than "meh".

Will be calling mine WIFE!

I like Cortana...but if not that, then Cori?

Robocop.
Sike, Cortana is perfect, keep it!

Cortana is perfect for a Microsoft OS. If Nintendo ever made a phone they would have to. Call it Navi. It would be the most annoying voice assistant ever. Posted via the WPC App for Android!

Well according to Wikipedia the voice is going to be Jen Taylor so cortana or hey sexy for me.

I'm one of those who hasn't played Halo (the entirety of my video game career has been Nintendo-based), and seeing all the buzz around Cortana IS exciting, but also...there seem to be a ton of people projecting their virtual-girlfriend wish-fulfilment fantasies onto this. I've read comments anticipating interaction that resembles ScarJo's in "Her", other comments bitterly disappointed that the final rendering is going to be an animated eye-dot instead of a sexy naked lady, and while I realize this isn't EVERY commenter (and that fantasy is a huge part of what the gaming world is about), it's still weird to me. As for a preferred nickname? Maybe Trillian. (Nerd alert)

Oh well i like actually cortana....but I'll call her Madonna XD

Everybody are ok with cortana then why ms should change it, and if they wanna change it why they wanna know our preferences..

I'd like BILL if I use male voice

Gay, from Heinlein's The Number of the Beast.

So many choices.
"Siri, call my Mother" would be a great way to irritate iSheep on the morning commute. Just wait till you hear one of them activate their own voice recognition - and activation my own. Here here!

They should give an option that user should give its name wen he/she uses windows 8.1 ......so everyone would,have dere own,personal assistant with diffrent name

I don't expect Cortana to work on my 620 so...

Yeah, I see xfinity suing the crap out ms for that one.

Then again, calling it "Bitch, please" would work. As in: "Bitch, please set up an appointment!". "Bitch, please, play my Hip Hop playlist". "Bitch, please, send a text to Angela Merkel." ;)

Dinkan.....appu....soman..kuttan..shibu...

If it indeed is Jen Taylor doing the voice, then it wouldn't be right to call her anything but Cortana. And if Microsoft's gone to all that trouble, and drummed up this much hype based on the name alone, why even let people change it and dilute the branding in the process.

On a related note, perhaps Apple will rename Siri to "Congress", since I never see it actually getting anything done :D
Truthfully, none of the iPhone Users I know bother with it. Slow and inaccurate, nothing like the TV commercials. People just stop using it after a couple of days of frustration.

How do you know cortana will be any better ?

My preferences: -Cortana
-Sky (SkyDrive)

Sky is trademarked hence why its now onedrive.

Some of the more degrading comments should be deleted. I'm fine with Cortana, or perhaps EDI as a backup (thanks ArmandMg for reminding me about EDI).

I think Cortana should give you an option what to call her just like you provide your name, that opens up all the customization and fan craze

What's the point giving an option to call her anything we want? This has to be one universal name to where people think of Cortana it will remind them of Microsoft. Siri = Apple

I'm amazed, this far down... I was just going through the comments... :)

I love the name Cortana but I'd like to be able to change it as I see fit. I'd use Cortana for sure even if I can change it.

RADAR, like the character in MASH, always knew what you wanted before you asked for it.

Hear hear! LOL. Though I still prefer Cortana.

Shila, munni or maybe jalebibai. LOL

LOL. For India Munni would be awesome

Do You Think It Will Come With All Functions In India That Creepy US Specific Things Will Still Exist

Hahaha Reading the comments I think "mom" is the funniest one :D

I think I'll be disappointed if it's anything other than Cortana. It just fits.

JARVIS. I would also change the voice to a British male accent.

I didn't know Tony stark used windows phone

If not Cortana, then Helena

Cortana... PLease... please... do Cortana...

Keep it Cortana. I miss her... :'(

Princess Consuela Banana Hammock

Ok, this is for true SiFi freaks! First one to tell me what HAL stands for, without looking it up!

Hueristic algorithmic..... Something

I'll call mine lady lumia.

HAL. Whenever I ask it something, its only response would be "Sorry. I cant do that Dave"

That was the name of the planet.

In Firefly it was the name of the planet, but in Mass Effect 2/3 it was the name of a major female character. Super hot if I may add voiced by Yvonne Strahovski.

Rosinha garotinho, só gente da pior espécie

If there's a male voice available: Threepio. If not then maybe Karan (as in Karan S'jet; anyone played Homeworld?)

EDI would be another option (I'm a Mass Effect fan).

So when do you think we will get ME4? If you ever want to play multiplayer message me if you are on Xbox. My PC character is a lot less developed but I could play there as well..... b23h

But I prefer it be Cortana with the voice.

Watch Microsoft get sued by Bungie and have to rename the service shortly after to "OneTana". /joke

Hermes from the goddess of ancient Greek. Travel communication, trade language writing

Hudson/ Anne / pepper.
Or maybe just Bing.

Vickie the Robot (Small Wonder - 1985)

I'll keep it as Cortana as I love Halo!

I'll probably call it whatever they call it, but I really hope its called Cortana

@danielrubino...what abt the name....Micro..which is a short form of microsoft...

As a longtime user of Microsoft products I am quite comfortable with the standard naming conventions they use. I have decided upon the name: Microsoft phone 8.1 series personal assistant for windows phone users

I see the re-education program has worked splendidly with this one.

I would like to name her by some pornstar name...wow she is hot...

Voodoo "the devil little doll"

Cortana is just perfect. Too bad there's no boobs.

Why do we need one name or voice or image? That's so apple/siri like. Think bigger Microsoft!

As in an actual hologram!

Red Queen from Resident Evil!!!

Its fool to call her like that. Very hard if you want to call her

Hey 'Cora', how'd you like your name? Cora: Nicely. Thank you!

Jennifer ! Bill gates daughter :P

007 sounds nice, or Ms. M

YES..... yes, 007 or Ms M iskick ass

How about Wheel Wheaton(a la family guy)?

Cortana is the only legitimate name for this.

Well Cortana SUCKS.... Never have liked the name...... My vote goes for either (1. FOXHOUND) (2. Solidus) (3. Raiden) Yeah i know, not a chance in hell any of them will make the cut LMFAO, well a guy can dream right? Cortana though, I mean really :-(

I think the name should be something on the lines of.... "Microsoft Windows Phone Virtual Assistant for Windows Phone 8.1"

I'm definitely not a halo player , but the whole idea that Microsoft is doing this name is totally glorious for them , and I'm keeping cortana as the name of my assistant

Cant we just name her according to our convenience ?????

Everyone should have the right to name its assistant rather than getting it named by som other chunk!!

I prefer to call it Cortana.

Let me give him / her a name when I update to WP 8.1.
Feel like I could fire old personal assistant and hire a new one.

Yeah. Cortana. Because duh.

Cortana is very catchy name, not even played halo, but Cortana rings the bell.

Cortana is already a unique name. Easy to relate to. Perhaps you may try other language like Malay words for "vision", "wawasan"?

Jane. As in Ender's kick-ass ansible-connected friend who's part computer, part everything else. Anyone read Speaker For The Dead? "Jane, cut the ansible." ... "Done."

I'd call her, ballmer. And i will make his heart hurted. LOL. *hateballmer*

Angel for borderlands fans..

If it has to be default, then it's Cortana. But if it can be customized, then I call it "Zero" ... Well ... Gundam Wing fans here and one of my fave gundam wis Wing Zero. And Heero Yui call it Zero, hence, Zero :p

Cortana is kick ass !! No reason to change. In fact i would rename it to cortana if they called it anything else.

HAL_CORTANA_9000 is nice.

I like Cortana but I might name it A.I.

I hope you can rename it. I like Cortona but I've been trying to sell others on the WP platform and when I say Cortina they think its stupid. But if u can rename it or give it a nickname like it does you that would be awesome. I would call her Beyonce

Whatever it is... I just want to see it working ASAP! N hope it takes over Siri! (Evil Smile)

There's only one right answer here: Cortana.

Im torn between Dobby and Watson

will cal her JOE.. or JOE BELFIORE maybe..!!

Iris :D
Nah, Cortana is perfect..

i would call her AI brain....

Ill call her Donna. From suits.

I like "Tana". (Short for Cortana.)

Cora :P
Nah, Cortana sounds awesome!

Definitely naming her Susanna

"Microsoft Digital Voice Assistant for Microsoft Windows Phone 8.1 Release 1" Kind of snappy huh?

Why can't we have an option to Customize Cortana's Name itself. It would b amazing

Yes, and the name is Cortana ...

Microsoft Advanced Artificial Intelligence Assistant for Windows Phone 8 and RT Series

WAH! Windows Assistant Helper Posted via the WPC App for Android!

Jesus. So that way I'll really have my own personal one.

Cortana itself is the best name or Faora-ul from Man of steel General zod's lady.

Just Samantha. If you know, what i mean!

Rachael (Blade Runner) Pris (Blade Runner) Red Queen (Resident Evil) EVE (Wall-E) HAL 9000 (2001) Ash (Alien) Dot Matrix (Spaceballs) More ideas
http://en.wikipedia.org/wiki/List_of_fictional_computers
http://www.denofgeek.com/movies/19030/the-top-50-robots-and-ai-computers...


I'll probably stick to Cortana, certainly if Cortana is the default. Though being able to customise the name she responds to would definitely be a plus.

I'll call it SAMBHA.... SAMBHA was assistant of great Indian Villain Gabbar Singh from Most successful Indian movie SHOLAY

I'll call it SAMBHA.... SAMBHA was assistant of great Indian Villain Gabbar Singh from Most successful Indian movie SHOLAY..

It needs to be a name that isn't single-sex. It would look a bit weird if you called someone 'cortena' and a mans voice came out.

Scarlett. But if there's a dude voice, I'll call him Philly Cheese Steak.

I'll call her cortana. If you can change gender you could call it the Super Intendent Relaying Information ?....oh wait .. never mind!

Cortana is the coolest name for any female AI being.

If we get Cortana in Sweden I'm gonna call her Swedish cook because that's what its gonna sound like when she tries to pronounce my contacts.

Apolo mango blue. Should be the name

Or blue balls as it comes in blue update and looks like balls

In true Microsoft style I'm opting for "Microsoft Digital Voice Assistant 2014 for Microsoft Windows Phone 8.1 release 1" kind of snappy don't you think?

Computer. With the Enterprise Computer voice please!

some of us ST geeks have already been hoping for a Majel Barret voice download function.

How bout BB? Any true halo fans out there? Maybe Serena or Roland or guilty spark or penitent tangent, Wellesley ? Lots of halo A.I. Names to choose from

I'LL prefer Cortana or Kitana

GLaDOS! And hopefully we'll be able to change the voice later as well.

Cortana, thx. Best name ever.

I'd love to call it Viki or Eve. Much nicer than cortana.

Guess I'm the only one who reads the halo books, id call him BB, short for Black Box, after the second best AI in halo.

The leaked demo looks like a halo... So call it Halo.

If its a girl, then how about Mika...and it its a boy then Mike...short,crisp and cute...

Cortana is good for computer

ADA - The AI from Zone of the Enders Kitt

"Cortana da ill nana" lol

Supercalifragilisticexpialidocious

CORTANA is sweet... I'd hate it if they called it something else.

Anja from GoW If not Siri.

How about IRIS? Seein that Siri stands for Speech Interpretation and Recognition Interface IRIS could stand for Integrated Recognition Interface for Speech MS wouldnt be breaching and copyrights and it could P*SS Apple Off.

Rommie (Andromeda) or Fayth (FFX)

"Mirai" it's a japanese name, its mean "Future".... :D

Knight Industries Two Thousand (K.I.T.T.)

1) Windi, for Windows.
2) Iris, the original name of Siri before apple purchased the technology.

Erena, Reina or Yaya from my favorit japanese ex idol & character from anime

Mia would be nice... (Short of Lumia)

Cortana but I like Boobs too :p -Boobs, take me to the sky! -Calculating the fastest way to the airport... -Oh girl...

Jarvis , i think would be awesome!

Lanfear (daughter of the night in the old tongue)

From my favourite episode of "Laverne and Shirley" -- 'Betty, please'.

With a male voice, Dorian (from Almost Human)

Cousin' IT or HAL from 2001 space odesy

How about 'Red Queen' :P Resident Evil

Borat or Alexis!!!
S1m0ne is nice too!
After all Cortana is better than anything

"Eva" from Wall-e. Short and simple, like siri


Not sure but for marketing it needs to be short like Siri is.

What did siri say in the interview with jimmy?

I will prefer to call cortana as "grumpydan". And then i will teach it how to be rude and arrogant.

Preffer 1010101010101010101010101

Why bother changing it? I'm leaving it as is.

Cortana, Ingrid Hannigan, Mother Brain, Motoko Kusanagi (A.K.A "The Major"), KOS-MOS, Chi, Cyborg 003, Samantha Pringle, Seven of Nine or Henrietta (without a P90, of course).

KOTL. giff me mana kotl. hehe

Jimmy Fallon said the other night that Siri said to Cortana, "Oh..it's on bitch!", so I think they stay with that..."bitch".

Sheba. I like the sound of "OK Sheba how do you... ". Posted via the WPC App for Android!

If I don't stick with Cortana, I'll call her EDI.

"Irona" from richie rich comics/animations.

Call it OBAMA. Object-Based Assistant for Microsoft Applications Posted via the WPC App for Android!

I'd call it Lucius and give it Morgan Freeman's voice. Or just call it Tana

Oracle...? Dorothy Mantooth...? I'd name her after my "ex", but the current broad might flip out and smash my shit. :-/ So yeah, Cortana might be safer.

Just Cortana... even without a background with the Halo games it is a good sounding name for a digital assitant.

Luna or 343 guilty spark! Wat say!?

ex-wife.... because I was never correct...

As what Pinkman would say : Bitch

Oracle. Posted via the WPC App for Android!

I am surprised no one has mentioned SARA, the autonomous house from Eureka. But I think I will stick to Cortana or Jarvis like most everyone else. Microsoft could totally afford getting the voice for Jarvis and if not they should at least allow loading custom voices.

Am I really going to be the first to recommend Iris? Iris, siri backwards. Apple fans will explode.

What about Holly, re. Red Dwarf

I will name her 'Shodan' and will make her call me 'Hacker'.

The name should stay as intended. Microsoft has made many sacrifices to many of its software to entertain the masses. No other company has changes things so much to please customers. I feel that enough is enough. Apple created Siri and it stayed. I remember that people hated the name iPad, but it stayed. Just leave the name alone..

Susi, Lucy, Lila, Kity, Luna,

I will call it "Love" As a UK resident It will flow nicely with my life. "what's the weather like tonight love?"

Name it after the TF2 announcer. 'Five minutes left until your meeting, five minutes left until your meeting' When driving using turn by turn navigation: 'You have almost reached your destination!' WAH HAHAHAHA' When you miss an event: 'You have failed!' Boooo

I would probably just name her "Hey." So I could just say "Hey, what's the weather forecast?"

"Anthena". She stood beside each of the great heroes of greek myth: for a man was "nothing without the gods"

"Athena". She stood beside each of the great heroes of greek myth: for a man was "nothing without the gods"

EDI - Enhanced Defense Intelligence - From Mass Effect. Edit: Sorry, wrong comment

I'd call it Jarvis or Ziggy :)

I hope they allow the voice to be changed to bothe female and male. Just like my male voice on my here drive I would like to call my assitant Roberto! :) That's the name I gave it my voice guided male voice for my here drive and I would like to keep it for this as well.

Zeus? Apollo? Go from there. Cortana is too "geeky" and too long. Most won't even get the reference. How about "Jeeves" ;P

'Jarvis' the personal assistant in iron man

how about "athena" after the greek goddess of wisdom?

HODOR...naw Cortana is fine. Howeve if they make a male voice, IT MUST BE JARVIS. I WANNA 'Hey Jarvis" "yes sir" SO BAD
Windows Central Newsletter
Thank you for signing up to Windows Central. You will receive a verification email shortly.
There was a problem. Please refresh the page and try again.