Freetel continues Japan's support of Windows 10 Mobile with Katana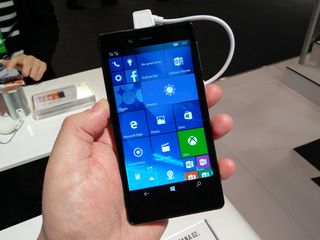 If there's one country that seems to be getting right behind Windows 10 Mobile when it comes to new phones, it's Japan.
We've seen devices from the likes of Mouse Computer already, not to mention the Vaio Phone Biz, but at Mobile World Congress we stumbled across a couple more headed to the Land of the Rising Sun.
Carrier and phone maker, Freetel, has the Katana 01 and Katana 02, a pair of Windows 10 Mobile devices that its offering to its customers.
Neither are what you'd describe as high-end, but the continued Japanese support of the platform is encouraging.
The Katana 02 is the higher spec offering of the two, with a 5-inch 720p display, quad-core processor, 2GB of RAM and 16GB of internal storage. Round the back there's an 8MP camera with a 2MP up front for selfies, all powered by a 2600mAh battery.
It's all plastic, but on the back there's a brushed texture finish, with a chrome effect side trim. It's pretty unassuming looking round the front, with nothing but a black rectangle staring back at you.
The smaller, lower-spec model is the Katana 01, which has a soft touch finish on the back. It's very much an entry level phone, with a 4.5-inch 480x854 resolution display, quad-core processor, 8GB of storage and 1GB of RAM.
Battery is 1700mAh and there's a 5MP camera on the back. But ultimately it's a way into the ecosystem for customers of Freetel in Japan.
And that's the bigger takeaway here. It goes to show that in corners of the world we may sometimes ignore, there's still support for new Windows 10 Mobile products. Limited markets, sure, but they're still happening.
And that makes for good news.
Richard Devine is an Editor at Windows Central. A former Project Manager and long-term tech addict, he joined Mobile Nations in 2011 and has been found on Android Central and iMore as well as Windows Central. Currently you'll find him covering all manner of PC hardware and gaming, and you can follow him on Twitter and Instagram.
We need all the support we can get to pull through. Bumpy road.

Were Japanese phone makers as enthusiastic about Windows Phone 8.1? Or is this a trend due to Windows 10 Mobile?

Due to w10m, in the era of wp8.1 there were 0 OEMs

No. Here Maps rendered all of tokyo as just a grey blob, no roads trains, rivers, anything. MS made a big push with W8 and their tablets, but there were zero apps for WP8 except a few leftover from WP7 days. it was truly dreadful. i bought an Z3 Tablet Compact just for traveling in japan so i could use Maps. Even Gmaps Pro was crippled on WP8. i think with unversal apps, MS is starting to make a push. there are lots of great W10 apps from the big publishers in the Windows Store and once those are Universal, i lookforward to putting them on my phone.

MapFan is the the map app that is used for Japanese Windows Phones. Posted via the Windows Central App for Android

I really don't care about the looks of the phone that much. I actually like having no shiny edges towards the front of the screen. Once a Windows Phone screen turns on, everything looks alive.

It's alive with the sound of music:)

But...but....it looks cheap and not premium! /s

Bizarre, do they have much of a market share there?

Like everywhere else on Earth (including Redmond, WA), no. 0.11%: http://gs.statcounter.com/#mobile_os-JP-monthly-201602-201602-bar

None of the companies in india are trying to release win10 i was waiting for 3months to upgrade my one year old lumia630.... hoping that lumia 650 will soon arrive to india

Micromax, XOLO, Karbonn have tried their luck with WP8.1, but failed due to Lumias

Yes but now Microsoft is pulling itself back in hardware department so OEMs should step up now

They should try again. This time they'll pass

High end specified katana 2 windows phone is without continuum?

The article states, that both phones aren't high end. The Katana 2 is just higher speced than the Katana 1. :) Posted from Windows Central for Windows 10 mobile

If i wait for surface phone it will probably take 10-20years for microsoft to release the phone lol

I dont think so. They're releasing 1-2 surfaces a year. The 950 is probably last high end Lumia we're gonna get before they transition to the surace name. I suspect one will come ~November

Japan has certainly seen through the fortune crystal.... Cheers to one core! Not soon..it's happening already!

The UK marketshare is actually quite high, that is often overlooked.

Yep, can't move for Lumias here. All on W8 though...

Yeah a whopping 3.5% Quite high by Windows Phone standards I guess.

Not so much overlooked, more that we only really get devices from Microsoft right now. That's about to change, of course, with the Jade Primo landing before the end of March.

Iam the only one using windows phone in my class out of 60 but i will never give up i will get another windows phone if old one is dead

And your Lumia 630 is not dying anytime soon. It's one hell quality build.

Way to go dude.
Windows all the way. ✌

I am the only one using one at work and we have a couple hundred people in this location. It used to be all iPhones here but Android has slowly taken over

Our company is predominately Android over Iphones. I know of at least 5 on Windows phones here.

It's raining windows 10 phones in japan

Yess i drop it more than 20 times and iam waiting for lumia 650 to upgrade it... i want to see the live tiles in amoled display

I'm surprised we haven't seen a device called "Bokutō" yet :P. It's great to see so many Japanese OEMs get behind WM10, with a variety and quirky handsets. That's what this ecosystem needs a variety. Landscape and portrait qwerty phones are the next step.

Agreed. Hopefully the there will be a good mix available worldwide.

That 01's resolution is frighteningly low, haha. I find it kind of odd that Japan is embracing W10M and having nothing to do with the Xbox brand still.

People down voting comments is getting old.

What's wrong with downvoting comments? Are we supposed to only be nice, and never have disagreements? The voting system is there to show general agreement/disagreement. I like it, and I absolutely HATE that Disqus stopped showing negative votes (which is utterly stupid, by the way, because they let you downvote, but it actually does nothing). That said, I do find it pathetic when people just downvote comments and make no effort to offer intelligent rebuttal, or any kind of comment to open themselves to the same reactions. It's cowardly and funny that people go to the anonymity of the Internet with a fear of not being friends with everyone.

Its no suprice Japan is really interested in w10 mobile with something as Continuum. And its up to Microsoft to keep them interested, and if its up to Microsoft we know there doomed to fail.

lets wait and see, and not be so dramatic about it.. windows 10 is the game changer, WP 7 & 8 imo were only the beta phases to get here.. I understand how OEM's didn't jump in before, it wasn't a complete OS.. but now its just a matter of time and good marketing, its not hard to sell.. simply because ppl are fed up with iphones and lagroids! Posted from Windows Central for Windows 10

Hey there. I'm glad to see manufacturers there are making more devices but one thing that kills me when I visit japan is no offline maps. It's been that way from windows phone 8 and even today. I just wish that was consistent with the rest of countries (south Korea is another country without offline maps).

To all of you who complained about maps for Japan: It's kind of a different scenario. The Japanese map industry is pretty insular, meaning they have 2-3 map providers in total, sitting on 100% of the "market". You either license their maps for yourself and have them, or you don't. Here usually didn't, while google and apple did. Hence the abysmal experience on WP (and yes, the maps app runs on here as well). So until Microsoft wakes the hell up and shells out some money for map licensing, mapping for Japan is gonna remain crap. (hopefully it's fixed for w10m, never tried it there yet) P.s.: Korea and China are two other interesting topics map-wise, but lets not drag this post out too much...

All Windows phones that I saw lately look absolutely alike. I would be really surprised if MS ever crowls out of this hole

Wish Indian OEMs to release few of Windows 10 mobile smartphones. Hopefully not just a wishful thinking.
Windows Central Newsletter
Get the best of Windows Central in in your inbox, every day!
Thank you for signing up to Windows Central. You will receive a verification email shortly.
There was a problem. Please refresh the page and try again.