Hands-on with NGM's Harley Davidson-adorned Windows Phone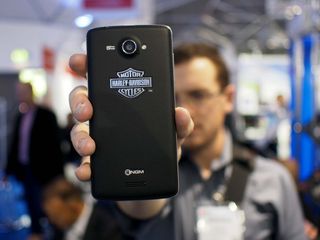 I wasn't sure what to expect when I was told there was a Harley Davidson-branded Windows Phone lurking about the halls of IFA 2014. The idea of such fancified devices — be it Samsung's Giorgio Armani Samsung Galaxy S or LG's Prada line — isn't entirely unheard of. And Harley Davidson has become something of a fashion brand in certain circles, though not the same circles as the Armani and Prada crowd. So it was with some trepidation that I found the booth of NGM and asked to see their first Windows Phone.
The phone is topped by a 5-inch IPS LCD display with a resolution of 1280x720. Inside is a quad-core 1.2GHz Qualcomm Snapdragon 400. Inside is a healthy 1GB of RAM with 8GB for internal storage. The rear camera is an 8-megapixel shooter while there's a 2-megapixel sensor up front. The phone measures 144mm (5.6 inches) tall by 72mm wide (2.8 inches), and a relatively svelte 8.5mm (0.33 inches) thick. That's with a glass front, metal frame around the sides, and a plastic back.
Software-wise, this is running Windows Phone 8.1, though NGM isn't really adding any customizations or apps to the experience. It's Windows Phone 8.1 and not much more, not that there's anything wrong with that. In our brief time with it the phone was quite responsive, certainly what we'd expect from a Snapdragon 400-powered Windows Phone.
But really, when we're talking about a Windows Phone with Harley Davidson branding, the appearance of it is something we really need to discuss. The front is, as you might expect, a single piece of black glass, though in this case it bears Harley Davidson's script wordmark in the space between the screen and the speaker. The standard set of Windows keys sit below the display.
The metal frame around the phone is lightly brushed and has a nice rounding to its corners, unlike the sharper edges you'll find on the likes of the iPhone 5s and Samsung Galaxy Note 4. The back panel is where the real action happens, with a faux leather texture (though not really that soft of a finish) with fake stitching around the edge. It's the kind of look we would have readily mocked on Samsung's Galaxy smartphones, but once you slap a shiny metallic Harley Davidson badge on the back it suddenly seems like the most obvious thing to do.
The packaging is also quite impressive, with a design that evokes a classic leather saddlebag with its wrap-around straps (in this case the buckles are purely decorative and a small magnet holds the straps down. The presentation is impressive for a smartphone box, with a large metal plate in the top bearing the Harley Davidson logo and the phone nestled in a black foam cutout with a silk pull to lift it out.
There's just one thing about the NGM Harley Davidson Windows Phone that kind of irked us: it comes out of the box with a screen protector applied, and a second in the box. In a day and age where even the cheapest phones come equipped with screens covered with chemically-hardened scratch-resistant glass, it's frustrating to have a smartphone that's as surprisingly decent as this saddled with an out-of-the-box experience of slightly tacky plastic instead of sleek glass.
NGM is projecting availability in Italy for the Harley Davidson Windows Phone in the week of September 21st, with additional European countries to see the phone later on. A US launch, alas, doesn't look to be in the cards at this time, despite the brand appeal we could imagine a Harley Davidson Windows Phone having in the States. Especially when the European price is set at €249 unlocked and off contract.
Image 1 of 10
Windows Central Newsletter
Get the best of Windows Central in in your inbox, every day!
Derek Kessler is Special Projects Manager for Mobile Nations. He's been writing about tech since 2009, has far more phones than is considered humane, still carries a torch for Palm, and got a Tesla because it was the biggest gadget he could find. You can follow him on Twitter at @derekakessler.
That leather back is sexy

YES!! Wondering can we have one written "Sons of Anarchy"? :D JAX is arrested !?!?!? *framed* ...

It's not just plastic designed to look like leather?

I'd take the 730 over that. I can't stand that small Windows key.
But then, it would be cool if they offered one when buying a motorcycle. And no U.S. launch? Harley Davidson sells most of their products there, so it doesn't make any sense to not release it in the country.

NGM isn't American. That's why.

Yeah, but since they're allowed to use the brand, they should be backed up by Harley Davidson to sell it in the U.S.

It's a little more involved than having a motorcycle company just make it happen. Besides, you do know the rest of the world also enjoys Harleys, right? ;-) Harley isn't making the phone.

They not only use the brand,there is a mother company behind NGM mobile that imports and distributes Harley in Italy,so its not excluded that in the nere future it will be sold in USA.

The specifications are low... But beautiful back.

There are reasons that people choose Harleys. If you don't ride one you have very little chance of "getting it". And we absolutely have access to high spec bikes. Just not plastic ricers. I have no problem riding with people who like those -- a brother is a brother (or sister). But there is no reason to disrespect Harleys by calling them "low spec". Largely because it's simply not true.

Rose a Harley, better bike choices out there fur the price. Not paying a premium price because something says Harley

I'm pretty sure the "low spec" comment was about the phone.

Low spec, is absolutely true, in the case of a Harley. I'm not a Harley hater, either, although I am admittedly the owner of a Victory Hammer S, and now a Victory Cross Country... Because I wont settle for a low spec'd Harley...

Don't get your panties in a bunch. No one doubts the appeal of Harleys or the financial resources of their owners. The bikes are still craptacular.

A lot of FUD in this thread. My 1200XLC has more torque, power and take off on the line than all but the highest top end sport bikes - and other cruisers can't compete. I've had 600cc+ CBRs try and drag me on the line only to find out that the extra bit of weight and extra torque means I get more grab and more power off the go. Red light to red light ill take a Sportster over any other bike.

It's the same as Lumia 830 , except the camera !

But I feel like the design of this device is copied from Micromax Canvas Win W121. Just check it's design and compare it with this phone. Even most of the specification is same.

Yeah..you're right..they are similar but this phone has snapdragon 400 processor whereas the canvas has snap dragon 200..good difference indeed.

I could definitely see the Harley shops selling a crap ton of these here in the 'States. I think this might be a blown opportunity for Harley to make some money, and for WP to gain market share.

Still quite a niche market sadly, i personally doubt it would gain much market share because of this phone, however i do think it would create a little bit of hype for windows phone, and who knows maybe Windows phone will get more recognition.

I own a 2014 Street Glide and Harley/Microsoft would have to work together to make sure that Windows 8.1 works better with the Harley Boom Box audio system on the touring models. I had an unlocked Lumia 1020 updated to 8.1 developers preview running Black firmware, my wife has a 635 running windows 8.1 with Cyane and neither work will with the radio. Specifically Here Drive+ turn-by-turn over Bluetooth does not work and the USB connection does not function properly with Windows phone. I downgraded to the Lumia 521 as Windows 8 works better with the Boom Box audio system USB support is still lacking but I can get turn-by-turn to work via Bluetooth.

That is daft, not selling in the US out of the gate. Also what size is the internal storage?
Is the back removable to access the mSD presuming it has one?
Did a quick bing search and couldn't find the specs.

"Inside is a healthy 1GB of RAM with 8GB" Specs are in the post ;-)

What? Now you expect us to read the articles too? It's so much easier to just ask questions. /s

It has to have an sd slot cause at that size its worthless for them to put 1gb of ram & not @ least equip it with 16 gb of storage

Just found on another site - "Espandibile tramite MicroSD"

Processore Qualcomm Snapdragon 400 Quad-Core 1,2Ghz Ram 1GB Display 5″ pollici risoluzione 1280 x 720 Pixel. Memoria interna sia da 8GB che da 16GB. Espandibile tramite MicroSD Fotocamera posteriore 8 MegaPixel con Flash Led. Fotocamera frontale 2 MegaPixel. Batteria removibile 2000 mAh.

It is the same phone launched my micromax in India by the name of win w121..with s200 processor

Wow, this really isn't much different that the 730/830. If it has microSD support, it might actually be a better phone. It sounds like it will carry the same CPU/GPU/RAM, the display size and resolution will be the same, and it will be significantly cheaper than the 830, with potentially only the camera button, OIS and SensorCore missing.

but it won't be cheaper than the 730... which has exact the same internals

No, but it will offer a better display than the 730 and be cheaper than the 830, which is why I mentioned both.

I believe SensorCore is part of the Snapdragon 400 chipset.

It is not. It's a Lumia add-on. Now, it's possible that Microsoft/Nokia (whoever oredered the chips) had Qualcomm put it on the chip, like with the secondary imaging processor with the 1020, but the SensorCore is not on anything from Qualcomm by default.

Right, SensorCore is Nokia, however the sensor technology is built I to the snapdragon.

It's funny that there's no time table for a US launch when Harley and Microsoft are American brands. Lol

You guys get most thing anyways be quiet

Continent Wars...good times. Meanwhile I'm waiting for Microsoft to actually design, build, market and Launch globally.

Britain planned to attack the USA directly after the Second World War through Canada, and the USA planned to annexe Canada. Maybe that 'special relationship' is all a lie?

But NGM Mobile is not a US company, it's Italian... so only because it wears "Harley Davidson" it doesn't mean they are interested in crazy releasing it to US from day one (or ever), I am sure Europe is more important for them, in fact if you go to their site you would see how they focus in Europe by just the site languages and flags they use, the prices, etc etc.

NGM is Italian, and Italy is the biggest market for WP in Europe (excluding Finland obviously), so perhaps they just want to see how well it does in Italy before taking it to Harley stores in the US.

8 gigs of storage. Really? I have 28 used already, and have only had my phone for less than a year.

Wow. I have almost 28 free and have had my phone for over a year (14month will be tomorrow)

Since I bought my first WP when the 920 launched I've never used more than 7gb, although I would always stick with 32gb models, just incase there was ever a large porn film I wanted to download :D

At least display it with a Harley Davidson wallpaper instead of plain looking OS

Yeah. A Harley wallpaper would be cool.

Microsoft soon will launch flagship phone in December with snapdragon 805 chipset expect the device is a successor of Nokia Lumia 1020

They better launch a flagship in time for the holidays.

Can any 1 tell me? Which display is better? IPS LCD or OLED? Which one is good for battery life?

Oled is better but it kills the battery if your theme is light.

OLED isn't always better. Look at the 1520 for example.

Hi Sam, nice to see you.
Why? What's the problem with the 1520?

The problem is, it have a wonderful screen and it happens to be LCD.

I love looking at my 1520. Especially after tweaking the settings. Great in full sunlight and naturally toned. Very warm and welcoming to the eye.

It's what users prefer that's the best. Some prefer LCD and some OLED etc, no one is better then the other, but people tend to like the color pop OLED produce's. Reading on a LCD is very nice, it's good for the eyes. Looking at pictures, colors are more accurate on a LCD then to real life, but updating freq seems to be very slow no matter what the manufactures (e.a. read screen lag) do. That's why you can experience something close to "screen tearing" on a Lumia 1520 if you scroll really fast up and down. The screen is slow to update and causes what looks like a mess on the content on the screen.
OLED have very strong colors and black is really black because where LCD needs to light up the whole screen to show something, OLED can light up pixels individually. IPS I don't know anything about.
Sorry about any bad English, I'm Swedish.

Your English was fine, in fact better than some native speakers.

Much better English than most native speakers I would say. I prefer OLED, but have some durability concerns... my 10 month old OLED 1020 is looking much dimmer and the colors are getting less accurate. Using the color adjust I can get white pages to look slightly blue or slightly yellow, but not anything resembling white. My 920 and 620 still look great after all this time.

Can any 1 tell me? Which display is better? IPS LCD or OLED? Which one is good for battery life?

No one can say for you and your preferences... Do some research and look at some screens in the shops. Some like one, some like the other. Many like to argue minute points about them. I look at pixel density when I look at specs. Above a certain threshold (350 ppi or thereabouts) you won't tell much difference with the naked eye and no matter the tech behiond the display it is usually quality. I can see the good and bad in both IPS and AMOLED tech having used them both...

What horrible features, 8GB of internal storage with no mention of micro-SD, 5" screen in 1280 resolution? But then again, since when do Harley owners care about features ;)

I ride a VRod -- I most certainly care about features.

Porsche designs BlackBerry. Gold Q10 with a 777 PIN. Those are exclusive. This gaudy HD phone required no thought or effort.

Id say actually looking at it again its a cross between a lumia & a galaxy when you the on the back

What done happend to the guy's fingernails?!!

He appears to have a bacterial or fungal infection. Not a good look. Antibiotics or antifungal cream would clear it right up.

Combination of getting wrecked by a hammer, burned, and poison ivy. Still not quite recovered (and I usually don't forget to not use that hand)

Aaahh, hands of a REAL man! Dun worry xD

Wow, that phone appeared quickly

Now if all the bike gangs and harly riders in the US alone grab one of these.....WP numbers could jump up a good % or 2... Not a bad looking phone...

Why are the capacitive button designs quirky? All the non-Lumia phones have this issue. It doesnt keep up to the trademark. Micromax and XOLO have the same issues.

What's the purpose of this, useless just like that loud gas guzzling Harley Davidson bike.

Spoken like one who's never been on a Harley. It's not for everyone, of course. But the lack of respect is unfortunate.

Nah, I don't see why anyone would buy this, when the are much better, much better looking Lumia handsets (like the Lumia 930). I mean unless they are die-hard Harley Davidson fans

Which is exactly the point. While I am not one to buy everything with HD on it, I have friends who do. And there would be a cool factor to pulling out an HD phone when you're on a ride with a group of friends.

Where do we get that lockscreen picture?

I cannot agree about screenprotector! Gorilla Glass 1,2 and 3 may be called scratch resistant, but it is not! U don't need knife or hammer to scratch it, only some keys or sand in pocket and some time. I always buy screen protector for my devices. Simply because screen is the most vulnerable to damage and most pricey part in case of replacement. Difference in use is almost unnoticeable, but makes huge difference in case of phone drop and increases price when selling old phone in mint condition.

I agree. As a rider having a screen protector is a must. My phone goes in and out of my bag, and I know lots who affix their phones to their bikes. I think this is a thoughtful add-on.

Harley are as bad as Ferrari with letting anyone using there name for money

Am I the only one who hates the faux leather back? I feel like it's trying to be something that it's not.

Missed an opportunity to work with Harley Davidson to provide an official app with the phone.

All Harley owners need is good phone reception so they can call road assistance when the bike breaks down.

More WP devices, I say!!! MOOOOORRRREEEE!!!! *evil laugh*

Very cool. Only they could pull off that faux leather. Italians like wildfire phone I understand. And they certainly like their motors, of all kinds.

Looks tacky in my opinion, and having a plastic back is a bad move they should have gone for a leather feel.

Damn what a leather cover,where to buy this one....

Looks good. Specs are OK :) Posted via Windows Phone Central App

By the way who is this guy?

Derek Kessler? He's the managing editor of Mobile Nations, the network of which WPC is a significant part. He's audio written frequently on this site: http://m.wpcentral.com/users/derek-kessler

Don't forget, former Guru of webOS Nation... Hiya Derek. *waves*

The front part of the phone doesn't look appealing.....rest is good

I'm a little tempted by this if it's got MicroSD

Really?! You would forgo all of the benefits of a Lumia phone for THIS?! Just stick a Harley sticker on the back of a Lumia....it'll still look much better!
Oh, and you get the added benefit of ongoing updates, glance screen, wireless charging, brilliant cameras, MixRadio, SensorCore etc etc!
This Harley phone is tacky.

When I used to work at a gas station I'd see Harley's all the time. I like their looks but to be honest Harley is just... too loud for me. I understand it's some sort of "rebel" thing to make noise and grab attention but I'd prefer a Yamaha (The Fazer 8 looks really nice) As for this phone, I seriously don't get the whole branding thing. The next thing you'll know there will be a Montreal Canadiens phone...

This thing is ugly and tasteless, bordering on cheap knockoff territory. Even the bankers who trailer their Harleys to shows wouldn't buy this. This is the brand equivalent of Brad Pitt doing commercials for Japanese donut shops in the 90s.

But maybe the screen protector is removable so if you don't feel like it, remove it.

For gods sake at least put a Harley Davidson background on the start screen theme

I love my Sporty. a 15xx with Harley branding would make my day.

And I don't think being protective about the screen should irk... Yeah they have hardened glass and all but when the time comes and ur phone has a little scratch on its screen, it really gets very annoying.
I like their idea of providing an extra too

Is it slow and make excessive noise?

Its a nice looking phone but mid range hardware. To bad it wasn't high end, it would be really compelling to buy.

Check this out! It looks exactly like Prestigio 8500!!! http://www.gsmarena.com/prestigio_multiphone_8500_duo-pictures-6526.php (the beta photos of the Prestigio 8500 had a leader cover)
Windows Central Newsletter
Thank you for signing up to Windows Central. You will receive a verification email shortly.
There was a problem. Please refresh the page and try again.