Hisense and China Telecom are about to show Windows Phone more support in China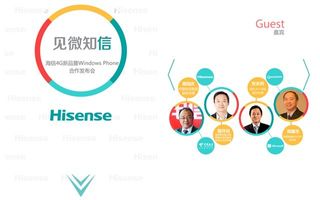 Ever since Microsoft removed the licensing fee for the Windows Phone operating system, we have seen a healthy number of new OEMs joining the ecosystem in a pretty short time. Now Hisense, a relatively low profile Chinese smartphone maker that previously has been focusing on Android, is about to announce their first ever Windows Phone device on June 26. That is the 26th day of June in China, which means by the time you are reading this story, the device would have already been unveiled, and our follow-up story will be almost ready.
News of such an announcement by Hisense came yesterday, though we have more details to add to the story today.
The announcement comes as quite a surprise. Microsoft has never mentioned any possible partnership with Hisense, and the latter has never shown any interest in the Windows Phone OS. All in a sudden, Hisense not only joined the gang, but also has a product prepared. That's some hi(gh) sense of secrecy.
Meanwhile, according to Chinese tech site WPDang's insider source, China Telecom, the country's third largest carrier (and the only one running a CDMA network), will soon support carrier billing for the Windows Phone Store. Despite China's economic boom in recent years, credit cards are not household items there yet. Thus being able to purchase games and apps with one's phone account is a giant convenience to many. China Mobile, the largest carrier there, has already been doing this. If China Unicom could also have carrier billing in place, Chinese Windows Phone users will enjoy easy billing everywhere.
Stay tuned for our coverage of the Hisense phone. The brand is not exactly known for producing top-notch flagship powerhouses, so we assume the mysterious device will be either entry-level or mid range. But we are more than happy to be proven wrong on this.
Source: WPDang (1) (2)
Windows Central Newsletter
Get the best of Windows Central in your inbox, every day!
"That's some hi(gh) sense of secrecy." You're a riot Kane ( *_*)

Show us some love for WP Hisense!

All those OEM showing love since the license fees are good for the ecosystem and for us btw

Microsoft need to bring the carrier billing to India. It will be a huge hit in India also because many people dont have credit cards. Also, they should bring something like "airtel money" where you can transfer money to a common account (Microsoft) through net banking and use it to purchase apps/games on Windows phone, Windows 8.1 and XBOX. This will help even better for ecosystem and more people will buy apps from the store because of that.

Carrier Billing needs to be Worldwide, loved this feature in Nokia Ovi Store.

What's going on with India? Those people are always asking for things which tells me their not getting things on a decent timeline or not at all. Why?

we Indians are quite needy :P

It is great to see Windows on phones starting to take off, but its crucial to preserve the key differentiators from Android, especially not allowing forking of the platform and maintaining integrity of apps through policing in Windows Store only.
People will buy into Windows to get away from Google's privacy policy (ie. no privacy) and the inconsistent, fragmented, malware-ridden cess pool which is Android, so make it free MS but enforce the stock experience please.

Kane. It's "all of a sudden". Not "in".

It's great to see more support for WP come...expecially in emerging markets.

Released, Hisense MIRA6. 4g+gsm+cdma support, snapdragon 200(8612) 1.2 ghz quad core processor, 1gb ram, 8gb internal with up to 32gb microsd, 8mp rear and 5mp front cameras, 5" HD display. This phone has a Android version.

Holy shit! That's awesome!

Hope they announce a 5" Full HD quad-core phone with 4G/LTE. Oh and let the price be $350.

This a good, more OMEs , more competition, more innovations, more apps, more developers, more breath taking apps, and the better wp becomes

Here's the commercial http://v.youku.com/v_show/id_XNzMxODk2OTI4.html