How to open a private browser tab on Windows Phone 8.1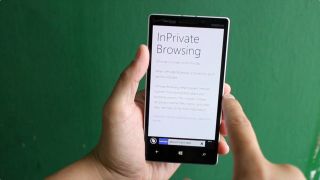 The Windows Phone 8.1 update introduces private browsing in Internet Explorer. It's called InPrivate Browsing and it prevents Internet Explorer from storing data about your browsing session. This includes cookies, temporary Internet files, history, and other data.
To get started, click the Tabs button to the left of the address bar. It shows all the tabs that are currently open.
Click the three dots on the lower right corner to reveal more options
Click 'new inprivate tab'
That's basically it. The new InPrivate tab briefly explains what it's all about. There's also an indicator that appears in the address bar.
We're glad to see this new feature on Internet Explorer. Previously, those who wanted to browse privately had to manually delete their history in the settings. Another option was to use third-party browsers that supported private browsing. UC Browser is a popular alternative. Curious to know what else is new on Internet Explorer? Check out these 8 new kickass features in IE11 on Windows Phone 8.1.
Are you excited for this new feature? What kind of web pages do you visit that require private browsing? Let us know in the comments!
Get the Windows Central Newsletter
All the latest news, reviews, and guides for Windows and Xbox diehards.
I'll use this to look at pictures of kittens. I don't want anyone to know I like kittens so much.

Lol Yes we all like those sexy looking kittens

I use in-private browsing for the articles.

Well am in for those round t*ts man. They ARE sweet!

I think we can all agree that we all love a great big, round set of tots. Yessir, nothing better than some tater tots!

LOLZ!I deleted my history last night to find this feature today in this article!MS ROCK YOU!

I also like pussy.....cats :) LMAO

Mine does not have this inprivate option under the three dots. I'm using WP8.1 Dev Preview though.

You must bring up the"open tabs" first. You're welcome

Awesome. I'm glad this was brought over since I hate deleting my browsing history

For all your porn needs on the go.

That was probably the main purpose of private browsing. :P

It's called private for a reason ;)

Microsoft is just trying to give their users a helping hand.

Windows Phone has been waiting for quite some time for this feature to come along.

But after trying it out it was kind of a anti.... climax :)

Yeah, Microsoft needs to give it a little better next time.

I see what you did there hahahaha WPC App for Android- Lenovo IdeaTab A3000

I find it hilarious on Chrome one of the notes when you open a private tab is: be weary of people standing behind you... Haha Posted via the WPC App for Android!

And that secret/government agents may be watching. :P

Love this feature. Just so I can look at cats getting punched or pounded...

ceiling cat is watching fapping.

That's German for cell phone!!

If only we could get to it faster....

That's not what she said.

I'll use it for porn videos.

I'll use it for my po...ems. I make poems. I just want it to be private. ;)

I thought windows phone 8.1 allowed tabs to open in background. How do we get that?

These comments are hilarious! :D

Lol they're kind of lame...but funny xD

Lmao at all these males and their comments smh :P

Why only males, Ladies don't need privacy! ;-)

Went can't internet explorer open Bing and were in the hell is bind rewards!!!!

Just install Hotspot Shield...it gives you a US IP address...then just sign in to rewards each day and do your 30 searches for 15,reward points.
I've earned 140 points so far (I live in the UK). That's bagged me 100GB of extra OneDrive storage for the next year (perfect, as I'm heading off travelling with my 1020 as my sole camera! Auto sync, 130GB of backup! Nice)

Ok...I'm sure the information is appreciated, but honestly what are you responding to exactly? How on earth did you make sense of that post?

I go by the name of Dr Doolittle ;) *In truth, I discovered the Bing Rewards loophole the other day...so figured I may as well share the info with someone that looked like they weren't from the US, but who did clearly want his rewards :)

Lol dam Swype! I was asking does Windows phone work worth Bing rewards;

Aah...gotcha. My information was clearly wasted on you :). Hopefully it'll be of use to another Brit (or other non-US resident that fancies a few freebies from Microsoft!).
Speaking of freebies, I just got another £20 from Nokia as a reward for owning a Lumia 1020. That's £40 in rewards for this phone, and £80 in total rewards including promos on two other phones. It's crazy! I've only managed to spend £4 in 2 months :)
Adios

I successfully joined Bing Rewards 2 days ago. I don't live in the US, and don't use any sort of IP address changers. (I'm the OP in this thread) http://forums.wpcentral.com/bing/274690-bing-rewards-now-working-southeast-asia.html

Fir all of you talking about porn its really TMI keep it to yourself please

This is what happens when a bunch of tech geeks get together on forums and sites lol in their defense mark did tell them to share.

you're not forced to read

At last we can watch 1080p videos on YouTube

I don't think we can. Not 100% sure though

Open internet explorer on Windows phone desktop mode press play on video and select resolution.

But we can't for mobile mode?

Options are only for desktop

Should be noted that u have to close the private tab. Just closing out IE doesn't close private tabs.

I kinda wish Amazon had a similar feature. I went shopping for a men's swimsuit once, and for months afterward my suggestions consisted mostly of scantly-clad penis. I'll never understand mesh swimwear for men. Anyway, 8.1 is just full of surprises.

Same reason for mesh swimwear for women. Its meant to be Sexy to some people.

I'm understand that, but I used to have a workout shirt with mesh on the shoulders/arms, and it's the most uncomfortable material. I'm sure after a /very/ short while, the same could be said for garments supporting a much more delicate area. But then fashion/sexiness trumps comfort for many, so who cares what I think.

In 8.0, there was a setting to automatically open links in current tab or in a new tab. That setting is gone.

Can anybody answer if real time notifications are enabled for 8.1??? For 6snap etc....

you mean push notifications? they've always been real time

Now they just need to sell little Windows Phone branded InPrivate HandTowels®

Okay I use that space for favorites but still easy to open inprivate browsing

I'd really like to pin the inPrivate to my start screen. It works on Windows 8.1, why not on Wp8.1?

Do anyone know why some siteslike imdb open as a mobile site in IE11 in WP8.1 instead of a desktop even when you set the opition in setting for desktop. It didn't do that in WP8.0

Is this a new feature. The ability to swipe the screen to go band and forward while using IE.

I got Cortana in India.....!!!

Well yes, I got it on 4 phones here in India.

Use it to do some internet banking...

Use InPrivate browsing if you're looking for a gift without him/her knowing.... WPC App for Android- Lenovo IdeaTab A3000

any one else keep getting the mobile version of websites even though you've set your phone to desktop ???

it was the same before, you need to delete coockies and/or close the interested tab and restart the browser

Thanks, I was searching for the same.

Why the hell we need to go so long for it? Cant that go next to + sign of new tab? Like Different + for new inprivate tab.

And rabbits too. I love rabbits. #IfYouKnowWhatIMean WPC App for Android- Lenovo IdeaTab A3000

I use InPrivate(ie), Private mode(ff),all the time as I don't like clutter in forms and address bar. Only couple of sites are there in my browsing history. So for me it is welcome feature on windows phone.

Today one of my teachers needed help. On his ipad and he asked what private was in the bottom corner and a kid said so the iPad doesn't remember your history. He goes Ohhh! So like when a teenager wants... And the guy helping him was like Umm just think about is as Christmas shopping. It was funny. Posted via the WPC App for Android!

Lily Thai, Isis Taylor, Lela Star

this is nice feature i like it for my private sites you know about private when i am boring from youtube..

Nice !...uinstalling UCbrowser...

But how to use google in address bar it shows bing search results

The reader mode doesn't works in my Lumia 920

Mine brings up Bing search, no place for tabs or private browsing...

It not only prevents the browser from storing sensitive data but most importantly doesn't send cookies that you've already stored by 'regularily' browsing websites. I wish they had made it possible to open a link from a normal tab in an inprivate tab, by an option in the context menu.

Reminds me of my first date.