Windows Phone sales dip in the US, but passes 10% in France and growing in Europe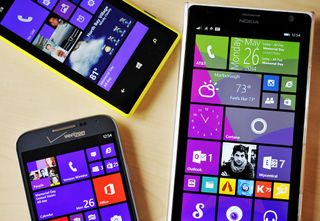 According to Kantar WorldPanel sales of Windows Phone devices continue to grow at a moderate pace across Europe, especially the big five countries (UK, Germany, France, Italy and Spain).
However in the United States Samsung's Galaxy S5 looks to be hurting Windows Phone and the iPhone.
Europe rising
The latest numbers were just released this morning by Kantar, who monitor sales channels of various smartphones. Today's stats account for sales for the three months to April 2014. The trajectory of sales for Windows Phone looks to be the same with Europe being its strongest market, including France, passing 10% and the UK with 9.5% in sales. Spain also had a big jump to 4.6% (up from 1.7% the year earlier).
The total Windows Phone market share of sales across the big five European markets is at 8.4%, with Android leading with 72.4% and Apple at 17.5%.
Those numbers signal what Kantar refers to as "increased handset fragmentation across the European smartphone market", which in this case is a good thing for Microsoft's Windows Phone since they are the ones doing most of the fragmenting.
US drops for Windows Phone sales
The course in the United States though is also similar, that is Windows Phone continues to struggle. Sales of Windows Phones have dropped to 4.7%, down from 5.6% one year earlier. Two factors can possibly be attributed to those numbers:
The hype and launch of the Samsung Galaxy S5
One major Windows Phone launch with the Verizon Lumia Icon (Samsung ATIV SE came later in April)
The Galaxy S5 launched at the end of March with preorders, but the hype around its announcement – and later the HTC One (M8) – seems to have impacted sales of all other mobile operating systems. It was no secret that HTC and Samsung had new flagship devices coming out, and it looks like many were taking a 'wait and see' approach.
On the flipside, Windows Phone did not have much for new devices in the first part of the year. The Lumia Icon launched on Verizon, but AT&T, T-Mobile and Sprint did not see the addition of any new devices. The Nokia Lumia Icon has received solid reviews, but there are no sales numbers to indicate how well it is doing. One thing is obvious, however well it is selling it is not enough to offset the continued strength of Android (and Samsung in particular).
Indeed, Samsung is so strong in the US that its sales rival that of Apple (34.1% versus 34.6%, respectively).
China and Android dominate
Low-cost Android devices are continuing increase in popularity in China with a 7.9% increase in sales year-over-year and a nearly 80% dominance in device sales. That has come at the expense of Windows Phone, which has dropped from a poor 2.2% in 2013 to an even worse 0.8% in early 2014. Ironically, the Android-based Nokia X may be playing into that decline, though, with no solid sales numbers on that device, it's hard to know for sure.
No '8.1effect' just yet
Windows Phone 8.1 was not announced in time for these sales numbers, so there will be little impact to marketshare.
In the US there are no official Windows Phone 8.1 handsets available today, with the 8.1 update likely this summer for existing devices. For AT&T, we are expecting a re-launch of the Nokia Lumia 1520 in Green for a June/July timeframe, but no new major Windows Phone device until November. Likewise, AT&T and T-Mobile are expected to get the Nokia Lumia 630 in July as well.
We don't have high hopes for any US or worldwide bump for Windows Phone for the next few months as the 8.1 update may not push sales too much higher. It will be interesting to see how adoption of the Lumia 630 and later the Lumia 930 affect sales.
Source: Kantar Worldpanel
Daniel Rubino is the Editor-in-chief of Windows Central, head reviewer, podcast co-host, and analyst. He has been here covering Microsoft since 2007 when this site was called WMExperts (and later Windows Phone Central). His interests include Windows, Microsoft Surface, laptops, next-gen computing, and for some reason, watches. Before all this tech stuff, he worked on a Ph.D. in linguistics and ran the projectors at movie theaters, which has done absolutely nothing for his career.
can't help the feeling that there was very little excitement about the last Nokia Lumia announcement. Lumia 930 is nowhere as groundbraking as 1020 or 1520 was... waiting for the next phone before I upgrade my Lumia 925!

People will love Lumia more after they see the next iPhone and galaxy sux

I wonder when will the next Iphone and Galaxy suck.

"Don't wait for error from others but correct the mistakes and build on your strength." Your policy will only hurt WP

I would like to see the 1020's successor - the 1030. With Snapdragon 805, LTE, microSD slot, 3GB RAM, 5 inch screen with 2K resolution, and the most important thig: a slightly convex Pelican array of 4x4 20MP PureView cameras, which can take pictures of almost 180 degrees. Uh, it has Qi as well :)

Why would you want a 2k display? It's a waste.

I want the device to be future-proof, for at least 1.5 to 2 years...

efektos I was going to say that's a pretty deep deep thought out spec on your earlier comment, but once I read why on your later response, I can't help but to be on your side and that you got me there, considering your definition of "future proof" is a very realistic smart phone life span. Thanks for cracking me up. Lol

Suckers couldn't release one good phone for the US market. And plus, they keep the Lumia 1520 under att's evil arms.

only suckers buy carrier-branded phones

But that's exactly the problem. You know, we all know, when the next iPhone or Galaxy will be released (approximately). We know these are "hero" phones. But we have no idea what or which Lumia is truly the next "hero" phone. It's absolutely stupid. Make one dang "hero" phone and come out with and updated version every year. And yes carry it on all carriers (US). Yes, budget phones are great. But my main interest are in the high end brands and I wish there was a consistant cycle knowing when they would be released instead of always waiting around guessing when that might happen.

This is where a Surface Phone could fit nicely. Nadella has stated that the Surface line is not meant to compete with MS's manufacturers, but to create new divices to inspire them. We see this perfectly with the Surface 3 Pro. A SP could indeed be made to align with this position. If they've been paying attention, they know what the hero phone market wants. Start with a phone like the one Efectos describes.

I hear you loud and clear and Me likey that idea.

Nokia's release schedule for the 930 has been slow and vague. I'm still not sure if and when it is coming to the US on ATT.

It's been established since it was announced: 930 is not coming to AT&T or any US carrier as Verizon has a lock on the Icon (930).

This is why I got a Note 3 on Tmobile. I didn't have a option to get a nice W8Phone on Tmobile :(
I know there's a 1520.3 version but I got burned on a ROGERS 920. Nokia will not fix it if it breaks. Microsoft needs to kill this exclusive B.S. and get a high end 5 and 6 inch screen phone on all US carriers. Posted via the WPC App for Android!

I'm in the same boat. I also got a note 3 on T-Mobile because there are no flagship windows phones on T-Mobile.

Dude same here, due to the lack of a WP flafship phone on tmo, I end up choosing the N3.

I got an iPhone and I am very happy with it. Exclusivity is BS

That's one of the real reasons why Windows Phone isn't seeing stronger growth. They keep releasing exclusives. IDK how little WP market share is,Microsoft needs to do something about it. They are big enough to take it there with the carriers. It's hurting growth. IPhones and Galaxies are on damn near all carriers big and small. Especially the Galaxy. Before someone argues that the carriers will site market share,HTC releases to multiple carriers. There problem is (HTC) is showing that The One is at least on par,if not better than the Galaxy. I could go one with other things,such as Microsoft's marketing and release timetable,but I won't. I have been pleased with my 920 and 1520 and have seen more Windows Phones in the US. I remain optimistic.

I was going to say the same thing; exclusives are killing Windows Phone in the US. It's idiocy!

Yep, exclusives and the pace has suddenly screeched to a halt. I'm sure a lot of this has to do with the Nokia/MS switchover, but they cant afford a lull like this. They need some fresh 8.1 hardware out for EVERY carrier right now. Sadly, end of the year is probably optimistic.

And this is exactly why windows phone isn't doing well in the US. How can n new logon breeds possibly compete if they are only presenting themselves to a subset of buyers.

If even that subset were buying them, then they would increase their presence. Obviously that is not happening.

Carrier loyalty can be as powerful as brand loyalty, some people would perhaps love a particular phone but will refuse it on the basis of which carrier it is with. Apple and Samsung don't have to worry about this because they saturate the market with their products, no matter where you go you will see iphone and the galaxy. If Microsoft want any chance of penetrating further than they have then they need to also take this approach, expecting word of mouth or whatever bizarre marketing approach they are doing simply won't cut it.

Its not so much that I'm loyal to my carrier, but I have 6 family member on a single plan. I cant just jump ship to another carrier because I like a phone they have.

Or there is that, whether it be your friends and family are on the same network, or that you have all your services with one company, both make a shift just as difficult.

"some people would perhaps love a particular phone but will refuse it on the basis of which carrier it is with." This doesn't describe carrier loyalty; it describes choosing a lesser of evils.

I guess the carrier situation I'd very different here in Australia. People are almost carrier fanboys here, someone on Telstra will never switch to Optus, for good knows what reason, or vice versa. Not everyone is like that but there are a lot.

The carrier exclusivity in US is the main reason that is killing WP in US. L930 is wonderful, but so what. MS/Nokia is making sure that people on AT&T, Spring and T-mobile can't get it no matter how badly they want it. L1520 and L1020 are great. But Nokia is making sure that people on Verizon, Spring and T-Mobile can't get those phones no matter how badly they want them. Now MS has bought Nokia, but Steve Elop is still there. Don't expect to see any changes to the carrier exclusivity policy anytime soon. The WP phone sluggish sales will certainly continue.

That's alright. As a 920 owner, the 930 seemed like a compromise. As a fan of the platform, what's missing now is presence. Walk into any store and what do you see? Android, Android, Android, Android, and if you look hard enough you might see a WP, but not on carriers like US Cellular, Boost, cricket, etc.
Hopefully the new policies will motivate OEM to also release a WP to match all the Android devices to slow this problem down.

Cant agree on the 930. My kids have 920 and my wife has a 930. I think the 930 is a solid move forward. The improved screen alone makes it a worthwhile upgrade IMO. Its not monumental though, and I prefer the style of the 920.

Every new Lumia they release is a great phone, but it always comes with some type of frustrating deficiency, like the lack of Glance on Icon.

I agree. No new devices on att the largest WP carrier. That's not helpful especially since the 1530 was always identified as niche. That leaves 92x as mainstream flagship material and while they were for awhile not anymore. 930 needs to come out of exclusivity soon or other devices brought to market.

Like I said, if AT&T wants a new high end Lumia, they will ask Nokia for it. If you think Nokia would say 'no' to such a request or not bend over backwards to fulfill it, well...remember what happened with Qi (vs PMA), they ripped that out to please ATT.

Yeah, but AT&T is full of brain-washed reps.