New stats show Windows Phone 8.1 now on 24 percent of devices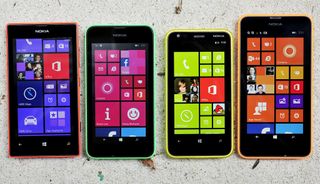 Windows Phone 8.1, which launched to the public first as a Developer Preview in April, is now installed on 24.4 percent of all Windows Phone devices worldwide, according to the latest stats report from the AdDuplex app advertising service.
The new numbers for the Windows Phone ecosystem were generated by data gathered from 4,496 Windows Phone apps running AdDuplex's SDK v.2 on August 25. Windows Phone 8.0 is still the most used version of Microsoft's mobile OS with a 56.5 percent install rate. The much older Windows Phone 7.x is still shown as claiming 19.2 percent, which is actually higher than July's numbers, but AdDuplex states, "That could be attributed to our efforts to move older apps to the newer version of our SDK, resulting in (a) small influx of users who were not accounted for in the previous versions of this report."
It's not a shock to learn that Microsoft's Lumia smartphones, previously made and owned by Nokia, take up 95 percent of all Windows Phone use worldwide. The budget Lumia 520 smartphone model continues to be the most used device with Windows Phone in the world, with AdDuplex's numbers showing a 30.2 percent market share. All other phones are in the single digits but the recently released Lumia 630 is now number eight on the list at 3.5 percent. AdDuplex also mentions that the Lumia 530, the true successor to the 520, made it on the list in 45th place but since it just launched earlier this month in a few territories, it's way too early to judge how well it will do in the long run.
In the US, the combined numbers of the Lumia 520 and the 521 variant make up a whopping 43.9 percent of all Windows Phone use in August but the new Lumia 630 is in the number four position with 5.3 percent. The just launched HTC One (M8) for Windows is currently 40th on the US list.
Finally, AdDuplex notes some unidentified Windows Phone devices in their stats, including what may be the AT&T and T-Mobile versions of the HTC One (M8) for Windows, a "Nokia RM-1090/1091" detected in China and Taiwan with a display resolution of 960x540, and a "BLU w510l" seen in China and the US.
What do you think of these latest numbers from AdDuplex?
Source: AdDuplex blog
Get the Windows Central Newsletter
All the latest news, reviews, and guides for Windows and Xbox diehards.