Photo Editor by Aviary released for Windows Phone 8, free for a limited time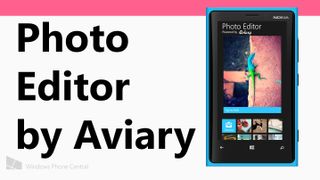 Over a year ago, Aviary released their photo SDK for Windows Phone. It allowed developers to quickly and easily add photo editing capabilities to their applications with relatively little work. A lot of apps added Aviary to their already existing app in the Store, like Rowi. Now, the company has a new app called Photo Editor just for Windows Phone 8. Let's check it out.
Photo Editor by Aviary is a Windows Phone 8 app based off their popular photo SDK. If you're familiar with the apps that use Aviary as their photo editing controls you'll find yourself right at home with Photo Editor. Its interface is similar, but the speed of this app feels a lot faster than what you might be used to. Here's what you can do with Photo Editor by Aviary.
Enhance – Quick presets (Auto, Night, Backlit, Balance) that you can apply to your photos instantly
Effects – Various filters to get different looks with your photos.
Stickers – Fun little images that you can add to images. You can change orientation and size to make them fit perfectly.
Orientation – Switch the direction of your photo. Flip on either the vertical or horizontal axis, as well as rotate.
Crop, Brightness, Contrast, Saturation, and Sharpness – You can fine tune your photos through sliders.
Text and Drawing – You can add both text and drawings to photographs. A fun little twist to send caption photos to friends.
Redeye, Whiten, and Blemish – Additionally you can fix the subjects in your photos. Nothing ruins a picture like redeye, take it out instantly here.
Editing photos with the app is easy and fast. And with a variety of controls and filters you'll be able to create the final vision you have in store for a particular picture. Sharing is your photos is also another feature you can do quickly within the app. Just long press any image in the gallery or your finished image to bring up the share command. From there you'll be able to send the photo to whatever apps share on your device.
Right now, Photo Editor by Aviary is free in celebration of its launch on Windows Phone 8. If you have a Windows Phone 8 device and want it you can go to the Store, use the QR link below, or swipe to the right in our app.
Source: Aviary Blog
Windows Central Newsletter
Get the best of Windows Central in your inbox, every day!
Silly Sam! Should be fixed now, might need to exit the app to refresh the cache though

Look at the article in the browser and click the store link

Hey Sam, where's the link?! Anyways. Cool app. Worth checking out, especially since it is free. Will be intersting to see the Aviary SDK and Nokia imaging SDK duke it out.

No shortage of awesome image editing SDKs on Windows Phone!

No. Windows Phone 8 only.

Hey, Sam! Where's my money?!


(Worth a shot)

Excellent referral on the app. Thanks.

Awesome! Used this A LOT on my iPhone 5

You used photo editor for windowsphone on your iphone? Wow, that's like.......super cool!

He's magic! *explosionofawesomeness*

Not available on my Lumia 720 :(

Aviary not needed for windows a lot of better apps out there, but i use to use this a lot on my s3 ....

Too many photo editing apps, we desperately need a video editing app.

That's to much to ask for though. But... I wonder if its blocked from MS side? I would love one though :(

Devs don't have access to video. MS needs to give them permission. I'll look up the uservoice link so we can get some new votes. It would be amazing to get a video editor and also to upload video to Vimeo, YouTube, Facebook, WhatsApp, etc.

Even a simple cut them together and upload would be cool. Now I have to upload to sky drive, edit on my iPad, then upload to YouTube lol.

Too bad they couldn't release this later next week so we can grab it with the 1020...hopefully still running the promotion then :)

Techiedude

Uh here's an idea...get it now...and then you can download it again for free on the Eos! Amazing, right? ;)

Novel idea except I currently have a WP7 device and I can't access it in the marketplace or via the Store link because my device isn't compatible (this offer is only good for WP8 devices). My error reads: Can't get app
Your version of the Windows Phone software is not supported by this application.

Not so amazing after all :( Of course I could be experiencing a n00b moment so if there's a way for me to d/l this otherwise, feel free to impart some wisdom...I can always use more of that :)

Techiedude

Very nice photo editing app.

No! No instagram for you! Come back 3 weeks. Next!

No,, give him his Instagram right now❕

Cookies...the kid wants cookie and won't stop hid tantrum or interrupting the grownups until cookies are had.

Need more filters and the focus option just like on the android platform

agreed...honestly, the app is pretty basic lol and that's disappointing for a 1st party...3rd parties offers a lot more options than this! well, guess i'm still sticking to Fotor XD

Just downloaded via WP Central app. Its linked there

This is by far the best editing app I've tried. Nokias is also great but lacks the flipping capabilities this one has and the filters to prepare Instagram photos.

i love the text feature! best photo editor so far.

not news there, i installed an app calld "aviary photo editor" back in april. so far it is delisted, though.

this one is made by Aviary lol it is a 1st party app! all the others are 3rd parties...

"aviary photo editor" looked exactly like the "photo editor by aviary"

terribly ugly black border is hideous. no download for me.

balance filter is nice... helps to correct the oversaturation and bad white balance that the current 928 auto settings poduce

Guys I just installed this app on my Lumia 620. Since I installed it, my screen is flickering every time I open an app.
My phone freezed twice. Everything back to normal after I unistalled it. Weird.