Review: Insaniquarium by Astraware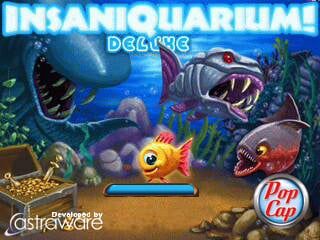 Had a long day? Work gotcha down? Need a pointless game for your Windows Mobile device that will put it all in perspective? Astraware's Insaniquarium ($19.95) might just do the trick. Astraware puts a fish aquarium on your screen that is nothing short of, well, insane.
To see how Insaniquarium washes out, read on!
On one hand you have virtual aquariums that add a novelty to your computer screen saver. Then you've got Astraware's twist on virtual aquariums. Insaniquarium puts the fish bowl on your Windows Mobile device and it is your job to keep the fish alive by making sure they are well fed and protected from alien invaders. Along the way you can add to the fish tank by collecting stray coins that mysteriously fall into the tank and buying accessories to help you in the adventure.
Installation was uneventful and with most Astraware games, navigation and control is straightforward and well managed. You get just enough on-screen directions when necessary but most of the control is down by the center control pad of the device. The center button is multifunction, dependant on the situation, and controls the feeder, coin collector, laser and other tools you earn/find/buy along the way.
You have three game modes. Adventure is non-stop action as you progress through four stages with increasing difficulty. Time trial puts you racing against the clock to keep your fish healthy and the aliens at bay. The Challenge mode has you protecting a number of fish and you try to score as much as you can before all the fish are gone.
As mentioned, you keep your fish alive by constantly feeding them. These guys have quite the appetite and if you don't feed them enough, they eventually turn gray, shrivel up and sink to the bottom. Along the way, coins start to drop and you catch as many as you can, all the while feeding the fish (bottomless pits). As you reach a certain stage in the game, you get a snail added to your tank that patrols the bottom of the tank, searching for coins that have settled to the bottom of the tank.
Just when you get the hang of feeding the fish every few seconds, collecting all the coins you can and keeping everything in harmonious comfort aliens invade your aquarium. Before the aliens (apparently fans of suci) gobble up your fish, you mush dispatch them with a laser that amazingly replaces your fish feeder.
Overall, Astraware's Insaniquarium ($19.95) is mindless entertainment that can be highly addictive. Graphics are nice, user interface simple and the game is worth hours of enjoyment. If you need something to pass the time with or just need a little pick-me-up after a long day at work, I would take a look at Insaniquarium. It is definitely worth the trial download and the addictive quality will likely have you adding it to your shopping cart by the next day.
Swipe to scroll horizontally
| | |
| --- | --- |
| Ratings (out of 5)Ease of Use: 5/5Entertainment: 5/5Addictiveness: 5/5Overall: 5/5 | ProsEasy User InterfaceAddictive EntertainmentConsYou need a little scuba diver or treasure chest with the floating lid |
Get the Windows Central Newsletter
All the latest news, reviews, and guides for Windows and Xbox diehards.