Viber for Windows Phone gets a visual refresh with the latest update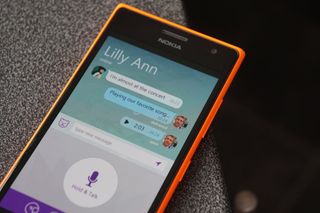 The popular messaging app Viber has just been bumped to version 4.3. This latest release brings some notable improvements to the Windows Phone platform, including a revamped design and improvements made to the display of photos within conversations.
Here's exactly what is new in version 4.3, according to the change log on the store listing:
New and improved design
Improved photo display in chats
Performance improvements
Give the app update a download and let us know how you like the improvements in the comments.
Thanks to everyone who tipped us!
Windows Central Newsletter
Get the best of Windows Central in your inbox, every day!
Rich Edmonds was formerly a Senior Editor of PC hardware at Windows Central, covering everything related to PC components and NAS. He's been involved in technology for more than a decade and knows a thing or two about the magic inside a PC chassis. You can follow him on Twitter at @RichEdmonds.
Nor sure, I looks like Android now.

Well, the sad thing is it does look a million times better even if it looks like Android. The previous look was sickening.

Hey, no it's not like Android, it's Viber's original look across iOS, Android, Windows and now Windows Phone. And it looks awesome. I once asked them why don't they simply make one original Look and use it everywhere, they replied that it's an interesting idea and that they will consider it. It's finally here :D

I guess we differ on opinions on this. I like WP unique look across Apps. But don't get my wrong, I think WP needs to rethink what they call beautiful, I think a bit gradients and eased edges would go a long way to beautify the OS.

Actually reminds me of Symbian with the rounded edges of the profile pics.

Still no transparent tile....

I've never tried Viber. Would you folks recommend this over Telegram or (infamous) WhatsApp? :)

If you dont need audio calls though the messaging app, I'd recommend Telegram ;)

Well, viber is available on pc as well.
You can beat that.

better use hike for chatting instead viber.

Hike is not that impressive... Takes time to load new messages. The timeline is irritating with pointless updates on photos and new status by friends on which you can do nothing but just stare! Unlike hike, WhatsApp updates messages really fast and we can read new messages even if we are out of internet while opening the app

Thanks all of you for the advice. I'll keep annoying my friends with TGram... Some of them have installed it only because of me --and the Wsapp blackout this summer ;)

What about stickers..?? They are awesome.. I agree that timeline is frustrating.. Hope they will change it..

timeline is a bit stupid. yeah i know its still behind watsapp.

I find the stickers more frustating. Makes everything a but more complex. WhatsApp is the simplest and best, period.

It at least notifies you when someone from your contact joins Hike unlike WhatsApp we have keep a tab of who joined recently. And you can chat with non hike users over SMS which is not there with any other chatting apps.

It's a popular service, if you have people using it, then sure.

I'd totally recommend it to you. It has a more relaxing interface and lots of nice smileys and stickers. Using it like 3 years..

Still doesn't support high resolution!! ):

it does but only half way, the main screen is supported but the chat is not :/

Yeah , but it's really frustrating!! I mean how hard would it be?!!!!

Very frustrating, I agree! It isnt that noticeable in 930, but in 1520 you can see that big chunk of black screen at the bottom!

Yeah, specially that big one in the middle of the screen when typing in facebook messenger !! I really hate it because of this!

Adobe Reader get an update too. No change log yet.

Why not video calling????

Maybe on v5.0 Posted via the Windows Phone Central App for Android

Wait until tomorrow, I will ask to Viber.

Not just video calling, call block and doodle as well and most likely many others...

Windows phone 10 will be a Hit next year.

I hope so. The new move by nokia is threatening to microsoft.

Can't see how it's threatening MS.

I think he might be worried that Nokia supporters might choose new Nokia devices with Android instead Lumia. Well it's still a bit early for something like that but I guess will find out in 2016...

How can I block a contact on viber on wp?

Damn, WA needs avatar too. I don't use Viber due to no one else I know uses it. But it looks great.

add me and we can chat now and then if you want. +213662274368.

Still have to choose a background from a fixed set of images which are all ugly. I want to choose my own. Is that so hard to make?

i wish we have the same design for what's app, yesterday my friend was playing with my phone, and when he saw the what's app he said "WTF IS THIS UGLY DESIGN!"

Your friends are clueless about minimal designs.

Yeah most of my friend say it is great to be honest

I like it's simplicity, but it needs some changes

Viber sucks. Both Android and IOS have video calling and animated messages, but we get no love. I'm deleting this app.

Who cares? Give us denim damnit!!!!!!!!!!

WOW... I'm loving the new design.
Now, I'm waiting for Facebook app or Facebook beta app update.
Its been too long for those apps.

My friends and family use wattsaap more so I stick to it...

Viber update for Windows? That's impossible. You guys sure you were not mistaken?

On my lumia 1520 there is piece od chat screen cut off...

Yes all of us have it , you know high resolution :3 but do you have something bigger when using the keyboard in facebook messenger ? In the middle

Yes, that ugly black blank spaces at the bottom. I see this with most of apps in WP. Even in Windows Central app :(

And the most obvious one in fb messenger

I liked viber more than WhatsApp & Skype but very little are in viber...all are in WhatsApp...

New feature of Viber will announce tomorrow...

I just received the invitation card from Viber last week. This event will happen in Thailand tomorrow.

I went to Viber event today, Viber team said that they LOVE Windows Phone users. But they want to focus on user base first. But they promise that the new features (like Public Chats) will come to Windows Phone soon, The marketing team of Viber said.

Viber is great. Especially since I can also install it on my Surface Pro 3. No reliance on just one machine like with WhatsApp.

It also works with iPod Touch, where WhatsApp does not.

that name remind me of lisa ann :P

I hope they have improved voice quality while making calls through the app. Compared to Viber call quality in LINE is much better but that app is very buggy.

Still no video calling :(

looks cool and is faster :)

After update chat list going to emty every time whene i opening viber its problem only my or all have this problem?

Ok, I think I have a solution for this new crashing problem - somehow, the problem seems to be in messages and syncing old messages with this new Viber update. At first I just reinstalled Viber on my phone, and this didn't help. Then I did a soft reset- that didn't work also. I tried clearing the app cache - also without success. So, at the end, I deleted all my conversations on/via Viber desktop, all the groups, and all history, and then reinstalled Viber on my phone. After installing again, I immedeately went to Viber/Settings/messages/ and cleared all message history.... Started new conversations, friends re-invited me in groups again, and since then, I didn't experience any crashing... Hope this helps a little.

Mine deleted all my chat history and force closes. I'll reset my phone and see if anything happens.

Yep, it still crashes when I restarted my phone. Just uninstall and download the app again.

Only video upload I believe. Use Skype for the mean time. Lol

I want a specific feature like individual wallpaper settings for individual contact.

We need such update for whatsapp

Blocked here in Saudi Arabia

Updated but it crashes when I open the app :( anyone else has this problem?

Buggy as hell, all my chat history gone. And when I click on the toast notification, I can see briefly only the message then it force closes.

Yupp even if you start a new chat, it will disappear

Uninstall and download the app. It's okay now for me. Though I lost my chat history.

Tried reinstalling again, and for a few minutes it worked ok, but after I closed Viber, and opened it again - it started crashing again! So back to square one - cannot use it at all, crashes on opening after few seconds... :/ this sucks...

It's messed up. I have the contact but shows them as unknown when they send me a message.
When I try to answer to the "unknown" it says its not my contact and to send a SMS.

Had to uninstall twice and reinstall. The third time I uninstalled closed the phone extract battery and then reinstalled and now it works.
WTF viber???

I still see black spaces at the bottom at certain times thru the app, still not optimized for large screen displays? :(

Yes main screen only and that's it. This is the only gripe in using 930, moreso 1520. Grr

Crashing after this latest update on my Lumia 920! Tried reinstalling, didnt work...Viber crashes immediately after opening... Anybody else having this problem?? Any info on this??

What an annoying update. What's up with the childish cartoons? And the annoying backgrounds? Thankfully, I can set the background to a nice, clean flat color background. I hate pictures behind menus. Performance-wise, though, the update has made things smoother. We'll see how it pans out in actual conversations.

Previous chats deleted any new chats disappear as well.

I'm having the same problem on my Lumia 920

It's gorgeous.. Still want a transparent live tile though.

Full HD support for Lumia 1520?

Too slow app. Takes so much time to load compared to any other messaging apps. Even skype loads faster than viber

yeah and now i have serious issues, conversations are deleted, and delete after closing the app, and so on. its getting very annoying!

Whatsapp on Windows needs same UX ...

I totally prefer whatsup. Viber is still has notification issues and slow performance. Hope last update did the difference..

I like the speed improvements. It works much better on my L925, but there is still a room for improvement. I wanted to sell my phone and buy android one because this app was really slow, but now I will be glad to keep my phone. Keep up the good work guys!

Much better Interface and nice new features but still far too slow to load compared with messenger or whatsapp. Needs serious improvements on that end.

For chats and sharing files esp images regardless the size/quality, I'd go with Whatsapp. For sharing original/hq images etc, I'd use Telegram because it doesn't compress the images as much as Whatsapp. And for videocalls, i use Oovoo since skype is such a memory/battery killer.

This app was made by terrorists.

Ok, I think I have a solution for this new crashing problem - somehow, the problem seems to be in messages and syncing old messages with this new Viber update. At first I just reinstalled Viber on my phone, and this didn't help. Then I did a soft reset- that didn't work also. I tried clearing the app cache - also without success. So, at the end, I deleted all my conversations on/via Viber desktop, all the groups, and all history, and then reinstalled Viber on my phone. After installing again, I immedeately went to Viber/Settings/messages/ and cleared all message history.... Started new conversations, friends re-invited me in groups again, and since then, I didn't experience any crashing...

Text got smaller. Is there a way to adjust the font size?

Finally a long waited update for viber. I liked the new look. But I would like to highlight few things. Overall new update has many bugs which need to be fixed immediately.
a. It crashed several times.
b. Earlier chat heads are lost. I can't see any chat history after opening viber. So there is no option to post in group. But when I get a notification from the group or number I can see earlier post. It's again empty when I open the viber again.
c. Disheartened to see that still video call is absent for windows mobile.
d. No option to send crash report.
e. Now viber is showing all blank screen. Totally unusable. Can't even see the message sent from a group. Only notification.
f. Can't send message to individual contact even. I am using LUMIA 1320. After update I cant use viber. At the end we want to see a smooth viber apps for windows mobile like android or IOS.

No video calling option on WP, atleast something better then nothing for WP users

Viber v5 for ios/android had new public chat - viber just proudly told me. Shame WP version is 4.3 & doesn't have public chat feature.

One of the worse WP apps :-/

LINE or BBM are better (!)

Before the update, my notifications were very inconsistent in that they were often late or absent. After the update, so far, the notifications are consistent in a bad way. I get zero notification. I don't know why people even use this when there are better, more stable options. Im forced to use it though by the people on the other end :(

I have a problem with making viber video calls on my window phone