Eight out of ten 'decision makers' enjoy using a Lumia for work and pleasure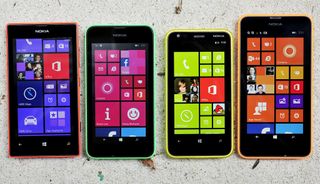 This morning, Microsoft UK published a teaser video under the #OfficeLove hashtag. There was a lot of speculation about what the announcement would be, with even some users focusing on the iPhone in the video. As it turns out, Microsoft was getting ready to tout new survey results in regards to using a Lumia for work and for pleasure.
Kindle Research on behalf of Microsoft UK throughout September 2014 conducted the independent survey. The participants were '45 decision makers' who had been using a Lumia Windows Phone for work and they were asked about how the felt about using their phone for personal usage.
One of the questions asked (of three) was quite direct:
According to Microsoft, 77 percent of respondents replied 'Yes', and they confirmed that they had "a choice of using a personal device when they made the decision". The latter part is the most interesting. Many people with a work phone also maintain their own personal phone. This was more common in the days of mandated BlackBerry usage, but it still happens for those who want the latest phone on the market.
Another 78 percent of respondents said that they were 'Very likely' or 'Quite likely' to recommend the Lumia to a friend or colleague for personal use.
Finally, questions about how they used their Lumias for was asked of the 45 participants. Ninety-three percent used their Lumias for maps and directions while only 51 percent used the Lumias for music (insert Xbox Music joke here). Other usages included viewing or editing documents, news and sports, social networking, and apps specific to their job.
Microsoft seems quite proud of the high satisfaction rate and have even made an accompanying video. Indeed, the numbers back up a common user experience: when people try Windows Phone, they generally come away very pleased with the hardware and operating system. However, without knowing how other phones like the iPhone or a Galaxy S5 would perform in the same survey, it is hard to put into an overall context.
Source: Microsoft UK (opens in new tab), Survey Results PDF
Windows Central Newsletter
Get the best of Windows Central in your inbox, every day!
Daniel Rubino is the Editor-in-chief of Windows Central, head reviewer, podcast co-host, and analyst. He has been covering Microsoft since 2007 when this site was called WMExperts (and later Windows Phone Central). His interests include Windows, laptops, next-gen computing, and for some reason, watches. Before all this tech stuff, he worked on a Ph.D. in linguistics, watched people sleep (for medical purposes!), and ran the projectors at movie theaters because it was fun.
Your downvotes seem to come in faster.

If only I could get the old music player back, Xbox music player is horrible.
Btw I use Music Tile Hub :P.

Have you tried using it recently?? It's gotten a lot better since it was first released.

I use it after every update and the difference is nearly unnoticeable when compared with the old music player which was fantastic and fluid and a joy to use and I have to say this after every update the Music app seems slower and horrible to use.

@9inchNokia: Obviously you don't use playlists then, 'cus the old hub player's playlist functionality was something akin to my first lesson in .net programming. I couldn't have paid anyone to use it.

Yep. I actually use playlists now!

What Microsoft has done with Xbox Music now for Windows Phone is actually very good. I used to complain about the app too, but now I really like it. Adding and removing songs from playlists has gotten a lot easier. Also, Cortana interaction with Xbox Music is a terrific plus, especially the "what song is playing" feature. If you really don't like Xbox music, what EXACTLY don't you like about it and what SPECIFICALY would you do to make it better?

After the last update I am 100% happy with Xbox Music. I know that's not popular to say around here.

Basically, if you use it like me, you'll love it.

Your phone is the one that is slow instead, I repeat what others have said XBOX MUSIC IS FASTER NOW stop this sh#t

And old photo hub and games hub

Old photo hub with panoramic background view.

there is a small app music hub tile. but i want the Xbox team to bring back the old hub. 12 updates but still its like hell except the recent playlists.

The hype! Would have been weird if Nokia were announcing a new version of Office as some were speculating.

that's y i want Microsoft to sell windows phone more in the corporate sector. like everyone would be using it with ease and learn it soon. they can sell Lumia 630 in bulk to many companies.

most companies are looking at the 6 series, and 7 series Lumias for bulk buy I just watched 2000 735s get ordered. I have a 735 right here, its gorgeous. Best budget phone by miles, the quality and slender feel are amazing.
The camera is also much better than it should be at this price. Really high quality. Qi charging, snappable covers (replaceable battery) perfect corporate phone.

The company I worked for over the summer all had 925's.

You're definitely not from the states.

Hah, I was kinda hoping they were going to accounce something exciting, but oh well. Great read, Daniel. The "Insert Xbox Music joke here' made me laugh. I've switched many people to Windows Phone, and I hope to get the Lumia 830 soon as an upgrade from my 820 *whenever it's released here*.

I had to chuckle at that (insert xbox music joke here) too :P have had quite a few curious people come up and ask about WP/Yellow 1020 since I joined WP, so it's always nice to hear people within WP are relatively happy

Just put in all the features into Xbox Music to make it competitive against other platform offerings. Then just make it a system app again. Job done.

Means na da. They boasted 90%+ satisfaction with WP7. They smoked other phones with WP7. Where is it now? I wish they spent this money in hiring an intern to work on Live lock screen or Xbox Music! With HERE maps now on Android they can easily choose their personal phone. Nothing is unique about WP other than tiles.

Coming up on 4 years since WP launched and Microsoft still hasn't put together a coherent strategy for promoting WP and at this point tiles are the only real USP. That's the definition of incompetent.

Obviously I wasn't one of the 8 out of 10

Love this article - thanks for sharing, Daniel.

It's very fitting that apps and music are at the bottom on that list *eats popcorn and waits*

It is slow with windows phone 8.1 update 1 especially the start screen takes too much time while resuming and tiles come blank after few seconds they come's to normal.

Obviously not the people who decide if a Windows phone app should be written or not.

Xbox music is hot garbage

It literally took me 5 minutes with my dad's old Windows Phone 7.8 device do convince me to trop my Galaxy S2 and pick up a WP.

Too bad our lawmakers don't feel the same way http://thehill.com/policy/technology/220096-lawmakers-pick-iphones-over-droids 71% iPhone, 28% Blackberry, 9% Android Just one lawmaker's office told The Hill it has a Windows phone: Rep. Suzan DelBene (D-Wash.), a former Microsoft executive who now represents the district that includes the company's Redmond, Wash., headquarters. DelBene's staffers use Windows phones as well, her office said

Only 45 decision makers were polled? Fans of opposing platforms are going to have a field day over this survey.

Yea, well what about those of us who don't make decisions?

I want the Zune player back! Best for music ever! Right now for Windows Phone Spotify and Music+ are alright.

Zune never really went away, just some of its features and the interface. All the rest of its code is incorporated into xbox. I only hope that they allow other browsers, music and video engines to work with 10 when it gets finished. Then the numbers will change for the higher. Posted via the Windows Phone Central App for Android

Only 45 people? That sample size is not representative of anything. And I agree with the out of context comment. Grab 45 android and iphone "decision makers", that have presumably been provided the handset through their work, gratis, and see how happy they're going to be. It must be really slow over in msft land. This isn't news. They're probably biding their time till windows 10 drops - ay least they'll have something to talk about. What a load of rot. If anything it smacks of incompetent, sycophantic, self lauding nonsense. Or desperation. Perhaps they should focus on the apparently affordable lumia 830. The 730 does look like a real gem though! They should tout that.

Bring on the recommendations!

Ya.. Here map service is the best thing In Lumia... But Microsoft is not ready to update it for Lumia users.. So Nokia is going to publish that for all android and I phones soon

Both. Love my Nokia 920/1020

Did they just do a Tap + Send at @0:08? I thought the Lumia 630 doesn't have NFC? :))

It doesn't, at least the one I'm typing this on doesn't.

Maps and direction- HERE will be soon available to other OSs view or editing documents- many options(google docs..blah), better support of Office available on other OSs news and sports- plenty of apps avaialble on WP and other OSs social networking- BETA BETA BETA BETA apps for specific job- more apps for more specicfic job available on other OSs listening to music- mediocre experience with Xbox music, MixRadio is the savior whats with the WP? better displays, lot better cameras on medium bugget phones, simplicity, live tiles, I know that i am missing out many of the WP features but are they exclusive only to WP. Outside US WP users have mediocre experience of windows IMO thanks to microsofts "iOS/Android first, US first, cloud first" moto...

I have been using a Lumia 620 which i bought on the launch day(now almost 1year 7 months old but still works as new).. now i am buying a Lumia 730 for my wife as well.. would surely say it is one of the best phones that i have used.. had changed around 10 phones in 8 years before that..

Work gives me a work phone but for my personal use I have to go with my Nokia icon!!

As people are mentioning, HERE (drive and maps) has just arrived for android! I have it on my gs5 and it's brilliant! Can save my maps to the sd card without the need of a beta feature (the only way to do it on WP lumias) and it's instantly made the android experience, for me, better. This is a beta app, they're fine tuning it, but hey: WELL DONE NOKIA!

This is nothing new. Everyone I know that has tried the phone (WP8), enjoyed it, it's just that they missed certain apps on the platform. Yes, I know that the app gap is nowhere as bad as it used to be but there are still a few popular aps that are not available yet. I think once the app gap is closed or more developers make universal apps, WP8 will start gaining more marketshare.