343 Industries pulls back the curtain on this year's Halo World Championships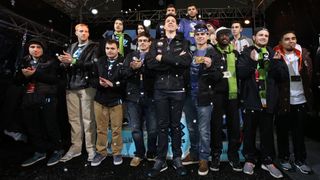 Last month we reported that Microsoft and ESPN had teamed up to bring the Halo World Championships to the X Games in Aspen, Colorado. This marked the first inclusion of Halo 5 (or any Halo game) in the prestigious athletic competition. X Games has wrapped up, with a number of Esports athletes taking home medals for their Halo skills.
With the competition over, we took the opportunity to speak with Andy "Bravo" Dudynsky, Community Manager of 343 Industries. Read on for his insights about Halo 5's place in the X Games and Esports in general!
Esports rises towards the mainstream
Everyone is familiar with the concept of sports, but the concept of Esports is still mysterious to many people. Simply put, Esports can be defined organized competitions involving video games. You might call it another form of athleticism. Professional gamers train for hours every day to become better at particular games, all in the hopes of winning competitions, building their reputations, and increasing their incomes.
Andy Dudnsky, who we'll refer to as just Andy, sees the integration of the Halo World Championships with the X Games (and particularly ESPN's coverage of that event) as a pivotal moment in Esports history.
Esports have been a lucrative industry for some time now, drawing major sponsors from across the world. Some notable sponsors include Microsoft, Riot, Activision, and Red Bull. With their help, countless Esports athletes have had successful careers playing video games at a professional level.
Even with millions of dollars being thrown around and untold quantities of money to be made, Esports have faced a major barrier in breaking through to the mainstream. For Joe Sixpack to hear about professional video game competitions, they need televised coverage. And major networks in the US have been very hesitant to take the plunge with that coverage, Andy tells us.
Not to say that Esports haven't had any TV coverage at all over the years, but the going has been slow. Video games share the competitive aspect of mainstream sports, but they still differ dramatically in how they are played. Traditional sports fans are sometimes confused by seeing Esports on television, according to Andy. But with time and exposure, anyone can get used to change.
Watching the Halo 5 broadcast
That's what makes the inclusion of the Halo World Championships during a major event like the X Games so exciting. For four straight days during the X Games, anyone tuning in to catch the latest sports coverage was greeted by professional Halo 5 competitions. This was the first time many viewers saw Esports on television.
Watching the Halo World Championships on ESPN was clearly a treat for many gamers who happen to be sports fans. But the Halo broadcasts shouldn't have been too alien for viewers who were unfamiliar with competitive gaming, either. At any given moment during the competition, the broadcast followed a single player's viewpoint. A picture-in-picture view showed the player's face and gaming pseudonym, allowing people at home to identify the individual athletes and experience their personalities.
Meanwhile, a pair of "casters" – short for broadcasters – provided play-by-play color commentary and analysis. These casters helped tell the story of the match with their commentary and by switching between the views of the various players during heated moments. Andy describes their job as helping the audience understand what makes the X Games players the best in the world.
Eight teams entered, one left with the gold
The competition involved eight teams of four players each. Six hailed from North America. The remaining two teams traveled all the way to Aspen from Europe: Penta Sports from Germany and Epsilon Esports from the UK. One of the Halo World Championship's goals is to identify talented international players and pit them against North American teams.
These teams faced off in Halo 5's Arena multiplayer mode. Although Halo games have been involved in Esports for 15 years, 343 worked hard to make Halo 5 the most suitable Esports entry yet. For the first time, all Halo 5 Arena matches follow the same ruleset featured in the Halo World Championship Tour. People who catch Halo competitions on TV can jump into the same kind of game at home without having to tweak rules and settings. This should also help cut down on the learning curve for anyone who first sees Halo 5 on TV before trying the game out.
After four days of heated competitions, only one team could emerge with the gold medal. The Evil Geniuses were the overall winners, but every team fought bravely. All eight teams will go down in Esports history as having participated in the first Halo World Championships to receive a full ESPN broadcast.
Thanks to Andy "Bravo" Dudynsky for his insights into the Halo World Championships at the X Games!
Did you catch the Halo World Championships on ESPN?
Get the Windows Central Newsletter
All the latest news, reviews, and guides for Windows and Xbox diehards.
Paul Acevedo is the Games Editor at Windows Central. A lifelong gamer, he has written about videogames for over 15 years and reviewed over 350 games for our site. Follow him on Twitter @PaulRAcevedo. Don't hate. Appreciate!