Best Calendar Apps for Windows 10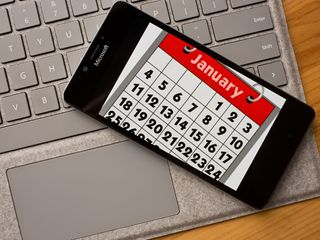 While the native Windows 10 calendar does a good job of things, but some may want a little more horsepower with their calendar app. Maybe you need for more customization options or a better agenda view. Perhaps a more informative Live Tile tickles your fancy — or maybe all of this is just too much and you need it to be simpler.
Whatever the case may be, the Windows Store has a nice selection of Windows 10 calendar apps to choose from. Many of these options are available for Windows 10 PC and Mobile, offering flexibility across a variety of devices. So, let's a look at the best calendar apps the Windows Store has to offer!
Chronos Calendar +
Why you can trust Windows Central Our expert reviewers spend hours testing and comparing products and services so you can choose the best for you. Find out more about how we test.
Chronos Calendar + is a practical and stylish calendar option for Windows 10 Mobile and has been a favorite of ours since its days on Windows Phone 8.1. The app has a clean appearance with plenty of customizations. Language support spans over 30 languages and the app supports synchronization between all your Microsoft calendar accounts.
Additional features include:
Rich Live Tile customizations
Customization options for calendar view
Built-in Holiday, Moon Phase and Zodiac calendars
Smart add feature to bring up quick text when adding new events
The Live Tile options include selecting the background color, font size, as well as what information is displayed (number of events, location, alarms, etc.). Chronos Calendar + is available for Windows 10 Mobile and is currently priced at $2.49. There is a free, seven-day trial version available to let you try things out before buying.
Download Chronos Calendar + from the Windows Store (opens in new tab)
Hope Calendar
Hope Calendar is a simple and attractive calendar option for Windows 10, tying into every calendar service that Windows 10 already supports (Outlook, Google, Exchange, Yahoo, Office 365, iCloud, etc.). Setting up Hope Calendar is automatic, with the app searching for any calendar accounts in your Windows Settings. You can filter out calendars in Hope Calendar's settings should you prefer to not view them from Hope Calendar.
Available for Windows 10 PC and Mobile, Hope Calendar has a flexible month, week and agenda views to deliver the right information at the right time. Key features include a heat map of your availability, season banners to give the app a rotating splash of color, and four different styles of Live Tile.
Hope Calendar is a free Universal App for Windows 10 that is ad-supported and with access to only the basic Live Tile format. To remove the ad support and unlock all the Live Tile features, you need to upgrade to the Pro Version through a $2.99 in-app purchase. It is another staff favorite and well worth the price of admission.
Download Hope Calendar from the Windows Store (opens in new tab)
One Calendar
One Calendar is a smartly designed calendar option for Windows 10 that allows you to pull all your calendars under one roof. Account support includes Outlook, Live, Hotmail, Office 365, Exchange, Google, Facebook and WebCal accounts.
Available for Windows 10 PC and Mobile, One Calendar supports adding, updating and deleting appointments with Day, Week, Month and Year views. There is support for customizable Live Tiles, Calendar themes, Lockscreen support and more. However, these features are unlocked with the premium version that is priced at $4.99 and available through in-app purchase.
The free version has enough meat on the bones to let you decide if the premium version is worth the cost, but all in all, One Calendar is a nice way to pull multiple calendar accounts into one Windows 10 app.
Download One Calendar from the Windows Store (opens in new tab)
Simple Calendar
Simple Calendar is a simple Windows 10 Mobile calendar option that uses your existing calendar accounts and delivers your appointments in an easy to use design. Live Tile support includes multiple style options and displays up to three appointments.
More of Simple Calendar's features include:
Appointments easily added by double tapping the date
Month view displays appointments for a date below the calendar
Month and Week views for appointments
Lockscreen support
Support for transparent Live Tile
Simple Calendar also has the option to hide all-day appointments on the Live Tile after a certain time — it's 5PM, you don't need to know that it's still Halloween, you need to know what time Trick or Treat starts!
Simple Calendar is a free, ad-supported app with several in-app purchases that range from $1.99 to remove ad support to additional Live Tile styles ($1.99 to $2.49). Simple Calendar is not the flashiest of calendar options available for Windows 10, but does a nice job of things.
Download Simple Calendar from the Windows Store (opens in new tab)
If you are using any of these calendar apps, let us know what you think of things in the comments. There are other apps available and if we have missed your favorite calendar app or prefer the native Windows 10 calendar, sound off on that as well.
Windows Central Newsletter
Get the best of Windows Central in in your inbox, every day!
George is the Reviews Editor at Windows Central, concentrating on Windows 10 PC and Mobile apps. He's been a supporter of the platform since the days of Windows CE and uses his current Windows 10 Mobile phone daily to keep up with life and enjoy a game during down time.
Stopped using Simple Calendar a while back as the live tile always had 'TRIAL' behind it.
Is the app still supported?

No it isn't. Windows 10 is not supported. No updates in forever.

I loved this, but its been abandoned. Another paid app we got screwed on...

Chronos calendar plus is hands down the app to go for and is worth the buy. I have used it for years and it simply fills many feature gaps that the native calendar app does not support. The developer regularly updates the Apo too. The developer said they can do far more but are limited by windows calendar api restrictions and limitations. A possible pc/tablet version is possibly in the works too.

Absolutely agree. Easily the best live tile

Absolutely true, best there is hands down. I have talked with the developer and he has said that might be c chance someday for true UWP version, when MS fixes the buggy components within.

They are all slave apps to the official app. I don't use any of them because they are all essentially just UI differences. I wish there was a way to get an independent calendar app that allows to edit an event without the outlook app. I need to be able to set 2 and 3 hour reminder and also have snooze interval of 30 minutes. Something Microsoft apparently doesn't think is needed. They are pitching themselves as enterprise OS yet they believe enterprise can get by on a 1 hour reminder. Another reason why I believe nobody at MS uses Windows Mobile because this would have been fixed years ago as soon as someone there missed a meeting.

It may not be a calendar app, but Realarm might provide you the functions you are looking for. :)

Creating fake appointments to replace non-existent reminders greater than one hour began as tediousness and has become standard procedure, while remaining outright tedious.

Agreed. Absolutely shameful. And they wonder why it has less than 1% market share. The basic stuff is broken yet they focus on bells and whistles. You can unlock the screen with your eyeballs, but you can't set a business meeting with enough time to make your commute. Smh

Agree with modwheel 100 percent. Very limited time options for reminders and snooze controls is frustrating. This are issues that are very easy to address. Microsoft, please use some common sense on these issues.

the Outlook Calendar app on my Lumia 950 and on Surface allows 15 min and 30 min intervals.
Check the settings to increase the intervals for events

My 950 does not and there are no settings to fix it.

I think you might need to dig a bit deeper; maybe it's there but you don't see it, or maybe you are on a different version? I'm on 17.7705.42038.0. Default seems to be 15 minutes, but you can scroll up and down to see more. I have a 950XL and have the following settings for reminders: None 0 minutes 5 minutes 15 minutes 30 minutes 1 hour 12 hours 1 day 1 week Also, there are 17 different reminder settings available on the web version, if you use that. I'm recently upgraded to the "new" outlook.com also. Just tested Snooze on the phone and it has: 5 minutes 15 minutes 1 hour 4 hours 1 day Hope this helps.

Yes I have all of that but what you showed me is the problem I'm complaining about. Reminder jumps from 1 hour to 12 hours which is a joke. Snooze jumps from 15 minutes to 1 hour which is equally ridiculous

What amazes me is that there is no app that can synchronize multiple accounts worth of tasks (Office365 and Outlook.com accounts). I found one not particularly attractive app that could do a single account. That's it. This was easy and automatic on my BlackBerry, but I can't sync my Microsoft Tasks on my Microsoft phone.

I use AkrutoSync to sync my tasks to Tasks (Peter Foot | In The Hand) and it works fine.

Does any one of this apps support caldav? If not, does anyone knows an app that does? I need it in order to link my synology calendar...

you can go into outlook.com, select Outlook Calendar and manually add another calendar. Then it will automatically show up on the app.

I still prefer the Stock calendar app.

I've been using Chronos+ since it came out, and have been very happy with it, even though I'm not a calendar "power user". But to be honest, I'd absolutely use the built in calendar if it let us customize the tile better. After all this time, I still don't understand why they won't let the tile show more than one appointment.

windows10 calendar app is terrific. as for appointments, they come up on the tile accordingly.

Only one day at a time and max 3 appointments it seems. No flip tile for more

sometimes I have the same appointment show up 3 times on the live tile :(

Because of the way it displays, I've found the week view unhelpful in both the landscape and portrait mode on mobile. Just hard to see the whole week at a glance. Not so bad on desktop. One Calendar's display is much better.

Outlook Calendar suits my needs perfectly... no need for a third party app. The only thing I've added is Tiles For Outlook, to show me even more on the Live Tile.

I actually like this set up, but I found Tiles for Outlook lacking. I looked at "Live Tile Calendar 10", but it still behind. My favourite live tile is the one that come with True Calendar 8. Unfortunately, it doesn't come as just as a live tile, but as a calendar app. The customizaion of the live calendar is amazing and better than anything else I have seen.

The bulit-in Outlook Calendar app is good enough for me except its live tile. So I use Live Tile Calendar 10 on all my devices too.

Week View used to be my favorite, but it's not being updated and is now sluggish and buggy in Windows 10. Built in calendar now gives me most of what I want, with the exception of a decent live tile.

I use One Calendar and like it. One of the few things that's keeping me from purchasing is no free/tentative event blocks.

One calendar is the best app for me....

I believe, My Calendar is a very good option too.

True Calendar 8 should be on this list. Best live tile out there.

Yes, also a good live tile on True Calendar 8, but I still like(d) Week View better overall.

@George Ponder DesignMe is a great calendar app. Versatile and great.

Does any of these calendar apps let you print your calendar?

I use free Live Calendar from Meeks Inc. It creates live tile with month view. For me it's useful.

I gave up on the built-in Windows calendar a couple years ago because there were some serious syncing issues. I couldn't add or delete some appointments, either it never did it or there were error messages. It wasn't just me- many others had the same problems, especially with large numbers of entries. I tried all the suggested fixes with no success. Is anyone still having sync problems? I use OneCalendar with a Google calendar on all my W10 devices (PC, Surface, phones) and it has worked flawlessly. I also prefer the graphics compared to the native calendar, especially the ability to use different appointment colors. I wish Chronos would make an app for all W10 devices; I really like the design.

I've had sync issues recently but that was due to being switched to the new version of Outlook.com, but a couple of updates to the Calendar app fixed that.
Windows Central Newsletter
Thank you for signing up to Windows Central. You will receive a verification email shortly.
There was a problem. Please refresh the page and try again.