Best News Apps for Windows 10
The Windows Store is filled with apps to help you keep up with the news of the day while on the go or parked in front of a PC. You'll find everything from news readers to official apps from the outlets like NPR and CBS.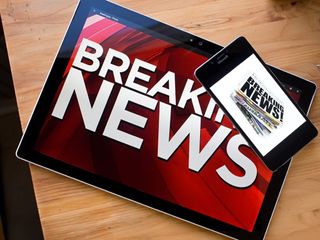 From breaking news to checking out the editorials, these apps can easily keep pace with the 24-hour news cycle we live in today. We have scoured the Windows Store and tapped a few apps ranging from official news apps to readers that pull news in from various sources for this collection. These are the best news apps for Windows 10.
Tickers
Why you can trust Windows Central Our expert reviewers spend hours testing and comparing products and services so you can choose the best for you. Find out more about how we test.
Tickers is a simple and easy way to keep track of the headlines generated by your favorite news source. You can create tickers from a news website, blog or social media channel. Once subscribed, headlines appear on the live ticker allowing you to share or jump to that site to read all the finer details.
Some of the key features include:
App is optimized for low data usage.
Customizable dark and light themes.
Displays trending headlines.
Support for push notifications to avoid missing that breaking story.
Do not disturb feature for times you want to take a break from the news.
While you can use Tickers without creating a user account, if you do create an account your subscriptions can be synchronized between devices using the Ticker Cloud.
Tickers offers a very clean appearance and friendly user-interface, making it easy to pick up on the news of the day at a glance. From there you can pick and choose as you like to dig a little deeper by jumping to the website for the full story. Tickers is a free app, available for Windows 10 PC and Mobile.
Download from the Windows Store (opens in new tab)
NPR One
NPR One is an audio news app that streams the latest public radio news and stories to your Windows 10 device. NPR One requires you to log into the app with your Microsoft, Facebook or NPR.org account. The app then locates your local NPR station for programing and allows you to listen in on the broadcast. When traveling, you can set the app to another local NPR station as needed.
NPR One's main display highlights the current story with the ability to view previously played items and view the upcoming stories. Each broadcast story includes options to mark the item as interesting (favorite) for easy reference, share the item and view the printed story via your local browser.
Stories and programming can be searched for archived content. This is a nice touch, allowing you to enjoy content on your own schedule. So, if you missed last week's installment of "Wait, Wait… Don't Tell Me", it's only a quick search away.
NPR One is a free app, available for Windows 10 PC and Mobile. While the NPR One app is a little dull to look at, it is a great source for audible news programming.
Download from the Windows Store (opens in new tab)
Readiy
Readiy is a Feedly client app and one of the best news readers available for Windows 10 PC. It is a simple, no frill, fast and intuitive Windows 10 news app that not only supports your Feedly account, but also has support for Instapaper and Pocket accounts.
The main page lines up your most recent feeds with two menus in the upper left corner — up top are app commands like marking items as read, settings such as font size, and the share tools, and across the bottom are filters to jump between your news feeds, starred items, and "must read" posts. Other key features include:
Multiple reading modes that include Instapaper, readability and inline browsing.
Multiple themes (light, dark, gray and sepia).
Live Tile support.
Keyboard commands.
Individual articles can be tagged as favorite, saved to Pocket or Instapaper shared through email or launched in browser view. While Readiy is a feature-rich Windows 10 app, it lacks support for managing your feeds in-house and sends you to Feedly's website instead. It's not a deal breaker, but it would be nice to manage feeds within the app.
All in all, Readiy is an attractive and free news reader for Windows 10 PC and maybe one day we'll see a Windows 10 Mobile version come to light.
Download from the Windows Store (opens in new tab)
Newsflow
Newsflow is an uncomplicated news reader for Windows 10 that brings all the news of the day to your PC and Mobile devices. The app downloads and stores RSS feeds locally, allowing you to read them at your convenience. The layout is clean and simple with Live Tile and notification support.
Stories can be shared, marked to read later or tagged as a favorite. Tapping on a headline allows you to expand the article in your web browser, an in-house browser or copy the link to the story. Additional features for Newsflow include:
Search news headlines by keyword.
Support for portrait and landscape orientation.
Organize your news feeds into categories.
Watch YouTube and HTML videos within the app.
Adding feeds to Newsflow is rather simple. If you do not know the URL, just use the keyword search to hunt down the source and tap the + button to add it to your list.
There no registration requirement for Newsflow, but the app has a backup/restore feature, making it easier to set up multiple devices. Newsflow also supports OPML import and export if you have the need to migrate your feeds to another reader. Newsflow may not win any beauty contests, but this Windows 10 app covers the basics rather well. It is a free Windows 10 app, available for Windows 10 PC and Mobile.
Download from the Windows Store (opens in new tab)
CBS News
There are plenty of Windows 10 apps from the major news networks, but the CBS News app stands out from the pack. Available for Windows 10 PC and Mobile, the free CBS News app delivers the day's top stories, featured articles and full episodes of CBS News programs to the comfort of your PC or Mobile device.
While the layout still has that Windows 8.1 feel, it remains clean and filled with news images to illustrate the events of the world. A drop-down toolbar remains out of sight until needed and provides options to view the various news categories, view video news stories, access the CBS News lineup and search for news stories by keyword. Individual stories can be shared, bookmark and typography options are available to adjust the font size and style.
Along with the video clips, the CBS News app provides you access to full episodes of CBS News Programming such as the CBS Evening News, 60 Minutes, Sunday Morning and more. You also have access to CBSN, which is a 24-hour digital news channel from CBS. The CBSN channel provides live anchored news coverage, CBS News reporting and breaking news.
The CBS News app is a little dated, but continues to deliver the news to your Windows 10 device, much like the morning paper. The only thing missing from the CBS News app is the sports section. For that, you'll need to download the CBS Sports app (opens in new tab).
Download from the Windows Store (opens in new tab)
If you have given any of these apps a try, let us know how things shook out. While these apps stood out from the pack, there are other quality news apps in the Windows Store such as the Guardian (opens in new tab), the Windows Central app (opens in new tab)(an excellent tech site from what I hear), the Wall Street Journal (opens in new tab) and Flipboard (opens in new tab). If you have a favorite news apps that wasn't mentioned, feel free to share your recommendation in the comments as well.
Update June 14, 2017: We have made a few changes to this article based on new releases, reader's input or staff discussion. There are some new titles in the mix, as well as those that we continue to view as the best from the Windows Store.
Windows Central Newsletter
Get the best of Windows Central in in your inbox, every day!
George is the Reviews Editor at Windows Central, concentrating on Windows 10 PC and Mobile apps. He's been a supporter of the platform since the days of Windows CE and uses his current Windows 10 Mobile phone daily to keep up with life and enjoy a game during down time.
The MSN news app was much better laid out as a Windows 8 app. MSN has become the largest source of clickbait and fake news.

You can customize the sources you want in MSN now, that reduces the clickbait to a certain amount.

Simplicity is apprently not the name of the game for MS....

No, you can't. There's a bunch of sources that will show up no matter what

I can customize categories but can't figure out how to customize actual sources. Just found it on the top headers - expected it to be in settings...

Not a week goes by that I don't see Surface Phone news, because I have Microsoft as an interest. Of course the articles are all fluff and speculation with nothing new to add. Be sure to untick Entertainment as that is a truckload of clickbait rubbish. But generally I like the news aspect of it - at least it's localised unlike most of the US-centric apps mentioned in the article.

MSN News layout is a mess...I unistalled it because of how horrible the layout is. I just use Newsflow and add my own RSS feeds.

Agreed. MSN news is horrible in its current state. 2/5 articles is clickbait. Also the same stories stay in the list for months now. They just won't go away. The wp8 app was much better.

Hate those old festering news stories that won't go away.

But I think you only get notifications from their sources. Can get notifications from the sources you want.

Recently discovered the AP app. I really like it, especially the live tile feature. I agree that CBS may be the best looking of them all, but they skimp on the amount of news available. The News app is good too, but for some reason lately I feel drained when reading it, even with the new Good News section, which is strange. I just hide it in a folder and peak at it from time to time until the feeling leaves. LOL.

I have loved using Newsflow.

The MSN news app is how I keep up with the daily news and it's awesome.

I was also using Murmur app but now it isn't functional.

There is no news in the USA, there is only propaganda. The most accurate news app I found is RT and the Guardian a distant second. News must be obtained from foreign outlets.

yeb you are 100% correct! Special last 18 months. I go with BBC,France even ​Al Jazeera or RT...

I'm currently using NewsFlow, but only because I'm waiting for Microsoft to add transparency to the live tile of their own news app. Nice list. The AP app looks like it is well done and would be a pleasure to use.

Best??? MSN news is okay because it can be customized. Most of the others, especially NPR are tilted to the left. I don't care much about the mechanics of these programs but I would rather not see my news through rose colored glasses.

Worst news app: NYTimes! I can't for the life of me understand why the NYTimes doesn't put some effort into digital distribution. Their Windows app and their WP app both are horrible, and have been for years.

I think Engadget app for Windows 10 is by far the best looking app. They have cracked the perfect UI. Two column scroll is much easier for the eyes than 4 to 5 columns orientation of tiles as in MSN or Windows Central app.

Engadget did really well with their Windows 10 app.

Hum... Surprised to not see Next Gen Reader, which is a very efficient News/RSS Reader that you can fully customize.

Are you listing news apps, or news sources? If it's the former, why no Next Gen Reader on the list?

And Wall Street Journal and The Economist are good apps too.

I looked at this article as I'd like something better than the built in News app. It's not bad, but it's a bit slow to load, and never feels 'new' enough. In that breaking news items don't appear that fast & then in general if you run the app morning, afternoon & evening it is pretty much the same news. Also there's not quite enough sources and just generally I feel the coverage could be better. But this list of apps you have (apart maybe for Readiy don't look much better & are horribly biased towards US news. For instance here in the UK both The Telegraph & Guardian have half decent apps & I'm sure other countries have their own equivalent.

I use & like Flipboard also, it just burns thru ALOT of data everytime it loads.

I just use the new feed in Cortana works for me it does local, us, and world news

any alternative news apps with unscreened-real news, no political or corporate alliances - just real news?

Newsxpresso Pro is another great app.

I prefer MSN News, even though I don't actually use it.

Daily hunt and nbs news are much better,faster and cleaner

I'm using an app called tickers , it informs you in real time about new articles and news from your favorite sites, also can work as a feed reader. the app has really good live tiles and push notifications, it also supports badge numbers and customizable dark mode.
and it's also available in other platforms with Synchronize features.

Is it anything like the app they talked about called TICKERS? Hmmmmmmmmm.

Feedlab is the best feedly app. How can this not be in the article but a crappy app like MSN News?

The MSN news app is a pile of garbage filled with clickbait and sponsored crap that hangs around for months.

Taken from the text: "The Windows 10 app has evolved over the years nicely to deliver a fantastic news source." Huh? MSN new has to be the WORST on the internet: Misspellings Failure to space between words More mispellings! Can't these MORONS put their work through "spell check" or have they gotten too effing LAZY to do that? Run on sentences. Poor utilization of the English language. Poor command of the English language. And when in the hell did the 'MOTLEY FOOL' become a 'news source'?

NPR One is an excellent app.

Try feed viewer, but pro version is better. They charge too much for going pro.

When last time I watched breaking news app, it was on Sam sabri's start screen :P

CBS News is one of the nicest apps in the store. I also like MSN News - both for "news" of course. Others mentioned are definitely more flexible with respect to content and sources.

Drudge Reader -- My One Stop Shop.

I also use NBC News, USA, & Discovery science
Windows Central Newsletter
Thank you for signing up to Windows Central. You will receive a verification email shortly.
There was a problem. Please refresh the page and try again.