Best Surface Duo Accessories 2020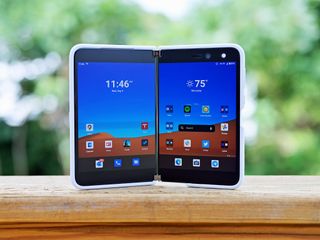 (Image credit: Daniel Rubino / Windows Central)
Microsoft Surface Duo pushes a new dual-screen foldable form factor, supporting Android for the first time. The device promises a new approach to mobile productivity, with a range of accessories available to bolster the experience. We've rounded up the best accessories for new Microsoft Surface Duo buyers in 2020.
Do one better with these accessories
The Microsoft Surface Duo is out now, introducing a new dual-screen form factor, starting from $1,399 in the U.S. The device approaches the mobile market with a fresh perspective over the typical smartphone, leveraging extended screen real estate and a range of fine-tuned apps. But it's still early days, and we'll add more accessories as they become available.
The Duo does a lot differently out of the box, but if you're buying one accessory, make it the Microsoft Surface Slim Pen (opens in new tab). Using a stylus unlocks inking capabilities, allowing for handwritten notes and annotations across supported apps. Its (somewhat) portable design better lends to pocketable devices, even if it doesn't ship with an inbuilt mounting solution.
Matt Brown is Windows Central's Senior Games Editor, Xbox & PC, at Future. Following over seven years of professional consumer technology and gaming coverage, he's focused on the world of Microsoft's gaming efforts. You can follow him on Twitter @mattjbrown.
It's too bad that by its nature, it's impossible to put a nice, big protective case on. But on the other hand, we kind of need someone (other than Kyocera or Sonim) to try making a thin device that doesn't need it. I remember the Lumia Icon being bizarrely tough for its looks. That thing took an untold number of beatings to its shell before the shell finally fell apart and took the screen with it. If we're lucky, maybe the surface duo is the same. (Thankfully I don't drop things nearly as often anymore... LOL)

I'd love to see a dashboard cradle for the Duo to use GPS maps across both screens when driving.

Lol what happens if it tells you to turn, you don't hear the direction and the road being displayed is running parallel with the gap?

My thought is that the app should have the map on one display and the list of turns on the other. Either way, I want a dashboard cradle so I can have HERE on the left display for navigation and then Amazon Music on the right. That way whoever's riding shotgun can play DJ without interrupting the nav.

I got this one and using it with phone open, maps on one side, spotify on the other. Works with duo open or closed. https://smile.amazon.com/gp/product/B07W3V7GKT/ref=ppx_yo_dt_b_asin_titl...

Bada Bing! That would be cool.

Definitely! That would be great!

Wow, one will need some serious black socks with sandals to go with the belt holster.

Not a jean pocket friendly either...!

Dude, I was thinking....."People use belt clip cases?" I not a youngster and I only tried on once and that was over a decade ago when the Motorola A855 was out. I only had to case because it was company issued. I thought those disappear with fanny packs that my father-in-law had to carry his diabetes equipment. https://www.youtube.com/watch?v=TpgHvQMhwVs

Maybe I'm an old fogie but I used a belt clip force my S8+ (Otter box) when I made the switch from a bricked Lumia Icon. I upgraded to the note 9 and got a belt clip for that as well. I only stopped using it because it broke. I suppose I shouldn't be entering and exiting the vehicle like those good ol' boys.

Honestly, I know guys don't do the back pocket thing, but I still don't understand why girls do either.

My husband loves belt clip cases. LOL

Are you knocking down the Holster or just the belt clip?
I designed and 3D Printed my own iPhone XS Max Holster, with a full belt loop, that is entirely open on the outward facing side with the phone itself sliding horizontally into it from the front like on rails with a super satisfying clack at the end and is, with some friction, mostly held in place by gravity due to a slight angle in the construction - I've yet to have it fall out of it while entering/exiting a vehicle, riding my bike or bending over to pick something up.
If I want to have a look at my phone, I just slide it forward which will immediately put it into my hand with the normally protected display, then facing me. I'm confident there is no MORE convenient and safer way ( *cough* #bendgate *cough* ) of carrying/storing your phone while on the move which quite honestly baffles me why that design has faded out of favor.

You make some good use cases, especially riding the bike. Maybe your should design one for Duo. If probably pick one up specifically for bike riding.

For those interested in a car mount and a splitter for simultaneous charging+audio, these were mentioned from a designer on the Surface Duo team: Car mount:
https://smile.amazon.com/gp/product/B082SDVTWB/ Splitter for charge+audio (3.5mm):
https://smile.amazon.com/gp/product/B07SM5MQN8/

Do you have a link to them talking about the car mount?

A link? No, this was a personal conversation. What they had to say: "All I'll say is that the mount and splitter that I provided links to - they both work. I have an older car that doesn't have BT/Android Auto so I needed to charge and have audio at the same time, hence this cable. The mount I suggested is actually really great and happens to be wide enough to hold the Duo. (Look at the measurements for both. 😉) I'd recommend it for whatever mobile device you have." If you buy both/either through Amazon and don't like them, you can always opt to return 'em.

How about that Dbrand skin?

I have one pre-ordered to go with my pre-ordered Duo. If only I could pre-order the gray Surface earbuds, I'd be all set, some day.

Yep, pre-ordered one of those as well. Already got the Zagg protector delivered, just waiting on the actual phone and the dbrand skins... Christmas in September. If it wasn't for supply chain issues, we would've had the phone three days ago lol (ugh)

Thanks! We've updated the article, great suggestion.

""The Surface Duo might not sport a headphone jack""
What? so what have they put in those bezels.

No 'might not' about it. Only one USB-C port.

We've been wondering the same thing about your 5 head. Lol. 😂 😂 😂

What's up Rodneyej? You gonna join an ole WP user and order your Duo for old times sake : ) ? I ordered mine, I feel comfortable with my decision as I'll have all the apps that were missing on WP. Ordering the screen protector above only because I already have Surface Earbuds.

I may wait until October because I will be eligible for an upgrade. I'll won't have to pay the $100 early upgrade fee, and I'll have more time to decide, and see the device before buying it. 👍🏿👍🏿👍🏿👍🏿

There are pictures and videos around of the Duo's internals so you if you actually care about the answer to that question then you can find out easily enough. Also, the dedicated Surface USB-C to 3.5mm Audio Adapter is quite cheap, so it's not too big a deal.

With no ability to see who's calling without opening the phone up, even for Peek, my first suggestion is a smartwatch with good notifications. Believe it or not, WearOS has every other wearable smoked in this department. The rest is a 10-alarm dumpster fire but Google got the notifications right.

That's good to know. What do you recommend? I had the Fitbit Ionic but it was hurting my wrists. Sent it back. I miss the features. What can I do?

I know what I'm doing. I'm waiting on the upcoming Fitbit Sense.

Sorry it hurt you wrist...I currently have the Ionic but I'll mostly have the phone in the position where the glass outer on one another for candy bar phone mode which will allow me to see/answer calls, text, etc.

The FitBits are not WearOS. Fossil makes some decent WearOS watches, and the Motorola 360 looks really good. I had the first model and really liked it.
BTW Fossil is blowing out their Sport models for $99. Using one with a Pixel, but paid a bit more than that when I bought it. At $99 it's a steal.

I'm quite aware Fitbits are not WearOS, I was responding to the user who used a Fitbit. I have the Versa 2 and Ionic as well as a Fossil Gen 5 Carlyle. The Sport model is fine but it's really crippled by the 512MB of RAM, which is why I sold it and went with the Carlyle. It makes a world of difference. Fossil sells most of their Gen 5 models as refurbished for $179 which makes it a really attractive proposition.

At first I thought a $1400 during a pandemic was crazy. Now I'm convinced that people are just obscenely rich these days. I remember thinking that when phones became $1K and many companies started killing off the headphone jack and pawning $200-$300 Bluetooth buds. But now $1400 is nothing. Add to that accessories galore. Even $50 "bumpers"! Add to that monthly subscriptions for any and all services you can imagine, including your word processor. People today are evidently obscenely wealthy. There's no other conclusion to reach.

I don't know if those of us who ordered it are rich, but I can justify my purchase because I've had my GS8 since WP went away. So if I do the math, is it really that much especially since most traditional candy bar are pricey. I8 think my GS8 was at least $699 - $799 and that was roughly 5+ years ago

They have done a good job conditioning buyers on a new normal.

Agreed. It's a classic sales job. Make you want something you don't need and probably can't afford. It's why the average credit card debt per household is $16,000 and why the overall household debt is $118,000.

Definitely a dash mounted device for the car!! This would be imperative. Looking forward to this device so much.

I know what you mean Fuji. I had no intention of getting sucked into the costs of the premium phone stratosphere...then I saw the Duo. I knew I didn't want to pay full retail (nor could I) so I started saving up my Microsoft Rewards points, got gift cards as gifts, converted corporate card points to gift cards, and credits from MS for physical store gift cards - and I bought my Duo mostly using those payment methods. All told, I probably will only spend a couple hundred dollars of my own money, but I had to plan far in advance - and have a lot of things go right for me lol (oh and MS' trade-in for my S8+ is $250. That's too good of a deal to pass up lol)

Does anyone know if Zagg might come out with the privacy screen protector for the Duo? Wondering because they cut down on brightness when outdoors so it would be a little more beneficial than the one currently listed.

A lot of times when making a major purchase I think what else could I do with this money. So what could one do with the money leftover from $1400 for the device + $400 to $600 worth of accessories versus if one just bought a decent Xiaomi, or Huawei? * Buy a fairly impressive gaming system and play the new Flight Simulator in style
* Buy a high end Surface Pro or Ultrabook convertible and get some real multitasking done
* Prepay Amazon Prime, Office 365, and Game Pass subscriptions for several years
* Upgrade to better internet for three to five years
* Remodel your deck or your bathroom
* Stock your bar with some really top shelf Scotch
* Build a home gym
* Buy your wife something really nice for your anniversary
* Send your mom a really nice bouquet of flowers every month for a year or two
* Pay off credit card debt (if you have any)
* Contribute to a Roth IRA or to your 401K and have a chance of actually retiring some day
* Donate to the charity of your choice and get the greater joy of giving

Did your actually order a Duo?

Fortunately I'm debt free! So I can buy this device if I want to guilt free. But even then there's no way I'm plunking down this kind of serious cash until I'm positive Duo is going to improve my mobile experience so much that it has return on investment. Frankly I'm not so sure I want to be "productive" on the go. There is some comfort in having downtime. ;0) Plus I am seriously thinking about a few of the items listed above and just being satisfied with a single screen phone. Bottom line... I'm waiting to see how much buyer's remorse there is in 3 to 6 months.

There will be no published buyer's remorse. It will all be in private. ;)

You forgot ... * Save up to buy a Rev 2 outright or WITH PHONE CARRIER SUBSIDY, after MS has corrected some of the more obvious serious shortcomings, IF MS ever issues a Rev 2.

I hope there is a small Microsoft compatible pen. I have been unable to find one smaller than the Surface Slim Pen.

Why? There isn't a silo, so whatever you use is going to have to be carried separately anyway. Given that, might as well be a comfortable writing instrument. The regular Surface pen fits that. The slim barely does. Samsung note sticks are like writing with a toothpick. Their saving grace is they are always available.

Using previous experience as a guide that you don't get charged until an order is ready to ship, my MS acct balance and credit card were charged yesterday for my Duo order... I may not get it early, but at least it's in the pipeline - woohoo!!

so far, my favorite skin places don't have the Surface Duo yet (decalgirl and skinit). :( I like the DBrand ones but they don't allow for customization which I love to do (especially since I'm an artist). there are much cheaper options for a screen protector than Zagg for the Surface Duo... check Amazon

Have to find a car air vent solution for the Duo, before mine arrives Downunder I'm finding it hard to source one that is able to be used with the Duo, as it's 93.3 mm wide closed.

Tried to put that ZAGG protector on last night, complete fail. I have never had so much trouble with a screen protector, especially at that price
Windows Central Newsletter
Get the best of Windows Central in in your inbox, every day!
Thank you for signing up to Windows Central. You will receive a verification email shortly.
There was a problem. Please refresh the page and try again.