Best VR Apps and Games to Help your Kids Learn in 2020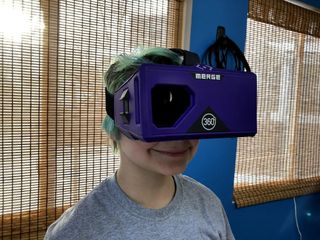 (Image credit: Windows Central)
The best educational VR games and apps turn the world into a classroom. These incredible experiences encourage children to explore new cultures, conduct experiments, create dynamic artwork, challenge their minds, and visit places they may never see in person. Our top choice, Google's Tilt Brush, encourages creativity without ever feeling like work: the ideal for child-centric content. This guide lays out the best VR-based activities, field trips, brain-bending games, and thought-provoking films most likely to inspire and educate your kids.
Best Overall: Google Tilt Brush VR
Why you can trust Windows Central Our expert reviewers spend hours testing and comparing products and services so you can choose the best for you. Find out more about how we test.
Tilt Brush VR
Get creative
Reasons to buy
+
Hours upon hours of primarily free content
+
Lessons and experiences for all subject matter
+
Indoor students will immerse themselves in the "outdoors."
+
Experiences like Earth and Tilt Brush teach without feeling like work
Reasons to avoid
-
Expeditions mobile-only with limited static VR models
-
Earth restricted to high-end VR headsets
-
Users report bugs and tricky UI for Expeditions and Blocks
The amount of free educational and creative VR content that Google has released—all-ages appropriate and comprehensive in covering different areas of learning—could fill most of this list alone.
For strictly learning-focused experiences, start with the jam-packed Expeditions app. Over 900 expeditions let you explore various art exhibits sponsored by acclaimed museums, landmarks or geographical marvels; or learn lessons in a range of topics from science to history to culture. Most of these VR expeditions offer static images you can look at from different angles, but not a space you can walk around and explore. Still, it's a perfect mobile VR option for Google Cardboard users, and it's particularly great for parents of young children: you can use the Guide mode to enter an expedition and point out specific objects of note to help your child learn.
Children (and parents) will enjoy the more dynamic Google Earth VR app, assuming they have a more robust headset like the Rift S or Vive. This app lets children explore the entire Earth, from famous locations with in-app cinematic tours to their own street. Outside of letting kids experience the outdoors while stuck at home, there's less strictly educational content here, but we feel it offers a sense of scale and wonder that students deserve to enjoy.
Google also offers creative artistic apps that aren't strictly educational but will let your children flex their creative muscles: Tilt Brush (painting in 3D) or Blocks (creating volumetric 3D models). Tilt Brush users can paint 3D environments and then upload them and have friends walk inside of their creations, or download art from others and add their own flourishes to premade 3D scenes. Kids less comfortable with freeform art will find Blocks easier, as they can create and paint models using pre-made geometric shapes. Both have limited features compared to other artistic VR apps but offer an excellent starting point for younger artists.
Finally, don't forget that Google-owned YouTube offers the number one spot for a ridiculous amount of 360º video for kids to explore. Of course, you'll need to watch carefully to make sure that any content they find there is age-appropriate. Still, it does offer a vast library of content for kids to virtually examine places they might never visit and people they might never meet.
Best Puzzle Game: Fantastic Contraption
Fantastic Contraption
Challenge your brain
Reasons to buy
+
Challenging puzzles
+
Invites whole family to enjoy
+
Free-play mode for creative expression
+
In-game solutions if kid is stumped
Reasons to avoid
-
Expensive
-
(Potentially) frustratingly difficult
-
Room-scale only, requiring sizeable open space
This room-scale VR game offers cartoonish visuals, but the challenge of these the 50 main puzzles and endless user-generated puzzles is anything but silly. Designed with both kids and adults in mind, Fantastic Contraption has one person in VR while the game is displayed on your TV, so others on the couch and watch along and offer advice and encouragement. The key with your kid will be to provide suggestions without giving outright answers.
In a virtual space full of LEGO- and K'NEX-like pieces, you're challenged to create machines that can motor about on their own and complete certain challenges, like climbing up a wall without breaking apart. For $20, your child will get a ton of brain-bending puzzles to figure out; but at that price, you'll want to make sure this builder looks fun to them and isn't too difficult for them. Younger kids will probably do better with actual LEGOs and fewer challenges.
But if this puzzler does intrigue them, it'll give you some enjoyable family playing time and offer STEM-type learning as your child finds mechanical solutions to the game's obstacles.
Other puzzle game suggestions:
A Fisherman's Tale
The Curious Tale of the Stolen Pets
Job Simulator
Keep Talking, and Nobody Explodes
I Expect You to Die
Ballista
Best Exploration Game: Titans of Space Plus
Titans of Space Plus
Explore the cosmos
Reasons to buy
+
Available on all VR platforms including mobile
+
Hours of entertaining lessons
+
Guided experience to keep students on track
+
Beautiful graphics
Reasons to avoid
-
Relatively pricey
-
Little replay value
Out of many wonderful educational VR apps that immerse you in space, we chose the best option in both entertainment and learning: Titans of Space Plus.
A giant digital planetarium of our solar system, Titans takes you from planet to planet, moon to moon, with a flying robotic Tour Guide offering a wealth of information at every stop. It does a fantastic job of comparing the sizes and distances between various planets and the Sun, helping students have a more precise grasp of how Earth fits in the solar system around it.
With the primary experience lasting between 30 minutes to an hour for a $10 buy in (though it's currently 30% off on most storefronts), it's a bit expensive. It doesn't have the replay value of a larger universe simulator. But in recent updates, the developer has added hours of additional lessons from the Tour Guide and an EVA mode in which you leave your spaceship and explore the planets at any angle.
Other exploration app suggestions: Apollo 11 VR, Buzz Aldrin: Cycling Pathways to Mars, NASA's free YouTube playlist of 360-degree videos, and SpaceEngine VR
Best Virtual Museum: Hold the World
Hold the World
Hold on to the past
Reasons to buy
+
Sir David Attenborough's narration
+
Interesting, interactive exhibits
+
Incredible 3D animations
Reasons to avoid
-
Short experience
-
No dev plans to add additional artifacts
Take your kid on a field trip to the London Natural History Museum, with acclaimed narrator Sir David Attenborough of Planet Earth fame there to guide their journey. Inserted via volumetric capture, Attenborough's hologram guides you through various exhibits: the Conservation Centre, the Earth Sciences Library, the Cryptogamic Herbarium, and other areas typically off-limits to the public.
Within each area, your kid will have the option to virtually pick up and examine various rare artifacts. Moreover, certain exhibits place recreations of animal skeletons in a 3D space and generate a recreation of how that animal must have moved in life. Watching a Pterosaur skeleton fly or ancient whale swim is a magical experience, enough that they won't mind the old British man teaching them at the same time.
The whole experience lasts between 30 minutes to an hour, depending on how many exhibits your kid visits, which even at only $4 isn't very long. But each minute imparts a ton of cool natural history knowledge for your child to soak in.
Other museum VR suggestions: Nefertari: Journey to Eternity, Mona Lisa: Beyond the Glass, or The VR Museum of Fine Art
Best VR Film app: Within
Within
See the world in a new light
Reasons to buy
+
Top-level production quality
+
Over 100 free films
+
Able to watch in browser / without VR headset
+
Mixture of light-hearted fun and serious current-day learning
Reasons to avoid
-
Serious topics may not be for younger kids
An app focused solely on VR films, backed by major tech companies and featuring professional filmmakers, Within's VR library offers a fantastic selection of VR films with impressive visual quality compared to what you'll usually see on YouTube. Plus, each film is labeled with an age rating so that you can steer your child towards the G and PG films.
Your kid will enjoy animated films like LEGO Batman: The Batmersive Experience, Crow: The Legend and Invasion!, but you can also steer them towards the many compelling documentary films on the site. Stories like My Africa (narrated by Lupita N'yongo) and Valen's Reef offer family-friendly glimpses into real-world issues like conservation and climate change. At the same time, older kids and teens can handle—and will be moved by—the more serious glimpses into people fighting to make the world better.
Documentaries aside, Within offers beautiful VR videos of real-world locations, CGI music videos, historical recreations of past events, and more. Your kid will have plenty of free, thought-provoking films to ponder, along with gorgeous footage to make them feel as though they're exploring the world.
Best Learning Disguised in a Game: Minecraft VR
Minecraft VR
Mine Minecraft for learning
Reasons to buy
+
Affordable price for hundreds of hours of content
+
Free, kid-friendly learning packs
+
Rigid parental safety settings
+
Building creations encourage creativity
Reasons to avoid
-
Plenty of distracting, non-learning content
Microsoft recently released a free Education section to the Minecraft Marketplace. Now, kids can download free lessons that will allow them to learn valuable STEM lessons while enjoying the familiarity of the popular Minecraft platform.
Xbox head Phil Spencer laid out some of the lessons available now in the game. In essence, your kid can "explore the International Space Station through a partnership with NASA, learn to code with a robot, visit famous Washington D.C. landmarks, find and build 3D fractals, learn what it's like to be a marine biologist, and so much more".
If getting your children to try educational VR games is an uphill battle, Minecraft in VR is an excellent compromise. It allows them to have online interactions with friends and flex their creative muscles. Still, you can also make them promise that for every hour mining or fighting zombies, they have to spend an equal amount of time exploring the educational content. Just be sure to set up proper parental restrictions before you let them go online.
Best Educational VR Subscription: VXR.Direct
VXR.Direct
Actual VR lessons
Reasons to buy
+
Actual lessons / virtual classrooms
+
Variety of STEM-focused content
+
Affordable subscription for dozens of lengthy experiences
Reasons to avoid
-
Expensive if subscribed for months
-
Very little humanities, elementary-level content
-
Less gamified and fun than other VR edutainment
VR experiences can be transformative but also tend towards short lengths of content for comparatively high prices. Even free content tends to be short and experimental, with poor graphics leading to nausea-inducing experiences. Thus, finding a reliable source for educational content is essential in ensuring your kid doesn't groan whenever you suggest they try one.
VXR.Direct offers a $10/month subscription to lessons directed towards middle- and high-schoolers. Lessons range from 30 minutes up to nearly 2 hours, focusing on Physics, Engineering, Space, Geography, Chemistry, and Biology with a smattering of humanities thrown in. Each lesson offers detailed information on age group, subject, length, and NGSS compliance.
Out of the dozens of meticulous lessons available, students will particularly enjoy meticulously dissecting a dogfish shark or pig; piloting a spaceship through the solar system or into a black hole; using science to solve forensic mysteries or "escape" from locked houses; and spending time with animals alive and extinct (e.g., dinosaurs).
You may have more trouble convincing your kid to participate fully in experiences that are obvious "lessons" instead of cool "field trips" or "games." Still, if they do buy-in, this subscription will offer excellent, reliable VR experiences you can be sure will actually teach them instead of merely entertaining them.
Bottom line
Parents suddenly forced to act as impromptu teachers to their kids while working-from-home will understandably struggle to give their "pupils" the lessons, activities, and stimulation they need. Thankfully, educational VR apps offer the best-structured learning and pseudo-field trips for any stuck-at-home student. The problem is finding and choosing the right experiences: you'll find hundreds of educational VR apps and games, so where to start?
We suggest starting with this simple principle: VR must remain fun and immerse at its core for kids to stay invested in it. If VR becomes a chore, a void where mom or dad forces them to learn things they don't care about, then it'll be tough to get them to even wear a headset. But if you tailor games to their interests and find the right experiences to keep them invested, then learning becomes a blast (as it should be).
To start, find out what they're learning in class right now and see if you can find a Google Expedition that will add a colorful example to their dry history or science lessons. Or have them dive into Google Earth VR and go on a present-day field trip to where someone in their lessons once lived.
Then, once the lessons are done, encourage your kids to play games that let their imaginations run wild. Set them up in Tilt Brush, give them a prompt, and see where their minds take them. Or encourage the best kind of VR education—physical education—and get your kids up and moving with these active VR games for kids.
Note: When you let kids use VR, remember to take breaks for at least ten minutes every hour. You can check out more guidance on letting your kids use VR in this guide.
Get the Windows Central Newsletter
All the latest news, reviews, and guides for Windows and Xbox diehards.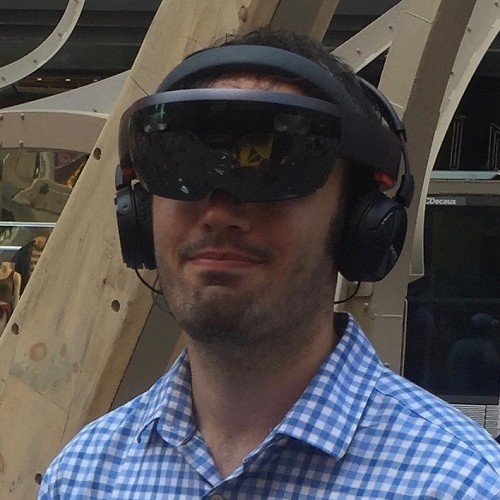 Senior Editor, Android Central
Michael is the Senior Editor of VR and fitness tech at sister-site Android Central, but happily lends his help to the Windows Central team for games coverage.