Blizzard lessens penalty for Hearthstone champ Blitzchung but reiterates stance in new statement
The company states that its relationship with China wasn't a factor in decision to punish player for their pro-democracy views.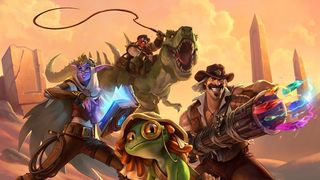 What you need to know
Blizzard released a statement about the situation involving Hearthstone grandmaster Blitzchung.
The player will now receive his prize money.
The company doubled down on its stance regarding "pre-and post-match conduct" but said its relationship with China wasn't a factor.
Nearly a week after Blizzard banned Hearthstone grandmaster Blitzchung for a year and stipped him of his prize money, the company has released a statement on the situation.
President of Blizzard Entertainment J. Allen Brack said in the statement, released Friday evening, that the company will lessen the penalties given to Blitzchung (whose real name is Ng Wai Chung). He'll be awarded his prize money and will be able to compete again after six months. He also won't be removed from the Hearthstone Grandmasters, according to a Blizzard employee. Brack also said the two Taiwanese casters involved in the interview, who were fired, will be reinstated after six months. However, he reiterated the company's stance on the situation, implying that the punishment was only based on the rules.
"Part of Thinking Globally, Leading Responsibly, and Every Voice Matters is recognizing that we have players and fans in almost every country in the world. Our goal is to help players connect in areas of commonality, like their passion for our games, and create a sense of shared community," he wrote. "We have these rules to keep the focus on the game and on the tournament to the benefit of a global audience, and that was the only consideration in the actions we took."
The controversy began when, in a post-game interview, Blitzchung called for the liberation of Hong Kong and voiced his support for democracy in his home country. Originally, Blizzard released a statement calling it a "competition rule violation" and stripped the player of his prize money. It also suspended Blitzchung from competing in Hearthstone tournaments for a full year. The two commentators on the stream were also fired, even though they didn't make any political statements.
This ruling was cited:
This resulted in backlash from the gaming community — including fans and other Hearthstone players — but also Blizzard employees, some of whom staged walkouts in response to the decision.
More: Activision-Blizzard's Chinese-censorship controversy, and why it's time to take a stand
Brack wrote that this was all done to keep the focus on the game and its players and had nothing to do with the company's relationship with China. Blizzard has a huge player base in China and mega-corporation Tencent, which is China-based, owns a reported five percent stake in Blizzard. The company's official Weibo account, which is run by Chinese publishing partner Netease, also posted an apology earlier this week that took a more biased stance on the side of China.
"The specific views expressed by blitzchung were NOT a factor in the decision we made. I want to be clear: our relationships in China had no influence on our decision," he reiterated.
Brack did write that he believed the disciplinary process "wasn't adequate" and that the company "reacted too quickly." He also says that because Blitzchung played "fair" during the tournament, he'll be awarded his prize money.
However, because Blitzchung and the casters didn't keep the interview on the subject of the game and instead talked about politics, that's why they were punished.
"Moving forward, we will continue to apply tournament rules to ensure our official broadcasts remain focused on the game and are not a platform for divisive social or political views," he said.
This isn't the response a lot of people were hoping for. It's a step in the right direction, but stating that any player or commentator that makes a political stance is breaking the rules is a step back. Not all political or ideological views are created equal (many Blizzard communities are filled with professionals that've said controversial and even homophobic or racist remarks, which would also fall under this ruling) so to hold them all to the same standard isn't exactly fair. It's a false equivalency that puts being pro-democracy on the same level as pro-authoritarianism.
This also brings into question where the company's values lie, especially in regards to issues like free speech. It's an ethical question that Blizzard didn't do a good job of answering, especially at 5:30 p.m. PST on a Friday.
Update: Added Blizzard's official Weibo account statement from earlier this week.
Get the Windows Central Newsletter
All the latest news, reviews, and guides for Windows and Xbox diehards.
Carli is the Gaming Editor and Copy Chief across Windows Central, Android Central, and iMore. Her last name also will remind you of a dinosaur. Follow her on Twitter or email her at carli.velocci@futurenet.com.