Bungie escapes partnership with Activision, retains rights to Destiny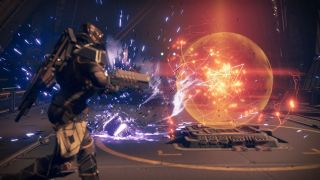 Activision and Bungie partnered on Destiny in 2010, and with Destiny 2, that partnership continued. However, the two are parting ways now. A few months ago, Activision said that Destiny 2 was a sales disappointment and the company was reevaluating how to proceed from there. It seems like this was the best solution the two parties could come up with.
Bungie issued the following statement on its website today. Luckily, the developer will retain rights to the Destiny franchise going forward. Activision won't have any part with it in the future, and Bungie can make all the decisions revolving around expansions and monetization going forward.
Hopefully Destiny 2 — and Destiny 3 — will become incredible games that don't lock content behind paywalls following this split. However, only time will tell. Whenever a studio is able to reclaim rights to its franchises, great feats usually follow. Bungie also confirmed that content delivery won't be affected and you can still expect the Forsaken expansion to receive steady updates.
Lastly, Blizzard's Battle.net will still feature Destiny 2 on its platform. There won't be any disruption to users.
Destiny 2 will still receive full support on BattleNet and we do not anticipate any disruption to our services or your gameplay experience. https://t.co/FFOE1iae3RDestiny 2 will still receive full support on BattleNet and we do not anticipate any disruption to our services or your gameplay experience. https://t.co/FFOE1iae3R— Blizzard CS - The Americas (@BlizzardCS) January 10, 2019January 10, 2019
What are your thoughts on this? Will you give Destiny 2 a chance now? Let us know.
Asher Madan handles gaming news for Windows Central. Before joining Windows Central in 2017, Asher worked for a number of different gaming outlets. He has a background in medical science and is passionate about all forms of entertainment, cooking, and antiquing.
Bungie felt pressured by Microsoft. Then they found out Activision was even worse. Classic.

https://mobile.twitter.com/XboxP3/status/1083475683102285826 Phill Spencer: Looking forward to a very bright future working with one of my favorite independent studios on one of my favorite franchises. Excited to see how they continue to grow and evolve Destiny.

Maybe Microsoft can help Bungie. Microsoft under new leadership since Bungie left, I'm very sure Phil Spencer is keeping a close eye on Bungie considering the relationship they had with Microsoft in the past. If not, its wishful thinking, but who knows. Microsoft has been in a shopping spree. Rekindle old ties.

Destiny just isnt a good game. Never has been. Not sure what the point in retaining rights to a franchise nobody likes is.

I didn't have a ton of fun in it, but many have. For me though, I don't understand, why did they build a knockoff of their own game? They left Halo and built...another Halo... I don't get it.

If your only requirements to define a Halo knockoff are "space" and "FPS," then yes. However, they plays quite differently, when looking at how Bungie built games for both. Destiny felt like a tighter shooting experience (though Halo 5 did something similar with ex-Bungie talent). It also fleshed out an RPG core. It didn't push for competitive multiplayer in the same way Halo did. While it has PvP, it focused more on PvE multiplayer, with MMORPG-like encounters. It also put forth a semi-open world, while Halo stuck to fairly on-rails, story-driven levels. At the VERY base level, both are sci-fi shooters, but they branch out quite differently from there.

Well, one had a ring, the other had a ball. Big stretch. The stories (or the limited story in the first I guess) were extremely similar.

I enjoyed the first game well enough, maybe if they can cut back on the money grabbing greediness that I have come to associate the series with I would try future games

My thoughts exactly. Destiny 1.5
They promised like 10 years of content, then a few years in made Destiny 2. They also removed access for content in Destiny 1 with an expansion. A heinous crime. But I still stuck hundreds of hours into Destiny 1. Destiny 2 was just too similar to one. And re-used assets. And forcing DLC. Let's hope that was Activision and that bungie can get the good times back

Time will tell if it was the bean counters at Activision who forced bungie to make such decisions.

Bungie had quite a few broken promises with Halo 2/3 from what I remember.

Best news I've heard all day!

Phew, that was a close one for Bungie.

How about releasing a complete game instead of piece by piece with DLC? I can't be the only person waiting for the all-in-one bundle of Destiny 2. they did it with Destiny 1, so why not again?

I got scam with Destiny 1 vanilla (my fault for preordering)... didn't with their half baked DLCs... didn't with their second scam... It will take a full game at Witcher 3/Warframe level of contents without MTX for me to even consider getting back on the Bungie train. I don't think one second that the greed was only Activision.
Windows Central Newsletter
Get the best of Windows Central in in your inbox, every day!
Thank you for signing up to Windows Central. You will receive a verification email shortly.
There was a problem. Please refresh the page and try again.