Call of Duty Vanguard sales in the UK plummet, showing a general downward trend
As Vanguard sales dip, is time for Activision to innovate?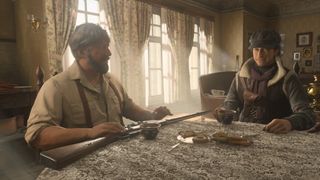 (Image credit: Windows Central)
What you need to know
Call of Duty Vanguard is the latest entry in the series but continues to have a sales problem in the UK.
Compared to Cold War, digital and physical sales of the game plummeted.
Activision has yet to release numbers for Vanguard's performance.
Call of Duty Vanguard is the latest to the series and continues the franchise's tradition of taking players back to the wars of past. With last year's installment, Call of Duty Black ops Cold War took us back to the Cold War in the 1980's, Vanguard takes us back to the days of World War 2, albeit with some controversial technological advancements that fly in the face of authenticity.
Reported first by GameIndustry, the numbers for Activision's latest FPS are dwindling, and trailing continuing a trend of weak sales performance following last year's Black Ops Cold War.
The numbers don't the title any favors as it shows a decrease of 26% when compared to Call of Duty Black Ops Cold War in physical sales, and digital sales fell to a staggering 44%.
In comparison, Call of Duty Black Ops Cold War had a fall of 64% in physical sales when compared to Call of Duty Modern Warfare (2019), but compensated for it with a rise of 39% in digital sales in the UK. Typically, UK physical sales declines could be attributed to the generally weak performance of physical media in the country. The digital sales tell a bleaker picture, though, which seem to indicate that all versions of the game are struggling. Until we receive analysis from other retail regions, it's tough to say if other parts of the world share the UK's sentiment for Call of Duty's latest entry.
Call of Duty Vanguard is currently out and is available for the Xbox Series X|S, Xbox One X|S, PC, PS4, and PS5.
Best option
(opens in new tab)
Call of Duty: Vanguard — Cross-Gen Bundle
The bundle for most players

Call of Duty: Vanguard is here but you may run into some problems or server issues while you're trying to play. If you do, know that you're not alone.
Windows Central Newsletter
Get the best of Windows Central in in your inbox, every day!
Well they've pumped up the prices, and the game sucks, is it really surprising.

Not to mention is the SAME GAME year in year out.

The last COD I played was Black Ops III. The game sucked and I haven't been back since.

It looks amazing but it's hella expensive

Eventually, the cow runs out of milk....

New game prices are simply too high...

Call of Duty needs to reevaluate what players enjoy from the franchise, and give them that. For starters, maybe not releasing a "new" game every year? How about drop the annual release cycle? How about making a multi-player that has an annual subscription for something like $40 and continually gets updates? How about releasing a single player separately that tells a good story and maybe leaves the player wanting more so that the franchise can be popular for them to make sequels to the story? There are seriously so many routes to success that Call of Duty hasn't ever taken and never will take. I left the franchise a few years ago and haven't missed it. I miss Modern Warfare, Modern Warfare 2, and Black Ops 1-2. That's when Call of Duty had an amazing thing going. But now it is trash. It's really a shame.

If they'd sell the campaign separately (for half the price), I would consider putting down 30€. I'm not interested in multi player but I've always loved the stories of CoD, MoH and Battlefield. So 60€ for a game I'll play for 6 hours isn't worth it.
Windows Central Newsletter
Thank you for signing up to Windows Central. You will receive a verification email shortly.
There was a problem. Please refresh the page and try again.