Call & SMS blocker: functions exclusive to Chinese Nokia Lumia phones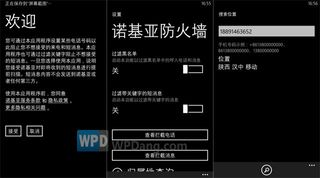 As Chinese stores are beginning to get the new generation of Lumia devices in tiny, tiny trickles, consumers who are lucky enough to secure a phone or two in the extremely limited supply have found a pleasant surprise: the phones are coming with a much called for feature, which is call & SMS blocker.
The stealing and selling of private information has always been a big problem in China. It's developed into a full fledged industry. Occasionally even employees of ISPs, mobile carriers and banks are caught selling their customer information in bulks. What follows immediately is spamming, quite precisely targeted, coming through all sorts of channels in bulks.
Sales calls and SMS coming out of nowhere is a daily experience for most Chinese mobile subscribers. If there's a day you are not getting any spam SMS at all, most likely it means your account has just been suspended.
Therefore phone call and SMS blocker has always been an extremely highly demanded feature to the Chinese users, in whatever ecosystem. Microsoft's lack of API support on this front in Windows Phone 7 through 8 has caused the mobile OS some significant negative review in China. So it's really a relief to find out Nokia catching up with what's missing for 2 whole years with its over-OEM privilege.
The blocker comes pre-loaded with all Chinese Lumia 920 and 820 devices, allowing users to:
Block callers per mobile numbers
Block all SMS from specific sender
Dynamically block SMS containing specified keywords
Update the keyword database online for said SMS blocking
View all blocked calls and messages
Trace the geographic origin of specific phone numbers (only works for mobile numbers, precise to municipality and carrier)
Curiously in the credit section there's a line saying "technically powered by Tencent Inc.". It's not clear exactly what Tencent has done for this feature yet.
Source: WPDang
Get the Windows Central Newsletter
All the latest news, reviews, and guides for Windows and Xbox diehards.