Chinese OEM Oppo set to join the Windows Phone 8 eco-system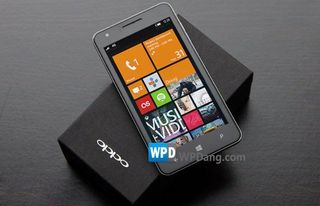 According to WPDang sources, Chinese handset maker Oppo is set to build Windows Phone 8 hardware. Founded in 2004, Oppo is a relatively new player to the mobile phone industry with a history of different electronic products, including media players. WPDang reports that the Chinese manufacturer could begin releasing new Windows Phones in 2013. Being less internationally known than both Huawei and ZTE, Oppo certainly can produce aesthetically pleasing hardware.
Oppo has been competing with feature phones in China, but also have the Finder 3 Android smartphone featuring a dual-core 1.5Ghz CPU, 1GB RAM, 8MP camera (with 2M FF shooter) with a 4" display. Looking at the Finder 3, being just 65mm thick and priced at 2,500 CNY ($391), it would be interesting to see Apollo powering such high-end specifications. Throw 32GB into the mixture and we'd have a winning flagship.
What do you make of Oppo joining the ranks of Windows Phone OEMs?
Source: WPDang, via: WPSauce
Rich Edmonds is Senior Editor of PC hardware at Windows Central, covering everything related to PC components and NAS. He's been involved in technology for more than a decade and knows a thing or two about the magic inside a PC chassis. You can follow him over on Twitter at @RichEdmonds.
Is that a mock image? Because I like it.

Agreed - the device pictured is super sexy.

its a real device out now

Doesn't like the CN OEM to screw up the great OS

What are you talkin about? They won't screw up anything

I think anything is other than my Arrive is great

What's wrong with your arrive? I personally think that those keyboards are wonderful. I was thoroughly disappointed in no GSM variants being produced that supported US 3G frequencies.

Ive grown tired of the same phone. I had the touch pro then touch pro 2 now the arrive. To me all 3 are the same just got thinner

I love the Arrive's form factor and keyboard, but I got tired of Sprint's super-slow data and the Arrive's underpowered internals... I'd love a WP8 device in the same mold as the Touch Pro, TP2, and Arrive.

I hear ya. But the screen would have to be bigger, the volume louder like the tp2, and a better camera. Voila, the HTC 8 pro

I have an Oppo DVD player and its amazing! The upconverted is almost as good as my blueray player. If Oppo puts the same quality in WP7 devices then I'm all for it!

DVD players is the first thing I thought when I saw the name. The players were considered high end, would definitely like to see what they could do with a WP8 device.

You must have bad eyes or a bad TV... or both.

The phone looks like a low grade Samsung but still happy to see more OEMS

That phone looks very similar to the Galaxy S2, with the only difference being the 3 Windows buttons at the bottom.

Wouldn't that make it a Focus S, then?

Sweet. Audio and video-philes everywhere will love this. Looking forward to seeing what Oppo can do with WP8. Will be even better if they completely ignore Android.

You didn't ignore Android

65mm thick!? Room for improvement. And somewhere to store your brolly.

interesting, i didn't know they were from China, i looked up wiki and apparently Oppo Digital Inc is a seperate division that acts on it's own and operates solely out of USA, but they are still the same company (i thought they were purely US company when i bought my BDP83 lol)

Oppo make very high end DVD and blu-ray players that are consistantly excellent, and beat all other devices on independent benchmarks. Hopefully the phones are if a similar quality.
Windows Central Newsletter
Thank you for signing up to Windows Central. You will receive a verification email shortly.
There was a problem. Please refresh the page and try again.