Cortana can do impressions, you won't believe what she says next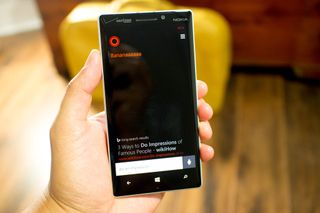 We're not sure when this feature was added, but Cortana can now do impressions. Simply ask Cortana to "do an impression," or "do an impersonation" and listen to some of her responses. There are not many impressions right now, but definitely try it on your device with Windows Phone 8.1 Preview for Developers. We've tried it on our Nokia Lumia Icon. Head past the break to watch our hands-on video.
Recognize any of the impressions? Cortana's responses are part of a feature called Chit Chat. While her biggest strength is her ability to improve your life through organization and adaptation, she's more than just another digital assistant. She has a personality and sense of humor. If you haven't done it yet, you can also try asking her where she comes from, when she was born, ask her to tell a joke, or ask about Siri.
How would you rate her impressions? Let us know in the comments!
via Reddit
Windows Central Newsletter
Get the best of Windows Central in your inbox, every day!
To infinity.....and beyond.......

Check this out❕❕❕
.............
http://tinypic.com/m/i6wf3b/1

Wow.. I didn't know that Cortana can tell me riddles.

Because most of the time she doesnt understand questions.. she just needs this predefined format that you first need to guess

Yeah could have sworn they did an article on this already. Maybe it was something that was buried in the forums when it was first noticed.

Yeah for a second I thought this article was about Microsoft adding more impersonations...lame jk. But still it was a feature ever since wp8.1 preview launch.

Yeah, I mentioned this in the comments about Cortana's new voice a couple months ago.. :-P http://www.wpcentral.com/cortana-voice-upgrade#comment-904258

I think ur the one I discovered it from. Posted via Windows Phone Central App

Ah man, that's so funny. :-D

Omg just tried it and it is hilarious!! :D

I would like to know that as well.

Despicable me, the minions.

Nice...i don't really utilize Cortana much, so these news bits are good for me.

I didn't think I would use Cortana, but after the millionth time of asking my wife to remind me of something and didn't... I use Cortana for that now.

Good call! I forget everything...maybe I'd surprise my wife if I started using Cortana for reminders.

Why is his cortana red, mines blue

Cus his accent color is red and urs is blue

It's your accent color , change it

What impresses me is that Windows Phone 8.1 is not released yet. I need Cyan update not just WP8.1

yeah and I doubt cortana knows that one.

Whoa you guys, this IS old news. Then again, this serves for anyone who didn't know about it :-)

To infinity... And beyond.

I see a lawsuit ahead to Microsoft with copyright infringement!

I highly doubt that. Or no one would be able to do an impression and loads of comics would be in jail.

It's covered by the "fair use" exemption for parody.

Had to sneak off to an empty conference room for this. WP geeks we are.

Mine just writes the words... No audio :/

Usually there is no audio when you type the command

aaaaah!! awesome! i didn't want to wake up my girlfriend, so i typed it in :D hahaha Thank you!

Hold the search and say "cortan, do an impersonation"

That happens when you type it in, instead of doing a voice command.

This may be a bug in 8.1 sometimes I get no audio at all but only for notifications and Cortana and have to reset my phone.

Ask her 'What does the fox say?'... =)

I had no idea what this was and my cousin (who had not used cortana by that point) told me to ask her. He was highly amused. I then watched the video, still not sure what it was that I watched. Cortana was quite funny regardless.

It has been there since the dev release

Too infinity ...... And beyond !! :p , I like her voice seems like a pirate :p

This is cool....think of the many impressions Cortana could do

When 900 years old you reach, look as good you will not.

It was surprisingly funny to hear her answer me after saying, "I'm Rick James, b*tch!"

I did it, and now she calls me Chief. Edit: Found out why: I accidentally unchecked the setting Have Cortana say my name, and didn't realize I needed to enter my name again after checking the option again.

I am still Lord Voldemort in her eyes. She dares not speak my name. :-(

Unless you command her to.

The article title reminded me of some Facebook spam link

I refuse to change my phone region to US and still waiting for Cortana to come to Canada. To me, Cortana hasn't been released yet.

It hasn't. It's still beta, although it is being pushed to other countries. http://m.wpcentral.com/cortana-launch-china-and-uk-version-1-other-engli...

Well then you refuse away! You are the only one losing out

Starting to hate Microsoft...US is still the only ones who get Cortana, and the rest of the world still is waiting. When is 8.1 releasing for goodness sake..

Even when Cyan does come to the UK Cortana isn't going to be included... We still have to wait...

It's a beta numbnuts. How about you change your phone region to US if you want it so bad. Jesus.

Windows phone 8.1 has been released for new hardware, like the lumia 630/930. If you want it so badly, go get another phone. Or wait until wp8.1 is ready to be hardware friendly to your wp8.0 phone and when it is it will arrive OTA. As for Cortana only being in beta in the US, aren't you happy that Microsoft is giving the US a half baked version and gonna give you the full proper experience? This is how I see it. If Microsoft were to give you Cortana now in your country, you'd still be complaining because number 1. It wouldn't understand you properly (it can only understand American English at the moment), and number 2. It wouldn't be that localised for your region. So you still wouldn't be happy. And I think that MS is choosing the right way to roll out Cortana to give the best user experience. I am using Cortana in the UK, just to see how it checks out, and yes, it does do some things good, but sometimes it struggles to recognise my UK accent, and sometimes it doesn't pick up local restaurants properly etc. So if you want a half baked experience now, tell MS to release it for your region even though its not ready, or if you want to wait for the full polished version, do so. But I'm telling you, people would be even more cheesed off with MS if MS has released it all over the world without full functionality Just be patient

i think saying "do an impression" is so generic, they should've come up with a better integration, like maybe if you say search lord of the rings, and she will say that. Something random and easter eggs scattered through out searches would make it more fun and unpredictable. Just my thoughts.

If you ask her to turn on the front-facing camera, she should first respond with "let me take a selfie." Maybe until you tell her to knock that off, that is.

She also tells jokes, sings songs, and says something funny.. Say "tell me a joke, sing me a song, or tell me something funny"

Got a toy story and harry potter reference.

Expectum Patronum here, with a very high pitched voice!

I can only get 3 of them to come up and they rotate through

You can ask her to sing you a song also.

It just seems pointless..I want to make my life easier not watch my phone do preprogrammed impressions. I mean if you wanna spend time coding for that then ok but it didn't work for siri to be so personable

I bet you are fun at parties. :)

Then don't watch do any of those fun things? Believe it or not, robots didn't and aren't coding Cortana, adding these Easter eggs didn't and isn't going to take away functionality and practicality, and people having fun with Siri is what made these things as big as they are. So, untwist those panties a bit.

Try cursing at Cortana. Quite amusing! Lol

LOL! What a coincidence as Cortana opened the WPCentral app for me, and the first article I see is about Cortana haha ..

To infinity... and beyond! lol

The more I use windows phone the more impressed I am her response are hilarious lol

Haha cool thanks for tips

Cortana is getting more tamagotchi-esque by the day. Next we'll have to feed her information or she'll die. :)

To be fair Johnny 5 was really the first to "need input" constantly ;)

Haha, short circuit 1 and 2 are two of my fav films. Used to watch them constantly growing up.

I watched them when they came out and now I have them on DVD. I also had my kids watch watch them and Short Circuit is one of their favorite series.

Funny, my husband and I just watched number two a couple of days ago. It's still a great movie.

Kinda off topic, but in Korean impersonation is known as "personal talent"

Cool, another gimmicky useless trick! ;)

It gives her more of a personality, which in turn gives her a favorable edge over her competitors

Of course. But I do wish they would focus their efforts on improving real functionality faster - e.g. set an alarm and then ask it to turn it off. It still asks which alarm even though you have just one one. Duh. Not to mention that IMHO true functionality would be the best way to get an edge over the competitors which are full of gimmicks themselves (Siri in particular) and as functionality wise they are all different but roughly equal.

Even though it's old it's new info to me. Love this feature and please keep the fun tips coming along with the practical ones!

Why should I care when I still don't have windows phone 8.1 ?

Oh lighten up :P, rest of the world hasn't either (other than select devices in select countries).

Whose fault is that? Anyone can get it if they want it.

Great to see Cortana improving but I cant help but think this is where Microsoft is putting all its effort into than to fix all the other issues (cough...games hub, etc) we've been mentioning for months now.

Err there are different teams? MS is not just run a by group of people. At the last count, they have 127,000 employees.

When I said "it", Microsoft as a whole. Your comment just proved my point.

Because they only have one programmer who works on every single thing and he should be working 24/7 always and forever? You should help but think a little deeper

"you should help but think a little deeper"? Maybe you should read my post a little deeper .....youre an idiot. Reread my comment. Adding features to where we don't want (yet) and taking away what we used to have an enjoy.

I think you are the idiot. Re-read what he said about different teams.

But there is a separate team for Xbox games to Cortana, etc. Basically those programming Cortana don't touch the Xbox Games Hub, or Xbox Music, etc, is the point they were trying to make.

I got Yoda. Good times. :D

Just linked in two whatsapp groups, four close friends and family members I haven't heard single peep out of them lol. I guess they are speechless to have any comeback against windows phone or trying with Siri or Google now and failing miserably haha.

I want Google now, but dead

I thought this was a known feature haha!
Nokia Conversations posted on this ages ago!

Ask her "What does the fox say?"

When is Cortana coming to the UK??? Its been quite a while since they announced it to be coming soon to the UK...

This was new 3 months ago.

She said: "Expecto patronum" a spell from the movie "Harry Potter and The Prisoner
of Azakaban"

Its older than the first developer preview update for WP 8.1

Dang she Just made me feel stupid. I Just asked her to tell me a story and she replied
" once upon a time there was a person who asked their phone to tell them a story" smh

And that's the sassy Cortana we know and love!

I already knew this since a few days after the release of developer preview

She still doesn't recognize something like "set timer to ten minutes"

"To infinity... and beyond!" :D
She's so entertaining.

Cortana also tell a story

Lol I will stop sending you guys tips... Just open a thread... :/

Why does Cortana not speak sometimes? The text gets displayed, but no voice comes. < the phone's not on silent mode>

If you type out the command as opposed to saying it she will also type back to you (per se) as opposed to speaking back to you.

For getting Cortana I need to change region. :(

I'd appreciate if you didn't title articles with clickbait phrases like "you wont believe..."

Cortana you are awesome..

The first she said was My precious Second expecto petronum

To infinity and beyond!!!!!

You guys seriously just discovered this? She has been able to do this for a while now. I remember reading about this either in the WPCentral forums or the windows phone subreddit.

How about "live long and prosper?" \\//,

This is old news...
Surprising that WPCentral guys noticed it now..

Ask her "what does the cat say?"

Don't you peepz have any live, physical friends or girlfriends/boyfriends or at least pets..like dogs, cats, turtles or whatever?? Can't believe that talking to a mobile phone is can be that exciting.

Spoken like a none believer. You shall burn in WP hell

My cat doesn't speak.....plus I enjoy sharing Cortana with friends and family .... Have you used Cortana yet? Are you even a WP user? Personally i wouldn't want you as my physical friend, i wouldn't even want you as a digital assistant. No offense though.

You can also ask "tell me a story"

"She has a personality and sense of humor." Wth, are you high on something?? It is a bloody program, a software (or an app in "trendy" language), it only does what it is programmed to do, it does not improvise or create. It does not make funny stories, it repeats them like a bloody virtual parrot. You even need to memorize phrases in order to use it efficiently. I literally hate people who go Awww! And Wow! When they tell it to "tell me a joke" for nth time in an hour. People use it to "remind me to get milk when I go to store" when they go to store with sole purpose of buying some milk. And when the software miraculously does remind them while _still_ in store, they go Aww! and Wow! all over again. Personality my ass, "she" my ass. Fucking peasants everywhere.

Yeah. That's wat m saying.

Amen! I thought I was the only one not being amazed by Siri and now Cortana. The most things I would ask her to do is to turn on/off the wifi, but then, considering the fact that I need to launch her first, I may as well do it myself.

You jelly!! :P
Sir your ass is a lot of things but surely "she" ain't one of them.
You mad bro!

Asking cortana to do an impression everytime is lame.

That's great and all but you won't beat Google with impressions

The hell you talkin about?

Expecto patronum! .... Lol pretty cool

A few days ago i found out, that Cortana can't anwser the question to "what does the fox say" but also answers the same question to many other animals with "Mooo", "Meow", "Oink, oink, oink" and so on.

Not even the Norwegians know what the fox says.

Thus feature has been there since before Cortana got her voice changed to Jen Taylor I'm surprised no one has noticed

Just, give me Cortana already! Sweden.

I wish u could tell Cortana to write a note in your OneNote books though

I don't think Impressions are working on Cortana Canada.