'Dragon Age' lead writer David Gaider has left his post at Bioware
David Gaider, famed for his work on Knights of the Old Republic and the Dragon Age franchise has departed Bioware after almost 20 years with the company.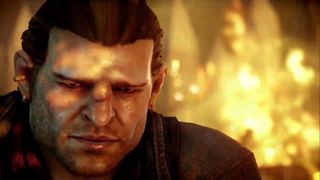 David Gaider announced his exit on Twitter, stating that last Friday would be his final day after 17 years with the studio responsible for Mass Effect, Baldur's Gate, and several other fan-favorite titles.
Bioware Canada studio head Aaryn Flynn thanked David Gaider for his contributions on Twitter, making it the only official statement from the company so far on the departure:
In a statement released to Polygon, Gaider said that the split was amicable, citing a desire to seek new challenges:
David Gaider penned several beloved characters over the years, including The Old Republic's hilariously murderous HK-47 droid (a personal favorite) and the seditious Dragon Age witch – Morrigan. Gaider is also credited with helping to bring greater inclusivity to mainstream triple-A games, which Bioware pioneered with same-sex romance options in both Mass Effect and Dragon Age.
Times at Bioware seem to have been a little turbulent of late. Last year, David Gaider announced that he was leaving the Dragon Age franchise to work on an as-of-yet unrevealed project for Bioware. The news came a month after Bioware announced it was canceling Shadow Realms, which would've been a brand new action RPG with competitive 4 vs. 1 multiplayer elements.
Gaider's exit follows several other high-profile Bioware departures, including former Mass Effect developers Casey Hudson, who recently joined Microsoft's HoloLens team, and Chris Wynn, who left for unknown reasons earlier this month.
EA, who owns Bioware, recently reassured fans that Mass Effect Andromeda's development will continue at "full-speed" despite the departures of Chris Wynn and Casey Hudson.
Bioware is currently working on a secret project, Mass Effect Andromeda and future updates for the MMO Star Wars: The Old Republic. Dragon Age Inquisition's final DLC – The Trespasser – also sets up the fantasy RPG series' next installment which is likely already in development. Sadly, it'll be without David Gaider's excellent writing.
Windows Central Newsletter
Get the best of Windows Central in your inbox, every day!
Jez Corden a Managing Editor at Windows Central, focusing primarily on all things Xbox and gaming. Jez is known for breaking exclusive news and analysis as relates to the Microsoft ecosystem while being powered by caffeine. Follow on Twitter @JezCorden and listen to his Xbox Two podcast, all about, you guessed it, Xbox!
It might be me assuming things here, but I very well believe that their creative freedom has shrunk quite a bit as it always does when being with EA

It's possible, certainly seems to have been the case with Visceral Games at least. It's concerning that so many high-profile Bioware names have left the company in recent years.

That just give to some other people the opportunity to become "High Profile" too...

Yeha. Ppl that love EAs way of thinking I guess >.<

You're probably right about that.

I sense... There is salt inside EA.

Why am I smelling that EA keeps making great content creators leave their studios. Especially BioWare keeps getting screwed by EA:
First that free2play online commander and conquer, then 2 other titles and at last shadow realms " because the game wasn't were it should have been according to EAs road map 1 year after development. That was because we wanted to give players as much freedom in building their character giving them 100s of unique skills. Making the maps repayable and writing a story that was less then flat and boring. EA simply hated that the game would have been such a big piece with at least 3 years of development, with free monthly updates and killed it simply because it was too expensive and risky"- the game director of shadow realms at last games in cantina tour I guess with that said, I can understand why ppl leave

I hadn't heard that about Shadow Realms before, kinda lame.

I love the Dragon Age series and sad to see the writer go, but I hope him the best in his future endeavors.

Dragon Age was pretty bad anyway.

I agree
The dialog and voice acting was really bad in inquisition which really broke the immersion Posted via the Windows Central App for Android

Your joking right? The voice acting in Dragon Age was brilliant especially the British Female Voice. As for the American voices, well, that's because their american. The story and sound was spot on. The only thing I can bash about it was that there was a lack of a wider world exploration.

These people leaving major gaming studios should get together to make a game.

Time to dig out my copy Sonic Chronicles

Brings back memories of playing KOTOR. I loved it when HK-47 would refer to people as meatbags, especially the main character. Such a fun game. Wish a good sequel would come out. Though, I don't know how I feel about a sequel to KOTOR with EA's meatbag hands involved.

dragon age 4, star ocean 5, new berserk game, kingdome come deliverence, for honor. hope we get to see asians in dragon age 4, and finally get a bigger world map of europe's contienent, and japan, korea, china, and thailand's contienents. it's about time my asian brothers meet some smexi girls of different ethnic race. so da smexi, please let asians join in the story this time. if not friends at first, maybe rivals. then become friends and get to know their classes, weapons, and fighting styles in dragon age 5. like these moves only asian style classes can learn. 1. jump spin back kick - knocks down opponent and stuns opponent for 6 seconds. 2. high kick - deadly damage against taller opponents, that includes big bosses. 3. air raid - from star ocean 3. 4. dimension door - from star ocean 3.