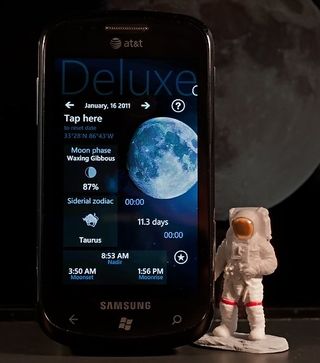 Lifeware Solutions is offering Deluxe Moon over at the Marketplace for Windows Phone 7. Deluxe Moon is a somewhat unique application for your Windows Phone and may offer more information about the moon phases than you would ever need. It's a nice mix of science and horoscopes wrapped into one app.
Deluxe Moon offers you everything from what phase the moon will be in on any given day to zodiac and horoscope information. Need tips on gardening by the moon? Deluxe Moon's got it. Need to know when the moon will rise or set? Deluxe Moon's got it. Need to know if today's the day to start a new business venture? Deluxe Moon has it.
Need to more about Deluxe Moon? Drift on past the break and you'll get it.
It's in the Hub
The one thing I've grown to like a lot about Windows Phone 7 is the use of Hubs (or the Metro Style). It allows applications to present a lot of information on the same plane that is easily accessible. Deluxe Moon takes full advantage of the Windows Phone hub by offering five pages of moon info and options on its main hub.
The pages break down as follows:
Main Page: This page breaks down the stage the moon is in, what zodiac is in play, moonrise/zenith/moonset times, and your local time and GPS coordinates. You can use the directional arrows to jump ahead or backwards to see the phase history or future. The little star symbol at the bottom right of the screen launches a secondary, Horoscope Hub.
Calendar: This is a monthly calendar that illustrates what phase the moon is in for a particular date. Again, you have directional arrows to navigate from one month to another and in tapping a particular date you will pull up zodiac information and the percentage of the moon will be visible on that date. You can also toggle between displaying moon phase or zodiac phase on the calendar by tapping the sync arrows at the bottom of the screen.
Information: The Information page lays out all the specs on the moon's position and how old the phase is. As with any of the other pages in Deluxe Moon, if you tap on the question mark you will pull up a Help Page. The Help Page contains definitions and an easy to understand explanation of what you're viewing. The Help Page also contains wiki links should you need more information.
Zodiac: Here is where you will find the zodiac chart that shows astronomical, sidereal, and tropical charting. Again, there's a Help Page that gives you the definitions and wiki links to better explain what you're seeing.
Options: Deluxe Moon has a few options that include positioning, date, time, time offset, and appearance (24 hour format, background image on/off, etc.).
Horoscope Hub
Deluxe Moon offers a secondary hub that is accessible from the main page (tap the star button). It contains more horoscope information about the current moon phase/position and how it effects your life. There are three pages to the Horoscope Hub.
Moon Day: This breaks down what you can expect from this particular day of the moon's phase. It includes horoscope recommendations on daily activities including health, business, personal life, etc. based on the moon's position.
Zodiac: If you prefer to base your daily horoscope on the zodiac, this page includes similar recommendations on daily activities based on the zodiac symbol in play for that particular date.
Moon Planting: If you need a little help with your green thumb, this page lays out recommendations for your gardening activities. It includes information on the zodiac, what planting activities are best during this period, and what crops should be planted.
Overall Impression
All in all, I was very impressed with how much information Deluxe Moon offers. Add fantastic graphics and animations and it is hard not to say "WOW" when you browse the pages of Deluxe Moon's hub.
Speaking of fantastic graphics, at the bottom of the Help Page on the Main Page there is a link to Deluxe Moon wallpapers. If you like the graphics on Deluxe Moon, here's where you go to snag the wallpaper for your Windows Phone. A nice little bonus.
Deluxe Moon ran smoothly for the most part. I did experience a few crashes but nothing with enough regularity to make things frustrating. The only limitation I could think of for this lunar application is that it may not appeal to everyone.
I dabble with a little lunar photography so knowing in advance when the next full-moon and the timing of it's rise is going to be can be helpful. If you are into horoscopes, Deluxe Moon is chocked full of horoscope information from what sign is rising, falling or just hanging out. Plus it throws in it's own horoscope predictions and gardening tips.
Unfortunately, there isn't a trial version of Deluxe Moon. However, the full version is modestly priced at $2.99. If you need to track the moon for whatever reason or dabble in horoscopes, Deluxe Moon is a must have app. If you're curious about the moon and it's effects, Deluxe Moon is priced right to let you try it without investing too much.
You can find Deluxe Moon here (opens in new tab) (opens your Zune desktop) at the Marketplace.
Windows Central Newsletter
Get the best of Windows Central in your inbox, every day!
George is the Reviews Editor at Windows Central, concentrating on Windows 10 PC and Mobile apps. He's been a supporter of the platform since the days of Windows CE and uses his current Windows 10 Mobile phone daily to keep up with life and enjoy a game during down time.
These reviews are just so damn good!The text and pictures gives just the info one need to make an purchase or not. It is easy to see that when you guys test an app, you do a thorough job, contrary to what most websites do these days. Wpcentral has really become my number one WP-news site!I might come off sounding like a "raving fan boy" here, but seriously...the review-style here is excellent!...and yeah, the app itself looks nice too :)But since I live in Norway, I am not "allowed" to buy anything in Marketplace :(

yeah, their reviews are the best.