Disqus releases exclusive Windows Phone app, beats out iPhone or Android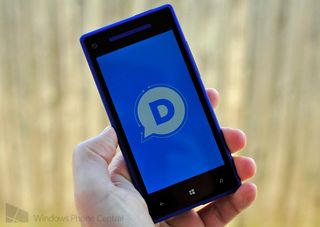 Looks like Windows Phone today has scored one today as we're the first to get a new, official app from Disqus (disqus.com).
For those of you who don't know, Disqus powers the commenting system on many websites and blogs, offering users a single-way to sign in through social networks, etc. Users can maintain accounts so that their Disqus "history" goes with them, regardless of the site they are commenting on.
The official Windows Phone version is now live in the store and truth be told, it's a solid little app. The goal of the app is to help facilitate conversation, so instead of going to sites and then engaging in some debate, you can just go to your Disqus app and continue the conversation there.
We're told Disqus currently does not have any plans for an Android or iOS app, although they come later. The app was developed in house by Disqus and the developer behind it, Ryan, is a big fan and early adopter of Windows Phone, making this a nice little score for the platform.
Key Features
Stay current with your favorite discussions by receiving timely notifications any time a user replies to you
Follow friends, strangers and authors and get updates on their activity throughout the web
Explore the thousands of active communities and millions of active discussions within the app in the Explore section
Interact with discussions every way you're familiar with on Disqus: write comments and replies, star your favorite discussions, vote on comments and mention users all within a fluid, native interface
Live tiles deliver notifications and updates within your network of people you follow
WP8 Features
All resolutions supported - scalable graphics to look sharp on any device
Support for wide live tiles and lockscreen notifications
Protocol support so that other apps can integrate Disqus with a simple link
Disqus is a fascinating company if only because they took something as mundane as posting comments on a website and turning it into a successful brand and social network (that also piggy backs on other networks).
We've been beta testing this app for the last couple of weeks and have had a great time using it. You can pick up the official Disqus app for Windows Phone here in the Store. All Windows Phones..
Correction: Disqus PR has informed us that they will release to other mobile platforms in the future.
Windows Central Newsletter
Get the best of Windows Central in in your inbox, every day!
Daniel Rubino is the Editor-in-chief of Windows Central, head reviewer, podcast co-host, and analyst. He has been covering Microsoft since 2007 when this site was called WMExperts (and later Windows Phone Central). His interests include Windows, laptops, next-gen computing, and for some reason, watches. Before all this tech stuff, he worked on a Ph.D. in linguistics, watched people sleep (for medical purposes!), and ran the projectors at movie theaters because it was fun.
A WP exclusive app?! Hell yes!

"Guinness" (light) book of Phone records!

Now iOS and android users feel our pain. :D

I just asked them, the answer "what's a windows phone?"

Ha ha yes finally. I get tired of businesses saying you can download the app from you iTunes or Play Store and that's it. Finally Windows Phone gets some first love. Boom!

Not really useful. I've been posting to disqus, from inside the IGN and Engadget iOS app for quite some time, now. It's only a big deal if the mobile web browser isn't that great...

I'm pretty sure having an app to bring centralized notifications for posts and replies for any post on any number of sites that use the same system CAN'T be useful right? Dude get outta here with that.

"Now iOS and android users feel our pain"
90% to 95% of the people who comment on tech sites are Microsoft true believers. So no IOS people will even notice. Android, is the #1 choice of PC gamers and most Microsofties, so THEY will not be pleased.

This is a great and useful addition! I have a feeling that this will be one of my most used apps.

I will download and use, simply because it came to WP first.

Yeah, I'm going to do the same. Not many sites I visit use Disqus though (seeing as Engadget dropped it some time ago).

I stopped reading Engadget after they changed the commenting system to Livefyre and made the site harder to read. Now I read Slashgear, which has pretty crappy writers, but at least they use Disqus.

I find that Pocketnow is "one" of my favorite sites (that uses Disqus) coming from a WPfanboy standpoint. But in general, I go there because they have authors that are not very biased compared to other sites like Giz/Verge/Engadget. -I mean technically you do have fan authors and every once in awhile you'll get a bad article...but most of them tend to keep it on the down low. (Authors that like WP/Nokia over there include - main head honcho Anton Nagy, Michael Fisher, Adam Dowd....there are a couple more authors that like Nokia's innovation of the pureview. I sometimes go to Slashgear as well...but really like you said...crappy authors and tend to go one way or the other.

You might find some new sites in the explore section :-)

WPCentral should change to DISQUS lol

The UI looks pretty nice =)

Disqus is pretty high profile shit. This is a big WIN for Windows Phone. Btw it also works on WP7.8

Now WPCentral needs to start using Disqus.

Hah, sorry...not happening. Nothing against Disqus but our Mobile Nations Passport is a better system as it spans across all our sites (iMore, AndroidCentral, Crackberry) and links all the forums together. That's something that Disqus couldn't do ;)

I couldn't agree more. Plus I believe it'll be harder to moderate Disqus threads as more users from other sites will come to either to troll or spam about moms making money doing webcam.

I've seen those Moms making money spams on this site as well.

where can I find these spams?

where can I find these moms?

Where can I find these webcams?

I liked Disqus because it sends you an email when someone replies to your comments. Maybe Passport does that and I just don't know the setting?

It must, I just got an email about a reply to my comment above. That's the first I've received, so maybe it's a new feature? Did you get an email about this reply?

We do email notifications for comments. Been active for at least 8 weeks. You can even toggle it on/off in our app.

I don't receive email notifications for replies to my comments on front page articles like this one. Where is this setting?

Woah, sweet! I've been annoyed by that for a while. Thanks!

How do we activate them for comments from a browser? I don't get emails for replies and I don't see the option.

Stranegly I did see the toggle option in the app and I set it to True but I still don't recieve replies to comments. Is it because I make my comments from the browser instead? I cannot find a setting on the browser site for emailing replies.

Thats a shame - its a much better commenting platform.

yes plus it is unified across any and all places that use it. Though some places have started putting up "register walls" even after you sign in with Disqus, I stop using those sites.

We have a solution for that coming up and we'll be getting the "walled" sites to adopt it so you can keep commenting with the same account. That's ultimately our mission.

Changing out the commenting system would be a huge pain and you lose all the current comments, but one Disqus account (say "MobileNationsPassport") could span infinite sites and you can moderate them from a single dashboard. This was the whole reason I picked disqus years ago for sites I used to build out :P

We actually can import comments from most platforms. For any platform for which we don't offer a custom importer we do offer a custom XML import format based on the WXR schema, so comments wouldn't be lost.

I dont comment on Iphone, Android or blackberry forums,... so mobile nations passport is useless for me.

Disqus is used by many websites, its a major app victory for windows phone platform.

I don't think it's WP8 exclusive. I downloaded it to my 7.8 device

yeah, its working on everything WP 7.5,7.8 and 8.
Daniel, please update the title to only "Windows phone" or "Windows phone 7/8"

Thanks Disqus for giving us WP users personal attention.

Wow, this is a huge exclusive for WP! And what a gorgious app! Bar far one of the best looking apps release lately. Someone really knows what they are doing their at DISQUS! (Thanks Ryan)

This is a sign of good things to come with WP, unfortunately I'm not a big fan of sites that use Disque. I hate to have everything centralized.

I agree with David Wilson3. WPCentral needs to start using this now.

Oh, this app is super sexy! The "Dashboard" section of the app uses your theme color as the theme for that section which is a great technique to say this is "Your Profile." The rest of the app uses DISQUS's color. Brilliant!!!

Like. I never bothered to check my disqus history or replies, even though I use it quite regularly on multiple sites. Maybe now I'll be more active with this app :)

An app exclusive for Windows Phone? There's something you don't see every day.

Good news. Not a big fan of Disqus(due to some of their other business decisions) but this is a great job.

Good news for Windows phone ,go baby go :D

Boy are we on the rollercoaster today. And an official app to solely support WP and nothing else! Great news and day indeed!

is there any plans for surface release

Another one here for Surface RT.

Don't use it but good stuff from the devs.

Nice! I frequent many sites that use Disqus.

Nokia Conversations blog uses disqus and I just saw that I missed a ton of responses. This is already super useful!!

That's good... Disqus pretty much sucks online... For Firefox and chrome.

excellent app good job ryan :D

I never bothered with a Disqus login but now I have one. I know I'm being fanboyish but we need to recognize the people who want to recognize our chosen platform. Thank you

Not sure I will use it but I'll try it out

I am not disgusted, I am disqus'd

ISWYDT, but do elaborate on the reason for your disgust.

Holy mother of god! This is awesome! Surprisingly I am a big Disqus user. Especially on wmpoweruser and pocketnow! I was about to complain seeing that Daniel only said it was a WP8 app, but now that I read the comments and found it in the 7.8 marketplace, I'm ecstatic!

Disqus was kinda clunky in the browser so this is great! Between this and webapps, my tech blog commenting needs are almost completely met!

I'll download and support this app simply because it's WP exclusive, nice.

This app is really good. There are a few sites that i visit that use Disqus and this app will make commenting so much easier.

Very nice app. Was looking back at my comments dating a year back, and it was pretty embarrassing. One complaint: Where's the "Like" record. I don't mean to be narcotic but I was pretty proud with my Like counts. Would be great if it was shown in the profile section. Otherwise, nifty.

That shouldn't be too difficult

Wow they really did an awesome job programming this app. I love how they even implemented the show password button that IE 10 for the desktop has.

I've been yelling for years at WPCentral for not adopting disqus and it is a shame they're determined to not use it.

Nokia conversation, noknok.tv, mobigyaan, my own blog, beware of my comments ;)
Downloaded.... Epic app.

Dear developer, please release this app in Indonesia! :)

Agree with you. please release this app in other region/country and I believe this kind of app should release in all region/country.

change your region to usa. restart. then go to store. download all you want from the free section.paid apps you have to get from indonesia store.

this made my day, nice to see WP get some love from a big name platform!

I use diqus a lot and this is awesome news. getting this now. Like the fellow above me says, windows phone rulez!!!

What sort of crazy world is this I'm waking up to?

if its a Windows phone exclusive app. why the hell did they use iPhone in the tutorial video?? i am not satisfied

If this is a consular ship, where is the ambassador?

Great news! And a good service too. I love Disqus and use it a lot to comment on articles. This is already my favourite app! Ha haaaa!! Go Windows Phone!

I'm a little behind the times but I'm stuck with my Samsung Focus (WP7) under contract with AT&T for another 2 months. This app is for WP7.5 and up.
Windows Central Newsletter
Thank you for signing up to Windows Central. You will receive a verification email shortly.
There was a problem. Please refresh the page and try again.