Highly anticipated DJ mixing app edjing drops on Windows Phone 8.1, needs more work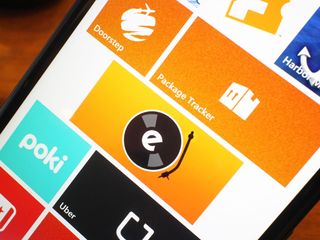 We love when highly anticipated apps join the Windows Phone Store. That's why we were excited and looked forward to the award-winning mixer console app edjing coming to Windows Phone. It's been highly regarded on Android and iOS. It launched on Windows 8.1 earlier this year, and finally snuck into the Windows Phone Store a few weeks back.
Edjing ( www.edjing.com) is a track-mixing app for Windows Phone that allows users to mix like a pro. Here's a list of some of the features you'll find in the app for Windows Phone:
Unlimited access to your personal music library with display of track bpm
Possibility to sort music by bpm
Sharing function to share your mix on Facebook
2 Turntables + Crossfader to realize professional-like transitions
Scratch / Pitch on Vinyl like a real DJ
A wide range of free sound effects FX: Cue, Flanger, Loop, Echo, Equalizer
A very intuitive and refined user interface
Wide Sound Spectrum for optimum Beats localization
A store with additional effects (FX): Pre-Cueing, Reverse, Double flipping, Auto Scratch, Reverbs, Gate, TK Filter...
Possibility to record up to a whole hour of mixing
Recording in High Definition CD quality, wave format
"AutoMix" mode for automatic transitions between titles of your playlists
BPM synchronization (sync) to achieve seamless transitions
Edjing should be a very welcomed app on Windows Phone; there's just one problem – the app is buggy right now. You'll find edjing with a two-star average rating in the Windows Phone Store. Multiple reviews complain of the app crashing, lag and bugs. That's a real shame since the app on Windows 8.1 is the complete opposite. The Windows 8.1 version of edjing has a solid four-star average rating and plenty of happy users.
We downloaded edjing on our Lumia 1520 and had it crash once. Also, most of our music comes from subscribing to Xbox Music. You can't load that music in the app and can load tracks that you outright own. So keep that in mind if you're planning on taking the app out for a spin.
We'd love for edjing to get updated and work on Windows Phone. The Windows 8.1 version is stellar, and we want that on Windows Phone. An update that enables users to use their Xbox Music subscription would be nice, though there's probably some legal hurdles there.
Try out edjing for Windows Phone and let us know what you think. The app is available for free but has an in-app purchase ($11.99) to unlock features like precueing, no ads, and thirteen DJ FXs (overloop, gate, phaser and more). We'd recommend holding off on that purchase until the app gets updated and becomes more stable.
Have you tried out edjing for Windows Phone? Share your experience with the app in the comments.
Via: Windows Phone Central Forums
Thanks for the tip Mark T!
Finally a proper DJ app....

Yep.. I was as surprised how well the scratch effects sound... I can't wait to sample from it with my MPC2500❗❗

Don't worry.. I can make it sound "proper", Will Smith.... :-)

I mean seriously... I'm happy that we have an app as such, but...
Quality? Naa...⛺

Right.. I just emailed the developers asking for my money back until the app is refined... But, I'm sure it will get there....... Eventually..

If you paid for it, I would ask for your money back. Both the WP8.1 and W8 versions are coming up as "free"...

No, I paid for the huge in app purchase.. $11.99..

It's proper my friend, at least in my Lumia 1520 no bug found...why do people rate apps lowly and it is just the first trial and it's working just as expected. Thanks for this app!

Lol.. No, it's got a lot of bugs.. It just does..

Waiting for VirtualDj by Atomix to make a mobile Dj app. That would be awesome.

Toshiba encore with touchscreen skin... Vdj pro works a charm

Xbox music has a 3rd party API to allow streaming of their tracks... They could at least allow use with crossfader. Pitch and other effects would require cacheing though

I actually want something like this strait from MS.. They could call it XBMP "Production"...

It seems like almost everything on WP either needs more work or its in beta.

Sounds like something I'd see on a nerd shirt. Its catchy though.

I'd wear it, right asking with my current Back In My Day sorry that has Pac Man and the ghosts in the front. :)

Unfortunately, yes. That's lame.

Windows beta Phone, its like were all developers, testing OneDrive and Skype for them to make it better to IOS and droid

And, that's after we've waited forever to finally get things.....

Actually there is nothing named skydrive one drive mannn we are modern people ;)

In Windows phone, 'beta' means: "Hey, take it if you want, but don't complaint about nothing because we won't be putting efforts to improve this thing" - Instagram 'beta' team.

>Implying that Windows Phone itself is a beta. I like to think that WP7 was an alpha. We had nothing with those devices, except a great music client.

To be fair, the Windows 8 version was buggy and limited when I launched as well. It improved over time.

Damn, you think WP is in Beta......i bought the original Surface RT...... Talk about a 700$ buy in to be a beta tester....i felt MS should have paid me to use that thing when it first came out. I wound up loving it in the end, but Windows RT was not ready until 8.1........8.0 should have never been released to mfr.

Windows phone beta forever lol.

I used it today with my mixer and Nokia 2520, it works well but VirtualDJ is better. This one needs work but a very good start.

I downloaded it a couple of weeks ago and didn't realize that it had not made its way to mainstream news... The lack of sound cloud integration like is Android, iOS or even Windows 8 is a bummer..

Dammit! I really wanted this to be amazing. :

Lots of pops and clicks in the audio playback, and it crashes. Emailed the dev, rather than leaving bad feedback at this point.

Seems to work well on my Icon all the bad reviews are from people with 512 Mb devices

Hopefully they will get on to fixing it fast. Windows needs to fill the music and art-centric app gap to attract more people. I love seeing apps like this, and would love to see something to compete with GarageBand as well.

I want to DJ from my phone!

Can someone give me a link to download from windows phone store

Download it from this article, barnacle brains... Lol❗❗
Just joking:-):-):-):-):-):-):-):-):-):-):-):-):-):-):-):-):-):-)

I need something that can record and sync multiple tracks, as a guitarist I want to be able to record and then overlay another track, like 4TRX does but that app is utterly useless and never gets the syncing right.

Needs work, the story of any highly anticipated apps for WP.

512 Mb problems?! Doesn't work on my 521 :'c

89MB RAM For The Win!!!! http://m.youtube.com/watch?v=n2LR22RFFOA

Doesn't work on my 720 too.

Not available for 512 mb devices....

These are the sort of apps that I want more and more on WP. Creative, productive and fun.

Don't forget buggy Posted via Windows Phone Central App

Does not work on 625. 512MB problem, might be? ...

Are you on 8.0 ?
Because I think the app needs 8.1

I'm on 8.1. Doesn't work.

It may be that after this matter the developers WAKE UP and update the app because it is already almost a month of negative reviews.

I can't get the WP app OR the win8 app to even play a single song!!!! I've pressed every button possible on both apps and nothing. I paid for the upgrade on both and both apps give an error message before installing the upgrade.... but there wasn't an error charging my CC for either app. They have the payment part working flawlessly.

Sam, the Windows 8-8.1 version came out last year, I DJ'd my jobs' holiday party with it and tore the house down! Although when I tested the WP version this morning it didn't crash on me, I wish that the effects that I purchased for the windows version transfered to the phone. :-\ I wonder if the cable I bought will work with this version, hmm. https://onedrive.live.com/?cid=516250c94996bfdd&id=516250C94996BFDD%2181444&action=Share&v=3

Not an universal app. Weird. Not going to repurchase it either, 12$ is a bit much to pay twice for one app.

They can still sell both for the same price. it does not need to be universal to do this. its just up to the dev.

I was waiting for this app from the day I bought my phone. Thanks.
Wait what it doesn't work :(

French only (?), never (literally!) stops loading music collection, can't get rid of FX swipe-in panel once it's opened... Basically useless as is.

Agree, same result when I tried it plus splash screen was garbled on load.

You need to tap the FX button again, that's all. oO

Recent update on 7/21/2014, and still they didnt optimize for low memory devices :/

It's running nice and smooth on my 1520, but tends to stutter every now and then on my 1020. Well, the huge display on the 1520 makes the app more usable anyways. What I found is, that when you use the same login as in the Windows app, it carries over every single purchase you've ever made. Which is great, as the Windows app rewards you with 200 coins each day and some more coins for certain actions. These coins can then be used to purchase additional FX and such. No need to spend any real money. Since the WP version doesn't have this coin system, it's great that it at least carries over purchases made in the Windows version. As long as you're using the same login.

This app language is in french! Uninstalled. If they don't know Swedish, one expects English, not snails.

Works well on my Lumia 1020. I gave it a 4star

This app has been on the store for more than a month , I was surprised that wp central didn't cover it up sooner

Cant see anything on screen

Been messing around with this app for a while now.... Seemz aight, except the sync function aint all that for me...
For 1 I would have loved if i could have the option to speed up or slow down the tracks to my liking

nothing change!! already pay for full version!! can someone tell me why??

Please refund back my money!!

I got it like a week ago. And yeah, it needs work

A dj app isn't gonna work without prefade listen.
Windows Central Newsletter
Get the best of Windows Central in in your inbox, every day!
Thank you for signing up to Windows Central. You will receive a verification email shortly.
There was a problem. Please refresh the page and try again.