Advertisement Feature
Editing is one of the worst things about photography. Luminar AI provides a solution.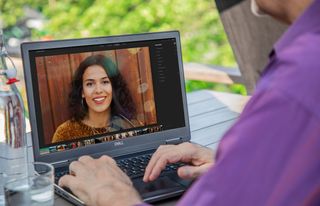 (Image credit: Skylum)
There's something enchanting about photography. Something beautiful about being able to tell rich, imaginative stories with nothing but a camera. Something incredible about making a living from behind the lens.
The professional photographers amongst you are probably scoffing at this point. Because while your career is certainly fulfilling and enjoyable, it's not all headshots and smiles. Making your photos look as good as they do takes work —. a lot of it.
What people who romanticize photography don't see is the number of hours spent slaving over each photograph to ensure everything is just so. The amount of time spent picking out and tweaking every individual imperfection. While there are probably a few people who enjoy this kind of busywork, for the majority of us, it can be summed up in a single word.
Boring. This is true whether you're a long-time hobbyist, a novice to the field, or a seasoned pro. But what else can you do?
Eventually, some of the images you capture are going to require a touch-up. Eventually, you'll end up with a photograph that would be absolutely perfect if the lighting was adjusted only slightly. Eventually, you'll need to subject yourself to the editing process.
But it doesn't have to be an exercise in frustration. It doesn't have to be complicated or arduous. It can actually be fun.
All you need to do is focus on the results rather than the process. And that's precisely what imaging technology company Skylum has done with its revolutionary new photo editing software Luminar AI (opens in new tab). Rather than the time-consuming, tools-based approach used by other photo editors, Luminar AI uses artificial intelligence to eliminate nearly all the boring busywork — all without sacrificing image quality or creative control.
It achieves this in a few ways. The first is through a suite of AI-powered components. Each one is tied to a particular objective, designed to streamline some of the most common editing workflows.
For photographs of people such as portraits and headshots, you've got BodyAI, FaceAI, IrisAI, and SkinAI. Between them, these tools allow you to sculpt, refine, and tweak your photographs. You'll be able to easily eliminate imperfections, remove redeye, change face and body weight, touch up eyebrows, teeth, and lips, and much more.
For landscapes and scenery, there's AtmosphereAIand SkyAI. These work seamlessly with tools like Sky Enhancer, Color Harmony, Mood, Golden Hour, and Sunrays to let you enhance and modify virtually every aspect of your photographs. You can change the color palette, add more depth and detail to your skies, or even replace a sky with an entirely new sky.
For general tweaks and touch-ups, StructureAI lets you add more detail and texture to specific areas of your photo, and is capable of recognizing people, objects, skies, and water. CompositionAI makes it possible to quickly crop and transform images. Finally, with AccentAI, you can make sure that every one of your photos has the right color and exposure.
These tools are powerful enough on their own, but we've saved the best for last. Luminar AI is built entirely on Templates. Let's say, for instance, as a headshot photographer, you always remove redeye, enhance teeth and eyes, remove eye circles, and remove blemishes and imperfections.
Traditionally, you'd need to do all of that manually, one photo at a time. With Luminar AI, you only need to do it for a single photograph. Then, once you're done, you can save your current settings as a Template.
Luminar AI comes with a large selection of default templates as well. Each time you open a new photograph, the software will analyze it to determine what type it is, and helpfully suggest a list of templates you can use. This makes it great for not just professional editing, but for anyone who just wants to have fun with their pictures.
Want to add a galactic sky to an old family photo? You can do that. Want to give yourself cat eyes and remove ten pounds? Easy. Want to modify a headshot so it looks more striking? Shouldn't take more than a few minutes.
With Luminar AI, anyone can make amazing, creative, professional-quality photos. Whether you're a long-time hobbyist, a novice to the field, or a seasoned pro, it's now easier than ever to tell your story. Because great photography should be for everyone — not just the people willing to struggle through edits.
Luminar AI is available now through Skylum (opens in new tab). A standard license with two device installs will run you $99. Currently, the software is available as a standalone application for Windows and macOS, a plugin for Lightroom Classic and Photoshop, and an extension for Apple Photos.
Photo editing for everyone
(opens in new tab)
Powerful, professional, intuitive

Luminar AI streamlines the entire photo editing process without sacrificing quality. For career photographers, it considerably reduces your post-photography workflow. And for hobbyists, it makes it easier than ever to create professional-quality images.
Windows Central Newsletter
Thank you for signing up to Windows Central. You will receive a verification email shortly.
There was a problem. Please refresh the page and try again.