Facebook Beta for Windows 10 appears to be accepting new users
By Jez Corden last updated
Ever since the private Facebook beta began for Windows 10 more users have been slowly added to the testing list. We finally got in and figured we would share our first thoughts.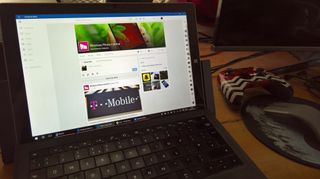 The new Facebook app is a vast improvement over the Windows 8.1 app, providing many features Facebook users will expect such as comment replies, photo tagging, and mood-based status updates. The new app more closely follows the modern Windows design language, while sporting Facebook's unmistakable color palette.
While clearly still in development, the beta app appears to be very stable as of writing. I've been able to post updates, pictures, comments, and replies without any issues. It also delivers (sadly, unactionable) notifications to your action center and photos to your live tile.
The new app also supports sticker pack downloads for use in comments, and even the new "like" options Facebook introduced recently. The app works well with both touch, and traditional mouse and keyboard setups, utilizing mouse hovering in place of a long-touch press for certain menu elements.
Facebook for Windows 10 doesn't support messaging within the app. Similar to Facebook's mobile apps, clicking on the messaging pane at present loads up Messenger.com in your default browser. We know that Facebook is working on a new Universal Windows App for Messenger, so it's fair to expect that messaging notifications will link to that app for users who have it installed in the future.
The Facebook app for Windows 10 doesn't support media queries for smaller screen sizes, such as mobile phones. At least for now, it appears that this new app isn't intended to replace the Microsoft-developed Windows 10 Mobile Facebook app as a cross-platform Universal Windows application.
Although a few users (German, Brazil, UK, etc.) have been able to sign in (almost by chance), it doesn't seem as though Facebook is moving into a fully open beta just yet. Feel free to try the download link below, and let us know if you're able to access it in the comments!
Facebook Beta for Windows 10 (PC) (opens in new tab)
Thanks Michel for the tip!
Jez Corden is a Senior Editor for Windows Central, focusing primarily on all things Xbox and gaming. Jez is known for breaking exclusive news and analysis as relates to the Microsoft ecosystem while being powered by caffeine. Follow on Twitter @JezCorden and listen to his Xbox Two podcast, all about, you guessed it, Xbox!
94 MB!!! are you kidding me... why would anyone chose this over fb in browser.... except in mobile devices..?

Notifications without opening the app, information on the live tile, way more streamlined, much less ads, nicer design, faster loading, etc etc etc... Posted with the Windows Central app for Windows 10 on HP 250 G1 notebook. It is a scary old monster, I think :D

Better memory footprint than a browser with lots of tabs. More security, actionable items, scaling between large screens, more optimized than a browser, etc.. I can keep going hehe.

People with tablets without a mouse that rely only on the hit-or-miss fuctionality of a website.

The mobile app needs replacing. They need a true uwp app.

Its 2016 if you don't have 94 free mb then blah blah blah....[edited by mod] Posted from Windows 10 Lumia 640 XL

In 2016 if you don't have better online social skills, you should learn them.

@Hritwik upgraded his Win95 computer to W10 and so he only has 500MB Hard Drive with 128MB RAM. Let's get him to buy a new computer with more space. Posted via Universal Windows App on W10

that's not that bad, its more of not having to open a browser it reducing one step out of getting your content faster Posted from Windows Central for Windows 10

Push notifications for one. Why bother opening a browser when I can just as easily open a dedicated app?

Completely pointless for everyone using Google Chrome as Chrome also has a notification system in the browser. Posted via the Windows Central App for Android

But you still have to open the browser to see the notifications, right?

You have the browser open most of the time you're on a PC anyway. Besides...it makes more sense to access all these sites (Facebook, Twitter, etc) through ONE browser than to have a ton of apps running at the same time. Apps make zero sense on desktop.

Well if you are using a browser, wouldn't you either have a "Ton" of tabs or windows open anyway? That isn't much different then a few apps opened. Apps make a lot of sense. You can do things on an app that you can't do on the web. Apps also perform better then a web page. Apps can have more complexities and do more. Apps can make a LOT of sense on any platform. Id rather be on an app for podcasts then a web site. To each their own but there are benefits and drawback of each system. I actually have Unstream which is a 3rd parts Twitch.tv app. I have it because I get notifications and a nice simple layout. Facebook Messenger will work much better then having to go to the website every time. I can get notifications where ever I am. Also, if you use a touch screen like on a surface or any two in one an app is much better designed for touch. There are a lot of benefits to an app.

I recently helped a friend set up his new laptop. He is not very technical, but has been using an iPhone and ito him it has become logical that to use Facebook, you open the app. It doesn't occur to him, that you can use it in the browser. For this reason alone, I think it makes sense. You can also utilize sharing betwen apps, design for special types of input (touch, voice/Cortana, gestures, Xbox controller), build for the holographic platform, etc. I understand the merits of being able to go to the website, but as @ChrisP1 says, there are advantages to both platforms.

@DJCBS. Well just because some use the browser for everything (let alone use chrome) it doesn't mean everyone does :P.

Yep.. But u know here is a fanboy lair and like religious ppl they don't like to hear the truth

I don't use this feature but I believe you can set it to run in a background. By default, Google Chrome already stays in the background which is why it can start almost instantly (which many people claim why its fast, but is actually "artificially" fast).

But from Microsoft's point of view, they don't want people using chrome?

Microsoft doesn't care what browser you use.

Don't take it for granted that Chrome will always allow you to pin sites as an app. As I read they are stripping some features off of it, to make it quicker and lighter. Notification centre was first to go. And they have said they are taking the apps feature off before the summer.

I'm not talking about pinning sites as an app. The notifications for sites were introduced recently and they don't require you to pin anything. If a site has Chrome notifications (for example, Mobile Nations sites do) Google prompts you to allow (or deny) the site to send you notifications. If you accept it, you'll get the notifications.

Firefox has had it since December last year. :D

Firefox has had it for some time, and Edge is slated yo Posted from Windows Central for Windows 10

*Is slated to get it Soon (TM). Just and fyi, not bashing you for using Chrome or anything. Posted from Windows Central for Windows 10

Google Chrome also kills your battery - at least on my laptop.

And you have to stay sign in online...no good

My thoughts exactly the same. Even for mobile though, still prefer web version in most of cases over an app.

This is why we can't have nice things on windows platform.. If you want to use the browser just ignore this app, stop complaining and move along..

not complaining.. myself downloading the app.. but if release app will be this much... i bet most will ( probably some) not download it.. Posted from ENIAC, World's first computer !!!

I have this app since day 1 that she exist, I'm just waiting to be able to login and use it..

I never even check size of an app Posted from Windows Central for Windows 10

Most people just click install and don't care about the space it takes up.

its not about space.. its about internet speed.. unlimited high speed plans are not available in every region outside US....
it takes time to download ... Posted from ENIAC, World's first computer !!!

@Hritwik and it would take more time to load up ad heavy websites if your not using an ad block. Not everyone is tech savy enough to install one. To presume so, is just beyond naive (to put it politely).

This is a desktop app. Unlimited plans on broadband even in India are pretty cheap nowadays. Posted via the Windows Central App for Android

Lol. 94MB is nothing. You use way more data using Facebook than this especially with their crappy autoplay videos. Thank goodness for the option to disable them. Posted via the Windows Central App for Android

Thank Facebook developer for disable option, not god, this sht doesn't even exists.. Lamme

Do the same, if u see something that u don't agree, don't fkn comment on it.. Let it go

And btw, there are windows 10 tablets, so the browser is to painful to use and an app will be very welcome.. This app is not for a normal pc desktop or laptop..

Agree. My surface 3 need it very much

I agree that apps are better but if you need a good browser for tablet mode I suggest Opera for windows 10. It has many settings for a better tablet experience. By default the icons change when in tablet mode for an easier experience. It supports adblock plus and runs really well. I have replaced chrome with it and haven't looked back.

I think there will be a generation of users, coming from smartphones as their primary computing device, who will be used to looking for the app in the store to be able to use their favorite service. Perhaps this app will not have the same information density as the browser version, most likely being designed for touch, but I think that is going to be one of the challenges for UWP going forward. Designing apps that will work well both for touch and mouse. I honestly think that one thing we are missing from apps that mobile browsers have is pinch to zoom. This one of the things (besides responsive design of course) that makes it possible to use the same website on both mobile and desktop. I think UWP apps should try and adapt to the available input methods as well.

How is 94 MB too much in nowadays HDD/SSD? And you have less space in mobile than in your hard drive so whats your point ?

its about net speed.... not every region has high speed internet.. Posted from ENIAC, World's first computer !!!

In what country is 94 MB too much to download ?

not too much.. but takes time..

those infernal 10 seconds pf download...

This not 1996 which is still using dialup 52Kbps.

Exactly. Can't see the reason for many apps on a Surface when you have a web equivalent and Edge is bringing notifications. It's ok for i-idiots on their purely consumption devices. Posted on a L950XL with Fingers 10

Well Facebook for a long time is already been a heavy app, which is why they decouple the Messaging aspect from the main Facebook app. On Android world, this was a big issue when you have limited internal storage partition (which Android have separate partition for apps, so don't actually use the whole internal capacity) where Facebook itself can be quite big and its cache files is even bigger.

It seems like your computer connects to the internet via a metered connection if you need to track every ounce of data that goes in or out of it. You should probably get this app. It might save you a gigabyte of data per month.

Is this the regular Facebook? The one that's in the store?

NO, it's a secondary beta program. This won't be primary app for at least a few weeks... if it even gets released before the Redstone/Anniversary update...

Although when I downloaded it's an older version than the 'regular' one?????

Sadly its still not letting me sign in yet, its slow going with a new app

Yes, they do. I'm tired of how slow it is and generally the app is a mess.

Can I just search on the store and get it? Or do I need a link?

You need a link. And it's at the end of this article :D Posted with the Windows Central app for Windows 10 on HP 250 G1 notebook. It is a scary old monster, I think :D

And it links to the German store. Posted on a L950XL with Fingers 10

Works fine here.
(P.S.: The App still doesn't let me sign in :D ) Posted with the Windows Central app for Windows 10 on HP 250 G1 notebook. It is a scary old monster, I think :D

me too (Greek) Posted from Windows Central for Windows 10

The most important question to answer for me is does it finally support contacts and calendar integration into the OS the way the Microsoft-developed Facebook app for Windows 10 Mobile does... If not, it is a terrible oversight and a damning statement regarding Microsoft's failed social plug-in strategy.

It's a work in progress, I'm sure they want to get their own features working properly before looking at plug-in functionality.

I don't know because I already sync with old app. But it's asks me while im loging in. It's the same app with better performance. Posted on Lumia 930 with
Windows 10 Mobile

Just tried to download the app but it's been stuck at 1mb for 10 minutes now.

I just downloaded it and it still says it will be available soon

and me Posted from Windows Central for Windows 10

can't log in still. is it because I'm black?

Yep. Only the blue people of Microsoft are allowed to use it

That's it then, I'm switching to android.

I would prefer a mobile app over a pc one

I thought the article stated they won't be replacing the Microsoft developed mobile app??

Maybe it will be released for mobile later? current Facebook app is horrible.

I downloaded it but i cant log in cause beta testing...

I am using this app for about a month, so let's add some things. 1) It does supports messaging, but on a different app, Messenger Beta. If you have it installed (I do), clicking on the messages icon in Facebook Beta opens Messaging Beta. Unfortunately, it opens the usual "Messenger for Windows 10 Available Soon" dialog box when I am trying to log in, so it seems that you need a separate invitaion for that. 2) External links opens in the app, as tabs. I cannot say I like it, as there are times that the page is not rendered properly and is generally slower than in the browser (although Facebook itself is faster than in the browser). I would prefer for the user to be able to choose if they want links to open in the app or in the browser. 3) Facebook app is A LOT faster than the browser, any browser (I tested it with Edge and Firefox, with only one tab open). That, together with desktop notifications and the easier access and fast switching from whatever you are doing on your computer, makes it preferable to the browser for me. You can briefly switch to Facebook app and then you return to whatever you were doing on your browser without searching for the correct tab. 4) The reactions have nice animations that are not present on the browser.

Can you tell us how you got the invitation and if someone can get it?

It appeared on my news feed. It was something like that: "We see that you use Windows 10. Do you want to test our new app?"

How did you get into the closed beta? Pure luck, or did you find some way to sign up? Sent from my more personal computer

I answered to that question above. I don't know how I was selected.

Ah ok those comments hadn't appeared for me yet Sent from my more personal computer

if you are a facebook dev you can get it more quickly, i still dont have the messenger beta access

It's luck of the draw, apparently. I'm finally in the beta program, myself, though. :D

...available soon! Crap. OK guys, unninstall the app so I can be accepted.

2 down votes!? .. Guys, I was joking..

I saw that and downloaded 2-3 days ago :D I wasn't know this ls the new app, I was thinking there is some bug or something on Market. That's good to hear this is the new app.
It has Interactive Notifications, like sneak peak to photo or reply to comment also work better than current app and refreshing is better. Posted on Lumia 930 with
Windows 10 Mobile

So you just downloaded it and tried? And then it worked? Just that?

I already have this Facebook app since weeks ago. What I want is a Messenger Beta invite. :)

Same, got the invitation about a month ago. Actually, I have Messenger (Beta) installed too, and clicking on the messages opens that app, but I'm unable to sign in. One would think that the invite would work for both... Alas.

Can you share a link to Messenger (Beta) application ?

https://www.windowscentral.com/e?link=https%3A%2F%2Fclick.linksynergy.co... Posted from Bikini Bottom via my Shell XPS 13

I can open the link, but I can't install the app.

I guess it's still region-restricted. Try changing the Region in Settings to Italy (Spain, Germany, UK might work sometimes too) and then download it. Even though, installing it is really to no use so far.

http://target.georiot.com/Proxy.ashx?TSID=15093&GR_URL=https%3A%2F%2Fwww...​, what is up with the download link, for some reason it goes through a proxy, cause on my network I wasn't able to open the link, had to use the app(came from facebook, wasn't using the app in the first case.).

Why would anyone use this? Every external link has to be opened on a browser, If I have to open the broswer to almost everything. I'll just open facebook on the browser too, this app is useless

As some others have pointed out, it's easier for tablet users with regards to touch. It also offers notifications, a live tile, and it'll probably be faster. All a matter of preference - but having a such big name like this as an app is nevertheless very important for the app store.

Also inportant to some people is the fact that mobile-type apps are generally designed to use less data than the full-fledged web page. Very important to those of us who use tablets and laptops while on the move and away from free Wi-Fi.

So you don't want official apps then? For anything? Windows Central runs in the browser...

Not for mobile? You mean the platform that nearly everyone accesses Facebook from? What a joke. Make it UWP or don't make it all.

Yes for mobile. I logged in to it this morning.

No, you didn't log into this app on mobile this morning - because it's not for mobile and not Universal.

Absolutely agree! I mean, why are us windows mobile users third class users!!??... I'd like to use the new emotion emoji's and that new live broadcast feature that iOS and Android users have! Why do we get features a year down the road.

Not sure why so many are negging my comment. Did you read the article? Do you not want a Universal app? Are you satisfied with the Facebook app we have on mobile?

Just waiting for Messenger, so looking forward to that app. Desperately need a better one than what we've got now.

No messaging is major downgrade.

Same as all other platforms. Facebook wants you to use Messenger.

it is not allowing to login it think face book will release it as uwp app

If you read the post again you might find the answers you seek

downloaded and signed in. worked for me in canada

As stated in the article, this is obviously not a UWA: not "built for W10" mention, and when window size is reduced, the app doesn't rescale its UI. Usually, when you shrink the window of a UWA to the size/aspect ratio of a mobile, it suddenly looks like the mobile version. Not for this app, which is subsequently, a W10 (PC) only app. I wonder if FB are even working on a real UWA. I suspect Osmeta doesn't generate W10 UWA (look at Instagram, when you hide the navbar, the app doesn't rescale, quite ugly).

It's better than the orignal app but I wish I could re-size the news feed. Lots of wasted space.

If the app is as good as the article says, with as full featured and functional as iOS and Android, we need the true universal app for it being able to run on mobile and mobile continuum. Microsoft developed app is so barebones wrt features and functionality.

Woo hoo! I'm in! I was wondering if I was EVER going to be let into the beta program before official launch... Anyway, the design language in the desktop app is extremely similar to that of the current Win 10 Mobile app just formatted for desktop/UWP the way the Win 10 Twitter app is. A lot more features too! I'm hoping we won't have to wait for months on end for a final release.

It's pure luck of the draw. You gotta download the app and make an attempt at logging in. Successfully logged in without the "coming soon" message? Congrats! You're in the beta program.

What version of the app are you using? I have 3.0.0.100.133. Posted from Windows Central for Windows 10

Come on please update like button for windows 10 phone! #Winphan

Able to download, install and run. Not able to login. Posted from Windows Central for Windows 1.0

This app it will replace the Microsoft developed app for mobile?

It still blocks my login.. Posted from Windows Central App for Windows 10 on Surface 3

US user on Slow Ring here. Link works for me :)

The thing is even once you've got a new app. It still has to be updated regularly. I see they have released the new Twitter app. A few weeks back. They released a new feature this week. Which allows you to send a tweet via direct message. Not seen it yet, via the desktop app. And not read any articles about it coming to WP But got it straight away on Android, like the Facebook reactions.The old desktop app never seemed to get any updates. It always seems to take to long for them to catch up, with the other platforms.The people who make it, have to maintain it on a regular basis. Otherwise the apps soon become out of date.

The Twitter app on desktop (which is now the same on mobile) has actually been getting new features at the same time as Android and iOS on several occasions. It got a pretty big update very recently. For now I wouldn't really worry about the Twitter app.

It let me downlaod and intall it, but when logging in it said it was only for special people. ;(

Same here. Downloaded, no cigar.
Windows Central Newsletter
Get the best of Windows Central in in your inbox, every day!
Thank you for signing up to Windows Central. You will receive a verification email shortly.
There was a problem. Please refresh the page and try again.