Fan renders of alleged Microsoft Lumia 1030 have us drooling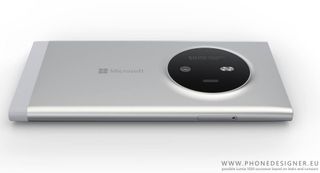 A few days ago, photos of an alleged Lumia 1020 successor appeared online in China. The pictures were clear, bright and provided multiple angles of what many are calling the 'Lumia 1030', which follows the current x30 series of Lumia releases.
Now, a site called PhoneDesigner.eu has made some renders based off those images to give an even clearer look at what may be the next-big-thing from Microsoft. The renders are, of course, based on many assumptions, so take them with a grain of salt.
Normally we do not post fan renders of phones, but in this case, due to the original photos being of such high quality, we are making an exception.
Not much is currently known about the device in the leaked photos, but they are unlikely faked. However, in terms of release schedules and exact specifications, there is a lot unknown about this Windows Phone.
Nonetheless, there are a few things that can be discerned. The phone in question appears to have a 5-inch display at 1920x1080 resolution with an aluminum body. The device is also sporting a rather large camera hump, indicative of some serious imaging capabilities.
Some observers have noted that there is only a dual-LED flash, but upon lightening up the images there also appears to be a Xenon-based flash to the right of the lens, which would match the Lumia 1020. However, until confirmed details come out, this should be considered speculative at this point.
Whatever the phone in the photos is, we are sure to learn more in the coming weeks and months.
You can see more of the alleged Lumia 1030-renders on PhoneDesigner's Facebook page.
Thanks, Daniel for the tip and Fabio V. for the xenon flash image!
Daniel Rubino is the Executive Editor of Windows Central, head reviewer, podcast co-host, and analyst. He has been covering Microsoft here since 2007, back when this site was called WMExperts (and later Windows Phone Central). His interests include Windows, Microsoft Surface, laptops, next-gen computing, and arguing with people on the internet.
Hardware wise Nokia has been always amazing, this time we are waiting for Windows 10.

FYI, NEWS FLASH: Nokia is nomore. The name on this device clearly says Microsoft :)

True, but the team responsible for designing Nokia devices was purchased by MS. The heart and soul of Nokia design and innovation (as far as devices go) is still there, but goes by the MS name.

Nokia team may have the design engineering skill, but may not have the right vision for sensable specs. MS L535 makes a lot more sense comparing to the Nokia L520/L530/L620/630 phones. I always thought that 512MB RAM phones without front camera are bad specs. I consider that L535's 5MP front camera is a stroke of genius and that will give MS Lumia brand a good start. I don't miss Nokia brand at all. Now I'm waiting to see how they would put the L1030 together. So far, the look and the rumored specs sound encouraging. I hope that L535, L940 and L1030 will help MS Lumia to gain respect from the handset users. W10 will certainly give WP a good kick especially in the besiness and enterprise world.

It's not just a name change. The company is called Microsoft. Nokia is now a company that sells its name to place on android devices. The fact is that you people have no clue to what it means to sell a division of a company. Microsoft pays the employees and now makes all the decisions. Nokia has no say in anything!

First off, come off your high horse with your "you people" comment. Secondly, whether you accept it or not, the same talent that designed and created Nokia devices is the same team that now does the same thing for MS. That counts for something. Of course that team doesn't have full autonomy at MS. They didn't at Nokia either. They get told what is expected. It's just that MS and Nokia have different visions. The team will deliver what is expected of them. They are obviously talented. This is all in trying to say.

Nobody ever said they are not the same employees. But you simply cannot call them Nokia.

Most people aren't so caught up in Nokia worship to play name semantics. It's quicker to type Nokia than, The Lumia Division of Microsoft created with the acquisition of Nokia's Mobile Handset Business.

Nokia is A LOT more than just "a company that sells its name"... Remember that Nokia owns NAVTEQ, and HERE maps... their mapping capabilities actually rival google's, and their maps are used by millions of cars and nav systems. They will also be able to release mobile devices soon, so they could get back into the phone business.

It's the Nokia team whether you like it or not.

I remember seeing a windows phone design with a polycarbonate and aluminum body with a swivel corner camera. I thought it looked kinda cool.

Yes, beautiful design. Where's the sd card though?

No Need, One Drive is baked in...

Yes need!!! I cant keep all my stuff in the cloud, I expect to be able to keep all my music and large video files in the device where I dont need to waste my limited data allocation downloading them whenever I need them.

Microsoft is soon to allow music on onedrive

How can you not I have a 117 gb on one drive complement of Microsoft. For free come on people Microsoft always giving away free stuff take advantage

Because it needs internet/money to access your staff. Internet is not always available, cheap & fast in other parts of the world.

If no SD, they could at least offer a 64GB version as the iPhone 6 does. It would give you both performance and storage size. If the 50MP camera rumor is true, I think the demand for larger storage is even stronger. The size of both photo and 4K video files will be larger.

if they have 32gb and 64gb variant unlocked to all carriers it would be cool

Although some people might want to save apps to SD, and other may not like having everything go to OneDrive, especially when out and about and not near wifi.

Wanted badly for more photo & video storage while out shooting.

It is in deed, if the white polycarbonate part would also come in different Lumia-colors it would be perfect.

Looks damn good and i would buy one right now if i could BUT Microsoft said that the flagship phones would have capacative buttons not onscreen buttons like this render does. Personally i don't like aluminium phones becasue they take damage so easily but damn this looks soo good i would buy it anyway!

At this point, I don't really care whether it is aluminium, polycarbonate, or a combination of both. Just release it ASAP. The Lumia Camera 5/Denim friendliness, speed and battery enhancement over L1020 are far more important than the casing materials. Hopefully, we would get a pleasant surprise on the opening day (March 2nd) of MWC 2015.

I hope the camera isn't as slow as hell.

Ya, the 1020 camera is super slow!
50MP is nice, but I rather would want the camera to be really quick.
Like on an IPhone 6.

I have 1020 and putting it on 5mp is fast and photos look great better than my friends 5mp on Lumia 535 because the sensor on 1020 is massive, more light and great lens... well if iPhone was taking 38mp + 5mp and overlapping it could be slow too cause 8mp gives 3mb photo and the photos on 1020 are 17mb ! So in the iPhone it takes 3-4 time less time... I counted how many seconds it takes the photo, it's 3 seconds... not bad though

Very nice....I think my struggle next year may be a choice between this 1020 successor and I presume a 1520 successor that COULD(no indications thus far however to my knowledge)be in the works. :-) Certainly something for we winphans to get excited about. Looks like something that can also turn the heads of the competition.

You may not have to. Microsoft may offer the 1030 in tw0 sizes, 5'' or 6''.

@Busted Knuckle7 That would be a nice option. I'm hoping MS adds benefits to a larger screen device other than the inherent benefits of "more" room. Since Windows 10 on Phone will be the same OS that's on tablets we will hopefully see things like hand writing recognition on the phone with an included stylus, a rotating home screen which is pretty much a given I suppose, some reachability option like on iPhone 6 and Android would also be great. I'm sure there may be some other benefits they can add to make the larger screen more advantageous. A merger between the photography prowess of the 1020 and a larger screen, 5" to 5+",(like to 1520 just a tad smaller), would be an ideal device to me. Best of both worlds. Large screen for editing and manipulation images taking with an awesome camera, hopefully stylus and handwriting support and other "small tablet like" features Windows 10 would bring to large screen devices. Plus it would eliminate that struggle of which device do I get 1020 successor or 1520 successor. A composite device that gives us an awesome Imaging sensor, updates hardware and imaging (Lumia Denim) software, a 5"+ display and Windows 10 would be best of both worlds:-)

I want one. NOW!!! you can hear me, Microsoft, right?

"Don't care how, I want it now!"

I'd jump on it right away. Screw the bills

I want it, I want it, I want it!

Don't know if this is a local thing but it reminds me those JJ Wenthworth (?) commercials that used to air here in PA where people always shout "It's my money and I want it NOW!" Maybe Windows fans should make a similar video for MS with fans shouting "It's my money and I want to spend it NOW!" It wouldn't achieve anything but it sure would go viral.

You know, instead of xenon flash, if like that hump to be the lens itself. And the ffc to be just as good. Or maybe, make 20 mp ffc mandatory!

Looks a lot like N8. Those curves around the edges and the aluminium usage.

I'm OK with this. I quite like my Lumia 900/920, which are of similar design to the N8. This design is different enough that it feels fresh.

This one is more beautiful than my Nokia N8.. :)

Just as long it comes out for Verizon I'll be fine

...and gets Verizon support.

Neither of you will be fine. I called it first.

You get first, I'll call it second. Verizon SUCKS for updates, especially Lumia Windows Phones. My expensive Lumia Icon is still stuck on Lumia Black firmware when cheap Cricket Lumia 630 is enjoying Cyan! WTF is wrong with this picture! I HATE VERIZON! If they don't release Denim for my Icon before AT&T releases Denim for the 1520, I'll definitely be leaving Verizon and getting the 1520 on AT&T!

I used to be with att and switched to Verizon to try them out..... Worst mistake in my tech shopping ever and worst 2 years of mobile coverage...i happily paid them the termination fee to get rid of their so called "best network". Switched back to att, couldn't be happier!

I too was duped by all the talk of how great their network is. I was very surprised to find out my signal (at least in my area) was better with AT&T than it is with Verizon. The ironic thing about it is there's a Verizon store across the street LOL. Their shoddy WP support and not as advertised network have me considering paying the termination fee. AT&T has offered to pay $100 of it if I switch. Which is probably why Verizon is supposed to be raising termination fees LOL. The wheels on the bus go round and round....

why not just use the dev app and upgrade yourself instead of waiting on verizon to do it for you?

With a big fat Verizon logo on the front and back! Lol

Guess you'll be sick them as Verizon won't get it and is they do, it won't be promoted or will get discontinued 6-7 months in like the Lumia Icon

My next phone. It better be on T-Mobile.

Doubt it. Looks like a at&t exclusive. Version will have a square version and TMO will get a variant in 6-12months after this initial release. Lmao. Im enjoying my One M8 on TMO. I even get better reception. This phone is superior on all levels. I may even get the M9 if HTC continues this route. Glance being vacant kills me but im learning to live without it.

I got an M8 and returned it. No Wi-Fi calling and no call blocker, no buy. Even the cheapest Lumia has both.

I feel like your decision is a bit premature.... As there are plenty of ways to block numbers lol... HTC will certainly add things like this if we support them.

I looked around for apps to block call numbers but there's nothing better than build-in one. HTC I don't trust and I even asked TMobile if HTC will add it later, they said we don't know.

Not apps... Call provider or go to website and block number there. HTC introduced the advantage plan for a reason. Probably partly due to the fact that this phone has a 95%+ satisfaction rating. Lol....

I know you can block number from a certain websites but the fact is, it should have it built-in. I don't feel like paying closed to$600.00 while a $99.00 or less Lumia has it. I like the phone but I'm very particular of what I want. LOL. I will just wait for windows 10 mobile next year.

actually i know many people switched to lumia cause of this same reason, love the in built setting in the phone which allows blocking.

I hope that MS will do away the carrier exclusivity for good. I remember that MS had planned to offer the cancelled McLaren to all US carriers including Spring. Hopefully, MS will offer L1030 on all carriers and end the ridiculousness of carrier exclusivity which almost killed the WP in the US market. If MS can make L1030 attractive enough, carriers would come to beg on their knees to carry it.

I'd rather see Verizon crash and burn. People need to get off of that nazi network asap. But since people refuse to wise up, i hope this phone is released on all networks.

I'm getting off this month, I hear you; they may be a good service but they over charge you for everything. Going back to Cricket Wierless now that it works on AT&T signal.

Come put another carrier's tower anywhere near my house and I will.

That is based on unconfirmed reporting. I would not pass that on as fact.

On screen buttons? That's not possible I think!

it is. the newer devices will have it.

I hate on screen buttons as much as i hate taylor swift, i thought they only did that for the low end so it gets cheaper and cheaper, i love everything about windows phone but this, i better buy a lot of 520's for the future.

On screen buttons offer flexibility. Unlike physical buttons, they can be changed in a future software update, and be contextual.

Or a separate display for capacitive touch keys, á la XPeria z.

The onscreen buttons are nice on my 630. It would be even more awesome fi they make the buttons auto hide.

One...
Million...
Megapixels!!! *places pinky finger on lips*

Lol you mean 1 Tera pixel....

It's on the Internet so it must be true.

I would hope for more, or at least significantly more zoom, however they do it.

What I really care about is how fast it is

The chinese leak stated it was the canceled mclaren why are you even posting this? There will be a lot of disappointed people.

Maybe it is, maybe it isn't. McLaren was cancelled due to the 3D touch stuff, not the phone itself. Going further, why would they not reuse the design for a new phone?

The leaker stated it even had the 3d touch. He was able to click on tiles without touching the screen.

Sp Daniel's point is still valid. Cool that it had the 3D touch though for the leaker.

Dan you told me specifically that no new top of the lines phones are coming out in the near future. are you now going back on that ?

The clue being "near future"...doesn't mean they can't develop a good phone in time for the next windows...with or without 3D features...

I still like your idea of a Lumia 925 successor better. That phone is crazy sexy. Imagine it slightly slimmer, in more colors, with updates specs. Microsoft dropped the ball on that one. They should've launched the Lumia 935 before Black Friday. Hope they release one soon--and on all major carriers for once.

Are you 100%..., 90%..., etc., certain that McLaren was cancelled due to the "3D stuff" & not the phone itself. Of course I don't know... However, this design is nonetheless passé.

If this is what it takes for "a lot" of people to be disappointed then this world surely has gone soft.

As I got to know, McLaren had a 20 mpix camera, this one is having 50... so I think that it's going to be the Lumia 1030

It should. 50 is fine with me even the SD805 can support up to 55.

The homescreen shows categories...? Is that a feature of win10? You can see phone and media categories and that's not live folders expansion. Any ideas Daniel?

Hi, it's a FAN RENDER. I repeat: FAN RENDER. Stop looking at details in the FAN RENDER as factual ;)

Maybe but also the time reads 10:40 so as nokia phones are leaked this could be 1040 showing a large upgrade like they did with win10.

Remember I said COULD BE.
I repeat COULD BE . ;)

Now I have started to understand why you don't cover FAN RENDERS....;)

Can't seem to find that on your first statement.

:D joking dude....i love your style. :)

Don't let them get to you Daniel. Great article. I always enjoy reading your stuff man! Keep it up. Tip: Write more articles shaming Verizon for lack of firmare update. lol

NO, don't give up, we need you to supply the breaking news and information on prototypes.

There's apps that enable that anyway.

Dan I thought you would have quit ages ago. People making these comments all the time sure get annoying.

The resolution would have to just be a guess

If its something like this I know what I want next then

Lumia 1020 + Lumia 1520 + This design = Perfection.

Honestly, after having the 1020 for the last 18 months, I would rather the 1030 have a design closer to the 930/830. Getting sick of unibody designs.

Couldn't agree with you more. Had a battery problem and removing it took a trip to a man down the road who had no idea what a L1020 was, or even how to open it. One certified repair center later and alot of money and I got my phone open -_- my only quirk with this design.

somehow i prefer rounded corners like the 625,535,630, those phones are marvel to hold compared to my 1020

Take my money, please. Looks awesome.

I would buy this even if I had to sell myself for it. ​

It would take you 90 years to come up with enough.

Microsoft needs to hire this crew, NOW!

F*uck I don't like Gold!!! I want Bronze

@sdc1:
I have a lorry for this...

Hope it has more colors if and when it's released. Aluminum is nice and all, but I really like the combo of aluminum and poly in the current Gen phones.

Still waiting for a phone that has a zune hd body(but larger)

Hope the 1030 is real. Getting bored with my Lumia Icon. Need something NEW

lol I'm getting bored with a 920 ahahahahahaah An Icon seems fine to me :D

An Icon shouldn't seem nice to anyone, better pick a regular 930.

Please submit a more constructive comment...first world problems Yep, got you, filter.

if they every release the 1030, the hump needs to go and they need to reduce the time in between pictures.

Cover the hump with extra battery

Please let there be an xenon flash like my 1020, 808 and N8.... Forget about this dual-LED bs...

Yes, I would be very sad if there was no xenon flash. One feature that I miss from the N8 is the built-in ND filters. What an awesome feature. Helps a lot because these phones lack aperture blades.

Not sure if Daniel and co will let me link to this here, but my analysis is relevant here - there won't be Xenon in 2015. IMHO.

I would be sad if this was the case. That means I wouldn't be able to sync my phone with my flashes or studio lighting. That was one of the super unique features of the 1020. This is a huge plus for any professional.

Just keep your L1020 around as a backup. The new features that Lumia Camera 5/Denim provides are too attractive to pass. I personally doubt that Xenon/Mechanical Shutter would ever come back even beyond 2015, since it would hinder the speed required for multi-shots. We will find out for sure when more details are released.

I used to love my N8 would but all phones to shame and some digital cameras too!!!

While I love my 1520 I'd settle for a 5.5" L1030 if the specs were killer. A camera better than the 41mp on the 1020 is almost a must have.


Agreed. Went from a 925 4.5" to my One M8 5" to realize that 5" is very portable and comfortable but I still feel like its not big enough! 5.5" may be the sweet spot for me. I've held a 1520 @nd holy **** its giant but so amazing. Don't think im ready for that yet ;) damn and that Glance screen... Miss that. Tough being spoiled with notifications and not having to click anything to now having to unlock my screen. But at the least I can double tap the screen to see my info. Soooo... Not too bad. Just less intuitive. I will also admit that the true colors of the HTC LCD3 and looking back at the AMOLED... I realize it's a bit ugly and not true to life. When I first got the phone the screen was mesmerizing to me. And of course.... Nokia camera wins. HTC camera is a gimmick. Shoulda put the HD7 camera in this instead.

Since the rumored successor to L1320 would come with a 5.7" display, there is a chance the L1530 would follow that design with a 5.7" display as well. That would be more acceptable to larger crowd. Of course, some L1520 users might get frustrated. Once you get used to 6", it's hard to go back to smaller screen. Unless, MS would come out separately a new L1430 phone with a 5.5" display. That would be super hot as a pocketable phablet. It makes sense too. Since both L940 and L1030 would have a 5" display, you need one model sized between 5" and 6". 5.5" phone would become a largest standard phone and also the smallest phablet. Everybody would be happy by picking the right size of their liking.

Gotta say, I am feeling a bit drooly looking at those images.

I want that transparent Navigation Bar

@ksmithservices:
That is actually the only part where I hope the leak is wrong (even if it means the whole device is fake).
I thought Microsoft's doctrine was: High-end Pureview-devices keep the hardware buttons.
I don't want onscreen buttons!
It's the only point where Daniel Rubino is wrong obviously: Even if they add in extra pixels to accommodate the on-screen buttons, you will definitely always loose screen REAL-ESTATE.

To be honest... Once you get used to them... They're more convenient. The auto-hide feature fixes that issue. Certain apps will pop it up so you can click back quickly if needed and if you swipe up from the bottom of the screen it hides or brings it back. Simple. So you can choose the real-estate when you want it. Options are better. Accidental presses are now the past

@ksmithservices:
Yeah, but in my opinion auto-hide fixes a problem you wouldn't have with real buttons.
And I don't have a lot of accidental presses on my record. So this advantage can't make the disadvantage of having to swipe in the on-screen buttons when you need them up for me. I want them handy all the time. The systemwide quick availability is why I root for action-center, although live-tiles show notifications as well.

Agreed. On screen buttons are pretty ghetto. Never had an accidental press of a capacitive button.

Insta - super - robo - cop.

Shut up and take my money!!!!!! I really hope MS ends up producing the leaked phone for Windows 10 release. I'm in dire need of an upgrade, and this would be the best upgrade ever!

Well this now look more awesome! Full aluminum body, it's Nokia N8 rebirth! :D
Well if ever this will be almost the final design, I hope there will be black/gun metal grey color too. Crossing my fingers for Xenon flash though.

seems it doesn't support micro-SD expansion

Dude ....it's a rendered image based on a prototype. We can't know for certain whether it supports memory expansion, or not. Well at least, for now.

Unfortunatley NO. Yes it looks great and I love it and most of us do also, but unless it gets much thinner, thinner than Iphone 6 and light to hold.... It will NOT have new portnetial shopers drooling. They will look at it with intrique and move on. Microosft needs to get this already and make adjustments.

I'm sorry, but this thinness battle is stupid. What is more important it's perceived thickness. I have an HTC 8x and have received multiple comments on how thin the phone looks. Guess what? It's 10.1mm! That's nearly 4mm thicker than the new iPhone. A thicker phone can have a bigger battery and can be more sturdy. I'm so sick of Apple convincing people that thinner = better, always.

I second smoheath's comment.

@Nicholas Maguire:
And I minute it...

All of this is true, but good luck convincing a teenager this. Windows has to has has to has to get the kids to love their phone. I have been sayign this foever now, iphones and galaxy phones are huge becasue of peer pressure. This is not debatable, it's just true. Windows pone have to be thin and sleek and COOL, LIT, HIp, Fire, whatever these kids say these days, IF not..it will never catch on...ever.

Friggin awesome looking, just got my Lumia 1020 so I wouldn't mind this phone coming out 2016

Prediction: Some executive at Microsoft will read this article and the comments, see the massive groundswell of WP fans dying for a cutting edge, premium, no-compromise device. Then they will scrap this and green-light a Lumia 230 with the same design and specs as the Microsoft Kin.

Am I the only one who thinks that aluminum is a terrible choice? I have the Lumia 930 with the aluminum frame and unfortunately dropped it twice in the same corner. Each time the corner became bent, because this material is highly malleable. The phone is just 1 month old, and you can guess I'm not very content about this. I also had the Lumia 820 which I dropped many times in the same way without it suffering any damage. That one is full plastic shelling.

Means that polyurethane and plastic are your best bet :) Aluminum is naturally bendable...just how it is. And by george, careful with your phone! I'd hate to see a cracked screen on yours one day. It'd be sad. :(

Imagine a piece of soap falling on the ground. That's how flattened my phone's corner looks like now, on both front and back sides. And because of the compression, a very small portion of the underneath layer of metal is now protruding outwards, right next to the screen edge. Don't know if you can envision that. All ye aluminum lovers, heed my warning.

I wholeheartedly agree. I wish we get a new plastic flagship phone but I think we both will be disappointed. Most people are stupid and think aluminum is more premium. So MS listens and delivers to the wishes of those sheeps.

@crise:
When has Microsoft EVER listened to the wishes of their customers.
The one and only glorious exception [Cortana naming for personal assistant] aside; it was Microsoft themselves who came up with the name, it wasn't a wish originally uttered by customers.

I agree. I actually love the designs where you can swap out the whole back, like the 635. Metal looks nice when it's new, but I love the colors of plastic... now that Nokia has me used to colorful phones, I don't know if I can go back!

I'm not a fan of metal either. I also really want wireless charging, and I am told that they don't mix well.

YES! Polycarb rules all! I drop my phones (currently a 1020) about three times a day. I'm just stupid like that. And I'm allergic to cases. Hate them with a passion. And nokia phones are the ONLY phones that can withstand my abuse. Polycarb unibodies were a Godsend for me. I am NOT happy with the move to aluminum.

I had a 1020, dropped it once and bam cracked screen (along the top outside the usable area so lived with it) but the polycarb also had scratchs in it (aka gouges taken out)... Got the 930 and unfortunately dropped it to - meh it did better. Given the choice I prefer the mix of aluminum and polycarb that the 930 uses - it makes the sides feel more grippy and the back nice and smooth/soft. Also having the flat edges again helps with grip.

The best material is cupper :)

The back and profile of those renders are absolutely gorgeous! I love the silver one.

Personally, I think those fan renders and the leaked photos are ugly as hell. While I'd probably buy the phone just because, I the edges on the 1520 to that N8 look-alike.

Loving that metallic color scheme.

It's not a Xenon based flash in the pic.... Just the loud speaker grill as in the Nokia 808 Pureview

I said the same thing on MyNokiaBlog. Nokia 808 PureView Speaker grill in the camera hump: http://i.nokia.com/r/image/view/-/1920422/highRes/3/-/Nokia-808-cameraphone.jpg Nokia N8 speaker grill in the camera hump: http://www.wikinoticia.com/images2/s1.gizmovil.com/files/2012/02/Nokia-N8.jpg I would love for us to be proven wrong though as a Xenon flash is essential for a full range of photography conditions. I cannot freeze motion with a LED flash so sadly, the absence of a Xenon would be a deal breaker for me. I skipped the Nokia N8's successor, the N86, for the same reason, lack of Xenon.

What's that little rubber like strip along the bottom of the phone? Would it serve any discernible purpose? I'm a huge polycarbonate fan, Aluminium screams of iShite rubbish

It might be for improved reception since metal interfere with reception.

So why not just stay with polycarbonate? Its the signature WP thing, and doesn't interfere with reception, and looks better.

Well, it will be released in polycarbonate versions too probably, like it happened in case of 930. Although, it is personal preference, I like Aluminium it gives dignified look and premium feel when you hold.

lol what? Am I the only one that HATES that chopped off candy bar design? Ewww - please stop.

Lol I love it, its very comfortable

Yep. Only one. Far more preferable to just a blocky slab (930).

Dat azzzzzzz. Actually I really like the champagne color. Classy lady. I would definitely upgrade and call her the Duchess of Windsor

Throws credit card at screen!

Good god I want this. This guys does amazing renders.

Wow...those are beautiful images! If it shows up, I'd get one :)

I"ve never seen that grey Theme before. Is that available in WP8.1, or is it just the rendered version here? Thanks

That's the same theme I use in Windows phone 8.1

Okay, thanks. I'm still on WP8, and it's not an option.

It is there on 8.0, it's called steel.

UGLY. And why SW buttons ? SW buttons have only low-ends

The HTC One M8 has software buttons. Is that low end?

@JamesDax3:
It has been Microsoft's doctrine to spare their high-end devices from getting on-screen buttons.

That being said, OneM8 is the highest end available right now and it has on screen buttons.

and this is why I prefer HTC m7

That gold one!! Take my money now! that is beautiful!

I had read somewhere that the leaked pics were of a model that someone found in a store somewhere and speculated that it was a McClaren prototype

Why is everyone forgeting that even the first 1520 leaks had the device made from aluminium... This leak was a picture of a prototype, it is not the final design.

930+1020 = 1040 (P.S.Not A Math).

If a 1030 is released, I hope they make sure to include microSD support!! That is crucial!

Actually WCentral should do a poll on that, but I'd hazard a guess that an SD card actually isn't essential for a lot of people. Me - I use OneDrive so don't even use 1/3rd of my 930s onboard storage. I get that some people for whatever reason need more than 10 - 20GB of stuff stored on their phone so SD is a nice option, but for an even larger crowd it's only at a most a nice to have which never gets used. I'm happy for there not to be an SD card, especially if including one messes with the overall design of the phone (there's only some many things they can cram inside one of these phones).

Looks like the old Lumia 800. Stretched out with pure view on rear. Not liking it really.

Okay, now I'm getting excited. I'm holding onto my1020 until a real successor comes out...and if the rumors hold, this just may be the unit! I just hope they aren't waiting until Windows 10 for phones comes out. I hate Windows 10 so much that I'd rather stick with 8.1 on the phone if the way they are going with the PC is any hint of what's in store for phones.

I assure you.. Windows 10 on phone won't disappoint.

@Nicholas Maguire:
How much money will your assurance reward in case of a disappointment claim?

now its time for 64gb internal,if SD not supported....

@pg2900:
Get a Telefonica 1020 if that's what you desire. They had 64 GB as a global exclusive.

Needs to have USB type C and wireless charging. Also, get rid of the camera hump. Otherwise, gorgeous. EDIT: Oh, and should have SD slot for expandable space.

Soooooo.....if they get rid of the camera hump.....where is the large sensor, optics and xenon flash going to fit? How are they going to fit components that take up space into a device without a hump to house the components? With magic?

Yes, with magic.......... Things get smaller as technology progresses. Not saying it's there yet for this type of camera, but it will be. Just stated I didn't like the hump. Sorry if that offended you to the point you felt the need to make a smart ass comment.

I'm sorry if that offended you to the point you felt the need to cuss. Of course "things get smaller as technology progresses." Concerning camera sensors, having a small sensor limits the ability of the camera in a lot of ways. You cannot apply a generalization of technology progression where you are taking the same power and making it smaller = better or the same performance. With photography, in simple terms, the bigger the camera sensor, the better (in addition to other metrics of quality). It is a matter of physics, not looks, not technical advancements in reducing the size of the components. There are already small camera sensors that perform admirably for their size. To use the "Things get smaller as technology progresses." as a defense to justify your original statement does not align with the entire purpose of having a camera hump to fit a necessarily larger camera sensor to achieve the desired results. What you said simply doesn't apply when the point IS getting a BIGGER camera sensor which means you NEED a bigger housing. Putting a smaller sensor, regardless of how much technology has progressed does not solve the need for a larger camera sensor to achieve a certain photo and video quality. What if we want/need a 1 inch sensor? You say things get smaller....that does not give us a 1 inch sensor. There are many reasons why people want or would need a large sensor and that is sort of the whole point. Take the large sensor away, the large capacitor Xenon and other optical components and you are back to a regular, small, better than they used to be smartphone camera. The 808 Pureview has a larger hump than the 1020 because it houses a larger 1/ 1.2 sensor, larger dual capacity Xenon and more. Nokia made "Things smaller as technology progresses" with the 1020 and we ended up with a smaller and less effective sensor and Xenon combination that produce pictures with more noise due to the size reductions. I love my 1020 and it takes amazing photos but the facts are the facts when using my 808 and 1020 to take the same scene, even using Xenon on both, there is a difference in quality. http://www.allaboutsymbian.com/images/features/misc/SensorSize_v2_1000px.jpg So.....here you are....talking about a successor to the 1020 and you want the hump removed? Better known as, replacing the already reduced 1/ 1.5 sensor and components that led to reduced image quality....you want those PHYSICS based components to be replaced by even smaller components so that there isn't any hump? Where is the disconnecty between the understanding of what a removal of the hump actually means on a camera centric device? It sounds like you are not looking for a 1020 successor or you are not serious about photography or you don't have a real grasp of the importance of the physical size of the sensor, optics and xenon flash and capacitors. Sure, keep reducing the size of the components in an effort to have a thin device and you will end up with photos that are simply "good enough". Those of us that are serious about mobile photography want the BEST camera hardware that can be had in a phone, the largest sensors, most powerful Xenon flashes and so forth. The successor to the 1020 should not have a "good enough" camera in the effort to be thin. It should not resort to software algorithms to TRY and produce photo and video quality that it could produce with the necessary hardware. Asking to take away the hump is like asking for a vehicle that seats 7 adults comfortably and has trunk space and then saying it is too big and you wish they would take away the 3rd row of seats and halve the trunk space so the vehicle can be smaller. Uh what? That defeats the whole purpose. Yes, it has to be magic to overcome those physical constraints and achieve the SAME or SURPASS the 7 comfortable passenger/trunk requirement. Wait...you can't....you have to buy a big vehicle to fit 7 people comfortably.....with all of their luggage. Take away the hump, you take away all that made the 1020, 808, N8, N82 and other camera centric phones so great and BOOM, you are back to a Lumia 930, 830, iPhone 6, Galaxy Note 4, Z2 and the rest camera module and photographic quality and that is not what most people want in the successor of the Lumia 1020. Did I just type all of this....yes I did...typos and all. Have a great night/day. (Xbox On...)

Are you serious? In the Lumia 1020 there are 6 separate lenses packed in that (compact camera resembling) hump. Man, they take up some space, that's for sure. I know I disliked the hump too in the early days of owning a 1020, but I grew fond of it somehow as I see it resembling a form of a compact camera — meaing some serious imaging capabilities in a phone.

Hahahahahaha 50 mega pixels. Hahahahaha

hahahahahaha Lossless Zoom. Hahahahaha Non-Destructive Reframing.....hahahahahaha (rolls eyes)

If you guys keep laughing like that with your mouth open. You might swallow a fly.

Swallow fly hahaghaa hahaahhahahahahahahah

Why buttons in the screen!!!! Looks shit

Don't really like aluminum body, would be better if it had polycarbonate with different color versions

I think aluminum bodies are going to be more appealing as polycarbonate feels and looks kind of cheap

That onscreen buttons looks fucking sexy!

led flashes, freaking led flashes, why are PUREVIEW phones still using them? why cant we finally move on to xenon once and for all

Those seem to be focus assist lamps, but then again, if that's the really case, does it has to be dual? Right? I'm a little mixed up.

I wonder the same thing, if these are indeed merely the focus assist/video lights then this is truly a 1020 successor, what an overkill if you ask me lol btw Microsoft should renew the xpressmusic brand, give HTC some fight while putting a carpet over the xbox music's mess

You realize that you are getting all worked up over a fan rendering, right?

Sorry but I will NOT be drooling if the real thing does not have expandable storage, wireless charging (on AT&T), and a bigger than 4.5" screen. Make it happen MS!!!!

Bingo. And ditch the onscreen buttons.

The phone will probably have capacitive buttons.

If the 1030 is anything like that when it is released, I'll definitely buy it. Just hope it's not a carrier exclusive. That would ruin it.

Well so far carrier exclusives have had a large part in holding back WP sales. Apparently MS still does not get this!!

All I need , is to cancel dark light background of apps menu, settings menu, UI, and some apps.
MS has to redesign it to be like PCs and tablets

With over 600 comments on that original article, hopefully MS is getting this ready to ship with Win10 ;-) (yes, I know they're only fan renders lol) Requested specs: 5"-6" screen, 2GB RAM, 32GB/64GB, SD card expansion, faster/higher res camera, Glance compatible (and while aluminum housing would be sweet to look at, it would never see the light of day; we'd have to put it in a case to protect it...) I don't think that's asking too much ;)

Also nearly-full aluminum body makes Qi wireless charging seem out of the question.

Phone is too big.. Not nice

Too bad the camera isn't in the middle of the phone. Too bad if metal, won't have Qi probably.
Better have a physical camera processor too.

I WANT IT NOW!!! But I'll take mine in full glossy polycarbonate instead of aluminium. AMOLED display please.

Always hilarious to see people reacting to a concept as if its real.

Nop!! I need capacitive buttons!!

OMG is really beautiful it reminds me a lot to my Beloved E7-00 but with a huge and powerful Camera. i may return to Windows Phone if this one goes on sale Fast

Whether this is legit or not, do you all think MS is to the point where they can release such a flagship phone on all three major carriers at once, or do you think this (supposed) 1020 successor would be an (AT&T) exclusive?

That's my biggest fear is that they release any new phone as a carrier exclusive and I'm left in the dark.

What... A fan rendering and he/she didn't even include a dual lens camera, I thought that would be the next big thing

I agree. If the guts are powerful enough, I bet the Nokia-now-Microsoft boys could make the tech work well.

The render looks like a love child of the Nokia N8 and the Nokia Lumia 1020

looks like a blend of the 1020 and the 925... sweet... whichever carrier gets the phone (if) I'm going with them.

Would love if they produce full aluminum but in different colors

Truth be told I kinda like the camera hump. Give the windows phone more originality

meh, where is the innovation. looks like the pastic one only metal. if all they can innovate in design is the same old tired nokia look...in silver...they are in for a rough few years.

Would you rather it look like the same old tired iPhone design or the same old tired Samsung design? I like this design with the rounded sides.

Innovation in appearance is somewhat limited... I mean, it's a rectangle and needs to stay that way, right?
The innovation is clearly in that rumoured 50MP camera... Wow!!

Every new Lumia phone doesn't need to have a different design. Is the specs that need to be different.

I hope something like this gets released to upgrade from my 1020.

Take my money...take it all!

Wow. One can only hope that the camera bump is that thin.

The number on the camera looks as if it says 50 on the first image. Maybe a 50mp camera?

I really wish there will be a Xenon flash

Shut up and take my money

It slightly looks like surface phone.

It's love at first sight. I want this phone.

Looks nice. I was thinking of buying a surface 3. Looks like I'm gonna have not hold out now

I don't like on screen navigation bar......it's not convenient.....hope 1030 comes with hardware keys.....

Actually, when I first saw the picture, my initial reaction was "Woah"

My initial thoughts was "Damn, this is so lumia 920 with huge camera bump"

OH MY GOD !!! CRAZY CAMERAS PHONE...!!! 50MP. I hope the Cameras can Roll like Oppo Smartphone...

As much as I'd love a 1030, I think its too niche. Put that powerful camera on the 1520 successor and focus on the 940 as the next successor, unless they can cram that 41 megapixel camera on 940 but keep it svelte.

Think this large camera hump looks sexy

the fan who rendered this is GENUIS ;)

I bet that's going to be released with the great Windows 10!!!

Yup, the 1030 is mine on day one...

Make this 6" or at least a 6" variant, and it will replace my 1520.

I'd imagine the 1030 will be 5"... Look forward instead to the 1520 successor. ;)

This is just amazing! I hope they make a 1520 variant that's just as impressive...

I should of passed my L830 and kept my 920, a bit longer for this real deal high-end flagship...

We will see this phone announced in a month and it will be come available next September.

This design language/style is passé. MS needs to come out with an award winning design, no an iconic design language that will make everyone lust after their phones. The masses are never going to care about the OS, features, camera, or services, without a design that evokes an emotional connection. Yes, I know that owning, i.e., actually holding the phone says otherwise. However, visual..., is & always will be 1st contact.

50.1MP Rear Camera Carl Zeiss Optics (OIS), Xenon Flash, Dual Led Video Light, 5MP Front Camera Carl Zeiss Optics (OIS), 3GB LPDDR4 1600Mhz Dual-Channel 64-bit, 64bit QuadCore 2.7Ghz CPU, Adreno 430 GPU, 4.5 inch Display with 1600x900 Resolution, 64GB Internal Memory with SD upgrade to 128GB, 3.400mAh Battery, Solar and Wireless Charging Back Cover, 2x Big High Quality Stereo Speakers, FM Transmiter, BlueTooth 4.1, WiFi 802.11n/ac with MU-MIMO, Micro HDMI, USB3 On-The-Go, Dual Nano SIM, WaterProof. Released Date March 2015. P.S. Specs will change almost everyday until final decision. Also price will be about 599 euros.

And what is the sensor size since you want out 50.1MP?

If this does get released.... I'm gonna purchase it in a heartbeat. My 925 is a little old but still solid though.

"Monster is on the way"..

Proud owner of a 1020. I held off on buying the one m8 because I'm waiting on Microsoft to put out a real flagship phone. It's a nice render but its basically a 1020 with a bigger screen. I'm hoping for a slight change in design.

Hope this comes to T-Mobile

Lulz. There is a 100% chance that will not happen.

I think, for marketing purposes, if the phone will have a 50mp camera it should be called the 1050 rather than then 1030. Make the high megapixel a huge selling point for the device. Just my thought

Hardware is not the issue. The problem is the OS and apps. Xbox Music needs to kick ass, not suck ass. And we need more first party apps of high quality.

Do you think the app situation will improve once windows 10 arrives?

Hardware is an issue now. No high end handsets with current gen specs, and the 1020 is not powerful enough for its camera. Processing time was pretty bad when it came out, it is horrendous post 8.1.

@treetownal the HTC One M8 says hi.

Man I hope the M series Intel processors could fit in a phones body having that to process the images would be amaze balls

I will get this phone if comes at least with snapdragon 805, micro SD memory option , wireless charging capabilities 3 G Ram, of course 50 megapixel camera and windows 10

I am from Indonesia.waiting for windows 10

High-end device without SD-card is a joke, IMHO.

Yes Vesa, like all iPhones

If it actually looks like that it'll be awesome!

On screen bottoms on any Windows Phones feel like Android phones.

When Nokia first went with Windows Phone, there were many renders before the first device was released. I always wanted this version linked here to release: http://blogs.diariodeavisos.com/dgadgets/2011/02/12/primeras-recreaciones-de-un-nokia-con-windows-phone-7/

Hopefully they won't scrap this in favor of a Lumia 450 super-low-end, 4-inch selfiecentric handset with a snapdragon 001 .500 Ghz processor, 250MB RAM and 4GB of memory, specifically earmarked for a chain of small islands in the South Pacific.

please wear a condom before looking at these images. this is porn... phoneporn Posted via the Windows Central App for Android

How did they separate phone and media apps with labels? Windows 10?

One thing it lacks, at least in the rendering, is the 1020's accommodation for a camera strap. I use it all the time and have no need for a case or shield. Will miss it.

One of the most underrated features in a phone. I don't know why more phones don't have this. It has saved me from many, many drops.

Fake, maybe. The bump looks like 830

When are people going to get it right? If they want more pixels it obviously needs a bigger sensor that you have to have bigger lenses so a device can't be that thin, physics, it can't be done. The device if it comes out it will have the same bump like the 808 or 1020.

I will sell my recent 930 directly and buy that one. Really need a flagship

I honestly prefer they make the phone a bit more chunky just to hide that huge Oreo. If there gonna leave the SD card slot out just make it 2 options 64gb and 128 GB, and also 2 phone options 1 normal 4.8"-5.2" screen and the other for beasts like me 5.8"-6.2".

The silver one would look even better if the camera hump was white instead of black.

If true, and especially (perhaps only) if xenon flash is retained, I'd be very very tempted to upgrade from my 1020. I just wish they'd go with a different style of camera hump. My phone is typically lying on a desk/table, and I often want to very quickly check something and use it "in situ" rather than picking it up ... but the rounded camera hump makes it annoyingly unstable! (Although, the larger island of the 1020 is at least fractionally better than the small ones on some other phones.) If they'd just square-off the camera island (but slightly rounded corners, not sharp, obviously) it should sit beautifuly-stable on a flat surface, with just the unavoidable (and totally acceptable) slight angle from back to front.

Serious sweet looking phone. Screen size is just right. Hope there is an unlocked version compatible with Verizon.

Can I get it on T-Mobile?
HahhahahhhaahahhhhahaahhHa!
Oh man.....that was funny.

If those photos are real I hope MS is smart enough to offer a body with Nokia s curent colorful polycarbonate bodies. I don't like weak boring metal it breaks easier dosnt do as well with cold weather, slippery, boring looking, won't allow wireless charging.

I agree. Poly carbonate is so much better.

Doesn't do anything for me looks-wise, but if it's the 1030, I'll get it, slap it in a case and get to shooting pictures! For me: PROS
+ Camera (50 MP of PureView photographing pleasure)
+ Brushed metal looks nice,
+ Camera button
+ Xenon flash
+ All 3 buttons are on the one side of the phone CONS
- Wraparound glass on the screen (hard to get screen protectors to fully wrap sometimes)
- Round, glossy black 'camera area' (I realize it's a typical MSokia design theme since 1020 and 830, but I don't have to like it)
- Rounded edges (make it harder to set on something for stabilization of pictures)
- USB on bottom (gets in the way when trying to use phone while plugged in)
- Speakers on bottom (Cortana will be sitting on her speaker) All in all, though... I'm ready to get one.

I know they're just renders but it just looks like an uglier 1020.

Not to excited, as no doubt it will be exclusive only but my thoughts.

I don't quite like the camera position being lowered — as in 925 that makes it really easy to be accidentally touched by the user's fingertips resulting in fingerprint stains. Guess I'm gonna have to wipe that area with a piece of cloth everytime I want to shoot then, just to be prudent.

This phone would look even better if I was holding it in my hand.

I rally hope they have 2k display on this I've played with the LG g3 and my god is that screen gorgeous plus looking at those great pictures will only look better on a display like that

The 2k Version is the 6" variant. Same as this one but of course 6" / 2K +bigger battery. Called 1530. /wishful thinking

OMG!!!!! I THINK I'M IN LOVE!!!!! ❤❤❤❤❤❤❤❤❤❤❤❤❤❤❤

Ehh. I'm completely into the Surface-y look of the 830 and 930 now. I hope the next Lumias rock this style as well.

I second that. This one looks literally JUST like the original but I'm different colors, so I think it's a fake. Besides, they'd HAVE to make it thinner than the original oh they want a shot at marketing it to people outside the immediate MS fan base

Why do u guys still buy carrier locked phones if it hasn't proved out to be a smart thing in the past. You still pay the prize of the device in one way or another. Just save the money and buy a used or new unlocked one and be free to get the updates in first hand.

The OS is little different.. Check it

That damn camera hump tho.. -_-

Larger sensor and more lenses means more width, simple physics.

That phone looks beautiful

I really despise the polycarbonate portion at the bottom. The polycarbonate portion was the first part to go on my N8.

If a 1030 comes to T-Mobile, and has good specs, I will buy it asap.

For me, the SD card is a must have feature and so is a removable battery, particularly on camera first phone. Nokia/Microsoft has done a good job of providing a range of phones, but still hasn't built a no compromise, every feature included, latest chipset, 5ish inch, flagship phone. I'm hoping this is the one that checks all the boxes, but sadly, I would bet against it.

No notification led makes Glance pretty important as well.

I was hoping it would look like this:
http://www.gizbot.com/img/2014/06/07-nokia-eos-concept-2.jpg

Wow, MSFT could battle the iPhone with this... Instead, another year we fall behind.... Badly behind iPhone 6 MSFT presumably waiting for WP10, but is it too late? Going to need something killer like docking my phone and it turns into a full PC

This leak should have appeared in September and the phone launched in mid November. I bet they will release the phone in mid January when vast majority of people will walk with empty pockets after all the season shopping.

And the good news is - with those sharp edges it can also be used as a knife to cut your food!

Ok nice, but where is my Lumia 1530?

The "xenon flash" or lens assembly is out of proportion for a 1020 successor. The "xenon flash" would be exposed if it was a real flash, not merged with the background indicating some kind of covering. Likewise the lens assembly looks significantly smaller than the 1020 (using the dual LED as reference) meaning this is a smaller, denser sensor than the 1020 or a different lower MP camera.

Daniel thanking himself for the tip :P :D

that aluminum body gives premium feel to it. lovely!

Anybody's knows the approx. price of 1030

So long as its Carl Zeiss optics and not Toshiba coupled with the xenon flash, I'm in. Some rumors are saying that's not the case, in which case, bye bye Lumia, hello Xperia. Heres hoping MS are taking steps forward with the camera, not backward.

This looks great and I hope that the real 1030 looks a lot like this but the only I would change is the curved screen. It makes finding a decent screen protector too difficult.

This just may keep me on WP as I'm going break to android next year . My 1520 is shite.

Best looking phone since 925. Give me now!

That design is really mind blowing...

That's my Image with more lightning/contrast!
I post it yesterday on winfuture.de

This does take into account all the latest rumors like 50MP and LED Flash. So this looks cloaser to the real deal. I read a huge argument on one site about why 50MP. The argument was that it provides greater details but distorts so many other things like the low-light performce. I could not understand it all. All I know is that Lumia phones probably have the best low light performance of all smartphne cameras. There was another talk of 2/3" sensor vs. 1" sensor. While I would agree that a bigger sensor will result in better image quality, but who provides 1 inch sensor in a smartphone. I could only google one model from panasonic, which I was not even aware of before. I know lumia phone allows for 'oversampling' which result in lower resolution images to save, but when zoomed out, they provide much better quality than typical 5/10MP images. It will be good to have some 'knowedgable' people share their views on this debate.

I would like it to have a plastic body and follow the design language of previous Lumia phones.

The time in the pics is 10:40 so I think it is 1040 not 1030 !

Shut up and take my money!

To me it's simple: If it's waterproof like other high-end phones, I buy it, and wait impatiently for Windows 10 upgrade. If it's not waterproof, staying on Android a little while longer, with the awesome outdoor-proof hardware that companies like Sony make. Please, Microsoft, waterproof!:) Oh, also on the wishlist: make it accept 5-pole ("5-connector") jack, so you can hook high-quality audio equipment to it. This costs nothing to Microsoft but would be a giant improvement. Imagine the potential, when combined with that camera!

Hello boys and girls, It seems that this device will never be according to Tom Warren. http://wmpoweruser.com/sadly-the-lumia-1030-will-never-be/

I hope in lumia 1030 have 3.5gb ram, 5.5"display, 4000mah battery, expendable memory card option, camera 50mp&10mp. With xenon&led flash, processer 3.0 Mega hz.quard core,water proof body&crack proof display..daul sim

I hope lumia 1030 big display with small body

I hope lumia give wifi file transfer

Lumia 1020 is a amazing phone and I'm using it but just only one problem is the battery. Lumia 1030 will be my next phone for sure If it comes out. and I so hope It will come out with huge battery perfomance. at least 2500mAh
Windows Central Newsletter
Get the best of Windows Central in in your inbox, every day!
Thank you for signing up to Windows Central. You will receive a verification email shortly.
There was a problem. Please refresh the page and try again.