FIFA 15 demo now on Xbox One, here's our first gameplay footage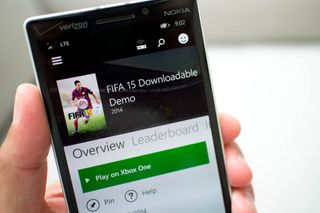 Heads up! The FIFA 15 downloadable demo is now available for Xbox One. If you have the Xbox One SmartGlass app on your Windows Phone device, fire it up, search for the demo and start the download. It will automatically install on your Xbox One if it is on or is set to instant on. I've already set it up on my machine. Watch my first few minutes with the game.
I already have FIFA 14, so this new version feels very familiar. Controls seem to be the same from my first few minutes playing with it. There are minor differences I've noticed in the presentation. Player models appear to look smoother. I also notice that the grass seem to show when it's stepped on. I also feel like it's easier to target the ball during free kicks.
I'm very excited about this game and I'll be playing it frequently until the full version comes out on September 23rd in North America and September 25 in Europe.
Go play the free downloadable demo for FIFA 15 on your Xbox One and let us know if you plan on getting getting the full version later this month.
Mark Guim is Video Editor at Windows Central. He switched to Windows because the MacBook Pro isn't Pro enough. You can follow him on Twitter at @markguim.
Totally WoW!!! All EPL stadiums are rendered and realistic. All new faces, all EPL players rescanned with better fidelity. Just for visuals alone I'd get it :)

Not much different from 14 so far. Let's just wait and see the final product.

Well it isn't just visual changes. ;)

vast improvement..game pace is faster..dribble/close control is tighter...no more struggling just to control the ball with great dribblers...you can actually turn when running with turbo now...minor improvements that make a major difference...

Thanks for posting this WPC. I've fired up smart glass and began the download. Can't wait to get home and give this a try :D

Watch your whole demo, lol surprise they didn't make the demo easier so you get a big ego to buy the game,lol demo 2 please.

Mark, how can you not say "F*ck" when you miss? Hope the demo comes out on PC soon!

Lol I did. Muted it in video

YES, FINALLY, CAN'T WAIT, WOO!

Mark, I challenge you to a FIFA match. :)

What's ur tag? Wait.. Can we even play online multiplayer with the demo? Have to check in morning.

unstoppablekem And I guess we have to wait till it comes out. :)

For FIFA, Xbox. Most games Xbox. Only exclusives and exclusive content, ps4.

No option but to "pin" on my smartglass app. Maybe not available in Canada yet. Hmm

You can always just do it on your console. :)

Nevermind. Figured out I can only install it using the beta Smartglass app.

Thanks for the tip... Will download tonight. My tag is operator36 if anyone wants to play FIFA 2014 on 360 send me a message

Played it. SO HARD to score a regular goal! I have to get used to it. I had to go to penalties, and I won. I love the new penalty layout! :D

Please tell me that players won't run miles to get the ball for a throw-in.

Every year EA takes our money just for the actual squads and small restyling.

Can anyone tell me how big the the download is? It doesn't seem to tell you on the smart glass app.

Judging from the video, player movement does seem a tad bit more natural e.g. setting up for corner and player going up to gk after a save. Players definitely seem to turn faster with the ball.

EA clearly don't care about us United fans of they force you to choose between Liverpool and city

Maybe cuz it's just a demo and cuz United just sucks...

Or maybe it's because they were the top two teams last year in the Premiership.

Hey mark... You need to charge your phone. Battery low. :P
Windows Central Newsletter
Get the best of Windows Central in in your inbox, every day!
Thank you for signing up to Windows Central. You will receive a verification email shortly.
There was a problem. Please refresh the page and try again.