From the Forums: CES 2013 and SMS toast notifications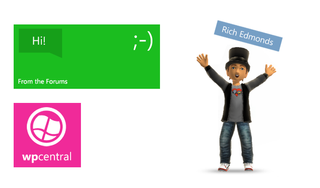 Howdy, folks! This is a rather special From the Forums as the Windows Phone Central team is currently at CES 2013 absorbing as much related technology news as possible from the booths and shows on the floor. Be sure to stay tuned to our feeds and main website for all the headlines that will trickle out from the event. So that's the main site, but what's been happening on our forum?
Remaining on the CES subject for a minute longer, we've set up the dedicated forum for all relevant discussions to be held. Wish to start up a thread on that latest bit of technology from the floor? Be sure to kick off the conversation in the CES 2013 forum. While all other major forums and categories are still valid destinations for threads that relate to the Windows Phone platform, it's easier for those who are interested in CES to have all threads in one location.
'Other' storage still proving as an annoyance
We've touched on this before, but it seems the "Other" storage readout in the Windows Phone Settings is causing concern for many owners. Anywhere up to 10GB has been reported to have been used by this miscellaneous category, but it's still not crystal clear what's exactly contained within. Windows Phone Central reader Dragule created a thread for discussion to take place and for a solution to be found.
It is an oddity, that's for sure. Many have been wandering whether Microsoft will look to address the issue or not as if said storage cannot be claimed by the user for other uses, then that's a fairly large chunk of memory gone. Dragule also reached out to Windows Phone Hacker who offers a few words on the situation:
@zergule Yep, that's a bug/oversight in the OS. Disappointing but not something that can be fixed on WP8 yet, sorry@zergule Yep, that's a bug/oversight in the OS. Disappointing but not something that can be fixed on WP8 yet, sorry— Windows Phone Hacker (@wphonehacker) January 4, 2013January 4, 2013
Are you experiencing similar issues with large amounts of storage being taken up by "Other"? Be sure to sound your thoughts in the "What about the Other storage?" thread.
SMS toast notifications: useful or a privacy risking annoyance?
SMS toast notifications act as a quick preview of an incoming message that has been received from a contact. They can prove useful with the vibration and alert sound to notify an owner of said message being downloaded, but can they also be considered a potential privacy risk when using a Windows Phone in public?
Community member Ryan 71291 believes this to be the case, particularly when he's using his Windows Phone out in the open and the general public can view the first handful of words in an incoming message:
Do you agree that an option should be present that enables the user to enable / disable the toast notifications for SMS? Be sure to add your thoughts in the "Text message preview" thread.
Windows Central Newsletter
Get the best of Windows Central in in your inbox, every day!
Rich Edmonds was formerly a Senior Editor of PC hardware at Windows Central, covering everything related to PC components and NAS. He's been involved in technology for more than a decade and knows a thing or two about the magic inside a PC chassis. You can follow him on Twitter at @RichEdmonds.
No other phone allows you to turn off SMS previews (except maybe android with a hack)

The iPhone allows you to turn this off, and as far as I know so does stock Android (but someone feel free to correct me on this).

iOS let's you turn them off as well.

Stock android also allows you to turn off the SMS preview from the notification bar.

IOS, android, Blackberry... yeah pretty much all OS's

iOS, Blackberry, and WebOS all let you set privacy to where it just said "text message" and not the content of the message itself.

Even symbian bela alows to turn it off :P

Yes, there should be an option to disable SMS previews. My brother just switched from an iPhone and he wants this feature. Someone post this in the suggestion box please!

Should totally be an option. IOS and android both can do this. Even apps like kik on windows phone have this option.

Yes please. Of course the option is needed

The ONLY thing I absolutely hate about the platform. No option to disable toast/screen light up! This should ABSOLUTELY be an option. Especially when the passcode lock is enabled. I've said this from time to time on various forums. Hopefully this simple option will be made available to us. And soon.

Just swipe it to right. Done!

Right :) many people dont know that we all can swipe them away... And for others that think sms notification preview should be turned off, you are maybe paranoic. Nobody wants to read any messages from you :D and who has this good eyes to see the little text from 3-5ft in your hands?

There's a simple ultimate solution for the paranoid folk: don't use your phone in public.


But all messages continue to show up

I do think it should be an option because well.....the more options the better. But I don't have a problem telling someone to back the @#$% up if they're gawking at my phone over my shoulder. I say over my shoulder because I don't know who else in the general public could read my preview except for those that are right next to me. I don't know. Maybe being all secret squirrel is just a tough thing to do in public.

"Other" already took 3GBs of the 6GB available for apps/games on my Lumia 820. I have very little music and photos so far (only 500MB combined), don't use many apps, downloaded offline maps for only one country, and installed only some the games I purchased over the years, and deleted those that I purchased and quickly completed over the holidays (apps+games currently 1,49GB) and I'm left with only 500MB free after a mere 2 months of usage. I could probably free up another 50MB if I delete shit like Galaga or tiny stuff with no saves like Wordament or AlphaJax. but not much more.
That is just redonkolus. I'm not even sure If i'll be able to install the Portico update when it's finally delivered.



Delete ie history, you will gain some space

I'd suggest adding a microSD card for ~$8. It'll help alleviate some of your space issues.

Are you aware that in WP you can't store apps and games on a SD card?

Yes, I am. I've never run into a situation where I've had anywhere near 6 GiB of apps and their data, though. Used the same WP7 device for 2 years. If you're really concerned, I'd suggest a hard reset. It really doesn't take that much time to redownload stuff (at least for me; I can imagine it might be a huge pain for some). The "other storage" thing is annoying, for sure. For the record, mine sits between 1-3 GB pretty regularly, and I've never seen it go above 3.

As I explained I don't have 6GBs of Apps and App Data but merely 1,49GB. And I'm out of space on my 820 after only 2 months.

I had a Lumia 800 previosuly for almost a year. I installed and uninstalled a couple dozen of apps and games, and still had a few GBs left. I never had to worry about disk space on WP7. I don't recall any "other" taking up several GBs.

A hard reset is what I want to avoid. I don't want to loose my game saves.


Yeah - that sounds pretty obnoxious. I think WP sorely needs some kind of storage management option. I've never had issues because I dont tend to uninstall/install many apps and I play with my phone (custom ROMS) so I don't accumulate "other storage" for too long. But it has bugged me since the days of my Zune HD.

Clearing IE cache took like forever and free space went up from 563,36 to 833,80 MB. "Other" dropped accordingly to 2,72GB. It seems my WP8 still holds on to the bloody XAP files from deleted games or something.

Do phones with Portico suffer the same atrocity?

I bet the "other storage" is the software distribution management cache. Assuming software distribution works like virtual application delivery in Microsoft System Center Configuration Manager 2012, the cache would be variable and contain the compressed program installation source. It would get removed automatically if space was needed and/or on a scedule The behavior of the "other storage" seems to match this behavior exactly. I wouldn't worry about it.

What if the cache doesn't get cleared and my phone just runs of out apace and fails? I'm scared.

My L710 did the same abt a month ago :( it was stuck at the welcome screen then i had to hard rest using camera and volume keys

I think it can do no wrong to have an option to turn off the toast notification and preview of the message. Personally, it never annoyed me...

Little levity
http://www.youtube.com/watch?v=3_aHkrjPo7A

It needs to be there period....don't know that I would use it personally...but it needs to be an option

We won't have all the big stuff other OS's have right away so why not make sure we have the small stuff this isn't an issue for me I wish it didn't disappear so fast lol but Microsoft should be showering us with the small stuff so we won't need to complain about that too please get these people block calling and SMS while ur at it or move us all to china

Was pretty much embarrassed with the SMS preview back in '10 with my HD7 and been asking since then if it can fixed and even voted for it but I guess MS don't think it needs to at least give an option. Always makes me miss my HTC TP2 that even had the option to have a password for some contacts SMS.

Holy crap. I just checked out the phone storage on my Ativ S and it's at 1.73 GB! Ridiculous...

Windows mobile allowed you to turn off SMS notifications. This needs to be in wp8!

Shameless plug that MetroTalk (Google Voice client) allows a "private" mode for toast notifications.

A couple options should be added. If passcode is activated then do not show, show only contact name or show what is there today.
If no passcode or passcode is not yet active, show, show only contact name, or do not show. I like to have a 15 min time limit on when the passcode gets reactivated. If I leave my phone on my desk I'd like the option of avoiding snooping eyes at work.

It should be added for sure. I olay AlphaJax on night shifts and hand my phone over to my colleagues as we play multiplayer. If i receive a message they can read the majority of the message before I can? I do get the odd private message.

Noticed there is also an 'other' folder on SD card too but not as large

On my Lumia 920, others is now 3.47 GB already... it was 3.48 GB and Apps was 772.18 MB, i deleted an Application to see if others will increase, but no it didnt.. After deletion: Apps is 771.96 MB and others is 3.47 GB.. Obviously it decreased .
So, do i have the bug? can someone explain to me more..Also, if i dont have it, can ppl who has this issue to name there device and carrier.. Please let me know

This other storage problem was there on WP7 as well I think.

I've used wp7 for 2years and others took about 4 gigs. Now I change to 920, this problem not bother me at all.

I have a solution re the toast notification thing. Stop sexting/being duplicitous/reading your text messages surrounded by a crowd/being a spy. Works a treat. Now granted the most embarrassing messages i get are lovey ones from the missus, where as you lot are clearly hiding state secrets, but stick to email and you'll be fine

just make the live tile small

Toast shows no matter the size of the tile.

Yess i strongly agree with ryan. I have a lumia 710 and everytime a message arrives. People can see directly who is sending which message. If phone is in some others hand than it's just like a open book.

I face that problem with the toast notifications very frequently. An option to turn them off would be seriously welcome!
Windows Central Newsletter
Thank you for signing up to Windows Central. You will receive a verification email shortly.
There was a problem. Please refresh the page and try again.