Multiple companies respond after Chris Avellone sexual misconduct allegations surface
Developers who worked with Avellone are weighing in on his contributions to upcoming games.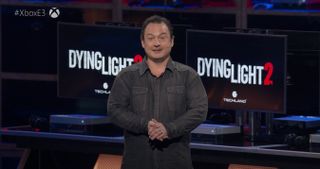 (Image credit: Xbox (screenshot))
Update, June 22 (5:10 p.m. ET): Techland released a statement saying it's ending its business with Chris Avellone.
Update June 23 (12:25 p.m. ET): Ubisoft issues a statement on the allegations.
Update June 23 (2:23 p.m. ET): Gato Salvaje Studio, the company behind Waylanders, released a statement on Twitter that Avellone is longer associated with the project.
What you need to know
Games writer Chris Avellone was accused of sexual harassment and abuse by multiple people over the weekend.
Developers have spoken out about his involvement with their games.
This is just one of many accusations that have hit social media about prominent members of the gaming and streaming industries.
Prominent games writer Chris Avellone, known for his contributions to games like Star Wars Jedi: Fallen Order, Prey, and many upcoming titles, was accused of sexual harassment by multiple women over the weekend.
Now, some developers are speaking out about his contributions in light of the accusations.
Paradox Interactive, the company behind Vampire the Masquerade — Bloodlines 2, said that Avellone's contributions had been removed from the game, but that he only worked on the game briefly.
"Chris Avellone briefly worked with the Bloodlines 2 writing team early in the development of the game," said Paradox in a statement to Gamasutra. "Through an iterative creative process, however, none of his contributions remain in the game that Hardsuit Labs is continuing to develop."
Avellone was also working on Waylanders, an upcoming party-based RPG that just entered Early Access. Emily Grace Buck, the lead writer on the game, said on Twitter that Avellone was no longer involved with the project.
"Chris is no longer on the project, and I've been the lead writer all along, not him," Buck said on Twitter. "Waylanders has very little writing by him as it stands, and I'll be taking a look at his scenes. No one on the team knew anything about this. We're handling it, and I'm open to feedback."
https://twitter.com/emilybuckshot/status/1274389752301498370?s=20
Meanwhile, Avellone was also involved with Dying Light 2, which is currently still in development despite multiple delays. Developer Techland said it is "looking very closely" into the allegations.
""We take matters of sexual harassment and disrespect with utmost care, and have no tolerance for such behaviors," a spokesperson told Gamasutra. "That is why we are currently looking very closely into the matter. We will provide you with information on our next steps soon."
Avellone was accused by multiple women on social media over the weekend of sexual harassment and abuse, including one who said the writer got her "blackout drunk" and made advances on her. An indie developer commented on the Twitter thread, adding that Avellone repeatedly groped her.
Avellone has responded to some of the tweets on Twitter, but hasn't issued a statement at the time of this writing.
He's one of many prominent figures in the gaming and streaming industries to get called out on social media over the weekend and on Monday. Andrien Gbinigie, product and brand marketing manager at Ubisoft was accused by women on Twitter of sexual harassment and abuse. Gbinigie has denied the allegations in a post on Medium.
A lot of the accusations say the incidents happened at gaming industry events.
Meanwhile, Twitch is in hot water for how it operates with those accused of being toxic members of the industry. CEO Emmett Shear was accused by a music streamer of laughing off reports of abuse in a previous All Hands meeting. Other streamers, along with former VP at Twitch Justin Wong, have taken to Twitter to discuss how the platform failed to handle abuse by affiliates.
In response, Twitter released a statement vowing to take action.
"We take accusations of sexual harassment and misconduct extremely seriously. We are actively looking into the accounts concerning streamers affiliated with Twitch and will work with law enforcement where applicable," it read.
Update, June 22 (5:10 p.m. ET) — Techland responds to Chris Avellone allegations
After previously saying it was investigating the allegations, Dying Light 2 developer Techland said it's ending its "cooperation" with the writer.
"We treat matters of sexual harassment and disrespect with utmost care, and have no tolerance for such behaviors — it applies to both our employees as well as external consultants. This is why, together with Chris Avellone, we've decided to end our cooperation," a spokesperson for the company said in a tweet.
You can read the full statement above.
Update June 23 (12:25 p.m. ET) — Ubisoft spokesperson says they're looking into the allegations
A spokesperson from Ubisoft sent a statement to Windows Central on the allegations.
"We are deeply concerned by these accusations. We take any allegations of abuse or harassment very seriously and we are looking very closely into the allegations to determine next steps."
Update June 23 (2:23 p.m. ET) — Gato Salvaje Studio responds to allegations
Gato Salvaje Studio, the company behind Waylanders, issued a statement on Twitter about Avellone's contributions to the project and what it plans to do going forward.
"Chris was brought on as a design contractor for The Waylanders. As of last week, Chris's contract is complete and the content provided will be assessed as development progresses."
You can read the full statement above.
Updated June 23 (12:25 p.m. ET): A version of this post mentioned Ashraf Ismail. He had been accused of infidelity on social media over the weekend. We removed his name to clarify.
Windows Central Newsletter
Get the best of Windows Central in in your inbox, every day!
Carli is the Gaming Editor and Copy Chief across Windows Central, Android Central, and iMore. Her last name also will remind you of a dinosaur. Follow her on Twitter or email her at carli.velocci@futurenet.com.
Yikes! This is like the Tet Offensive against gaming personalities. Will be very interesting to see how this all shakes out but it looks like Chris's RPG writing days are over..

Dang... He was one of my favorite writers.

He can still write, bit for a while his involvement will be severely curtailed. if Polanski and Woody Allen can keep working, then I'm sure he'll find something.

So he's been charged by the authorities, tried and convicted? A just outcome then

Yeah, like on many of these cases, the people judge first. It's just swifter justice. It's the new wild west

Social media very easily spirals out of control. This is the new normal. A chain reaction at any moment.

Not saying social media should replace our justice system AND more often than not victims don't get the justice they deserve as well as are under believed. Especially in sexual harassment/assault cases there's a lot of he said/they said/she said and then it gets nowhere.

The guy probably did some awful things, but her boss saying she'll be "taking a look at his scenes"? What does she expect to find in his work? Let's not be ridiculous and separate an individual's personal life from their work. He already ruined both.

Yeah, I thought that was odd. Unless he wrote For Leisure Suit Larry.

That's what came to mind to me too. What's she gonna find, characters forcing themselves into unwilling partners? Clumsily seducing each other, Larry style? I mean, serious things have happened, but turning it into a cartoon witch hunt doesn't help anyone. They even took down the twitter account for the game.

And if the allegations turn out to be false? Social media is a way to destroy someone without having to prove anything.

That's my concern as well. If he did what's been claimed, sure he should get everything coming towards him and more. The problem is that I see it's a trend to abuse the "sexual harassment" topic because it gets you attention and 15 minutes of fame.
Will wait to see how this plays out.

It's done, whatever comes next won't matter. The guy's life is ruined forever, true or false.

Basically, nobody is ever ruined forever by this stuff. People forget and move on and everyone pretends nothing happened. Claiming it ruins their lives is a trope, and ignores the actual ruined lives they leave in their wake.

We all think first of the victims, that goes without saying, but we'll say it too. Their lives are ruined too, or "people forget and move on and everyone pretends nothing happened", like you said. Nobody wins. An eye for an eye won't fix it. Hopefully if a crime was committed, due process will be followed. Wild west style lynchings don't fix the problem either.

Being called out in public and losing some contract work is nowhere near a 'lynching' and to make that comparison with an act where someone was physically murdered and beyond all hope of redemption simply on the basis of their skin color is offensive. At best he loses some prestige and money. If he's smart he'll take this seriously, get some counseling, apologize to his victims and be back in the industry in a year. That's how it's worked for everyone who's bothered to be smart about it. Change your behavior, make amends, and move on.

He's already been accused and tried publicly, lost his job, won't get a job anymore in the industry, all for things that aren't proven. You need to listen to the victims, sure. But these are delicate issues that are often handled as carefully as a wrecking ball. Or more accurately a lynching.

This is why you avoid contact with women altogether at work and other places. If you are forced to interact with them, bring a witness, or wear one of those spy eyeglasses. A man has absolutely NO protection against an accusation these days, and whether the allegations are found to be true or false, his career is over from the outset anyway. My previous job had a number of women working in the same role. I didn't even know their names. I never sat in their vicinity. I never engaged them in any way. And trust me, I didn't feel any sense of loss. And I will continue to protect myself that way from the nonsense that is the typical overreaction by the woke crowd.

LOL! And that, folks, is what a loser looks like. Seriously, showing basic respect for humans and thier boundaries is something we all learn in grade school, but somehow some people can't handle it.

I never felt any sense of loss for some of the things I avoided. But very often, later on, I would revisit them, and try them. Many times I'd think "man, I didn't realise what I was missing". I've managed to engage with many women. Funnily enough, I know a few people that refuse to work with women. Plot twist, they're all women. I impose no such embargo on myself. I'll work with anyone. I'll be honest, the sexual banter has often been driven by the women. No unwanted advances, as yet.

that face alone... guilty

We're doing that already? Judging people by their face??? Is that how it's going to be? Hair-trigger justice based on gossip, and how "guilty" people look?

If you get black out drunk you should probably quit drinking.

No one should have bad things happen to them while being drunk, or anywhere they thought to be safe. But it's a matter of personal care and responsibility between discerning ADULTS to know how to take care of yourself, and not put yourself in a vulnerable situation with someone you don't fully trust. This is not someone who broke a window and entered a woman's house in the middle of the night to rape her. That is why it's more complicated and a more delicate matter to discuss, because there's more often than not a degree of willingness to put yourself in that situation. Again, not saying bad things should happen to those who are not careful, rather that if you're not careful, bad things could happen to you. And whoever does the bad things is still to blame, but the power to avoid it was in you all the time. At least for a case involving substance abuse.

They should rename this site Salem 2020, or at least Salem Street Talk 😂

Its amazing how entertainers, corporations and those in private industry are held to higher standards than elected officials.

I'm not sure they are. Though I'm sure there are examples of people appearing to get away with it.

Perhaps the victims should go to the police instead of Twitter? This metoo inquisition complete with the presumption of guilt and immediate punishment is totally bonkers. Most men will simply decide against working with women for the sake of self preservation. An escort has higher upfront cost but well worth the peace of mind that comes with knowing that you're protected from social "justice" mob. As for the lady who got "blackout drunk", perhaps you should try exercising some self control and personal responsibility and NOT get plastered?

Call me back when the police actually accept all the reports, process all the rape kits, and courts stop blaming them for everything that happens while permitting defense attorneys to trot out their life and sexual history as though its remotely relevant to the proceedings. As for 'blackout drunk' if you were drunk and then got raped by a man my guess is you'd feel considerably different about this. Someone's current mental capacity has nothing to do with others making the choice to assault them or not.

Ok, all I can say is good luck getting promoted as a woman when your male colleagues keep at least 100ft away from you at all times due to fear of getting their careers and reputation destroyed by an unproven accusation. Who knew that Saudi Arabia was so progressive after all!

Strange, in my now 25 year career I've literally never seen that happen despite working for most of it at two of the big 5 tech companies including 11 years off and on at Microsoft. I find it trivially easy not to get accused of misconduct, but if you have difficulty behaving appropriately and respecting boundaries I'm not sure even 100ft will be enough for you.
Windows Central Newsletter
Thank you for signing up to Windows Central. You will receive a verification email shortly.
There was a problem. Please refresh the page and try again.