German phone maker outs modular Windows 10 Mobile handset due in Q3 2016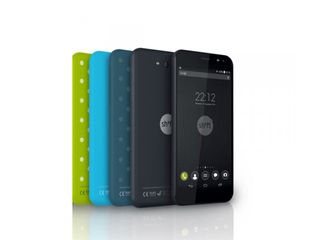 Small German phone manufacturer Shift has announced that it has quite the interesting offering coming next year in the Shift5 +. The smartphone will pack the buyer's choice of either Windows 10 Mobile or Android 5.1, and will come with modular parts inside.
The exact specs of the phone won't be finalized until December when pre-orders open up, but for now, the phone is planned to come with either a Snapdragon quad or oct-core CPU, more than 2GB of RAM, and at least 32GB of on-board storage. There's also a 5-inch IPS display on board, a 13MP rear camera, a 5MP front-facing shooter, and a removable battery between 2,500 and 3,000mAh.
What makes the Shift5 + interesting, however, is that users can replace more than just the battery. Shift says that, in case of damage, users will be able to easily swap out the display, internal memory, and "other important components."
The phone will go up for pre-order at €399 starting in December, which is also when the specs are due to be finalized. However, you're in for a bit of a wait if you order one, as the Shift5 + isn't expected to start shipping until Q3 2016, when its retail price will bump up to €444. If you're curious, you can find out more from Shift at the source link below.
Thanks to ranseb for the tip!
Source: Shift
Windows Central Newsletter
Get the best of Windows Central in in your inbox, every day!
Dan Thorp-Lancaster is the former Editor-in-Chief of Windows Central. He began working with Windows Central, Android Central, and iMore as a news writer in 2014 and is obsessed with tech of all sorts. You can follow Dan on Twitter @DthorpL and Instagram @heyitsdtl.
Q3, does that mean a phone built for Windows

I know what it means, I meant Q3 still far away, that will give them time to build a new device

Q3 2016 means third quarter of the year 2016.

I just don't get the modular phone concept, yea I know you can customize it but I think they look awful, when you drop it I can just imagine all parts will scatter around. For me nothing to be excited about.

That will all depend on engineering. You can have a cover that locks in place and keeps all the parts inside on impact. The idea of a modular phone is brilliant, pulling it off is another endeavor on it's own. Being able to keep the same phone and just pay $60 for a new processor, or $50 for a better camera (depending on whatever parts are replaceable). For example the new Lumia 950XL, if it was built with a modular concept, the case isn't even an issue, since third parties can make really interesting covers that change the shape and feel of the phone. Moor's law will let us see modular soon enough to be reinvented over like smart phones were.

As long as it's better deigned than the crop Google tried to do. That will end up as vapor ware. Priv screen goes up

This is why you should trust german engineering

And buy their diesel cars :D :D :D

Once upon a time, if you ever dropped a Nokia 3310, the 'modular parts' would also be all over the floor, namely back cover & battery and if it was a real bad fall then the front cover too ;) Put them all back together and the phone would function as usual. Modular collapse and breaking away may not necessarily be a bad thing!

i think Q3 2016 is a financial quarter in this case...which could mean early next year since 2016 financial year has already started for most companies...

Sounds very interesting...

Quad or Octa-Core?? That means it will be Snapdragon 820 or 810!!!

No, Qualcomm offers Quad and Octa core variants of the 400 and 600 series', as well. Like the 410, 412, 415, 430, 600, 610, 616, 617, and 620.

Yeah but if think about flagships in Q3 it sounds reasonable as 820 will go back to Quad.

I didn't see it mentioned that these would be flagships. THe point is that these phones can essentially be whatever you want them to be. So, perhaps the base model will use a SD620, but the user has the option to swap it out later on for a 810 or 820.

Yeah also their website doesnt show any signs of which Snapdragon they are using in current phones.

W10M only supports 808, 810, 615 and 210. It can be just one of those. At this time

Very interesting... this phone it's all about choice, the hardware and software.

I've been waiting for some to pop this cherry for a while now. Even if the replacement screen is 1/4 the cost of the device its worth it not having to buy a new phone or pay to have it fixed by a pro.

Phones becoming PCs even more now.

If you put it this way, it would be perfectly suited for Microsoft phones in the future. After all they are after something new.

Its like a PC in that you buy a phone and then spend a hundred or so dollars a year on it and keep it up to date. It would work great I think for Windows 10 Mobile (assuming drivers also play nicely). One month a phone cant have continuum, the next month you upgrade and it can. The next year you upgrade the front camera for Windows hello. It sounds great to me =).

Only irritating thing is having to start from scratch os image-wise since we have a long way to go for MS to replace wmdc

Who the hell.designed the back of those things???

This is practically a phone you can build yourself. Its like comparing an iMac to a gaming rig you built yourself. You simply can't compare them in terms of appearance.

Interesting idea. Shame the modular approach isn't more pervasive. I wonder how this will affect device thickness?

This will almost certainly make the devices at least a little thicker. Just like how devices with removeable batteries are thicker. This would require some sort of shell or pod around each removeable part. Unless they wanted to just go for the PC approach, with "naked" hardware. But, I get the feeling this is not the case (or at least it's not with other modular concepts, like Google's Project Ara).

The FUTURE IS HERE!!! Come on make this shit happen!!!

I am interested. A score of 10 from iFixit?

Sure let me preorder while 10 other better phones come out in the next year. Fucking retarded....

In the future: "hmmmhmmm which processor should I buy?? Intel Xxx.. Add 2K Oled screen, Nvidia mobile GTX GPU xD, Battery 5K, Mobile Camera from Nikon, yada yada yada..etc. Hah :)

My next will be the Snapdragon 820, 4GB RAM covered by a nice foldable P-OLED 6inch display :P Posted via the Windows Central App for Android

Interesting! Does it mean one can upgrade RAM etc also? Posted via the Windows Central App for Android

It means you'll never have to buy a new phone again. Lol

Except will MS/google make it streamlined enough so you dont need to start from scratch os-wise

Vaporware. or in Microsoft parlance: Coming soon (TM)

In q3 2016 even android marshmallow will be old and they want to ship it with 5.1?

You have w10m as an option :)

very nice design and modular. I hope everybody follows this

I'd certainly yield a percentage of sveltness, to the "upgradableness" and repairability of my handheld device. (cell phone) But it would still require an excellent execution of the concept. Hopefully these folks start things in that direction.

Modular means serviceable as well.

So if I decided to rip out the 32gb and put in 64gb... How would I reinstall w10m? Or how would I do that without losing my stuff?

On Android you can easily back up a whole ROM even without root. I don't see why this wouldn't be possible on Windows 10 Mobile. Posted via the Windows Central App for Android

Sadly we haven't had that since wm6.6.6

Sounds like a nice phone, minus the small screen size.

Yeah I hope they'll go up to 5.5 or 6 inches with these.

Tho concept is desperately needed for tablets. Until now I always wonder why smartphone radio never got to be modular.

Will someone please bring us a real time updated flip clock tile like HTC used to put on Windows Mobile!

I'm definitely intrigued but the hardware looks like one of those old calculators.

It sounds like a high-end one!

And now please a 4.5" version of it and then shut up and take my money!!!
Windows Central Newsletter
Thank you for signing up to Windows Central. You will receive a verification email shortly.
There was a problem. Please refresh the page and try again.