Get your Halo 5 stats right on your Microsoft Band 2 with these cool tiles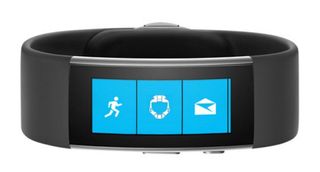 Developer Greg Hill has made the Microsoft Band 2 a little more exciting for fans of Halo 5: Guardians. Hill has created a set of tiles for the Band that allow you to check your Halo stats right on your wrist. There are tiles for campaign progress, Spartan stats, and more.
Right now, there are four tiles that you can add, directly from Hill's website:
Profile Overview: Track of your current Spartan Rank and how close you are to ranking up. Keep tabs on Arena and Warzone KD.
Solo Campaign: Track your solo campaign progress. Shows each level and what difficulty you have completed it.
Coop Campaign: Track your coop campaign progress. Shows each level and what difficulty you have completed it.
@Halo News: Stay up-to-date by receiving news from @Halo on Twitter instantly on your wrist.
In order to add these tiles, you just need to head to the site on your phone, enter your Gamertag, and tap the download button to install these tiles on your band through Microsoft Health.
Windows Central Newsletter
Get the best of Windows Central in in your inbox, every day!
That's' cool!!! However how to create own logo and install on band 2?

Can you clarify what you mean?

Oops! An unknown error has occurred with you Band.

I receive the same error when I try to install the Profile Overview tile. However, I could install the Halo News tile without problem. I was wondering if there was something wrong with my band, because I also get an error trying to install Torch for Band, but if you're having this same "Oops! An unknown error occurred with your Band" problem, then it's likely not just my Band.

Developer here. I have a few questions for your. Sometimes this can happen for a few reasons. #1) too many tiles on your band at one time. I have noticed the MS band acts strangely when there are a larege amount of tiles. #2) the profile app tried to pull in your in-game emblem. Some have a problem with this. If you don't mind sharing on twitter your gamertag with me, I'll look into this for you. Thanks for the feedback!

I think it may be because my gamertag has spaces in it. I'll send you a private message with details. Cool app, though. Thanks for making it.

Made a fix for gamertags with spaces. Give it another shot!

I'm sorry to hear that. If you see my reply to coip above, please message me your gamertag on twitter and I'll look into it for you.

I have the profile overview issue as well, the other three installed fine. I don't have twitter but my gamer tag is Sin Ogaris.

I identified an issue with some gamertags containing spaces. I'll post on twitter @msbandgenerator when I have a fix out for it. Sorry about the issues. Thanks for providing more information!

Ok, give it another shot. I've added a fix for gamertags with spaces. Thanks!

Hey mate, I'm still having the same message come up. I tried restarting my band and my phone and still no luck.

I was able to add your information to my band using your gamertag. I'd like to find out more to help you and fix any bugs that might be lingering. If you could PM me on here or on twitter @msbandgenerator with some more details. Specifically, are you trying to download the tile on a phone/desktop/tablet and what kind? Android, IOS, Windows, Mac, PC, etc. Also, what browser (IE, Edge, Chrome, Firefox, Safari, etc.) Thanks!

Hey, I tried finding out where to private message message someone from the app but couldn't, so I'll respond here (sorry). I'm running windows 10 on a Lumia 950 XL connected to my band. Edge is the browser I am on.

Ok, give it another shot. I've added a bunch of fixes a few minutes ago. Thanks!

I think Nokia Withings kind of wearables will win. Smarter but not compromising on elegance and battery life. IoT not shoe phone.

Very possible. I'm just a regular guy who wanted to add more functionality to the band I already own.

Neat, now anyone know why my band doesn't charge AT ALL after the update? Shows a charging icon in bottom right corner but doesn't charge at all.
Windows Central Newsletter
Thank you for signing up to Windows Central. You will receive a verification email shortly.
There was a problem. Please refresh the page and try again.