Google buys Nest, but a Windows Phone app is still possible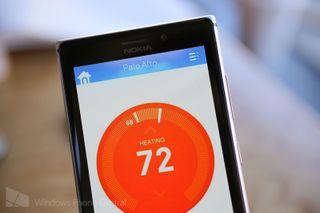 Right now, Nest is one of the coolest companies involved in home automation. Their rock star product, the Nest Learning Thermostat, has been winning awards and praise from users since it launched. We've had a few Windows Phone apps in the Store, but they've been pulled by Nest. We'd like an official Nest app for Windows Phone, but that probably won't be happening anytime soon. Google just bought Nest for $3.2 billion dollars. All hope is lost right for anything on Windows Phone? Nope, sign up for the Nest Developer Program to get access to their web API.
Nest (nest.com) is the darling of the HVAC community right now. They have two products, the Nest Learning Thermostat and the Nest Protect, which is a smoke and carbon monoxide detector. While a few of you won't be buying the products going forward knowing that Google owns the company, the reality is Nest is still a hot company with a hot product that people will want.
Nest Developer Program
We had always hoped that the Nest would product an official Windows Phone app after having unofficial apps in the Windows Phone Store pulled, but that hasn't happened. Their acquisition gives us less hope that an official Nest app would come out for Windows Phone anytime soon, but there's hope. You can sign up to get access to the Nest Developer Program. Assuming the Google acquisition doesn't alter their developer program, you can soon get access to a set up APIs that will let you build your own Windows Phone app.
The Nest Developer Program will provide APIs for developers to tap into and create applications. The near real-time web API will allow for control of the Nest Thermostat and Nest Protect and display the current configuration of those devices. The program is currently taking applications on their website for interested developers who want in on the program. Nest is planning on having the program up and running by early 2014.
Hopefully Google doesn't influence Nest too much. The press release from Google states that Nest will continue to operate under the leadership of its current CEO, Tony Fadell, and that Nest will have its own brand identity. We've reached out to Nest to see if the developer program is still on. If it is, we should see some killer Windows Phone apps sooner than later.
Want to be among the first developers with a great Nest app for Windows Phone? Sign up below.
Source: Nest Developer Program
Get the Windows Central Newsletter
All the latest news, reviews, and guides for Windows and Xbox diehards.