Google buys Nest, but a Windows Phone app is still possible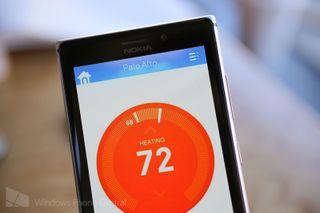 Right now, Nest is one of the coolest companies involved in home automation. Their rock star product, the Nest Learning Thermostat, has been winning awards and praise from users since it launched. We've had a few Windows Phone apps in the Store, but they've been pulled by Nest. We'd like an official Nest app for Windows Phone, but that probably won't be happening anytime soon. Google just bought Nest for $3.2 billion dollars. All hope is lost right for anything on Windows Phone? Nope, sign up for the Nest Developer Program to get access to their web API.
Nest (nest.com) is the darling of the HVAC community right now. They have two products, the Nest Learning Thermostat and the Nest Protect, which is a smoke and carbon monoxide detector. While a few of you won't be buying the products going forward knowing that Google owns the company, the reality is Nest is still a hot company with a hot product that people will want.
Nest Developer Program
We had always hoped that the Nest would product an official Windows Phone app after having unofficial apps in the Windows Phone Store pulled, but that hasn't happened. Their acquisition gives us less hope that an official Nest app would come out for Windows Phone anytime soon, but there's hope. You can sign up to get access to the Nest Developer Program. Assuming the Google acquisition doesn't alter their developer program, you can soon get access to a set up APIs that will let you build your own Windows Phone app.
The Nest Developer Program will provide APIs for developers to tap into and create applications. The near real-time web API will allow for control of the Nest Thermostat and Nest Protect and display the current configuration of those devices. The program is currently taking applications on their website for interested developers who want in on the program. Nest is planning on having the program up and running by early 2014.
Hopefully Google doesn't influence Nest too much. The press release from Google states that Nest will continue to operate under the leadership of its current CEO, Tony Fadell, and that Nest will have its own brand identity. We've reached out to Nest to see if the developer program is still on. If it is, we should see some killer Windows Phone apps sooner than later.
Want to be among the first developers with a great Nest app for Windows Phone? Sign up below.
Source: Nest Developer Program
Windows Central Newsletter
Get the best of Windows Central in in your inbox, every day!
Google scares the hell out of me. Google-free citizen here.

SkyNet sooner or later!! Google glass, android, boston dynamics... Add them all together and we have our terminator!! :p

Haha Wpcentral army against terminators (Androids), one day we will be the last survivors

We'll go back in time to tell Ballmer to not make his comments about iPhone's keyboard, but instead its closed nature...and then give MS of 2007 WP to release 2 days after iPhone. Since we're at it, we'll go back in 2006 and tell MS to buy YouTube for $2bn.

Nah they just adapting very well can't just rely on the goof search engine Boston dynamics is like microsoft research for them for industry when robots get more popular I hope they push robotic technology going to start my own robotics company in the future!

Sounds more like THX1138 rather than terminator and that is even more scarier. The Future is here.

I wish I could say the same but I'm really big into youtube so I was forced to create a Google+ account :'(

Youtube has essentially become a utility. And if you have a business, you would be unwise not to use google products like their search and advertising reach.. that's what they do. I feel dirty for using Google products. I concede that there are some built in features to Google search that I would prefer in Bing, but I avoid it at all costs unless something is very necessary for me to find on Google. Other than that, like the article was suggesting, I avoid Google on principle if nothing else than I'm happy with my alternatives.

Well you can still be our insider then. #AntiGoogleficationAlliance

you can disable/remove google+ and stilla access youtube, you just wont be able to comment

I've been a Google-free citizen myself for awhile now! Except I have a nest.... So, I guess I soon won't be one? I wonder if it's worth replacing my thermostat, I guess it mostly depends on how badly Google ruins Nest...

Not for the moment but oh you can bet they will ruin it, in time. I can still remember how great YouTube was before Google got their hands on it. Now it is just a mess. But I find people nowadays seems to be more submissive and more willing to take sh*t from these companies. Is this a coming sign for a dystopian future?

Was a hard core Googler for many years till I got "Scroogled" with their real names policy a couple years ago. I was planning on buying a Nest for my housemate (who owns the house), but I don't wang Google knowing when we get home, go to work, know what temp we have and everything else Nest collects. No Google Robot Eye in my house thank you. WHat other reason does an add company need to buy a company like Nest, other than analytics. :(

Hmm, suspicious of Nest now... Looked really cool, but now I'm suspicious... Don't get me wrong, I'm also concerned about how much Microsoft treats my personal data and how much they respect my privacy. However, Google openly exploits their users' personal data, and Microsoft /claims/ they value their users privacy, so... Anyways, back on topic: I was interested in the whole Nest ambition, but now that it's owned by Google, I'm more than likely to abstain from ever buying it. A real pity, looked really cool, but while all my high school peers have fun and folly pouring out their personal lives all over the internet, I actually am one of the few of my generation who appreciates keeping my personal info personal.

Roost is a Nest client for Windows Phone

Roost is on dat dere poverty time cuz. It's basically the IE experience thrown into an app. Really not much different. Slow to load/login. WellNEZTed is the best Nest WP8 app I've come across.

100% agree. Google is the most terrifying company ever. If I had a Nest thermostat, I'd rip it out of the wall tonight. Negatives:
- Now Google will even know the temperature in your home.
- You'll need a Google+ account to change the temperature in your home.
- Google will send you ads everywhere based on your home temp. They could even lower your home temp, then send ads for coats and blankets.
- got more?

At least they're not buying N.E.S.T., the team of human soldiers that fights alongside the Autobots against the Decepticons.

"Google scares the hell out of me. Google-free citizen here." You're not alone. I live in China - a Google free country. Also a country/market bigger than the USA and EU combined. No more seeing the same 12 annoying ads over and over and over and over. Personally, I'll take the Communists over Google any day.

"Please sign into Google+ to call the fire department"

Lol now that made me laugh.

Hahahahahahah!!! So funny, but true... I hate being forced to use plus...

Hopefully, Google will stick to their word and let Nest and their API continue without interference. But, history tends to repeat itself.

Yep. I won't be one bit surprised if the next revision of the nest silently adds a GPS chip and a microphone. :P I don't know what Google's game is here, but it's probably pretty serious for $3 billion -- which means yet again they're going to go "as close to the creepy line as possible". I used to think Google was great until they started trying to weasel into every single facet of my existence so they can sell me out to advertisers. I honestly don't understand why people continue to put up with them.

I'm guessing they also had a patent portfolio

Ah yes...but what patent would a thermostat company have that google would want?

Dang. I was really considering one, too. Not anymore. And don't be fooled, Google will go out of their way to not include Windows Phone support. Good luck.

All I can think when I saw this headline was "man I'm glad I didn't buy one yet."

Your house seems to be on the chilly side, would you like to see more about Home Furnaces? Winter clothing? Ski trips?

Exactly. It's almost a given that you'll get bombarded by furnace filter ads a few weeks before yours needs replacing.

Well that sucks! Time to start looking for a replacement to my Nest. I refuse to own anything even related to Google. I don't trust them with any of my data no matter how mundane. It is only a matter of time before Google ruins the thermostat with a firmware update so I better be proactive. :-/

I "think" Honeywell makes a very similar product. Though I don't know much about it, just seen something along the lines of nest the other day at Lowe's.

What does google see in a company like this? What benefit other than another source of revenue does it provide to google? What next? Kenmore? Whirlpool? Lol This acquisition doesn't make sense to me...

You see, Google is planning to release a new thermostat with built in apps and Internet. It will also spy on you and will sell all data collected to companies for advertising and just for the heck of it. Seems pretty legit to me.

They will be able to collect the data from the thermostat and present you with adds relative to your usage, they will know your environment temperature preferences and even your movement pattern. They will be able to know when you are in, out, upstairs, or whatever.

Not to mention they will have pretty accurate data on how much you spend on heating/cooling, which can be used to extrapolate other financial statistics about you. With Google, you never ask, "what ARE they going to do with your data?" -- you ask, "what AREN'T they going to do with your data?"

The most obvious thing is that Google can then know when you're at home.

Don't waste your time... I have a friend in HVAC, Nest has had nothing but issues he recommended and I installed a Honeywell Wireless therostat: http://yourhome.honeywell.com/home/Products/Thermostats/7-Day-Programmable/Wi-Fi+Smart+Thermostat.htm. While they don't have a app for WP yet, the mobile site is very good. Also I have found this therostat to keep my home a more even tempeture.

glad I held off on it. Really liked what they had going. Wish they would have stayed away from the Google umbrella (or is that the noose?).

To be honest. I almost bought Nest to replace my old Honeywell system, then I found out that they dont' have app for Windows Phone. So I opted out and was excited to hear that Windows Phone app will be coming soon. My hope is now shattered, thanks to Google. I will NEVER own or buy anything that has Google name on it. I will keep my word until the day I die.

Hope is not lost. Did everyone forget about Waze?

Waze was being developed for Windows Phone before being acquired by Google.

Bing search quickly disappeared from waze after the acquisition...

Not to mention Waze is pretty worthless as it eats battery faster than it can charge while plugged in...

I have a nest thermostat, but ill jump ship to the first company that come in with a killer windows phone app.

No need to wait. WellNezted is an excellent App for controlling your Nests. Superior to Roost which has been mentioned above but which seems to be a wrapper for Nest's dysfunctional website.
Glad I have my Nests but I'll be looking over any Google 'Updates', and I wouldn't buy any next Gen hardware, with its built in cameras and microphones ;)

Microsoft better open the pockets or its over!!

And do what? Buy every company of every industry in the entire world? Microsoft is a tech company not an advertising company like Google.

Last I checked, home automation IS considered Tech. Besides, with the XBox already designed to take over your living room experience, it makes sense for Microsoft to look into automation of other daily activities. It also opens up a huge market segment/opportunity for them. You can Bet their existing XBox One and WP8 customers will get in line to get these products.

I was interested in nest, but now I think I'll settle for this: http://wifithermostat.com/

What next? Google buying Nestlé for kitkat

I don't think nestle would sell its self to the devil

Probably not since they'd be selling themselves to themselves.

Ludicrous, I will never eat a kit cat bar ever again!

Cant say no to kit Kat lol id still eat them

yessss kitkat peanut butter, the only android-related thing i'll swallow

And I'll break you off a piece lol

There are plenty of options. Cadbury is gd

They are planning to buy Acuvu, Bausch+lomb, Fresh Look contacs lense, and will replace them with chips so they will monitor all your visual to sell you products.

STOP BUYING EVERYTHING GOOGLE!!!!!!!❕❕❕❕❕❕❕❕

So I will be cancelling my plans to purchase nest products now. There will be no guarantee of support, and the possibility that they could change terms at any point in the future.

Well google will stick hidden cameras in it so not safe lol

I wish Microsoft would make these kinds of acquisitions. Nokia was a good start and I realize they can't buy everything, but Google buying this company shows people that Google cares about innovation, even if they just want to innovate new ways to sell ads. IMO MS needs to acquire some of these small start-ups.

I don't know, in all honesty I would rather see the small start ups staying as their own entities instead of being bought by larger companies (Microsoft, Google, Apple, etc). Maybe they could sign partnerships with the likes of Microsoft (kind of like how the Nokia/Microsoft deal started), but when a smaller company gets bought by a larger one they end up getting heavily influenced by them and their products change (sometimes for the better, sometimes for the worse.) One example would be Motorola, if you look at their phones before the Google Acquisition versus after, they have a completely different feel and build to them. I'm sure something similar with happen with Nest.

I was thinking more about Microsoft's image than the products themselves. When Google branded Motorola as "a Google company" it made the company seem more modern and innovative so much so that Phoneblocks paired with them. Partnerships make great products, but they do very little for a company's image. If I had to make a personal preference, I would like Microsoft to buy Fitbit (although there are tons of other products, I just like Fitbit). Adding native 3D printing support in 8.1 was a great idea.

I agree. Microsoft needs to get into home automation pretty heavily over the next decade. Nest should have been theirs. Now that it's Google, I'll stay far, far away.

Google, which is advertisement company, is aspiring to be your full time stalker. Google will buy anything to get into your life. Microsoft is a tech company so home invasion is not part of their field. If Microsoft tries to buy everything like Google, they will get taken down for monopolization. See how much resistance they are getting just trying to buy a division of Nokia. Meanwhile Google always get a free pass.

Next news google will be twitter!

I can already see it! Meet the new Twitter! To start tweeting merge your existing twitter account with Google Plus. :X

NOOOOOOOOOOOOOOOOOOOOOOOOOOOOOOOOO

Anyone still on WPGDR1 or GDR2❔ I need you to check something out for me..

What about the WellNEZTed app, is that still working?

Yes. I just bought my Nest thermostat last week. WellNEZTed has been careful not to use anything that is copyrighted or trademarked by Nest. It works great and I think it will stay. BTW - the 'Roost' app in the Win8 store is just a browser window to the Nest website. Don't let it fool you for $1.99. Still - I fear that I will soon be required to get a Google+ account to access my thermostat!!!!

There is a third party app that works well with nest. That app is Wellnezted. It works well and provides all the functionality required for my thermostat. The mobile webpage for Nest is also very good. Note to Google. I am a paying customer of Nest and have a Windows Phone, please don't reduce functionality and interoperability. It hopefully makes more business sense to support people's choices and extend the reach of the Nest Products verses limiting your market to only android devices. Cheers.

What is that? You wish to contact customer service? Please sign in using Google+ You wish to control the temp in your own home? Please sign in using Google+ You will have to sign in using Google+ to access your Nest account from now on. Please sign up for one.

No it will keep record if you like it warm and will send you adds for heater upgrades, Bermuda shorts and bikini's and if you like it cold it will send you adds for freezers, winter alpine vacation packages and air conditioning upgrades....lol

Hmmm I know "we" just bought Nokias hardware and services... But we need to make more of a public debt. Scroogle is making headlines while we are remaining classy and professional... We need to call a "Peyton Manning" audible. #imo ie: integrate instagram into the OS like Facebook,twitter, and LinkedIn. We have the best camera. Do it! I love the productivity over gimmicks but we need to capture the hearts of the public and honestly office suite isn't doing anymore. I actually got into a debate with someone who believes that good docs is better than office suite... O_o

Luckily i didn't make a nest

Wonder if NEST controls will be baked into Android soon? Google is definitely heading towards home automation..."Buy a Google House" ...they will spy on you 24/7/365.

Some back story for those interested: http://lsvp.com/2014/01/13/those-beautiful-nest-eggs/

So many conspiracy theories.

I'm not into conspiracies...but its fun to make fun of google by creating absurd outlandish theories of what they will do haha

I wish google would stop buying good products and making them bad.

GoogleNest: Your home is being burglarized and we will send help but first, have you setup a Google+ account as stated in our Terms of Service?.

Google is petty. We are now not likely to see a Nest App for WP at all. If they release something that might already be in the pipeline, it will probably be the last and/ or be pulled.

Anyone want to buy a 2 year old Nest? I'm moving on to Lennox... The only Google service I use is YouTube and that's just because I haven't found another video site that pays out for content the way they do.

I try not to use yt by other video sites/apps like vevo (which is half of what YT is made of anyways) and Vimeo.

Didn't Microsoft buy some home automation company a while ago ?

Google is quickly turning into freaking Oz from Summer Wars. Maybe some hacker will make a Love Machine-type virus that screws with their services. Back in topic, Google didn't stop Waze from making a WP app, so maybe there's still hope?

On the bright side, companies like Honeywell, GE, Frontpoint, etc. may push WP a lot more since Google just became their competitors in a big way. I really want an Alarm.com app for Xbox one (glad its on WP though!)

I swear, all that Google, Apple and Microsoft have been doing lately is buying companies. Especially Google and Apple

So, they pulled the third party apps and now are giving the API to the devs?! Not that it's important to me. No need for heating or cooling when you live in a paradise, Madeira island.

Like Google needed to buy something else.

Yep you said it. Now that Google owns Nest I will never buy any of their products.

Please download Google Chrome - a faster way to adjust your thermostat!

That's like you have a cavity and you fill your mouth with candycorn and start chewing.

Ruuuudy....Ruuuudy.... :)

is this mean Google going to use Nest to add ADS to the thermostat? LOL

Well. I guess I'm giving my nest away to family or eBay or something. don't forget to close your myenergy account as well. There are a few other options to full home automation, has anyone seen Iris? http://www.lowes.com/pd_388554-41166-KIT652_0__?productId=3735297

Its okay at least we have http://www.wpcentral.com/lennox-icomfort-app-windows-phone-february who is actually making an OFFICAL App for its thermostat! :)

Thank you for the reminder. I don't want google snooping around in my house. Next thing you know, my goings and comings will end up on Google +.

A windows phone app is the least of my worries. How about Nest support postcodes and time zones outside the US with their multi voltage celcius reading device? There is nothing stopping this working all over the world except their straight out laziness.

Looks like I'll be buying this instead of NEST. http://www.amazon.com/Honeywell-RET97A5E1001-U-Wi-Fi-Thermostat/dp/B00FLZEQH2/ref=sr_1_7?ie=UTF8&qid=1389661506&sr=8-7&keywords=nest

Funny, Google buying an company founded and being run by Apple people and you guys complain about the lack of Microsoft support. And so the circle closes...

Where is Rudy Huyn????? Hey Rudy, if you have time you make this! I trust you!

Google bought waze and we still got an official waze app, I don't think this acquisition will hinder the progress they are making on a WP app, unless they aren't making one in the first place

Is that before or after the YouTube app ...lol

As a Nest user (and i must admit its a great product and up until today was considering swapping out my v1 for a v2 thermostat and switching my smoke detectors for the nest units) im thinking ill start seeing ads online for space heaters when it happens to be 65 degrees in my house, or security systems because ive been away from the house for 2 days. Damn it. Looks like ill be looking at the honeywell ones.

Google on a shopping spree ... Me not likey. Offtopicly, I'm amazed about the amount of house owners here. You're either all rich or living in areas where houses are more affordable than where I live.

Thats it. No official nest app for wp8

Is that before or after the YouTube app. Lol silly boy tricks are for kids..

I wanted a Nest really bad until today. Fuck Google!

Google becoming Skynet and terminator. Lol. As funny as that sounds, it's frightening.

Anyone in the uk or Europe should look into Tado, its a similar thermostat that also has proximity heating, so will turn off if everyone is miles away and start to warm up as you come home, and they confirmed they are releasing a WP app before the spring

We need a hero[MICROSOFT CEO] to save us from evil google.

At what point does google own everything?

I don't get it. Why buy Nest, when companies like Savant, Control4, or even X10 can be aquired for similar dough? Heck, I bet Crestron wouldn't be much more expensive to purchase. Unlike Nest which is basically a single product, these other companies create complete ecosystems/ platforms for a true automated home.

I actually started out with a schlage keypad lock and also added a Trane thermostat that is controlled via zwave. Nexia Home Intelligence purchased them and is beginning to offer a larger range of home automation products, lights, cameras, etc. While they don't have a WP or Windows app yet. It seems like they have there shit together. There are more options then a fashion designed thermostat.

Why would a developer spend any time writing another unofficial app so it could get pulled like all the other unofficial apps? I've got no time to waste on companies (google owned or otherwise) that go out of their way to make it hard on their users. If you're a company that wants to own the app for your hardware or services, then build the frickin' app. If you're not gonna build the frickin' app then let someone else do it!

No way Nest is going to get an app on Windows or Windows Phone now. Not going to happen.

I published my nest app back in October. Forum members here helped me beta test it, funny that the wpcentral staff has no idea it exists? http://www.windowsphone.com/en-us/store/app/wellnezted/3d7e7966-2954-4bea-a0e4-d29a817cf23e

Ugh. Just this week I was getting close to making the decision to buy a Nest thermostat. I really don't want to feed more information to Google's advertising machine. They know enough about me as it is.

Take a look at the Alarm.com system. Windows Phone app is great. Resold under names like Vivint, ADT, etc. App is Alarm.com in the store. Really nice system and it also has "smart" learning and superior scheduling and integration with smoke/fire detectors, alarm system (go down or up to a preset temp when alarm is armed "away"), scene-based light control, HD Cameras, Door keypad and deadbolt, etc. That thermostat feature during armed away events pretty much pays for the monthly costs of the entire system. Anyhow, great alternative to nest and Windows Phone support from the beginning. Even Windows Phone 7.

What about Honeywell app for WP? I'm glad I just bought Honeywall Thermostat WiFi from Home Depot for $200 and not Nest since it is now owned by Scroogled!!!
Windows Central Newsletter
Thank you for signing up to Windows Central. You will receive a verification email shortly.
There was a problem. Please refresh the page and try again.