Grin for Windows Phone 8 updated, allows comments on Imgur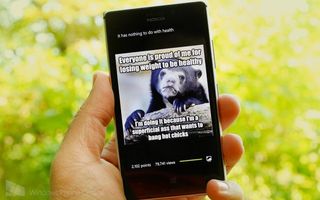 A few weeks back we showed you guys Grin for Windows Phone. It was (and still is) the best app for accessing Imgur (www.imgur.com) on Windows Phone, a site dedicated to free image hosting and sharing, often considered to power sites like Reddit. The latest update that came out today widens the gap between itself and any potential third-party Imgur apps. Let's check it out.
Fire up the Windows Phone Store and you'll see version 1.8 for Grin is now available. When Grin first launched it allowed you to do all the basic things you'd want to do. You could browse all the different sections of Imgur, view comments, albums, profile and more. The latest update improves some core functionality and adds features that we're happy to see. This is what's new:
Comments and replies
Full screen image viewer for uploaded image
Subreddit enhancements
Advanced sorting in gallery
Fixed Facebook sign in
The most obvious feature that will be welcomed is the ability to now leave comments to images and reply to other comments. It was missing in previous versions of Grin, but we're digging having it available now. It works great too. Subreddits have some slight enhancements as well. When we first mentioned the app we couldn't exactly figure out an easy way to pin your favorite subreddits to the app. Now a star icon is present to easily add it to your lists.
When viewing images you can sort through them by newest first or most popular. If you sort them by popularity you can specify the time window by week, month, year, or all time. It's a handy feature to quickly browse the top images in a section as they change over the course of a week.
Like before, Grin has no ads and is fully free for Windows Phone 8. You can donate to the developer through the app if you think it's worth continued support. Tip: It is worth it.
Grab it here in the Windows Phone Store, use the QR code below, or swipe to the right in our app.
Windows Central Newsletter
Get the best of Windows Central in in your inbox, every day!
No wp7 version :( I really need to upgrade... I want a l925 but I'm on at&t and no way can afford off contract prices.

No, wait for WP blue phones. Should be awesome by the time that arrives.

I thought GDR3=blue... I'm just getting bored with wp7.8 my "4G" isn't LTE and there's no new good games being released.

Gdr3, and then blue is windows phone 8.1
You're fine getting a gdr3 phone because it will have new specs and then will be upgraded to blue as all windows phones in 2014

First paragraph should always inform basic info such as what an imgur is, for those of us willing and interested to learn about the interesting. Give us a clue, if we should investigate further.
... Or not?

In a few words? Edit: Few words yah right! Imgur is a photo storage website. It is often used by Reddit.com users to store memes and communicate through pictures per se.
Slowly the site has been adding the stream of Reddit.com activities to the pictures themselves.
As an example, a popular forum named r/earthporn from reddit would look like this:
www.reddit.com/r/earthporn
Often times, you'll see comments and activities from reddit; If you browse imgur.com/r/earthporn you'll see that 90% of the pictures are the same.
The reason: Reddit users prefer imgur for how fast one can upload a picture and other stuff.
Therefore, Grin is an imgur application that can essentially show you 96% of reddit's uploaded pictures in a form where the pictures are the main dinner, rather than the content and comments (you still see the same content - kind of).

Still no love for Indonesia region...

Switch ur region to dwld the app.

Pass on to Ballmer, develop a smart watch that's independent with sim slot, 4 medium size tile display size, same wp8 os, very thin alloy frame,gorilla glass,loud speaker & bone conductivity when placed against jaw & latest battery tech. This product will be as successful as iPhone if released 'first' by 2014. Edit: the Windows Phone Watch, looking at you Nokia. The ppl just don't know it yet but this is the next step of communicators as small tablets replace our current smartphone use at home and the age of the wearable interface dawns'

I think that's a bit of a gimmick. There are already similar "smart watch" devices in what is a niche market. Personally, I find it a bit too close to wearing a calculator watch. Also, tablets aren't replacing smartphones at all... More like replacing netbooks, laptops etc.

I like when developers release full apps for free with the option to donate if we like it. This app is awesome and they deserve a donation.
If anything, I wish you could view all the gifs playing at the same time in an album, but I assume that is a WinPho limitation rather than developer oversight.
Windows Central Newsletter
Thank you for signing up to Windows Central. You will receive a verification email shortly.
There was a problem. Please refresh the page and try again.