Groove Music makes it easier to share tunes in latest update for Windows 10 Mobile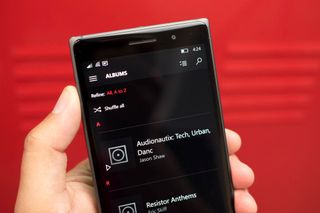 Groove Music for Windows 10 Mobile is getting an update this evening, bringing along some interesting improvements. In the latest update, you'll be able to share a link to music with a Share button in the context menu and more. Here's the full breakdown of what's new in Groove Music version 3.6.1537.0:
You can share a link to music by tapping Share in the context menu. Tell your friends what you've been listening to!
We now only automatically show more albums for artists you're exploring if you aren't on a metered data connection to reduce data usage.
The theme setting in the app is now tied to the related system setting.
Improvements in the way the app searches for music on your mobile device.
Popular settings from the desktop version of the app are now in the mobile version - look for settings related to Downloads, Media Info, and OneDrive in the mobile app.
Overall, it's a pretty solid update that comes just in time for those who are just getting their hands on Windows 10 Mobile with the Lumia 950. It doesn't look like the update pushing out to users just yet, but you should be able to get your hands on it from the Windows Store link below later tonight.
Download Groove Music from the Windows Store (opens in new tab)
Source: Microsoft (opens in new tab)
Windows Central Newsletter
Get the best of Windows Central in in your inbox, every day!
Dan Thorp-Lancaster is the former Editor-in-Chief of Windows Central. He began working with Windows Central, Android Central, and iMore as a news writer in 2014 and is obsessed with tech of all sorts. You can follow Dan on Twitter @DthorpL and Instagram @heyitsdtl.
Groove music is soooo good on my phone. I love it :)

Yeah, it's not bad.... Much better than the train wreck XBM...

It's kinda similar now.... I think we just miss the aesthetics of Zune..... Really, miss the look of a lot of things now... WP went from boring with 7.0, to cool with7.5- 8.1, to busy, with 10....

Yeah groove is catching up to Zune that's what I think. But still I use Zune in my desktop

Aesthetics of Zune is still pretty great even these days. This is what people is asking for is basically the look and feel of Zune, especially the sweet Now Playing on Zune desktop. Functionality-wise, Groove Music way is better now than old Xbox Music on WP8.1, with few things missing like Lockscreen artist images and better Now Playing screen from WP8. Groove Music aesthetics is just too cold and bland, it screams like a stock music player. I hope Groove Music will evolved into something similar to Zune and feature set of WMP+Zune on desktop. http://i.imgur.com/olYJoVT.jpg

​I liked the circular music control keys like the ones in Zune...these new keys look like a bit bald to me!!

Yeah that's what I am looking for. Hope they make groove feel more like Zune and it's looks

Yeah, I miss Zune. Posted from this here device.

I just wish they get rid of the hamburger menu. It is very difficult to switch between Artist, Albums, Playlists etc with one hand.

Yes.. I know why they are so much into hamburger menu I don't like it at all. I like gestures rather than pressing a push button. I wish there comes an option in future to keep hamburger menu or swipe from left to right to open the menu as default. I chose swipe from left to right.

So you good you can't even edit your playlists. LOL

With the latest update I think they have messed up with the font size...

They did. Now it shows title song so big it eats up most of the control button portion. And it doesn't show the album name, only the artist. SMH at this app. It still cant play a song without failing to load.

Groove music doesn't show artist image on the lock screen. I miss this feature from WP8.1

Was that working before..? I didn't see that feature working in lifetime of my WP8.1 phone...

Yes it worked beautifully, but for it to work your music must be properly tagged. Which most of my collection is.

This isn't one of the included Groove features (?as yet?)

Rarely.
If I went to settings and turned the feature off and then back on, it would work for the artist/song that was playing but then stop working immediately after that song.

Like I said before your music collection must be properly tagged, because it uses the info from your tracks metadata to fetch the artist image from the server

You can use the app MPA tool, to tag your music collection:)

I use MPA Tool too! Gosh it was so useful even on WP8.1. Alot of my artist is not yet available on their databases and that app makes my music collection more organized.

He's saying it fetches the artist image just fine--but it only works once. The next time you use the app it won't put the artist image on the lock screen anymore.

Is this same for Xbox music.cause most of my collection is properly tagged,I don't know about lock screen but it displays artist image on live tile and as background only for 3-4 songs. Is it that we have to put artists picture in the song metadata?

That means only those 3-4 songs are correctly tagged. And no you don't need to embed artist image in the track itself

Yeah, it was buggy on WP8.1 for some reason and Microsoft never bother fixing it. Now we completely lost the feature just because. I think it really needs several feedbacks again for Microsoft to reimplement it for Redstone.

Me too! I never had that feature working before.

I miss this too, i hopw they apply it on Groove.

I was kind of hoping they would just put album covers in place of artist image on the lock screen. Some of the artists photos that would pop up were cringe.

They didn't include the feature. I also miss that feature, I hope they will bring it back at least.

Does it make it easier to play music on my phone? I'd take that at the moment. It's a little buggy.

Please for the love of all that is holy can they change it so it shows the album cover when playing music instead of some shitty random artist picture? Album covers online exist for a reason! I hate having some crappy cropped black and white photo of a band from 30 years ago instead of a beautiful album cover.

that would be nice to have the album art included. Maybe use the Windows feedback to add the suggestion :)

Yep, I've added that there. Also upvoted others who suggested it.

Actually that artist image should come on the lock screen not inside the app. Inside the app it should display the embedded album cover

It shows the album art for artists that it can't find images for, like lesser known bands, etc. But once it finds a popular artist, it'll only show the crappy cropped artist image instead of the album art. It's been like this for the past many groove updates. I too, am hoping they fix this soon as it's the one last annoying thing to an otherwise perfect music app!

Id prefer they put a live screensaver like zune had, thatd be awesome

How did you tag music collection properly,any app??pc??

Should be an option, because I prefer artist picture.

The artist photos are badly cropped in portrait and landscape. I see either 3 of 5 band members in portrait or hair of one tall guy and the sky in landscape. What a joke.

There should be an option for this as users have different preferences. Sometimes the app shows ugly photos from the artist. SMH

I like that they add sharing. Is it done with a link to the song too so anyone else with a web connection can play the song? Like in Spotify?

Another update but still stuck with the horrible app name.

You honestly cannot tell me Beat, Spotify, Rdio, iHeartRadio (awww, so cute!), Deezer, or Slacker sound better. C'mon. Basically, all of these names sound stupid at some point.

I'd say Groove is in the same group as Rdio and iHeartRadio (especially iHeartRadio).But yes, I can honestly say Beats, Spotify, Deezer, and Slacker sound better than Groove. It's also because up until now, Microsoft is still inconsistent. They name their video app Movies & TV but name the music app Groove? I would've preferred Video over Movies & TV but at least it's way better than Groove.

Xbox Groove Music Zune Edition sounds so much better

That's too short. Microsoft Groove Music Zune Edition 2015 Pro Plus!

Deezer is a good name :)
But I think the better name yet, is MixRadio.

I like Groove. At least it's not Microsoft Online Music Player. Although maybe Momp would've worked...

Even Microsoft Online Music Player would've been better than Groove.

C'mon Dan, iTunes is a stroke of genius... :P

Sonique for the foot to the former champion's face.

I think the name is fine. May not sound catchy, but at least it relates to music. Better they stick this now, its too early to have another rebranding for no reason.

So 5 years later we are getting back to the level of features that Zune had...
I enjoy Groove nevertheless...

If by "media info" they mean the ability to get the metadata from the web and fix it then that's awesome. I have an album that I fixed this way after already loading it to my phone and it would be cool to be able to fix it from the phone I stead of having to re-upload

Yeah! I'm waiting for this feature to come. Also Last.FM metadata as an option for some artist and album who don't have information for Groove database. Last.FM got a lot of artist information that helps the music collection more organized.

I need it sooo much! Even thoug last fm is screwing up majorly with their website update, I still scroblle methodically.

Still waiting for the phone to be able to add new music with Groove Music Pass, and for podcasts to stop being included in the music collection and therefore shuffle play. I'm surprised they released it with these two bugs.

I've been able to add music using my Groove Music Pass for a while now...

Like Mike, I have no issues adding music. Hit the ellipse menu and add to collection. Podcasts aren't in my music collection either. I have never had that issue. Are you using the MS podcast app?

Can anybody tell me how to edit metadata ?

use tag editor app, then remove all collection and put it back. wait for app to rediscover music.

Windows Media Player or Zune. :)

You can use mp3tag. A small program,easy to use and works great for editing all the metadata

MusicBee desktop app on PC. I spent hours this past Spring fixing 10k songs, mainly to correct rarer album track listings and orders and to unify genres to my liking. Auto genres from tag providers are awful; 10 ways of naming every subgenre (alt rock, alt-rock, alternative rock, alternative-rock, etc.) makes sorting by genres require a lobotomy.

Still no Last.FM scrobbling support. Gee, how many softies work on #GrooveMusic??? Two years today since "passing this on to team for review" http://groove.uservoice.com/forums/209733-microsoft-groove-feature-sugge...

I wish Groove would allow for Phonos (a Sonos client) to access it. I still haven't been able to find a single app that allows me to access my Groove library on my Sonos system.

Album art on now playing screen plz....

Actually there is, but only when the artist image is not available. I wish that the Zune/WP8 Now Playing layout to have a comeback, its presentation is way better and looks more minimal while it shows both Artist image and Album art. The layout of WP8 Now Playing + functionality Groove Music Now Playing + presentation and animation Zune Now Playing would be awesome.

I loved Groove on the phone, spetialy for the compilations (albums with many diferent artists), but I lçike to see the large album art, but in some artists it apears a picture of the artist insted of the album art, I prefer the album art, there should be a way to chose album art or a picture of artist.

the easiest way to properly Tag your music files is with MP3Tag Editor. Download the program from cnet or the official website. It is free and ad free and easy tio use. However if you want to get the artist picture background right the surest way is to right click the album in Zune and tag it there. All the background art in the live tile for my phone (1520) in both the old Music Hub app and the xbox music tile show up on my phone. You can choose the background art for the Music hub if you use the MPAtool so I have 2 different artist pictures going on my start screen (mobile) when I am playing music. Will not use W10 until Groove starts showing somethhing there when I have music playing

Can any one find the album image for the songs downloaded from Nokia music.

So if I have a groove music pass can I send a link to my friend so he could listen to a album that I think he might be interested in.

I haven't seen an update yet. Does it fix the constant signing in issue I have? All my tunes are in the cloud until I can have expandable storage (930). Now, it hunts for me, sometimes doesn't sign in, and skips tracks due to lapses in network sign in, despite still having connection.

I still haven't been able to get this update.

My app updated but didn't update to this version and now the store says I'm up to date 3.6.1517

I'm not on windows 10 mobile build but can someone tell me hows the live tile of groove music. Is there anything new on live tiles?

It shows the name of the track, artist and album and the slides to the album artwork. Not the scrolling like effect tho in 7/8 before

In volume control toggle as we can control music I also want ability to shuffle music from there. Maybe a shuffle feature on volume toggle would be cool for me.

They also updated the Now Playing layout too and Artist page too. Though I don't like the new circular Artist page, the previous banner-like image is way better in presentation, only needs polishing and some layout tweaks needed. I understand Artist is people for circles but Artist needs to be exempted for this principle at least on some areas. Artist images are not just self-portraits/selfies like a contact card, the artist image is more like an art and has to be presented fully and immersive way. Circular artist image is fine on browsing in Collection but it look hideous and underwhelming on dedicated Artist page. Artist page should be something like this: http://imgur.com/a/4OzBg

Re: The One Drive sync option with accessing tracks; Is "Remove from device" now available? I don't want to delete tracks from my device AND One Drive, go to the recycle bin and restore ( which MS want us to do!)

Hey, it has got a UI change also. The mini player which is displayed at the bottom of the app has been changed. It now also shows the seek bar above the media controls. Update:- It's gone now (-_-)

At first run opening the app it shows. The next time it wouldnt be present anymore haha. A bug maybe?

Clearly a bug which many Universal apps have - showing elements which are not meant for the mobile.

I am missing a grove music icon in app list. I am also missing weather and Bing news apps. What is up? I have already done a soft reset. I guess this is power of big windows *cough*

For me its all msn apps...not showing icons

my Aunty Elise just got an awesome metallic Mazda CX-7 SUV just by part time work from a comput ➨➨➨ www.buzznews99.com

Windows Central please update your app. It takes 15secs to open and close an article. 1520 on latest build. I don't know if it's a bug of Windows 10 because even 6tag and Twitter app takes few secs to load. Thanks

My groove app shows error code 0xc00d11df nd couldn't play any of the songs... Can anyone help me wid dat !!

so I'm trying to share Cypress Hill: Skull & Bones "Sorry, that album can't be shared because it's not in the Groove Catalogue. To share something, select an artist, album or song."

All I need is smart playlists and PLAY COUNTS. I want to make playlists sorted by criteria (years, BPM, "live" songs, etc). I hate using iTunes to make the smartplaylist and then having to import those playlists into Groove.

Groove music is not working in phone 720

Ok, anybody can confirm for me. I'm still on WP8.1, my Lumia 830 should get Win10Mobile soon enough in the upgrade cycle of Microsoft. Question about Groove Music: they promised gapless playback, is it there??? That's the only thing I desperately need, being a Pink Floyd fan where music flows from one track to the other... without gapless playback as it is on WP8.1 and on Windows 10 desktop, it's horrible.

Yes there is gapless playback!

It doesn't even start anymore

I'd love to be able to share an entire playlist with other subscribers. Posted from this here device.
Windows Central Newsletter
Thank you for signing up to Windows Central. You will receive a verification email shortly.
There was a problem. Please refresh the page and try again.