Halo 5 is getting a huge update: a new server browser, skins, and the return of classic weapons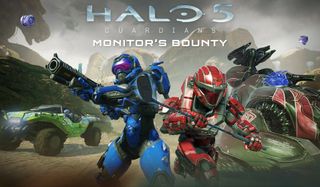 Microsoft has announced the latest update for Halo 5: Guardians, which is set to introduce a range new features and content on Xbox One and Windows 10. Scheduled to roll out for both platforms on December 8, 'Monitor's Bounty' will add a wide range of new weapons, skins, and other cosmetics. The update will also implement several changes to existing content, affecting Forge, Warzone and matchmaking playlists.
We don't yet know everything that's coming in Monitor's Bounty, but there are a few exciting new features and updates coming in it — including a new custom games browser. The new browser will allow players to search through ongoing custom games in a central, fast location. Games can be filtered based on a range of criteria and joined while in progress. This custom games browser will also be rolling out to Halo 5 Forge on Windows 10, allowing PC gamers to play with strangers for the first time.
A new take on live spectating will also be arriving in the Monitor's Bounty update, letting players view ongoing custom games as they happen. Previously demoed at the 2016 Halo World Championship, the Observer Mode will introduce a new 'Observer HUD', expanding powerful live spectating tools to the masses. The mode provides the tools to display player information and key data over live gameplay – fit for broadcasting and competitive play.
New features are also being rolled out to the game's REQ system, including the ability to gift packs with other players. Gifting will be restricted to packs purchased through the Xbox Store; all players will be given a 'Gift Only' REQ pack, which can only be opened by another player. A new 'Voices of War' paid REQ pack is also coming to Halo 5, with new announcer voices based on Buck, Exuberant Witness and Yabda the grunt.
Finally, a slew of new cosmetic items, weapons and vehicles are also arriving alongside the update, including 19 weapon skins, 3 assassinations, 3 stances and much more. The Grenade Launcher and Sentinel Beam will also be making a return, after an absence in recent Halo titles.
For more information on Halo 5's Monitor's Bounty update, check out the full post on Halo Waypoint. Make sure to check back tomorrow for a closer look at the remaining content on the way, including a huge Forge overhaul and other changes to existing content.
Windows Central Newsletter
Get the best of Windows Central in in your inbox, every day!
Matt Brown was formerly a Windows Central's Senior Editor, Xbox & PC, at Future. Following over seven years of professional consumer technology and gaming coverage, he's focused on the world of Microsoft's gaming efforts. You can follow him on Twitter @mattjbrown.
Halo. The gift that keeps on giving.

Dear God yes. 343 got so much right with Halo 5 MP. It keeps getting better.

Nice to see the support continue, especially the free maps they have pushed. It won't excuse the quality of the game, but at least the effort is there. Maybe the next game's campaign will actually matter, not push the mascot of the franchise (and the Xbox brand as a whole) into a hole in favor of a really lazy, meaningless character (Locke) and antagonist (Warden). Maybe they'll try to work on matchamking that has reasonable balance and doesn't punish you when your teammates quit. Maybe they'll have better map balance and not have maps that are congested disasters like Tyrant and Riptide or have badly skewed spawns like Riptide, Overgrowth, Plaza, and Molteon. Such great core mechanics absolutely ruined by terrible maps and stupid mechanics like the Spartan Charge and Ground Pound. A chance to make a great campaign with an interesting antagonist (Didact) only to kill him off between games without mention and compeltely butcher the replacement Forerunner (and that's before you consider how badly Cortana progressed). At least they abolished trash like the Killcam of Halo 4. Still, really wish Regicide were still around (and the map Orion--not sure how it was so bad with spawns it had to be removed, but Tyrant was allowed as a new one).

You've been preaching for quite a while lol

Game's had massive problems for quite a while (over a year now).

That's because 343 made it, ruined halo just like they with 4... MICROSOFT BRING REACH TO XBOX ONE!!!!

I don't think Halo 4 was ruined. It needed some tweaks, like dumping the Killcam especially. However, I really liked its maps, and how you could actually replace quitters in matchamking, rather than having to play a ranked game down 1-2 players or quit and get a 10-minute ban for your unwillingness to get beaten on in an unfair fight for 10 minutes. The campaign was pretty good (though I thought killing off Cortana was a lazy means of shock factor as they took over the franchise and tried to get recognition from Bungie or something), and the Didact was a cool enemy with purpose and some depth I wanted explored. Instead, they killed him between Halo 4 and Halo 5, in some comic or something, and we get nothing to show for it but a mindless AI drone (Warden Eternal) who really just had no need to exist in the first place. It had some terrible multiplayer decisions (CtF on Abandon was atrociously imbalaned), but it had some nice variety between larger maps (Complex, Solace) and smaller ones (Adrift, Haven). Granted, the map quatity was badly hurt by mode-specific splitting, but the maps weren't totally disastrous like many in Halo 5 are. I also didn't hate the loadout choices in Halo 4, though consistent starts aren't bad either (though the former gives you a better chance to fight power weapons).

Halo 5 is a far better game than 4 overall but 5 also does some things very wrong compared to 4. Sure the campaign on 5 sucked but the multiplayer aspect is pretty decent.

I think the core of 5 is better, but the story and maps are so horrid that 4 ends up a better overall game.

first of all reach already exist in xbox one, and second the 4 was amazing in story and halo 5 is have the best mutiplayer in the whole series

people whining with halo 4 that is not change and stick with old elements now in halo 5 whining why the game is change

Reach has been on Xbox one for a year now. Lmfao you are such a week noob whiney ignorant baby

Just my opinion, but calling people ignorant while spelling so poorly isn't the best look.

Reach campaign was horrible. The worst of all Halos. It's MP was great though. But Halo 5 is the best MP halo ever. It's balance is exceptional. Exceptional.

Agreed. But don't tell Keith that

Yes, because if I find out an opinion differs, I become irate and unreasonable....

It's interesting how much people's opinons differ on this stuff. I thought Reach's campaign was excellent - far more enjoyable to me than 2 or 3 (people put the latter on such a high pedastal that I find it baffling). I will agree that 5's multiplayer is the best thus far. They built on changes of 4 (which admittedly I also liked), while dialing back the COD-ness of it.

See, I think Reach is my favorite campaign, you actually care about the secondary characters. Even knowing how it ends, I cared when it was happening. ODST was the worst story for me, not even close. 5 is a distant second for worst, then 3. I think the weapon balance in 5 is good, but map balance is atrocious, with Pegasus and Riptide as probably the biggest examples.

I really liked Reach's campaign and I think ODST is highly underatted as a game. I still think that Combat Evovled has some of Halo's best campaign moments (for want of a better word). Parts of it had an 'open world', unscripted feeling which I don't think has ever been reproduced in any Halo game since. As for MP, Halo Reach Big Team Battle is, for me, by far and away the most fun and skillful to play.

The multiplayer is the best Halo MP yet. As for campaign all people have a different favourite with Halo. Personally 5 was really good. Love the story. Love the characters. And it's sold 8+ million including digital. So Halo is doing just as good as it ever was.

I really enjoyed the ODST campaign. Actually, I enjoyed all of the campaigns. I enjoyed 5 soley for the amazing gameplay, but it had the worst story IMO. As for multiplayer though, 5 is undoubtedly the best; I feel it has such a good balance. However, this is just my opinion and I respect yours also.

I love Halo 5 and been a fan of the series. Played every game and beat all of them solo on legendary. But sometimes I get annoyed with ask these gamers eating all this member-berries. Gaming would never evolve if it was up to these types of gamers. Keep up the great work 343. That's why I'm still playing Halo 5 and not Destiny (even though I plunked down $250 because of the Bungie pedigree); so disappointed in that game.

The amount of attention and detail still being provided to halo is welcome. It is hands down my favorite franchise on Xbox and game. I'm glad to see that its seeing continuing support.

Does this mean a real and easy to use multiplayer for PC?

I feel like they should make Halo 5 and the Master Chief Collection into Play Anywhere titles. I understand Gears 4 and Halo Wars 2 are big deals, but the Halo series is synonymous with Xbox and would really send a strong message about how committed they are.

I'm confident they will just wait for 6 to do this. They will probably make a big deal over it to. Halo 5 Forge on PC probably the beginning of the 343i team working on getting ready to put 6 on the PC. Not that I would be opposed to 5 becoming available on PC.
Windows Central Newsletter
Thank you for signing up to Windows Central. You will receive a verification email shortly.
There was a problem. Please refresh the page and try again.