343 Industries announces Halo: Spartan Strike launch delayed until early 2015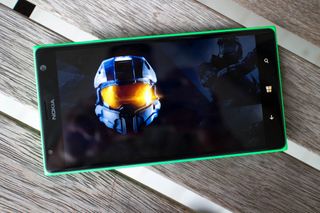 It was previously announced that Halo: Spartan Strike would launch December 12 for Windows, Windows Phone, and Steam, but those plans have changed. According to the makers of the Halo franchise, Spartan Strike's launch date is now pushed back to early 2015 as the company works hard to resolve issues with Halo: The Master Chief Collection at this time.
In the meantime, be sure to check out our impressions of Spartan Strike while you wait for the top-down shooter to launch next year.
Source: Halo
Windows Central Newsletter
Get the best of Windows Central in in your inbox, every day!
Chuong's passion for gadgets began with the humble PDA. Since then, he has covered a range of consumer and enterprise devices, raning from smartphones to tablets, laptops to desktops and everything in between for publications like Pocketnow, Digital Trends, Wareable, Paste Magazine, and TechRadar in the past before joining the awesome team at Windows Central. Based in the San Francisco Bay Area, when not working, he likes exploring the diverse and eclectic food scene, taking short jaunts to wine country, soaking in the sun along California's coast, consuming news, and finding new hiking trails.
Man I was looking so forward to this! I have over a day put into Spartan Assault and this would have been a lot better. I hope they add co-op into the Windows version

If this means that Spartan Strike won't launch completely broken then I'm happy!

I doubt Spartan Strike would've launched buggy. It probably is finished already. They just wanted to avoid the bad press of launching another game while Halo: MCC is still a mess. That said, I'm glad this is coming to WP and Windows 8/RT soon. Disappointed that it's coming to Steam, though. That parasitic platform needs to die.

If the Steam Boxes for the living room kick off you will have a infestation to deal with :P, the only thing steam is really good for is their sales and nothing else imo.

No it doesn't. Use your brain for a moment, they don't do this without a good reason.

​Agreed. I for one am really glad that 343 are doing the responsible thing and working hard to fix the MCC issues before launching another game which is likely to be using some of the MCC's back-end. A little patience here will deliver considerable benefits to all us Halo fans in the long-run. ​ ​

Maybe another vzw exclusive to go along with denim

It sucks because I have to wait longer. Of course its for a good reason, but sucks all the same.

Sure waiting sucks but you have to agree that waiting is better than buying an unfinished/broken game.

doesn't mean we can't be disappointed

Does anyone know what's changed in Spartan Strike? It kinda looks like Spartan Assault by first glance, but I could very well be wrong.

It's pretty much the same, new seasons new vehicles, no in game purchases required. A successor to Spartan assault basically

Improved game mechanics that drove SA players nuts have been improved...ie. Throwing errant grenades.

Not a good fall season for 343i

And Activision, and EA, and you know, just not a good season for games, in terms of bugs. Gameplay though is fairing a lot better.

Say what you will about Nintendo, but they put out some very polished games even if they aren't your style. Could not be any happier with my Wii U and the slew of amazing games on it that do 'just work'. And I for one appreciate the focus on the Master Chief Collection by 343 because they screwed it royally. They've got to work at saving face by correcting it, then coming out with a quality Spartan Strike to make me confident in them with Halo 5. If they leave it the mess it is, then I will not be buying Halo 5. Right call from them IMO even though it will not satisfy everyone.

To be fair, Nintendo hasn't been pushing the envelope with their stuff since, well, 2004? Not that I don't like their latest releases, Nintendo is a very play-it-safe company.

Agree to disagree. It depends on what your definition of pushing the envelope is. Gameplay? Graphics? Etc? Halo, CoD, Assassins Creed, etc have not pushed the envelope much either in my opinion besides graphics in the past few years. Gameplay has remained pretty stale and unimaginative IMO. Nintendo continues to get the gameplay down very well and continue to excel at their genre.

I think he means that The Legend of Zelda 27, Mario Kart 8, Super Smash Bros. 7, and Super Mario 32 aren't very risky, innovative, or original anymore.

Im assuming this is related to the massive work being done to patch MCC, taking a bit of resources.

343 is digging their hole deeper and deeper. I really hope they don't screw up Halo 5

They screwed up 4, and everything else they've done. Why would we expect anything else?

I disagree. 4 was great. Master chief is great and will be better once matchmaking is done

Speak for yourself, for me, 343 has fared really good.

Probably paired it up with the release of a new flagship.

Man. I was looking forward to it. Oh well, I can wait. As long as it's good.

Free January 2014 GwG... I hope...

This game is on Windows Phone and Windows 8, not Xbox One or Xbox 360 (yet, anyway).

I'm still waiting for more levels on Spartan assault.

@Zajebant94:
What else than a full price (5.99)-map pack is this "new game", at least judging by the pics so far?!

I don't know why, but i never bought a single app or game. What i do is, i use pirated apps from windowsphonehub.in...

What do you want? a medal? a pat on the back? a cookie? /s. That sort of mentality is not healthy for Windows Phone or for those who spend time, effort & money in developing apps for this platform or any other platform.

I'm not affordable.... Deal over...

If you can't afford, then don't use it..

@Sandeep Sunny, Well I'm not the who brought it up, jeez some people and their holier-than-thou attitude.

I'm feeling guilt... But Still can't get out of using pirated apps...

There's plenty of games for 512mb too. Pay for low end stay at low end. Simple.

Is there any other game with controls like this game holo on WP? Where you are not shown the gun only but the whole person and easy controls

The only one that comes to mind on WP is NOVA 3. Google "3rd person shooters" for WP (Android and iOS by the way have lots of them) and you might just be lucky to see another...

They should have just said it will be available at some future point and that's it. Postponing after postponing just doesn't look professional.
Windows Central Newsletter
Thank you for signing up to Windows Central. You will receive a verification email shortly.
There was a problem. Please refresh the page and try again.