Here is your first look at Halo: Spartan Strike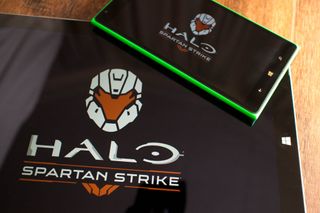 We had a few details about the upcoming game Halo: Spartan Strike on Wednesday. Today, we have all the things you need to know. The Halo top-down shooter is coming to Windows, Windows Phone, and Steam on December 12th, 2014 for $5.99. You can buy it once for both Windows and Windows Phone, but the Steam version is a separate purchase.
This is a chapter in the "Halo" universe, which will take you through 30 challenging missions through jungles, cities and more. I spent a few minutes with some of the levels on the Surface Pro 3 and the Lumia 930. I was impressed, but I do share some of your concerns about the controls that stemmed from the previous version, Halo: Spartan Assault.
Main Features:
Crush your enemies using the iconic Warthog jeep, or sweep them from the battlefield using the all-new Kestrel VTOL.
Use all-new weapons (Suppressor, Scatter Shot, Binary Rifle and Incineration Cannon) and armor abilities (Proximity Mine, Bubble Shield, Teleport, Shock Chain and Airstrike) to dominate on the battlefield.
Face off against new Promethean enemies; deadly mechanical warriors who seek mankind's annihilation.
Experience an all-new story that will take you from New Mombasa on Earth to the enigmatic Gamma Halo located at the edge of charted space.
Pick and play through shared progress between Windows 8 devices or between PCs/Tablets on Steam via Steam Cloud.
Complete weekly challenges and take the top position in leaderboards that showcase your "Halo" gaming skills.
Take control! Choose between keyboard and mouse, USB Xbox controller, or touch-based virtual joystick.
Earn achievements in "Halo: Spartan Strike" to unlock an exclusive emblem, nameplate, and avatar in "Halo: The Master Chief Collection" on Xbox One (sold separately).
In Halo: Spartan Strike, you play as a Spartan in a real-world, classified ONI simulation that starts on New Mombasa in 2552. You must lead UNSC troops to prevent Earth from being overtaken by Covenant and Promethean enemies. It feels a lot like Halo: Spartan Assault, but there's a new story, improved touch controls, updated graphics and an all-new score from award-winning composer Tom Salta.
You move and shoot with virtual joysticks. They glow as you shoot or move. You move with the left joystick while you aim with the right joystick. It's pretty straightforward, but there were a few times when maneuvering the vehicles were difficult. The good news here is you can also use keyboard, mouse, and USB Xbox controller with the game on Windows.
Speaking of vehicles, you can drive the iconic Warthog jeep. But my favorite would be the Kestrel VTOL, which is basically a killer hovercraft.
It's also worth noting that there are no in-app purchases in Halo: Spartan Strike. You buy things with the in-game currency.
If you have Windows and Windows Phone devices, your progress is able to transfer with each other. Windows Phone users will also be happy to know that the game will be supported by devices with 512MB RAM.
I've enjoyed my brief time with Halo: Spartan Strike. It looks great on the Surface Pro 3 and that's probably where I'll be playing this game mostly. When I'm on the go, I'll continue playing on a Windows Phone device.
Are you looking forward to Halo: Spartan Strike? Sound off in the comments!
Get the Windows Central Newsletter
All the latest news, reviews, and guides for Windows and Xbox diehards.