'Halo: Nightfall' finale airs at 4 PM PST, December 10 on Halo Channel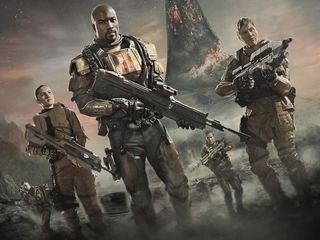 Microsoft has announced that the Halo: Nightfall series will conclude today, Wednesday, December 10, at 4 PM PST. The Ridley Scott produced series will air its finale, titled Devil Take the Hindmost on Xbox One and Windows 8.1 on the Halo Channel
Be sure to tune in at 4 PM PST or 7 PM EST to catch the last episode of the series.
Source: Xbox (opens in new tab)
Chuong's passion for gadgets began with the humble PDA. Since then, he has covered a range of consumer and enterprise devices, raning from smartphones to tablets, laptops to desktops and everything in between for publications like Pocketnow, Digital Trends, Wareable, Paste Magazine, and TechRadar in the past before joining the awesome team at Windows Central. Based in the San Francisco Bay Area, when not working, he likes exploring the diverse and eclectic food scene, taking short jaunts to wine country, soaking in the sun along California's coast, consuming news, and finding new hiking trails.
But... this was on the Halo Channel yesterday. I watched it.

Yup saw it and tweeted it!

Me three. I watched last night. Pretty good!

How many episodes in total? And does the show seem like it affect halo 5: Guardians?

Five episodes.
It serves as an intro to Jameson Locke, a new playable character in the upcoming Halo 5: Guardians

5 episodes was too short. There wasn't enough time to do proper character development. They should've done 10.

I saw what you did there!

Being that the main character in nightfall - Locke - is a playable character in Halo... It does play a role...

Frankie confirmed that Locke is *A* main character for Halo 5, but is not *THE* main character.

Ok one question ! Why would someone name it Nightfall :P

Guessing you haven't watched it

Because he black. All man why they gotta be racist

That was totally uncalled for.

Because it may to that guy who named this show

I already watched this last night.....

I have MCC and can't watch it. Keeps telling me to buy the game.

You have to have it scan your nightfall QR code from your game box

LOL
I didn't even realize this had started...

How was the whole thing? I watched the first episode and it just seemed like a SyFy original series.

It was meh. FuD was slightly better. This aired yesterday btw

The show is pretty boring, no character development, very dark, very dry, nothing that makes you feel excited about. Does not feel like the show has any connection to anything Halo related. Not impressed at all. Actually, very disappointing.

That was obviously a mini series lol

We already have tge 10th.. Its like Over in 1h

Halo 5 master chief is Black?

It was more like the one of those awesome halo commercials than a real movie/mini-series'.

Halo nightfall? What's that?

Well that was a rather short and pathetic attempt at a 'series'. Five 20 minute episodes for a Sci-Fi show? WTF? They should have made a real series with at least 20 40min episodes. I would love to see more of Halo on TV.

How can I watch it? On the channel it said that i need have a Halo game, which made me confused

I'm only watching it to unlock the in game emblems I'll never use.

I was a bit disappointed with the series. The first episode was great with the elite running round a mall but the other four episodes were very dry with not a lot happening. Extremely forgettable characters. Should've been a feature length rather than split into these 5 episodes. Forward unto Dawn was marginally better but I think the standard really lies in Halo Legends.

I don't have the MCC, or an Xbox, but I really want to watch this. :(

Yeah, wasn't anything special. Very short in total and the acting was rather subpar.
Windows Central Newsletter
Thank you for signing up to Windows Central. You will receive a verification email shortly.
There was a problem. Please refresh the page and try again.