Hands On: Windows Mobile 6.5 and the TI OMAP 34x-II Platform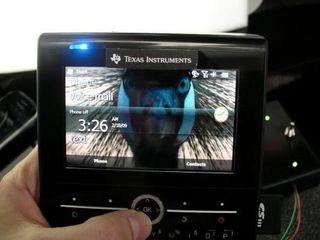 Microsoft may not have gobs of Windows Mobile 6.5 demo units out at MWC09, but that doesn't mean your intrepid friends at WMExperts weren't scouring the floor trying to find one. Find one we did, at Texas Instruments' booth. It's running on a development platform (the OMAP34x-II) they've created to help manufacturers use their new OMAP3430 processor. We'll cover both our thoughts from our brief time with Windows Mobile 6.5 as well as some tidbits about this processor that ought to have Qualcomm and Broadcom a little nervous.
Go on and click the link for more. Or else you could click the thumbnail above for the full size image of that beautiful, creepy, awesome Grey Crowned Crane. It's mesmerizing, innit?
Oh, while you're staring: think about this. That's a capacitive touchscreen you're staring at. We know, we know, WM6.5 doesn't support it and you'll likely never see such a thing actually sold to consumers and frankly, there were times we couldn't hit the button we were aiming for (the fact that it was a huge 4" screen helped). But it's there: Windows Mobile 6.5 on a capacitive touchscreen.
But you should read on now and pay attention, we're going to bring up HDMI.
Windows Mobile 6.5
Well, first off -- there's not much to say about Windows Mobile 6.5's featureset that we didn't already cover in our Full Feature List of 6.5. What you're looking at here is essentially a couple of things in addition to your tried-and-true Windows Mobile 6.1:
A Skin that replaces the Today Screen and Start Menu with more finger-friendly options
A new version of Internet Explorer.
Internet wasn't quite up to snuff on this unit (thanks conference WiFi), so we don't have much to say on its performance. The new buttons, though, are very nice, and zooming works like a champ -- at least it does on this powerful machine.
As for the skin, finger scrolling, and embiggened menus, they're all here. One notable thing is that you'll get that hexagon listing on the Start Menu, subfolders, and settings. It's definitely nice to see that there's no longer double-listings of apps both in the Start Menu and the Programs Listing (they're one and the same now), and not having to try to hit tiny tabs in the settings is also much appreciated.
Even in Windows Mobile 6.5 and even on this beefy OMAP reference platform, you're going to get some wait time. This leads us to another nice tidbit: Microsoft has updated their wait indicator with real transparency. Woo.. hoo?
Oh, we managed to see that wait indicator because we tried to open the Marketplace app, which is most definitely not working yet.
Moving right along, we have bad (very bad) news: Windows Media Player is 100% unchanged. The improvements that hit the entire OS like flick scrolling and bigger menus are of course here, but the player itself is still the staid, boring, hard-to-use, and semi-functional player we've had since essentially WM5. PocketTunes and Kinoma: your business model is safe for the foreseeable future.
That's about it, folks. We're fans of the new home screen, we're fond of the slightly updated look, and we are fairly happy with the hexagons but not so much that we're shouting it from the rooftops.
TI OMAP 3430
Of course, TI wasn't intending to show off Windows Mobile 6.5 as they were the reference platform it's running on. It's designed for manufacturers and perhaps even software developers to being to get a handle on how to make software -- from Windows Mobile to LiMo Linux to Android to the all-new webOS -- run on TI's OMAP processors. The device itself is obviously not something you'd want to carry around, but dang if it doesn't push out the pixels with aplomb. There were a few lags and drags here, but we're chalking that up to WM6.5 still being in Alpha(!) and perhaps not fully optimized for this platform.
Specs on the beast:
TI OMAP 3430 Proc with stacked 256MB low power DDR SDRAM and 512 NAND Flash Memory
Capacitive Touchscreen (yeah really)
4.1" 800x480 WVGA Display
QWERTY keypad
3G Modem Module (optional)
WiFi, Bluetooth, FM, Accelerometers
Video Out port - HDMI
6-in-1 SD/MMC Card Slot
USB On-The-Go Port
Debug Board
Stereo Speakers and dual microphones
See the bullet point buried in there? An honest-to-god HDMI Port. Here it is, Windows Mobile 6.5 putting out 720p video on the big screen over HDMI and no magic about it -- we watched him plug the cable and switch the TV's video ourselves.
We're still not going to recommend anybody pick up the OMAP34x-II as an actual device to use day-to-day, but with all those features, we'll admit it's tempting.
Get the Windows Central Newsletter
All the latest news, reviews, and guides for Windows and Xbox diehards.