Here's how 'Halo: Outpost Discovery' may be related to Halo Infinite
Halo: Outpost Discovery is an upcoming Halo fan experience coming to a city near you this summer, but is there a chance that it may actually contain hints to Halo Infinite and its story?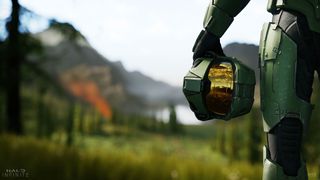 (Image credit: Microsoft)
Earlier last week, a brand new type of Halo experience was revealed, dubbed "Halo: Outpost Discovery." Throughout the summer of 2019, 343 Industries is teaming up with Herschend Live and touring the United States, bringing a fully live and immersive, interactive Halo event to five different cities for a limited time. Make sure to check out the above link for more information if you're planning on going — I'll be going to the Chicago event, myself.
However, something particularly interesting about Halo: Outpost Discovery is that there are reasons to believe it is, in some way, related to the next upcoming Halo game, Halo Infinite. Though we know nothing concrete about Halo Infinite's story, we do know it's likely the game takes place on the Halo ring "Zeta Halo" based on details I and others dissected from Infinite's reveal trailer. Here's why I believe that that Halo: Outpost Discovery will tie back into those details, as well as why one of the new characters it introduces may be very important to the Master Chief himself.
Be warned: Spoilers for Halo 5: Guardians beyond this point.
We may get to explore Zeta Halo at the event
Shortly after the announcement of Halo: Outpost Discovery, Twitter user @TheEld2 posted an interesting comparison of both the Halo ring visible at the end of the Halo Infinite trailer and the one shown on promotional material for the upcoming summer events. When examined closely, it becomes clear that they're incredibly similar in many ways.
It's hard to see at first, but the lit up blue lines on the Halo ring from the Halo Infinite trailer look identical to the light brown ones seen on the ring from Outpost Discovery's marketing imaging. This suggests a very real possibility that the two Halo rings are the same. It's true that the location of snow and grass is different between the two, but in-universe, the Halo Arrays go through artificial season cycles, complete with weather to match. This is the best explanation for this difference.
If this is true, and if the ring seen in the Halo Infinite trailer is Zeta Halo, then that means the Halo ring exploration activity at Outpost Discovery has a high chance of being on Zeta Halo itself. Therefore, it's not a stretch to think that participating in this activity will allow you to get a sneak peek at what's to come in Halo Infinite, such as different types of wildlife on the ring, the types of Forerunner structures there, and even the history of Zeta Halo itself.
You might get to speak with Master Chief's new AI companion
Now that Cortana has turned on her former allies and taken over the galaxy with her fearsome array of Forerunner Guardians, the Master Chief lacks something he usually always has: an artificial intelligence (AI) companion. However, a short clip at the end of Halo Infinite's reveal trailer shows him placing a new AI chip into his helmet, suggesting that he'll be working with a new one in the upcoming game.
After Outpost Discovery's reveal, a Twitter user named @Haruspis openly wondered if Gabriela, the AI that greets you at the entrance to one of Outpost Discovery's activities, would soon be added to the list of potential AI that may end up working with the Chief in Halo Infinite. To everyone's surprise, Scott Jobe, 343 Industries' Media Product Development Manager, responded with this:
https://twitter.com/jobie_says/status/1093004589207412736
This is a clear indication that this theory holds some weight. The phrase "Maybe sooner than that?" in response to the question makes me think that Gabriela may start working with Master Chief in extended universe material that precedes Infinite, but it's also entirely possible that they'll meet up in a new trailer, too. For now, we'll have to wait and see. Regardless, this is a huge hint that Gabriela is the Chief's next AI ally.
Outpost Discovery begins soon after E3 ends
While this isn't any form of evidence, it is worth highlighting that the first Outpost Discovery event begins on July 5, which is a little under a month after Electronic Entertainment Expo, or E3. Typically, big Halo news is always unveiled during Microsoft's E3 conferences, so if Halo Infinite has a strong showing at E3 this year, it stands to reason that Outpost Discovery events would tie into the game in some way. This would contribute to the efforts of Microsoft and 343 Industries to build up excitement for Infinite.
Your thoughts
What do you think? Are you expecting Halo: Outpost Discovery to tie into Halo Infinite in some way? Or should I take off this tinfoil hat I found this morning? Let me know in the comments.
Halo Infinite has no release date yet, but it's expected to release on both Xbox One and Windows 10 PCs. If you have the itch to play some Halo while you wait for news about Infinite, check out the titles below.
Get the Windows Central Newsletter
All the latest news, reviews, and guides for Windows and Xbox diehards.
Brendan Lowry is a Windows Central writer and Oakland University graduate with a burning passion for video games, of which he's been an avid fan since childhood. You'll find him doing reviews, editorials, and general coverage on everything Xbox and PC. Follow him on Twitter.