Hike messenger update exterminates 'The Grouper Bug'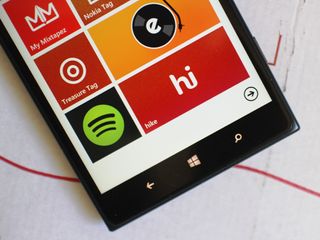 Hike messenger has been updated with a significant bug fix, with the "Grouper" bug that prevented users from leaving a group now dealt with.
Hike's changelogs are often interesting, and the latest one is no different:
Go ahead and install the update from the link below, and let us know how you get on in the comments.
Download Hike messenger for Windows Phone
Thanks everyone for sending this in!
Windows Central Newsletter
Get the best of Windows Central in in your inbox, every day!
Harish Jonnalagadda is a Senior Editor overseeing Asia for Android Central, Windows Central's sister site. When not reviewing phones, he's testing PC hardware, including video cards, motherboards, gaming accessories, and keyboards.
If you're asking then I care.

I care..... I use Hike for purpose of Natasha.. Asking her Cricket scores by nudging

She is such a mimicker...! But its funny to compare her against Cortana and see how jealous she feels, lol!

Hey..!! Stop texting my girlfriend.

Wut??? A chatbot is your...? :O

Everyone except you Cares!

Right? Their change logs are always neat and fun to read!
Learn something MS! Don't just put a blank change log everytime you update your apps...

MSFT doesn't even put changelogs sometimes. :|

Microsoft should learn from them....
Instead of mentioning Change log.., they explained little bit story behind it

They have the best changelog.

Does hike have voice call?

Not on WP. Everyone else has voice calls.

One of the best messengers out there.

It's available on android isn't it?

It's so obvious dude. If you would've asked about some app that 'it's available on WP', which was on android...then it would've taken me to open the WP store and check for it, but fir vice-versa, it's totally opposite. If it's on WP, it has 90% chances of being on Android and iOS. We cannot say the same for opposite scenario.

Hike was from the beginning on windows phone. Very beginning. It's Indian. They wanna make a name. So they don't discriminate. :)

They didn't give me the talk time they offered even after inviting many friends.. So I stopped using it... Marketing gimmicks are more in this app,otherwise good app. Won't recommend it to my friends any more

Really ?? Cause I got about Rs.250 worth of recharges from inviting people

And you must have not read the trends and conditions. That's why get get the money. Just sending request doesn't get you money.

Where is that voice call update with massive amount of features that was going to be rolled out in March? This is one lame development team. They've brought no new features in last 6 months, especially very well knowing the app isn't on par with other platforms.

Grow up man .. You don't pay a penny to talk to them in such rude way !!

I of course pay them! I'm a customer. Customer pays time. Time is money. I'm the product. I sell Hike to my friends by getting them to use it. I increase Hike users for them. I am a marketing manager for Hike. I get them new customers. This makes them money. Don't live how capitalism dictates you to live. Then you will truly grow up.

Ha ha ha...ewww that was funny.you increase hike users ok,you aren't paying and they aren't instead all of your customers are just loading their server database.time is money?sitting idle doesn't earn you any money.they are spending their money to to maintain servers not you the one who pays for it to maintain them.

Wow, defensive army? I'm sure you lot get paid to do this. Think you probably have a long way to go before realizing, you are a product. They are making money off the customers. Otherwise they would not be a company. They are a company and that's why each customer is a money cow. Agree or not, your choice. But yes, any developer that does not support WP equally is not same as a developer that supports WP first. This support to native developers will be even more critical when floodgates to ported ugly apps open. Wait and watch.

@akhil- Oh man , they dont care abt the number of users thay have ? Wow.. Its loading their database? So why they have made their app public? They should have just made the app and used within their family members? Right? Dumbass u are .. Seriously..
And i completely agree with u rockstar.
We do pay them by downloading their app . They get money for every download

Sorry not via download but via selling data

Dude they get money for every download too.. E.g video memories.. That app just make videos for u? So what will they sell? Our videos?
So how will they earn? For every download they get money from microsoft..

You must have heard about the game subway surfers..why they update it every month? Oh i guess they have crores of dollors and its their hobby to make games for people? Or may be they sell data? But what data they sell of us? Oh our scores? Right? Mine is 1 crore 30 lakhs so i guess they would got 1 crore $ for it? Omg ..
Dude they get money for downloads. Get ur facts clear first and then comment here..

they did add features.
and they work, trust me. i'm a beta tester of this app.
it's still one of the most feature-rich messenger apps on WP.
i understand the app doesn't meet your expectations, but that doesn't mean you go about dissing the devs saying they don't work.
don't like it, voice your concerns.
still don't like it, don't use.

This isn't about beta. This is about what reaches the customers. The real app. In store. No features. Stickers aren't features.

@rockstarzzz yeah I'm one of the defensive army and hike pay me alot of money.
I already said grow up and I have to say it again .. Grow up

Mr beta tester.. Can u tell us about the features you are testing right now which are not available in offical version?

@pratham- yes we voice our concerns and they dont give a shit about it.. They dont even reply back the mails..

@fidatoCA all your concerns are being addressed at hike. I assure you as an independent developer that neither of the apps get money for downloads. Only for everyone's knowledge, an app can earn money if its paid or it has got adds. Some apps have freemium revenue policy where the app is subscription based and some apps like subway surfer or candy crush earn via in app sales. As far as the beta release is concerned, as of now beta is equal to marketplace. But we do give beta users first preview of the features we are going to release firstin order to have some real world scenario testing and genuine feedback so that the build could be improved for marketbuild users like you. I am available to answer all your queries. Feel free to reach out at @hikeapp or @milanbondi on twitter. Thanks

I could say me four but then it'd be extremely lame! :P

It's looking like a good week for windows phone

Bullshit.. They just wanted to give out an update because WhatsApp updated last night.. Hike i still love your app but i guess your love for windows phone has ended.. Last major update in January.. Feb update was just bux fixes, then came april update . I thought of something amazing will come as u took 2 months but what we got 7 stickers pack and now may update with nothing new.. Highly disappointed

They've been saying they're working on a redesign for Windows Phone 8.1 for months now, so you're right, Hike is late to the Windows party.

Yes they promised the 8.1 version in January.. Its already may and all we getting their fictitious stories (in which they trying to be funny).. Dont promise anything if u not gonna fulfill it

In last update they said that windows version now have 75% of sticker packs.. Bullshit .. Android have 130+ sticker packs and windows have only 34.. Now how windows have 75% packs? Either their math is wrong or mine

No, they said 75% work of stickers shop is completed so when it completes we get full stickers pack and if new sticker packs arrives, we don't have to update whole app

Its just a considence that our release colided with theirs. Trust me when I say a release cannot happen in a fortnight. ;)
As far as the release is concerned the last release was a big release for people facing issues in notifications hence we required a lot ogmf time for testing. We thought of giving this release a rest and release the sticker shop instead, but the users' concerns regarding crashes and group issues got more priority. The team is working hard to provide you and all the other users with a good sticker shop build. I can only request you to keep calm and hike on! :)

I absolutely love their change-log. It made my day :D

Haha, love Hike's changelogs.

"round of interrogation with some of our imprisoned bugs" XD This is golden.

The story was so good ! Waiting for next episode team Hike :P

Their change logs are phenomenal, I'm actually going to go and get the app because of it. Lol.
Windows Central Newsletter
Thank you for signing up to Windows Central. You will receive a verification email shortly.
There was a problem. Please refresh the page and try again.