HTC Vive, Oculus Rift probably won't be part of Windows Mixed Reality
If you were hoping to experience Windows Mixed Reality through your existing VR headset, prepare for disappointment.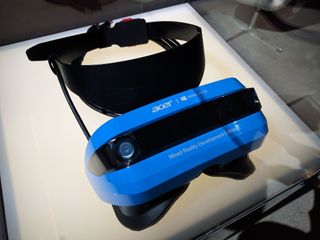 Windows Mixed Reality is shaping up to be a compelling and unique experience on its own. The demos we've seen offer a glimpse into a virtual world where many different kinds of devices can participate in the same basic ecosystem, and users can choose between full immersion and augmented potential. Microsoft's discussion of a "spectrum" of experiences in Mixed Reality leads those who already own VR hardware to wonder what might be possible for these existing devices.
Long story short, don't hold your breath.
Microsoft isn't saying this is impossible, but it's unlikely you're going to see Windows Mixed Reality support for Oculus Rift or HTC Vive anytime soon.
Microsoft's big vision for Mixed Reality right now is one of unity. While the hardware may come from different manufacturers, and some headsets may offer more features or a better experience, the core functionality is the same. That core functionality is the inside-out tracking that makes the headsets and motion controllers work. The same technology baked into Hololens fit into a noticeably cheaper VR headset, making it possible for you to walk around a room without the use of tracking sensors mounted in the corners of your room or on your desk in front of you. This feature is a big part of Microsoft's message to consumers, but it's also a big part of the message to developers.
From Microsoft:
Clearly, the HTC Vive and Oculus Rift don't fit that description. Both of these headsets use sensors to track you within a defined space, and everything must stay inside that space for everything to work the way it is supposed to. HTC maintains its method is best because it allows for a more precise form of tracking that feels a more real when interacting with things. Microsoft wants to offer a "world scale" solution that functions in whatever room you are in with basically no configuration or setup. Offering multiple devices at multiple price points with that feature is the play for ensuring developers support this new platform.
However, Microsoft isn't closing the door on these headsets entirely. According to Microsoft's Alex Kipman, a technical fellow in the company's Windows and Devices Group, it's up to HTC and Oculus to reach out to Microsoft so both companies can work together to support Windows Mixed Reality. It's also important to remember this will in no way interfere with the current experiences and stores Oculus and Steam already have on Windows.
As for whether these streams will cross any time soon, it really doesn't seem like that's a priority on either side.
Get the Windows Central Newsletter
All the latest news, reviews, and guides for Windows and Xbox diehards.
Russell is a tech nerd who chases the best of everything, from phones to game consoles to laptops and everything glowing or beeping. He's the Managing Editor of gaming content for Mobile Nations and can be found contributing to all of the Mobile Nations sites. Reach out on Twitter!