Huawei releasing Ascend W1 (CDMA) for China Telecom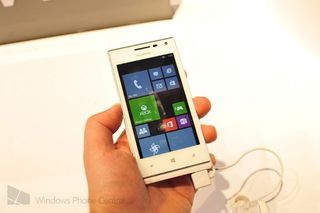 Huawei's Ascend W1 has been out for a while, and is gaining market presence in more countries at the moment. Today, the OEM quietly rolled out the CDMA version of W1 in China, starting with the city of Chengdu. The CDMA phone is made for China Telecom, the third largest mobile carrier in China, and the only CDMA carrier out there. The Ascend W1 in CDMA reportedly costs CNY 1,290 (US$ 210), about 30% more expensive than the WCDMA version, which is currently priced CNY 998 on popular e-commerce website 360buy.com.
The Ascend W1 is a budget phone designed without very fancy specifications in mind. It sports a 1.2GHz dual-core processor, 4" 800x480 (WVGA) touchscreen, and 4GB of internal storage. The release of its CDMA version probably means one extra tier of pricing on other CDMA carriers worldwide, like Sprint and Verizon, where the availability of a value-for-money Windows Phone might be celebrated.
Source: WPDang
Nice. The more variety the better

Would this even work on Sprint?

About as good as all the other wp8 devices currently available for the NOW...

Doubt so. Chinese carriers are mandated by the laws to give consumers "flexibilities" by building USIM slots into the phones they carry. Therefore even Chinese CDMA phones require SIM cards to work. Sprint doesn't have that I reckon...? Vice versa. It takes tons of trouble to make a smuggled Sprint phone work on China Telecom network: there's no SIM card slot, you've got to find a way to break down the internal codes of the phone and "flash" a China Telecom service flag into it.

Where is the review of the Ascend W1?

4gb of memory ? This phone is worthless if you want to install more than 2-3 apps...and if your a gamer in anyway, even part time, you will be full before you even know it. Even if it had a MicroSD slot, it would not help as you can't install apps to them...

I have problems with a 16gb phone space, just think of the issues with this one.

Obviously this Phone is not meant for gamers except for the very casual gamer. It is meant for first time smarthphone users that want to get their first taste of the smartphone experience.

It sells very cheaply and has an awesome battery life. Looks great. I use it as my backup phone. I think it would be a good cheap android competitor.
Windows Central Newsletter
Get the best of Windows Central in in your inbox, every day!
Thank you for signing up to Windows Central. You will receive a verification email shortly.
There was a problem. Please refresh the page and try again.