Images of WhatsApp for Windows Phone 8 leaked early on the web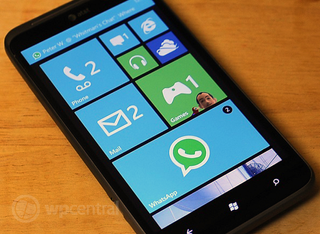 Ealry look at WhatsApp for Windows Phone 8
Although we're still wondering when the popular chat service WhatsApp returns to the Windows Phone Marketplace we can in the meantime gaze at what it will look like on Windows Phone 8 'Apollo'.
Evidently the company has left some images of their 'Apollo' build aka Windows Phone 8 right on their server for all the public to see. The images themselves aren't that revealing—we see numerous sized tiles featuring the app, some in-progress chats and image examples. All in in all in looks nice but it's not a major overhaul nor barely a minor one (not that we're trying to pick on the team behind the app)...
The images were found by Windows Phone Daily and they also noted the calendar tile with the comment "Monday Morning WhatsApp released Windows Phone version - Mon, Nov 28, 10 AM". That could mean something but the Windows Phone 7.5 version also shares that date but actually came out in late September, so we wouldn't put too much into it.
Though nothing too revealing is shown by the images it's sure nice to see companies like WhatsApp pushing forward on Windows Phone and we look forward to taking their new version for a spin.
Source: WhatsApp; via Windows Phone Daily
Windows Central Newsletter
Get the best of Windows Central in your inbox, every day!
Daniel Rubino is the Editor-in-chief of Windows Central, head reviewer, podcast co-host, and analyst. He has been covering Microsoft since 2007 when this site was called WMExperts (and later Windows Phone Central). His interests include Windows, laptops, next-gen computing, and for some reason, watches. Before all this tech stuff, he worked on a Ph.D. in linguistics, watched people sleep (for medical purposes!), and ran the projectors at movie theaters because it was fun.
Wow! It looks like the same piece of s--- app!

That's a little harsh...I prefer Kik but WhatsApp ain't terrible.

It's harsh because Whatsapp deserves it. Their platform is terribly slow and unreliable, you won't hear of any Whatsapp user that has never had troubles with sending and receiving messages. The aesthetics of the app are terrible, they should take a hint from the messaging hub, it is slow, the scrolling is half-assed, and it's just buggy. It's such a shame that Whatsapp is the most popular phone IM service because of how terrible it is, but I have to rely on it to communicate with other people.

I fully subscribe with what you just said, my friend. Luckily I can use LINE as an alternative but it's not perfect either.

Talkbox is good, some room to improve, but is my groups line of communication ;-)

May be it's just WP version that is buggy?
I am using it on my iphone4s and haven't found any such issues that I would call it terrible.


I've used it on Mango as well, and I can easily agree with what everyone says. Though it's actually not that bad on a Windows Phone 8 device. It's faster and scrolling is nice and fluid, and hey, even notifications seem to come through faster!

How can we assume this is 8.0 and not 7.8?

The numbers on the tiles in WP8 should be in squares, not circles. Maybe an incomplete build of 8?

I was going to say the same thing. I call PS.

Yeah I thought this ugly black circles with numbers in them were gone in 7.8/8?

Thats what i wanr to say :) maybe its just a mockup because some of the files found ob the server are .psd files for photoshop...

oh my god, that's terrible...nothing changed (aesthetically, and i believe that bugs wouldve been fixed by then, making the app better)
but i really wish they do some more with it...perhaps make use of the large live tile to show messages, just like the native message tile :D

I prefer kik but most of my friends use whatsapp so I'm kinda stuck with it. It'd be really nice if it's integrated with the messaging hub

I use messenger, since, you know, it just works.

+1. But hard if you have no friends there.

Agree, kik performance and UI are much better than whatsapp. Too bad all my friends are using whatsapp only..

huh? did I miss something? its not like WhatsApp is trying to appease the community. its a company that wants to make money...with a terrible product.

I thought the notifications were suppose to be squares now?


Yeah the number circles should be squares, but on a tile like that I'd much rather see the large number like on the native tiles. I really think the small black circle/square number should only appear on busy/image tiles, such as a game tile.

OMG there still are the same UGLY, custom-sized chat bubbles. When will they ever learn?! A company this size cannot hire decent coders and designers? Something is not right here. LINE and Kik are doing a much superior job. I don't want to be stuck with the same slow app in WP8... Hope they'll be able to use native code in order to speed up the process a bit

Perfect!!!!! Im ready to moved on

Do you guys notice the notification on the top of the screen? And how about that new beautiful start screen. Can't wait for that new Nokia phone on T-Mobile

See I don't know why we just get a little more critical of them and say... Why don't you optimize the use of the medium and large tiles. How is this an update? They all should be using info from the app according to the size of the tile.

I was hoping they would use the new communications suite and have it more integrated, I use the app a lot but it's really annoying to always have to load it

I'm pretty sure that's a WP7.8 version and not a WP8 one. There is no change at all except in tile sizes, so this may simply be the current WhatsApp but with additional assets for the new tile sizes. That would explain its absence from Marketplace

Terrible. Nothing changed! The Live Tile is the same, terrible, as now cespite the power of the new live tile. Bad bad news. Come on whatsapp

The folder with the screenshots on the WhatsApp server:
http://media.whatsapp.com/screenshots/Windows+Phone/Apollo/png


Does anyone notice the phone? It looks like a Titan. Could this be a hint that the latest group on phones can indeed run Windows Phone 8?

The phone is a Titan with WP7.8, which brings the new startscreen as confirmed. The notifications are squares as demoed on Windows Phone 8. It's safe to say this is an incomplete build of WP7.8, as WP8 already has square notifications and nothing has been said about it in WP7.8.

Kik I think is in my opinion the best free messaging service.

Anyone noticed the google map image in the message?

This is what happens currently. You get the Bing Maps control when you are verifying your location or looking up somebody else's, but the thumbnail shown in the message view is from Google Maps. Very odd, but one can assume it is because Bing Maps may not have an API to return a thumbnail.

The app looks just as terrible. Really? No message preview?

I hope they use the message preview in the large tile, if they don't they're just idiot. I hope they try improve the wp experience, as in Android and iOS I think is completely done.
If I were microsoft I would definitely want whatsapp to be integrated with message hub, that would be so much win.

Nothing new, just a picture of a bigger live tile. No noticable differences from the current version. Still no " share chat via email or text" option.

I haven't had any problems with my whatsapp so far. It may be a little slow, but has all the features you need. Only thing I would change with the wp8 version is the large tile notification to have some text message preview. =]

Am assuming,
It's HTC Titan, Running WP 7.8,
It's An early Biuld of WhatsApp cuz it has no emoji in it.
And most important, the Screen Shots tells me that there going to be a " native screen shot " in WP 7.8

More likely this is a 7.8 version

I have no issues with Whatsapp, i am interested in seeing an explanation of the long load times.
When i tap the tile, it takes 3-4 seconds to get to my last chat window, is that too long?
My received/sent messages come in on time on both wifi/data, i have no issues getting a message as they are received. The notificatino may get backed up if there are a large load of messages coming and it plays catch-up, but other than that, no issue with receiving notifications. Of course the notifications dissapear after a bit, but that is an OS issue, not whatsapp.
The only issue ihave with whatsapp is not being able to attach videos, unless you take the video via whatsapp, but it does not save on your phone or at least i can't find out how to save the video.

No guys, this picture is not a proof that a WP7.8 (or WP8) Titan exists. It could also be just a fullscreen screenshot shown on a HTC Titan. Also we do not know if this is an 7.8 or 8 build.

Why sharing location looks like using google map but not Bing map?

I wish some people would put more effort in their live tile instead of just a counter with a number.

I cant find whatspp in my store.. Wen dis prblm vl b resolved? I what whatspp back on my Mbl... Else I hav to go for android... Plz solve dis prblm ASAP...